Greetings once again from Chicago. Well, the good news is that our response to the '65 questionnaire has been overwhelming. Our thanks to Bobby Jones for returning the first questionnaire. Over 50% of the Cl has responded, which for something like this is phenomenal. The roster should be printed and mailed on or about the time you read this article in ASSEMBLY. If you have not sent your questionnaire in, please still do so since we will have a second update on this roster later this yr. Thanks to all of you who spent the 10 min necessary to fill it out and get back to me on time.
All of the questionnaires that were sent out asked the post ofc to provide an address correction. To date, we have only received a handful of those back without new addresses. So, if anyone knows where Zais, Mushovic, Hjelm or Dave Benton are, please let me know.
We had our Cl offspring pic sched for Homecoming last Oct, but unfortunately only one of our offspring showed up. I'm not sure what happened to the others, but if one of them is yours, please check on it.
Ted Kleinmaier wrote from Indianapolis, where he's involved with Silver Convenience Ctrs in IN< VA and NC. He and his family have been there since 70, after he was assigned to Ft Harrison from Vietnam. His "cookie cutter" real estate opn has to be one of the few doing well in this terrible real estate market.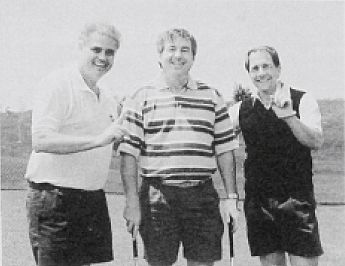 As you can see by the pic of Kuhn and Lewis, they are celebrating John Seymour's hole-in-one at Kuhn's new golf club, the first hole-in-one on the course.
The other pic shows Tim Vogel, Donny Parcells and Denny Lewis at the Harvard game with Chuck Pheifer. Vogel lives in Annapolis.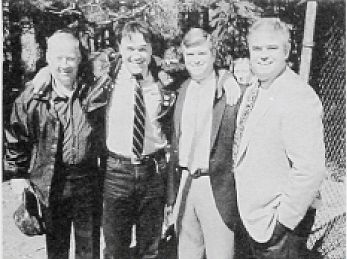 Dan Christman is also shown, taking cmd of the Engr Ctr at Ft Leonard Wood while he awaits his second star. Congrats, Dan & Susan.
Mac Gill writes that daughter Mylinda is a nurse (0-1) with the 24th Inf Div (Mech) at Ft Stewart. She'll be getting married in Jun 92 in NY. Daughter Jennifer gave birth to her second child, another son (Austin Gill King) in Sep 91. Mac & Dianne live in Kalamazoo.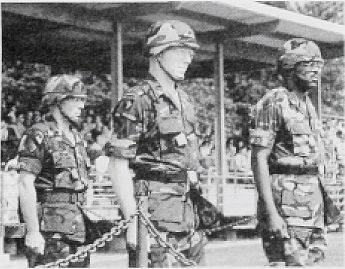 Rich Boerckel wrote that he has seen Tim Timmerman, who is an exec dir with Rich at USAA and heads up the corp research ofc. Frank Arnall writes from Orlando that he & Susan were here in Chicago last Jul for the 5K run. They saw Ralph Reller and Donna while they were here. The Arnalls see Lew & Barb Green regularly. Lew is the pres of the local WP Soc. Lew is also organizing a local WP foundation to recognize the ideals of WP. Zig Roebuck rep that he is working with Cathy Metzner to gather info on Ladd's obit. Zig & Linda really enjoy Huntsville and the ret life but will always miss the Army. TJ Kelly wrote from DC that he misses Chicago. He had lunch with Manny Mimone, who still works for SAIC and is a VP there. He looks good and stays in shape pike riding many miles. TJ talked with Ralph Adams, who works for Renault and Handley Real Estate in Santa Clara. Ralph still blames TJ for a blind date arranged Jun Wk--the blind date happens to be the same girl to whom Ralph had been married and with whom he has spent his life! He also saw Mike Applin in MD. Mike is still at the Pentagon.
My old friend Jack Cooley is alive and well here in Chicago, where he is an arbitrator/mediator in his own business. Dan Steinwald is the GM of the Canadian Weightlifting Federation (figure that one out). Rick Sullivan is in the printing business n Plantsville, CT and has volunteered to help out with the Cl crest and stationery. Rick, we'll take you up on that offer. John Pickler is the new cmdr of Joint Taskforce 6 and should be getting a second star. We finally met Donna & Joe Anderson at WP this past fall. Pat & Alice Kenny have moved to Ft Benning, where they seem to enjoy themselves. Pat rep that Bob Radcliff is in OR but is moving to Charlotte, NC, where he will work with Phillip Morris. The Kennys' oldest daughter Erin is married and lives in NJ and works for Tiffany. Daughter Trish is grad from Xavier and son Mike is a frosh at Notre Dame. Last son Pat is a frosh in HS.
Leighton (aka Lee) Atteberry rep that he hasn't been in SA in over 4 yrs. Son Chris is flying a B-1 out of McConnell AFB and is married. Daughter Tamera (named for Chuck Wuertenberger's widow) is a sr at Univ of Richmond. Leighton, I may not be coming your way for quite some time, so if you're ever heading toward Chicago, let me know.
Speaking of good things, I understand that Loco (Ralph Locurcio) has made the BG list--congrats! Intelligence sources rep that he is still fixing the roads and toilets that Saddam destroyed.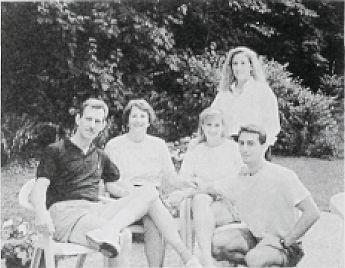 Ron Wells read a recent article and wrote a rep that he had not, in fact, fallen off the radar screens. Since 82, he's been working for the Inst of Nuclear Power Opns, a co that was formed after the Three Mile Island accident in 80. It is a non-profit corp funded totally by 50 utilities in the US that operate nuclear plants in the US, plus 14 in Europe. Ron is on a two-yr asgmt, providing operational nuclear safety advice for the nationalized French utility. He works in Paris but travels throughout France. He returns this Aug to Atl with Erica and daughters Kim and Kelly.
Kin (24) just finished her master's and is a sch psychologist in Atl; she is married to a pharmacist. Second daughter Kelly (22) grad from UGA last yr with a degree in journalism. Son Michael (20) also attends UGS, where he's studying business and playing rugby. Ron is inquiring as to whether anyone has seen or heard of Mike Shaver (according to our roster, Mike & Rose Anne are in LaCrosse, WI, where he teaches at Western WI Tech Coll). Mike, if you're out there, let us know. A great pic, Ron, and thanks for the update.
Also received a resume from Chris Needels, who is leaving his job at the NSC and is entering the civ world. Chris as some of you know, had a unique desk at the NSC, specifically Ollie North's old (physical) one. If anyone's interested, give Chris a call in Nokesville, VA.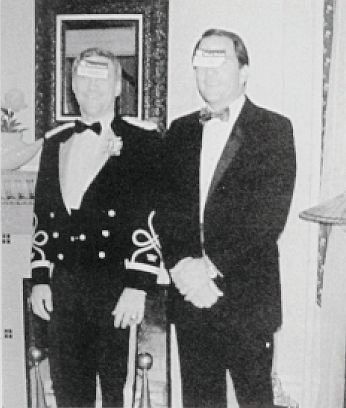 Linda Alger called looking for some assistance here in Chicago and rep that she & John are slowly digging their way out of the coll financial hole. Of their 7 kids, 4 are in college, 2 are married and 3 are out of sch. The colleges include RI Sch of Design, Slippery Rock (great place, great beer), CO State and Cornell. Linda travels a lot for TM Mkting, a communications co for the health-care ind.
Jim Golden rep that our 30th Reunion is initially sched for May 95 (28-31 May), but we can (and probably will) move it to a fall football game. Dave Kuhn has this info and is handling it.
And finally, in case you think that the Corps has (or hasn't for that matter), our last pic shows two of our stellar classmates (dep dean and pres) with nametags slightly out of alignment. At least the shoes are shined!
Well folks, that's about it for now. Keep those cards and ltrs coming, and if you send out a Christmas ltr to your friends and family this Christmas, why not add your friendly scribe to your mailing list? Send me a copy of this past one and put me on the list for next yr. Thanx!