Greetings once again from Chicago. We open this issue on several sad notes. Our good friend Phil Harper passed away in Richmond in Aug. Michael O'Grady called with the news and asked for some assistance from the Cl. In addition to Mike, we were represented by Roger Frydrychowski and Steve Darrah. Phil had been in the VA hosp and had earlier undergone chemotherapy for his cancer. Phil's obit will be written by Mike O'Grady, with the assistance of Phil's widow Linda. Shortly after Phil's passing, Bob Axley called to inform me that Carolyn Bedell passed away in May. Bob Bedell took her back to TN to her home for the svcs. Our Cl was represented by Axley and Mike Stanko.
We have set up a mechanism to send our condolences to the survivors, as well as be presented by classmates. If you will call my office upon learning of the death of a classmate or family mbr, we will handle it from there.
Bob Axley also rep that Chuck Burgardt still has several problems and would appreciate hearing from classmates. Please contact either me or Bob for more info.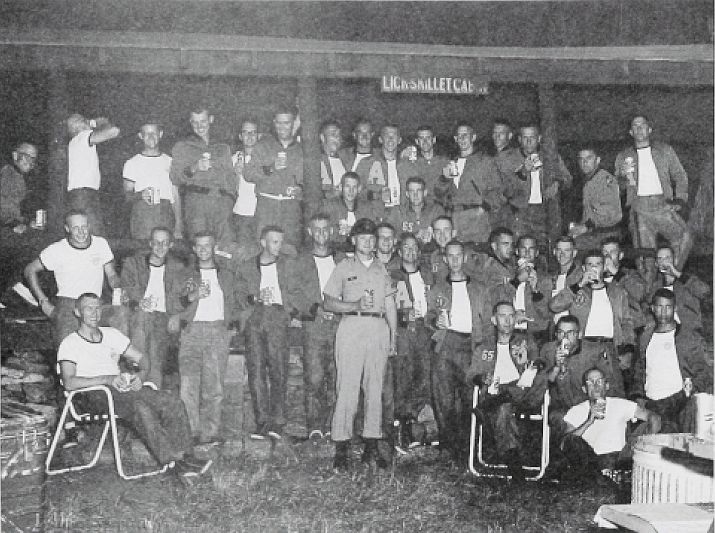 On a brighter note, the "Dep Dean" (McEliece) dug up this pic of the 64 Buckner 2d Detail. Clearly evident enhoying the suds with the infamous CPT Hoy are Swenson, Talbot, Kenny, Pollard, Kuhn, McEliece, Coska, Kelly, Dermody, Howard, Philpotts, Cherry, Williams, Hulin, Hawkins, Campbell, Moseley, Divers, Frank, Roundtree, Tomaswick, Ray, Long, Hutton, Gnau, Stowell, Airy, Cullen, Exelby, Wetherill, Pyrz, O'Grady, Livic, Lane and Smith. Noticeable absent were Coll, Axley and Cooley, who were probably back in their barracks memorizing regulations.
John Media wrote from Dayton that he is out job searching after being the project mgr for the B-1B program, where he won the prestigious Aerospace Laurels Award from Avn Wk mag. John C Thompson will be going to Ft Polk, where he will be the ADC of the 5th Inf. Dan Christman just came out on the 2-star list. While talking with Mike O'Grady, who is in Martinez, GA, he rep that he & Barbara have two children, one age 24 and one age 8 (same mother)! Mike is the pres of two cos, one in the chem business and the other in mech engring.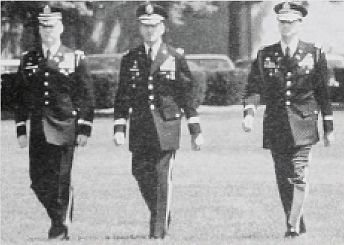 Joe DeFrancisco pinned on this first star in early Oct. Our congratulations to him, Dan and all the others. Joe also sent a pic of the change of cmd for Barry Zais with MG Streter (see pic).
Joe also rep that Gene Farmelo is the XO to DCS4 and Bill Connolly is the XO to ASAFM. Gene has been in DC for a number of yrs, while Bill just arrived last winter from Panama. Joe also sees Mike Aplin, who is a div ch in DCSOPS.
I took the enclosed pic of some of our Cl offspring currently at WP during Homecoming in Oct. Shown are the two Kim Olmsteads (Sr and Jr) and another '65 Cl son (unidentified). Offspring not shown are Andresen, Coska, Curl, Gill, Mark Hopkins, Jenkins, O'Hara, Osgood, Vann, Laughlin and Yoshitani.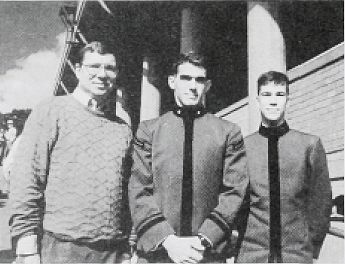 Interestingly enough, the other pic shows our 3 Cl offspring on the crew team (Pat Howell, Chip O'Donnell and Shannon Coll) at a recent regatta down the river from USMA. Who'd have thought--my daughter the cox'n! Joining Shannon in '95 are Ryan Laughlin and Dunn Yoshitani. I also thought you might enjoy seeing the attached pic of our classmates who are dpt heads at WP, Doughty, Golden and Wattendorf.
The next pic shows some of our classmates at Homecoming 91, including Kuhn, Jenkins, Stich, McEliece and Olmstead.
| | |
| --- | --- |
| 1965: John Howell, Skip and Chip O'Donnell, Shannon, Judy & Denny Coll and Pat Howell | 1965: Doughty, Golden and Wattendorf |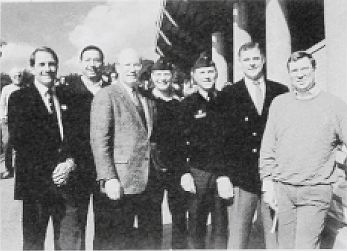 News from the W Coast has it that our prez, Dave Kuhn, finally got around to buying a 65 yellow Vet with a "USMA '65" license plate. Dave was featured on a TV show on FNN in Sep, but unfortunately it aired at 3:00 a.m., so your friendly scribe missed it. Dave rep that John Seymour's son was married in Aug. Rocco McGurk ret in Sep and is out job hunting. Skip & Marilyn O'Donnell spent the night with us on their way to look at houses in Pittsburgh. Skip rep that he really likes his new job, esp the work atmosphere. He attended some of the Pirate play-off games right after his arrival.
I received a nice note from Preston Hughes in Izir, Turkey, where he is still NATO's Liaison Off to the Turkish Gen Staff and is stationed in Ankra. They have been in Turkey for 12 yrs (not consecutively). He should be ret in 92. John rep that he had a bout with non-Hodgkins lymphoma last yr, but, after 8 mos of chemo and some radiation, he seems to have licked it. He also was in Opn Provide Comfort, working with the Kurdish refugees. He ran into Tom Genetti, who is running things at the very busy air field/supply base in Dijarbakia, Turkey. He also saw Joe DeFrancisco, who came through with the SA in Jun. While at home in Kosciusko, MS he ran into Art Roth, who had been brought in to manage a lamp production facility. The facil had not been doing well and the owners have hired Art to get things turned around. Also in Kosciusko (pop 6,000) were COL Heilbronner '45, who was the A-1 Tac and also the Plebe parent to Frank Birdsong x-'65, Duncan Brown and Preston.
And finally, I'd like to close with an interesting observation made by Ross Wollen that was in the Sep "ltrs to the Ed." Ross noted that, "Apparently, there is something more certain, and important, than death and taxes," since WP does not permit funerals on "Fridays before football games."
Well, folks, that's about it for now. As you can tell, the correspondence and pics have fallen off. Please keep those ltrs coming--everyone really likes to read them.