Greetings once again from Chicago! On a recent visit to Atl I had the chance to meet with some classmates over lunch.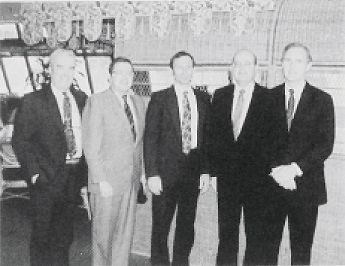 The session was arranged by Ken Slutzky. Ken called a no of classmates in the area and was able to get 5 of them together. The 6th, Emory Pylant, had to cancel at the last min because of a mtg called by his two-star boss. Emory, as previously rep, took Wayne Scholl's job as the engr for Forces Cmd.
Steve Morrissey came and rep that he is slowly getting out of the real estate business and has set up a holding co for investments. Other than having his usual dry sense of humor, Steve rep that he probably will be spending more time (than his normal 7-8 trips per yr) skiing in CO. Steve mentioned the 7 classmates that went to Harvard to get an MBA with him. One in particular, Ed Klink, is in Carmel, IN enjoying the fruits of inventing a unique car wax in his bathroom tub. Ed is apparently getting involved in the ski scene in CO also. Steve was in DC in early Jul for Dan Benton's promotion ceremony. Dan will take over as the ADC of the 8th Inf, a job from which Wes Taylor just returned. Linda Taylor was at the promotion party, but Wes was TDY somewhere. I told this gp in Atl of my clear recollection, just following the successful Grenada invasion, of the (then) 42-yr-old Wes telling me, with a very straight face, that in the preceding yr he had spent about 280 days in the field. When I inquired what "in the field" meant, he informed me that light Inf was just that, i.e. sleeping on the ground. My idea of fun is camping out once every 280 yrs . Also at the promotion ceremony was Barrie Zais, who is going to Ft Carson to join Picler; he will be the C/S. Steve & Beverly are bldg a new house outside Atl, and, judging by the comments of our gp, this is not the first house they have built. Their two boys are 12 and 15 and doing very well for themselves. Steve also just bought a CO business which gives him even more reason to go skiing.
My old buddy. Ray Schaltenbrand, also was there. I haven't seen Ray in a no of laps around the pool. Ray is now an exec with Lang Properties, a big real estate firm owned by a huge British firm. His firm also happens to be the developer/operator of the ret home where my mom lives in Atl. The land on which the home was built was acquired by Ray. Ray inquired as to how Bernie Kistler's widow and children were doing-anyone know?
Ray made the observation that is was highly unusual to get a gp of WP'ers together, such as this gp, each of whom was married to the same woman for over 25 yrs.
| | |
| --- | --- |
| 1965: Neil & Ingrid Brown, Christmas 90. . . | 1965: . . . and their children, Collin, Kristin and Mark |
Neil Brown also joined our gp. Neil is still with AT&T, where he has spent all of his business career. He is responsible for dealing with the regulatory agencies and provides most of the expert witnesses for the SE. He is back into franchising again; this time he's involved with a vending machine opn that dispenses fresh French fries. It looked like a good opportunity to him, so he has acquired the franchise rights for all of CA and tried to buy the entire co. He lives in Roswell, not too far from Ken.
Ken rep that there were a no of other classmates in the Atl area. One no longer at his reported address is my old friend Ron Wells, who has fallen off our radar screen. If anybody knows Ron's whereabouts, give me a yell. All in all it was a great way to spend a couple of hrs on a lazy summer afternoon rehashing old battles. Ken, thanks again! See Neil Brown's family pix (above).
Morrissey and Schaltenbrand "promise" their family pix will be forthcoming.
Jim Webb wrote from Glendale, AZ after returning from his parents' celebration-the guilt of not writing to the friendly scribe was apparently overwhelming, esp after 25 yrs. He & Diana have lived there since his Aug 87 ret. He's the dir of JRROTC at Phoenix Union HS (1,000 cdts/8 schs). Their 3 daughters are married and also live in Glendale ...with 6 grandkids. Jim rep that brother-in-law, Wally Divers is a USAF Col/Ob-Gyn at Norton AFB, CA where he's the ch med IG. Walt & Rita have two sons. Allen and Kevin. Allen starts at USAFA this summer. Jim also rep that Steve Harman ret in Jul from Ft Huachuca. They saw Steve & Ann last yr in Phoenix. He also occasionally sees Dennis Hawker.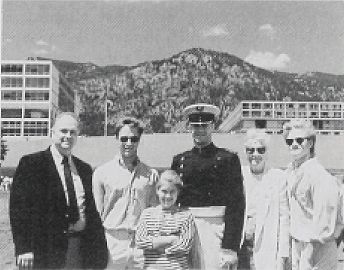 Pete Lounsbury sent along a great pie of his family at oldest son Todd's grad from USAFA. They had lunch with John & Karen Pickler while they were out there. John is still the ADC at the 4th ID. John's boss was Pete's first co cmdr in USAREUR. While getting ready for the; grad parade they ran into Tony Livic, who was there watching a nephew graduate. Steve rep that the guest speaker was the CinC who also managed a hug for ea of the female grads. As Pete said, can you imagine getting hugged by the big guy at your grad? Son Todd will go to Vance AFB in OK for pilot tng. Pete also rep that Jim & Carol Tomaswick will be grandparents n Aug.
Jerry Lipsit wrote from nearby Buffalo Grove that his co (Centel) was recently acquired, and he, like most other middle mgrs, got the worst of it. If anyone's looking for an experienced mgr, call Jerry here in Chicago. From New Orleans we received notice that Lee & Janet Atteberry's son Chris (LT, USAF) was married at Vance AFB. Let's hope that Lee made it back from S America for this one.
Dan Christman assumed cmd of the US Amy Engr Ctr at Ft Leonard Wood in Jul. If anyone has pics, please send them. Speaking of BG's, I've called Tragemann at Leavenworth on several occasions but no reply. Dick, if you're out there, let us hear what' cookin'. While at USMA for R-Day we ran into Fred & Maralee Laughlin.
| | |
| --- | --- |
| 1965: Maralee & Fred Laughlin at R-Day at USMA, 1 Jul 91. | 1965: The Fred Laughlin family |
Fred sent along a family photo; note Ryan '95 on the rt. Ryan has decided to take USMA "one chapter at a time"--not a bad philosophy for that place.
Speaking of USMA '95, in addition to Ryan and our daughter Shannon, we also have C1 offspring Dunn Yoshitani.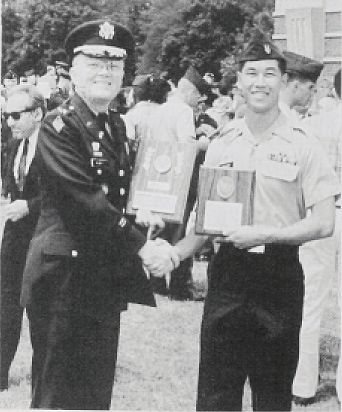 Skip O'Donnell rep that he will be moving to Pgh with Westinghouse to design their new submarine propulsion sys. He views it as a new job with great opportunity--the old one was getting a little boring. Marilyn will stay in ID to finish her master' (Jan 92) in special ed and then join Skip in Pgh. Skip, we're in the process of buying a co that does a lot of business in Pgh, so hopefully we'll see more of you. That is my old stomping ground, so be careful. The eyes from Dormont will be upon you. Our C1 CPPO, Joe Sanchez, informs me that there will be an A-N after-game victory celebration on 7 Dec. He has reserved 20 rms at the Hyatt Cherry Hill in Cherry Hill, NJ. If you want a rm, call the Hyatt at (609) 662-1234 and make your own reservation ($76/night). Tell the Hyatt people that you are with the USMA '65 gp. There will be a get-together Fri night before the game, but no formal transportation is planned. Our ch party-planning off would appreciate some idea of how many will attend. Please let him know at (609) 443-2218.
While at USMAPS grad recently, I ran into Lee Hewitt again, He presented a plaque for outstanding achievement to one of the grads.
Good news from USMA. Bob Doughty rep that John Wattendorf was recently selected to be Head of the Behavioral Sci and Ldrship Dept for the next 3-4 yrs. Thus he will become our third Dept Head (Bob and Jim Golden). Bob, incidentally, is writing a book to replace the old mil hist tomes, which, by the sound of his ltrs and tel call, is an all-consuming exercise. Knowing Bob, it'll be an outstanding achievement. Clair Gill wrote from Honolulu where he & Sherry, his bride of 22 yrs, had been firmly ensconced since last yr.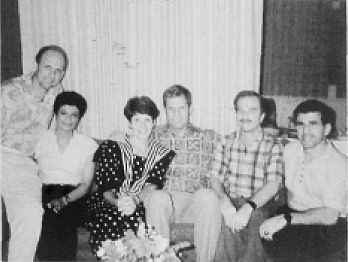 In the pic, you can see Bob Wolff, who was visiting in conjunction with his job in engring and house spt. To the left of Bob is long-lost classmate Chris Kinard, who works for AMFAC/JMB, HI as their VP for Human Resources. Chris gets to negotiate labor contracts with the sugar workers on the isl. To Chris' left are Clair & Sherry. To Sherry's left are Sheila & Dave Bangert, who met while Dave was working intl construction somewhere. Tiring of that life of vagabond existence, Dave went off to Harvard to get his Ph.D. He now teaches at the U of HI and has been doing extensive consulting work. This summer, for the second yr in a row, he' off to Eastern Europe to help reestablish their capitalistic economies. Several wks after this pic, the Bangerts had a great party, in their lovely highrise overlooking Diamond Head, for Tad & Hiro Ono. They had just arrived so that Tad can set up an environmental svcs orgn for Metcalf & Eddy and do those things across the Pacific. Concerning the Gills, last yr Clair Jr went back to his HS in Stuttgart to graduate and have a reunion with his old friends. Then the Gills dropped him off at USMA for R-Day 90.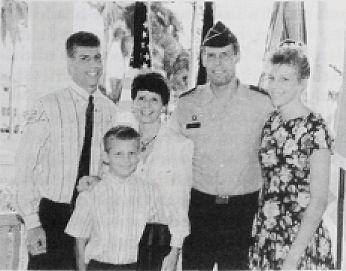 Sherry is back doing part-time physical therapy and loves the hosp work. Clair has graciously invited friendly scribe & spouse to visit. Spouse has immediately accepted said invitation and will call from the airport.
Still no work from Mike O'Grady in Martinez, GA. We are preparing a search-and-seize patrol. We received a great ltr from Sonny Arkangel, who is in Fair Oaks Ranch, TX, updating me on the fact that Strength and Drive was well represented in Desert Storm. As previously (and erroneously) rep, we had more than just Loco and Tragemann over there, Sonny was initially assigned to Eisenhower Med Ctr, where he joined the 24th ID as it spearheaded the "Hail Mary" flanking maneuver into the rear of the enemy to cut off their withdrawal. Based on the div surgeon's analysis that he was "too sr and had too much combat time," he was assigned to the Div Spt Bn. But the CG had an assault CP, and they needed a trama team, so Sonny put together a team of about 7 and off they went. As he says, never try to do a complete physical exam on a body that has not seen open air, sunlight or a bath for wks unless you are anosmic or wearing a gas mask yourself. He returned to CONUS in Apr, where he experienced the 21 mi of yellow ribbons in a fantastic welcome-home parade.
I got a quick update from Joe DeFrancisco on the Pentagon contingent: Wes Taylor is back from Ger in DCSOPS; John C Thompson is a BG in J-3 awaiting reassignment; Bob Guy is with the IG at Ft Belvoir; Orland Mullen is a BG running the new, bib-budget light helicopter project for the Army. John Longhouser is also at the Pentagon, where he's a BG in SARDA (basically an R&D unit); and finally, our old friend, Max Thurman, is doing extremely well working for AUSA and doing a lot of public speaking.
Well folks, that's about it for now. Great ltrs and even better pics. As you can see from the above, words are great, but pics are super. It is impossible to send your friendly scribe too many ltrs or too many pics--the CI's appetite for same is ferocious! Keep 'em coming.