Greetings once again from Chicago. Here is what is going on with our Class. Had a nice chat with Zig Roebuck, who is in Huntsville, AL, out of the svc and thoroughly enjoying the laid-back life. Zig works for Raytheon Advanced Sys near the Marshall Flight Ctr. Wife Linda works at Huntsville Living Museum. Daughter Lindsey is a NC St grad (early) and is working as a consultant while she lives at home. He & Linda are really enjoying that part of the country. Skip O'Donnell wrote following his annual two-wk Reserve duty at the Pentagon.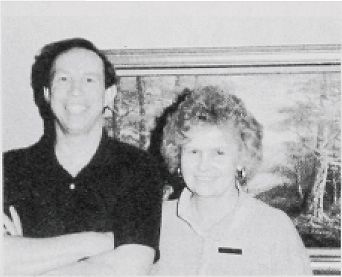 He saw Duke & Sally Wheeler at their lovely home in Vienna. Duke works for the Nuclear Regulatory Commission as Ch, Program Appraisal Section, Off of Nuclear Reactor Regulation. Sally is a dental hygienist and works in Fairfax. Their older son Greg (23) is a jr at S FL, younger son Jeff (20) is a jr at Clemson. Skip also saw John & Mary Kay Salomone.
John is Ch of the Ft Myer Dental Clinic and is looking forward to ret and starting a private practice in the Dc area. John specializes in root canals (ouch!). Mary Kay is as lovely as ever and taking care of their offspring. John Jr is out of the house, stationed at Ft Wood after graduation from Georgetown and accepting an ROTC commission in QMC. He spent a lot of time processing Reservists for Desert Storm. Susan is not a sr at Marymount in Arlington. She just completed an internship at the White House as a scheduler for the White House staff. Next son Stephen is in 7th grade and last son Andy is a pre-schooler.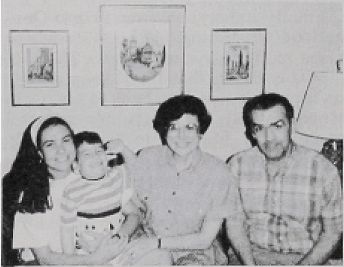 Skip had lunch at the Pentagon with Bill Lehman. He is on the JAG staff, and one of his jobs is to review USMA Honor Code cases. One big difference from our Honor Code, according to Bill, is that there are a lot of computer plagiarism problems. Bill will ret this summer and be a lawyer in the newly-organized Qtr Veteran's Affairs. He & Jane currently are empty-nesters. Jennifer graduated from the Merchant Marine Acad and works for the Mil Sealift Cmd. She goes out to sea a lot and makes a lot of money, according to her father. Son Jonathan is a j at Co St.
Skip also saw John Howell at the Salomones'. He is the lacrosse coach for W Springfield High and also a consultant with Vinnell Corp. Leo Kennedy is Skip's boss again at the Pentagon and manages DA procurement money for various sys. He'll be getting a new asgmt soon in the DC area. Wife Doris is a dental hygienist. Oldest son James just got married in CO. Brian just graduated from Duke and is looking at law sch. Their daughter Christine just graduated from Woodson High and will be going to George Mason U.
Skip talked to Dan Benton and Joe DeFrancisco, who don't know what their new asgmts will be. Dan is hoping for an asgmt in Ger. Joe's son is still in Ger with this FA unit. According to Dan Benton, Barrie Zais is leaving 3rd Inf (Old Guard) for CofS at Ft Carson. Could John Pickler's hand be seen in that? Bill Hecker is moving from proj mgr, MRLS in Huntsville to the Star Wars Off in the Pentagon. They have a house in McLean.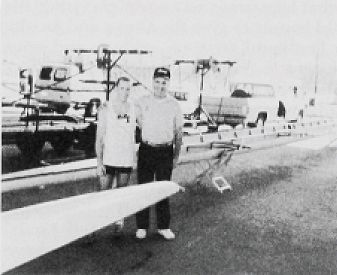 After his Res duties ended, Skip went up to Albany to watch son Chip and Pat Howell row in the Regatta; Army came in 4th.
Skip also rep that Sedgwick statue has been moved to a new location by Trophy Point, but he clearly remembers doing the "turn out bit" when it was in front of the Supe's house. The Corps has! Skip also sent a pic of Marty Resick and family on his trip to Pittsburgh. Marty spent many yrs in Pittsburgh hosp admin and labor arbitration. He currently is an exec with Hosp Suply Co. Wife Leni is an emergency room nurse in one of the Pittsburgh hosps. Their daughters, Judi and Sarah, attend HS> Skip, great ltr (as usual) and pic.
I received a nice note from Guy Ridley's widow Suzanne. She rep that the "sense of duty and honor remained with Guy after all these yrs." We'll all miss him!
Bob Wolff rep that they had a good time at the ret party for Tad Ono and Kent Brown (two "good guys" from Co L-1). John Longhouser helped to roast Tad, and Frank Skidmore did the honors on Kent, along with Ron Bailey. Also in attendance were Karen Longhouser, Rainey Bailey, George & Carol Bell, Dave & Priscilla Bodde, Dave & Darlene Hopkins, Terry & Nancy Ryan, Wayne & Susie Scholl, Dorrie Skidmore and Ron Williams. Ralph Locurcio sent a fax from Kuwait and phoned to say hello. Bob rep that Tad was his bks roommate, and they were on the gymnastics team together for 4 yrs. He and Kent were in Co L-1 during their last two yrs and spent some time at Stanford. All in all, it was a very special time for everyone.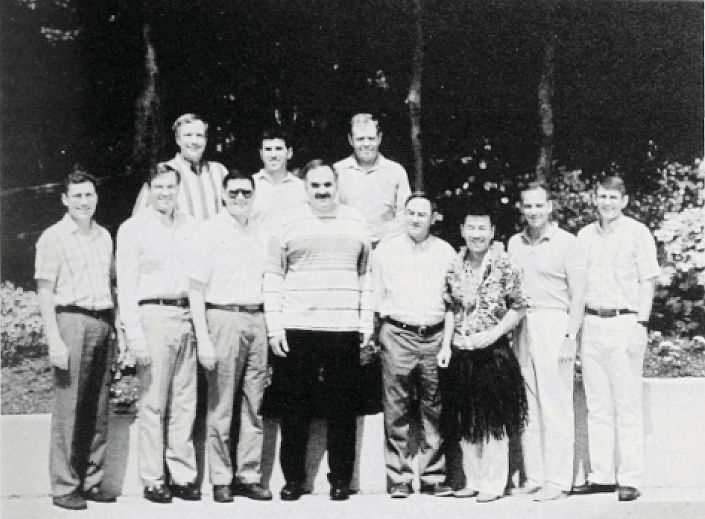 I talked with Roy Grams the other day, and he indicated that he has just completed his second master's degree, but, other than that, life is normal. He is still with Exxon. Jim Scheiner rep that he had not returned to practicing law since he is an engr, as previously rep. Jim was delighted to get a ltr from a '67 grad asking him to take a case in PA. He did turn the case over to George Bell, who is our PA legal guru. Alice Osgood sent along the article from Physics today (Feb 91) on Tom Johnson. Just to clarify, Tom's widow Cynthia has asked Rick to write the obituary for ASSEMLY. If there was an error or offense on the part of other volunteers, I will take the blame for it.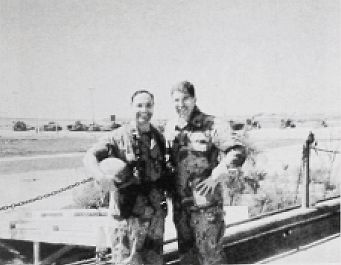 I have spoken several times with Chuck Shaw in Napa Valley. He saw John Seymour in early May and played golf with Dave LaRochelle. Dave & Peggy have 6 daughters. He also has two practices as an orthopedic surgeon. Chuck saw Tad Ono, whose daughter is going to CA Art Sch in Oakland. Tad took a job as the pres of a co in HI. Chuck reminds classmates that he can get them wine at cost (cheaper than in the store).
Doug Gibson called in Apr in rep that he is working for Boston Whaler (Doug, I never got the info on that boat). He sees Hank Kelly & wife often. Hank is an 0-5 in the Res and is an instructor at Intell Sch. Hank rep that Bill Zadel lives in the next town and has two daughters out of col. I received a great pic of Ralph Locurcio and Joe DeFrancisco in Kuwait City. Ralph is there rebuilding Kuwait.
Dan Christman sent a pic of himself & Susan, along with Lloyd & Kitty Briggs, whom they met this last winter. Dan's doing great work heading up the new Ch's preparation team.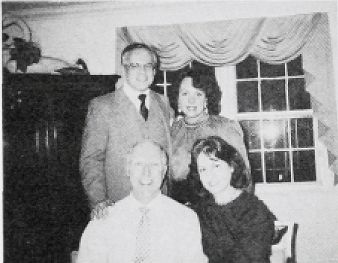 During the Trustees mtg in May, I picked up some interesting tidbits. '65 is doing well throughout the country in the various socs--Jerry Ledzinski heads up Monterey Peninsula, Lew Green Central FL, Lee Hewitt NJ, Dave Gabel Long Isl and Merritt Bumpass Cleveland. Dave Kuhn received the "Duty, Honor, Country" Award from his local soc.
We will be ordering sympathy cards for the Class so, if a classmate, spouse or offspring passes away, please let me know, and I will be happy to send out a card. '66 is working on an Endowed Chair in Mil Hist as their Class gift.
Received the sad news that Mrs Holland passed away in Apr. She was a lovely lady, and we will miss her. At the recent Soc Pres mtg, we were represented by Ralph Adams (Silicon Valley), Jim McEliece and Denny Hawker (phoenix).
I also received a nice note from Ingrid Locurcio with some pics of Ralph. She is not sure when he will be coming home, but, as I told her, they've done a bang up job over there, and we wish him Godspeed in getting back. Ingrid, thanks for the pics, but used the one with Ralph and Joe due to space limitations.
Well, folks, that's it for now. Judy & I are on our way to Europe to pick up our 6th-grader and spend some time there with him. Hope to see everybody this fall at one of the football games at WP.