Greetings once again from Chicago. I'm sad to start this edition off with news that Guy Riley passed away in Mar. Harlan Fricke was kind enough to call and rep that he and Tony Livic attended the memorial svcs, first in Santa Rosa where Guy lived and then in Reno, Guy's hometown. The Cl has sent our condolences to Guy's widow, Suzanne. Harlan and Tony will do the obituary.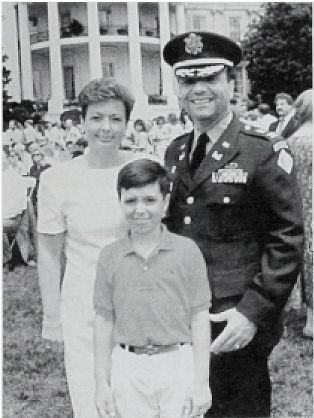 While in Memphis in early Mar to watch the Army baseball team, I ran across an article about our former Cl treas, Jon K Thompson, who is the bd chm of the Def Orientation Conf Assoc, a Wash-based org with natl mbrship of private citizens who travel extensively throughout the world on fact-finding missions dealing primarily with def policy. The locals spoke very highly or Jon and what he had done for the area.
Last yr, your scribe sent out over 200 personal requests to recalcitrant classmates to subscribe to the ASSEMBLY mag. Who could turn down such a request, you might ask? Well, 194 did. So, if you see any of these recalcitrants floating around, punch them in the nose for me.
ASSEMBLY is running an article this issue on grads in the Persian Gulf. After some significant digging and a little help from Joe DeFrancisco, I was finally able to determine that only two of ours were there. Dick Tragmann went over in Aug as CG of the XVIII Corps Arty but then rotated back to the States in Nov. Then in Jan. Ralph Locurcio received an unexpected call and after a few wks of briefings in Wash, was sent over to head up the Engr sponsored rebuilding prog of Kuwait. He heads up the Kuwait Emergency Recovery Org which concentrate on power plants, seaports, etc. The nearest shower, Ingrid rep, is 20 mi away. If only the Kuwaitis knew what was in store for them. The nearby pic of Ralph, Ingrid and Daniel was taken, while they were visiting their friends at 1600.
Speaking of Tragemann, he is now the CG at the Training and Doctrine Analysis Cmd at Ft Leavenworth. He wrote an interesting article in the Feb issue of Field Artillery magazine. If you're interested, send me a note (with an update on yourself) and I'll send you a copy.
Speaking of DeFrancisco, Joe visited Saudi Arabia and Kuwait in Mar with the SA and relayed his impressions on the unbelievable destruction that the Iraqis vented upon Kuwait. Joe also rep that according to his records, Zig Roebuck is now AWOL but in Huntsville, AL. I'll try to track him down. The DeFranciscos' boy Eric is in Baumholder and daughter Laura is a jr at LaSalle U in Phila.
Our most prolific info provider, George Ruggles, called while he was at O'Hare to rep that he and Doug Gentzkow attended Founders Day in Portland. Doug is now in Corvallis where he owns the Witness Tree Vineyards (white and Pinot Noir) and apparently got the idea to be a vintner from our good friend in Napa. Doug is a pilot by training, Bob Huffhines is still in Long View, WA where he represents indigents for the local county. John Olson is in Portland. George's daughter Stephanie graduates from Northwestern this Jun with a BA in radio/TV/film. She will work for one yr before going to law sch. Son Jonathan is in the local col in Bend, OR. George wanted to remind everyone that the 11th ACR is going to have a reunion in DC from 23-25 Aug. A lot of our classmates, including this scribe, belonged to that unit in VN.
The Supe passed along an interesting chart showing the percentage of all offs in relationship to the rest of the Army, by USMA yr gp. Our Cl has approximately 27% while '64 has 45% and '66 has about 33% of the general offs by yr gp. The percentage of the specific yr gps that are still on active duty shows a steep decline from the 20% in '64 to our 18%, about the same for '66 and then about 8% for '67. Thereafter, the numbers start to go back up slowly to the 20% range in '75, and then level off. If I'm reading the data correctly, what it says is that even though the percentage of the yr gps that are still on active duty is going down starting with the Cl of '64, the percentage of gen offs that are USMA grads is going up.
Bob Wolff wrote from Potomac, MD that he had attended the 91 Black Engr Of The Yr Conf in Baltimore. He was there talking to black col students about employment opportunities in the Engr Corps. While there, he ran into Joe Anderson, who was one of the finalists. Joe looked great. Joe lost out in heated competition to COL Bluford, the first black astronaut. Bob will be ret from the Res after 26 yrs. Dave Hurley wrote from Princeton where he was elected to his local township council, soundly beating his main opponent, "unopposed." One Of the first jobs was to eliminate their Fire Dept, thus becoming the first NJ town to contract fire svcs from a neighboring comm. He followed that chore with negotiating the police contract.
Also at the Black Engr banquet was Ed Armstrong who was representing GE. Ed is in Springfield, VA.
That great swimmer of ages ago, Jerry Merges, wrote from Boca Raton where he proudly rep that Kyle Anthony, grandson #1, was born in Feb to his son & daughter-in-law in Frankfort, IL. His other children include son Doug. married in 90, Laurie, a jr at Wittenburg U in Springfield, OH and Samantha, a HS sr at Culver Girls Academy in IN. Jerry Sr and Doug both work at Crown Equipment which Jerry Sr joined upon leaving the svc. Jerry & new wife Peggy now live in Boca Raton where he is in the financial planning/svcs field.
While visiting WP in Feb, it was interesting to see Jim McEliece, in the Hotel Thayer, in his BDU's and what he described as a "gas Mask"--obviously ready for Saddam and for the trustee's mtg (it was his briefcase). My thanks to Merritt Bumpass for helping me out with some OH legal bus. He is still in Cleveland. Rollie Stichweh was nominated as a trustee-at-large for this upcoming 3-yr period. That gives us Tom Barron, on the Audit and Finance as well as Pension Comm, Coll and McEliece on Societies Comm and Dave Kuhn on the Thayer Award Com. Incidentally, the plaque underneath the '65 Arvin Award in the old gymnasium has been installed, thanks to Bob Doughty.
I tried to get over to Max Thurman's ret in DC but had to cancel at the last min. The CinC came over to personally address the gp. This happened in the middle of the Iraqi attack. The Pres reiterated the famous Panama music story--who, someone asked, was playing that loud music outside the Papal Nuncio in Panama? Could that have been Max idea? Max is in remission and looks good.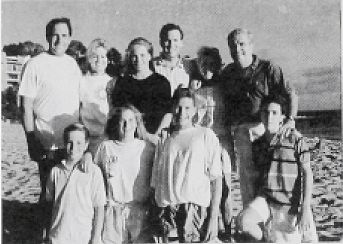 Everyone is always asking about gen ofs in the Cl. So here goes the latest list: Benton, Bliss, Christman, DeFrancisco, Genega, Gill, Longhouser, Mullen, Pickler, Shinseki, Taylor, John C Thompson, and Dick Tragemann. That's the latest as of Feb 91.
Paul Schultz, Lew Green and I are working on a '65 roster. We should have it ready to go by the fall. You'll be getting a questionnaire from Dave Kuhn to fill out and return to us. If it works out the way we hope, it will have lots and lots of info not only about our Cl but about offspring, grad schs, lines of bus, etc. The more people who respond to the survey, the more meaningful will be the roster. That's why it still bugs me that there 194 folks out there that we don't know about via ASSEMBLY!
The pic of the Kuhns and Colls was taken in CA last Sep.
| | |
| --- | --- |
| 1965: The Art Mark family | 1965: '65 Reunion |
Fred Smith asked for a list of classmates in San Ant: Gordon Letterman, Jerry McMillan, Fred Timmerman, Dick Boerckel, John Anderson and Sonny Arkangel. I received word that Mike O'Grady was last seen in Martinez, GA and so I wrote him. This word came from Art Mark, who also sent a pic of Terry & himself, as well as their 9 children.
Unfortunately, we only had a few pics this time so I had to dig some out of the old files. The two of the reunion are self-explanatory.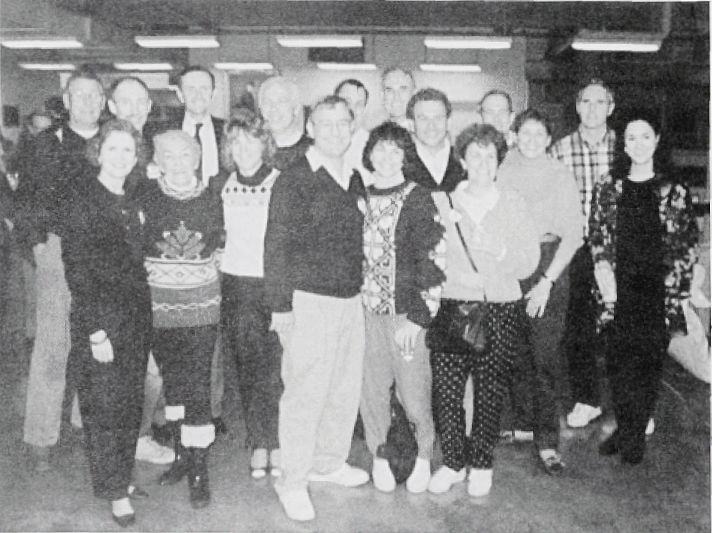 Please keep those ltrs and pics coming.