Greetings once again from Chicago! Although we covered most of the reunion news in the last issue, there are a few loose ends. First of all, the group pic is available, but quite frankly it's not much good without a microscope. Secondly, Jim Tomaswick is amenable to ordering additional coffee cups commemorating the reunion, with an inscription of the cup indicating the 25th reunion and the date, similar to the cups for the 20th. Cups can be ordered either in black or gray. The cost will be $10, check made payable to USMA Class of '65. Also, there have been several requests for '65 baseball caps, but Rick tells us that we need 70 ordered before it makes economical sense. The hats would cost $13. If interested, please send your order in to me no later than 15 Mar 91 at the above address (incidentally, I have changed off location and tel no--see above) and I will take it from there.
Just to confirm, Cynthia Johnson verified that Rick Osgood and Tom's father will be writing his obituary. She is very appreciative of the other classmates who offered their help, and also to all of the ltrs and personal notes of condolences that were sent to her.
We have just sent out approx 200+ ltrs to classmates who do not subscribe to ASSEMBLY mag, many of whom attended the 25th Reunion. I think we need some peer pressure because it's likely that if someone does not subscribe to the Mag, they will more than likely not write your friendly scribe to let him know so that the Class can know what he is doing. For the grand sum of $15 a yr, it's a good way to keep in touch. The large no of non-subscribers absolutely blew my mind.
In our latest Chuckie sighting, please note pg 221 in the Oct 90 Town & country. Our classmate Pffiefer is sitting on his Harley hog. This guy's got some kind of PR agent. Clair & Sherry Gill were at the Army/AF game at the tail end of BG charm sch and will be heading back to HI. Speaking of that football game, can you imagine a small river flowing down the steps from the Chapel--I've never seen it rain as hard for as long except in Panama. Speaking of Panama, our good friend Max Thurman has ret from the Army and is still fighting leukemia with a determination that few can match. Our prayers and thoughts continue to go out to our good friend.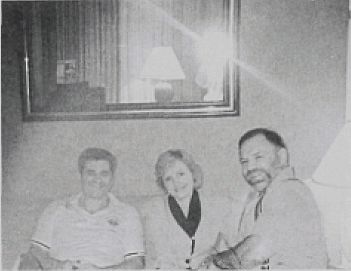 Tommy Abraham wrote recently ("I've been awfully busy these last 25 yrs...") and sent the enclosed pic of his old roommate Jack Terry and him sitting with Jack's new roommate Sue. Tommy and Jack were roommates with Tommy Johnson.
I received a great article on our retiring Howie Reed, who as I have mentioned numerous times before, got a lot of our sons and daughters through math. We wish Betsy & him the best in their new asgmt at NY Mil Acad in Cornwall. And Howie, another thanks for all your help with our kids.
Speaking of advanced planning, the AOG has not appointed a Bicentennial Comm to begin planning for the yr 2002. They are looking for big-league ideas and also need a Class rep as well as an exec dir. If interested in being the rep, please send your desires to Pres Dave Kuhn. If you are interested in the exec dir's position, call me and I will pass along the details. Tommy Barron is heading up the Art Comm (gives you some idea of the qualifications to be on this comm) for the Bicentennial gp.
I had a great conversation with my old floormate Jon K Thompson, who is in Memphis. Hon sold his Caterpillar distributorship and is not managing his own portfolio. Jon has seen John Morgan, who is an advisor to Reserve Components down that way. Hon has a freshman daughter at SMU and another daughter in HS, and has also been very active in the Def Conference Assoc, recently serving as natl pres. He rep that Steve Olson and Jay Stewart are also in Memphis.
The Koz wrote from the Def Intel Agency/DAT in DC regretting that he & Ann couldn't make the reunion, mainly because things are hopping in the Holy Land. With his new asgmt in DC, he hopes to see more classmates. In his new asgmt, he will be running the Def attache' system in 95 capitals worldwide, although his first choice was to go back to the USAF. Joe & Ann are the proud grandparents of Jacob, who was born to their daughter Dawn in Dallas. No Joe, Judi & I are not grandparents yet, but I will endeavor to see how many we have out there. So folks, if you are a grandparent, the next issue will be a "grandparents special issue," so end your ltrs and pics in. Russ Campbell, who works at Chase Bank, enjoyed the pics taken at the reunion. He sent his regards, along with those from Joe Barkley and Rick Kuzman.
When we went to see daughter Shannon at USMAPS at Ft Monmouth, I ran into Lee Hewitt, who is the PM of the Army's equivalent of ground AWACS. They are still working on the project which Lee says can locate a ground soldier within 2 mtrs. He & his wife have two small boys at Ft Monmouth.
I also received a nice ltr from Rollie Stichweh thanking all of the classmates who helped pull off the recent reunion. I wholeheartedly concur that a lot of people made this thing happen in a very short period of time in such a way that we will all remember the 25th for a long, long time.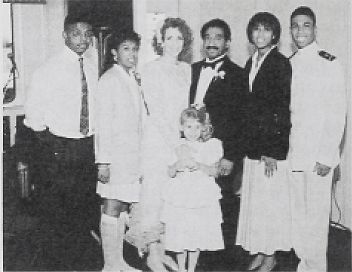 Jim Conley got married last Jun and sent some pics of his new wife, Eileen. She works for GM in Ft Wayne and Jim works in Detroit. Subsequent to the wedding, Jim was appointed dir of NA Truck Planning at GM. And yes folks, the guy on the rt in the white uniform is a USNA '93 attendee of Canoe U. Other Conley kids: Kimberly left her job at Esprit in San Fran and is not completing her degree in economics. Son Sparky grad from Lake Forest Col last yr and was recruiter for Knox Col in IL. He is now at a med company as a counselor. Kelli is back at Ohio U where she is a bus major. Eileen's young daughter Erin is in the second grade.
The next pic shows Jim with several of our classmates. At left is Bob Ramsey; next to him is Hal Jenkins, who is working for a "computer wargames simulator" and looks like a million bucks. Joe Anderson is running a strategic business unit for GM for the Inland Fisher Guide, which has grown substantially. Art Hestor is running the Arlington, TX GM plant.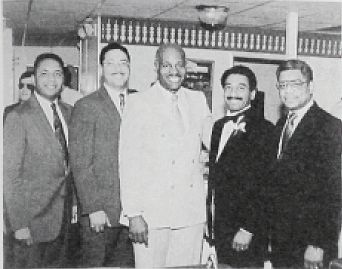 Lou Csoka has been elected a mbr of the Conference Bds Council on Dev, Ed and Training, which is a leading US forum of sr execs responsible for this function within their orgs and spans more than 50 nations. Tom Borkowski moved to VA about 5 yrs ago, where he is a consultant with car dealers across the US. He volunteered to do the obituary on Jim Echols and Mike Momcilovich. He & Robin have 3 children, ages 14, 11 and 7. Chuck McCloskey is the district engr in Little Rock.
I also received a great ltr with the two enclosed pics from Jim Berry, rep that 13 mbrs of G-2 had returned to the reunion. As seen in the pics they are Dick Coleman, Paul Barber, Jim Greene, Jim Holmes, Berry, Jack Barwis, John Longhouser (their first BG-to-be), Mike Hudson, Mike Applin, Pat Kenny, Dave Hopkins, Larry Leskovjan and Oleh Koropey. Jim gave a brief rendown on some of the mbrs: Jim has been married to Margie for 25 yrs and has 3 children: Ton (24), a St Bonaventure grad who is now working for Van Huesen as a computer programmer/analyst; Donna (23), a SUNY grad doing her grad work in speech pathology at U Ohio; and Barb (20), a jr at Holy Cross in psych. Jim is still working for Johnson & Johnson in New Brunswick (20 yrs) while Margie substitute teaches--they live in Flemington, NJ.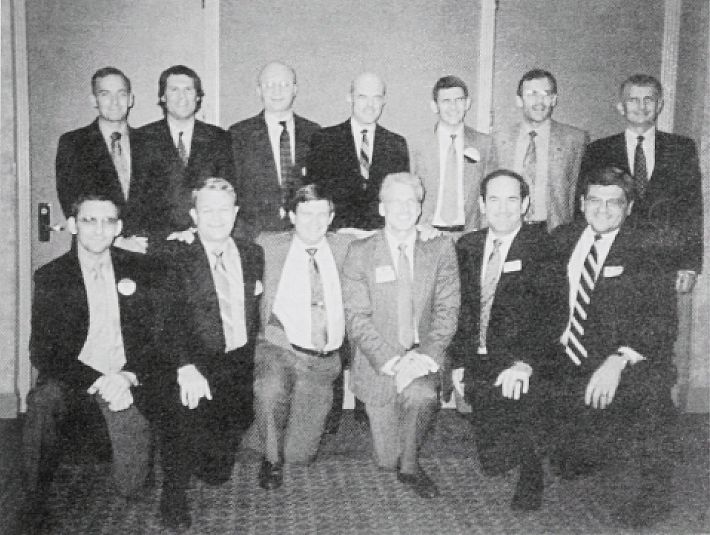 Jim Greene still flies for Delta (your scribe is dictating this newsltr on a Delta flight from Atl), doing European routes, and is still married to Bobbye. I should rep that the one "missing" pic from the 20th reunion finally turned up at the Greenes'. Dick Coleman, attending his first Class reunion, works where he fishes (for the Fed Fish and Game Commission) and is a LTC in the Reserves. He & Beth were married in 67 and have 4 kids. Dave Hopkins was with DuPont and is doing mgt consulting in the org dev area in Wilmington. He & Arlene have a son who is a plebe, as well as a beautiful daughter.
| | |
| --- | --- |
| 1965: Jim Berry and Jim Gerrne at 25th Reunion | 1965: Barb, Stas Jr, and Stas Genega |
Bob Axley rep that he & Michelle will be celebrating their 25th soon. He sees Jim Holmes, who was the dir of the MO Lottery and who is now in Dallas running a co that provides satellite bingo to American Indians (at $500,000 per night!). Also in Dallas, Stas & Barb Genega are shown in the pic swearing in son Stas Jr as DMG from The Citadel last May. Their daughter Beth graduated from ND two yrs ago and is not a second-yr med student in NJ. Stas is the CG, SW Div, Corps of Engrs.
Well folks, that's about it from Chicago. Please not the new address and tel no above and keep those cards, letrs, and especially pics coming.