"Not just another college reunion--this wkend is something.special.'' Words well spoken by our good friend, Padre McCormick. Over.350 classmates, spouses, friends and family mbrs arrived at the Sheraton Intl Crossroads in Mahwah to celebrate a quarter of a century (can you believe it?) since June Wk. Here's an update on everyone who attended.
Freddy & Carol Grates came up from Houston after spending a wk visiting family and friends in Niagara Falls and Utica. Kathy & Walt Kulbacki left after the reunion also to visit family and friends. Tony Clay, whom several of us only see walking down 5th Ave in NYC, rep on his semi-ret in W Hampton and doing some real estate (looking fit as the all-American swimmer that he was, I might add).
One of the outstanding aspects of the wkend was the large no of classmates that Stichweh and Zadel coerced into getting involved. One of them was Chuck Boohar, who came up from his law practice in Phila and hosted the career counseling session, attended by a no of our active duty classmates looking to get out of the mil. Points to remember: give yourself 1-2 yrs, spend some time writing a good resume, network, network and network, and by all means, don't become unemployed-unemployed (even if they are ret) people are very difficult hires.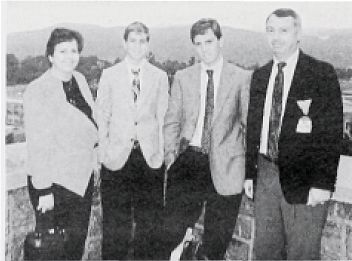 Steve Clement was there with his 2 boys. Steve and a no of Max Thurman's other close friends penned a get-well missive to our good friend in Walter Reed. Speaking of Max, have you ever closed your eyes and listened to Frank Hennessee talk? Max is running the Southern Cmd from his hosp bed and Frank is making sure that the orders are carried out. In addition to Frank, we have a no of other classmates who are in key positions. Joe & Lynn DeFrancisro came up from Wash, where Joe is the XO to the SA. Dave & Nancy Benton also came up after the CS told his XO to go enjoy the reunion. Dave and Joe also joined the most recent list of new 1-stars with Steve Bliss, John Longhouser and Orlin Mullen. And how would you like to be an 18-yr old son of '65 tending bar in Garmish-Pat & Alice Kenny's youngest son is doing just that. Their daughter lives in Princeton and they were going to stop in to see her & her lawyer husband on their way back to Wash.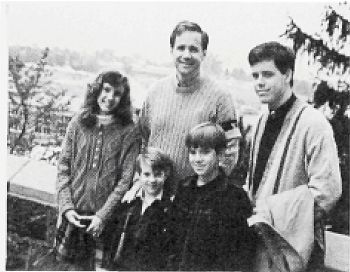 My old Pittsburgh buddy Don Kurtz was there, and rep that the stock bus is still alive and well. Jim Scheiner is back practicing law in PA as was George Bell, who is with the 4th-largest law firm in the US. Jack Terry surprised our daughter and son with his stories of sleeping with their dad for 9 wks in Ranger Sch. Roger Frydrychowski was there with his 4 neat-looking kids. Jimmy Smilh & his lovely bride, Elizabeth, were caught by the scribe doing PDA on the dance floor. Jimmy inquired as to the whereabouts of Ron Butterfield, who has disappeared from our rolls. Anyone know? Jimmy had heard that he worked for UA in San Diego. Jack & Annette Lowe came with daughters Melanie and Stephanie, along with Melanie's college friend Chris. Jack just got a great promotion and is now running an EDS div responsible for providing DP services to the chem industry. Chuck Shaw convinced Judy & me to try some of his later wines, which we will do. Paul Schultz came in from CT where he runs a DP shop, and has volunteered to help the scribe with the Class roster. Paul Barber, who formerly did this, will be leaving WP. Lew & Barbara Greene came up with a great suggestion which I'll follow up on, namely to provide an annual roster (similar to what many of the WP socs across the country do).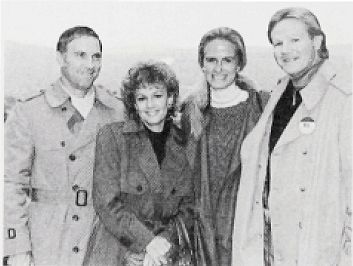 Bo DeSantis provided the following rundown of our active duty USAF types: 60 classmates started, of whom 3 saw the light and went back to the Army (Johnson, Kramer and Webb). Four came from the Army (Divers, Mitchell, Joyner and Leverett), for a total of 61. Thirty-seven have resigned and about 15 have ret, leaving 10 on active duty. As best could be determined, these are Koz, Gordon Long, Ed Armstrong, Andy Zaleski, John Madia (was at the reunion and is running the B-1 Bomber prog in Dayton), DeSantis, Karl Plotkin (who is a radiologist), Divers (OB/GYN), Billy Mitchell (fighter pilot) and our dentist, Harry Joyner. Bo & Bonnie have 3 boys aged 23, 20 and 16. The oldest is in the Army in Ger, the next plays football at BYU (#64) and the youngest is a QB in HS, hopefully with more foot speed than his QB old man. They have 2 grandchildren and enjoy Hill AFB in UT, where he is the base civ engr.
Bob Huffhines came from his home near Portland where he is a proxy lawyer. Several classmates rep on Congress' quick action in allocating a significant contribution to USMA on behalf of our deceased classmate Tom Johnson, to include having a bldg at USMA named after him. Tom's father ('43) will write the obituary. In the small-world category, imagine our daughter Shannon's surprise after spending a wkend in DE with her friend Chris, and finding out that Chris' next-door neighbors were Dave & Darlene Hopkins.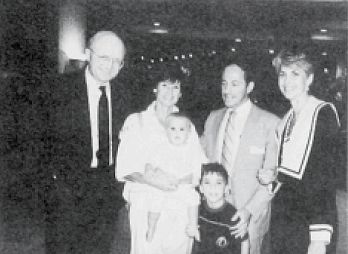 One of the outstanding presentations at the career counseling session was given by Ed Knauf, who runs a $150 mil co in Lancaster which he started in his basement about 9 yrs ago. Tom DeJonckheere works for him. The youngest attendee award goes to a cute little blonde bundle of 8 mos by the name of Elizabeth Campbell, who attended with Russ & Maryann. The Shinsekis came from Chicago to see their daughter. Ric rep that he has once again started his own bus where he is an engr for the real estate bus. Ric's son joined about 16 of our other offspring at USMA and USMAPS for the enclosed group pic. In addition to our son Brian and daughter Shannon (USMAPS), Dave Curl '93 and Gil were joined by Clair Gill, the two Bill Heckers '91, Mark Hopkins '94 and parents, Pat Howell '92. Also in the pic are the Jenkins with Hal, Jr '93, Art Mark and daughter Nicolette '91 who is getting married to a '90 grad next yr, Marylin, Chip and Skip O'Donnell '90, Colleen O'Hara, the two Kims of the Olmsteads ('93), Jenny Osgood, Tim & Pat Timmerman sans son Eric '91, Debbie Vann '92 with Dave & Stash, Shaw Yoshitani '91 with Ken & Izumi. Absent were Doug Andresen, Ballard Barker, and Nancy Csoka.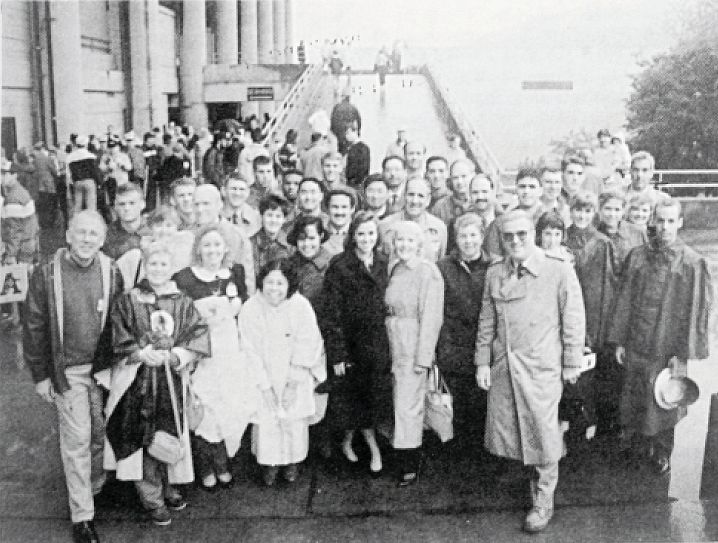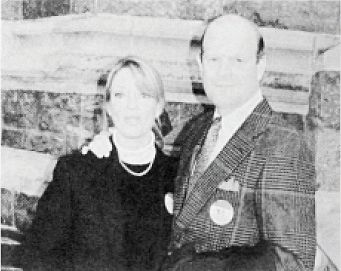 Frank Prokop rep that Keyes Hudson lives two blocks away from him in Dallas, although Keyes is looking at a job in Huntsville. Jim & Carol Stewart came up from Cincinnati where Jim is doing great things for P&G. On Sun after the cadet brunch, we ran into Harlan & Carolyn Fricke who were looking for a plebe friend of their son during their first visit back to WP in 25 yrs. The Adams boys, Curt and Ralph, were also seen having a ball throughout the entire evening, as was Randy Guenther. Colin Halvorson took an active participation in the career counseling and offered to help out anyone in the DC area. Jim & Cathy Holmes were going to NYC for a few days after the wkend to enjoy themselves. Mike Hudson & his lovely wife Marie came in from CA looking tanned and fit. Bob Doughty and Jim Golden rep that the academic depts are in good shape. Tom Kelly is still in Chicago with ARC.
At the dinner dance, the Com compared us with '89. Push-ups were 37/37, sit-ups were 60/72 (not good) and the 2 mi run was 14:45/14:54. Then he compared us with the '89 men: 37/68, 60/73 and 14:45/13:00. Oh well, PT anyone!
Roy Garms is still with Exxon and Jerry Lipsit still lives in Buffalo Grove, not too far from us in Chicago. John Longhouser looked fit, as did Bob Frank and Bud Fish.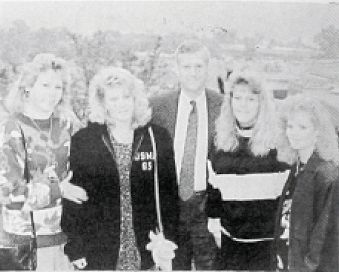 It was also good to see some old friends whom I haven't seen for awhile, namely Joe Anderson, Mike Applin, Jerry Hoffman, and esp Jack Jannarone, who looked trim and fit and who has resumed flying for Pan Am. Ron Layer came in from IN and Denny Lewis from OH. Steve Darrah cornered Walt Oerhlein and rehashed old tennis days. Torn Barron was joined by Tosh, who rep their sons were doing well. I hadn't seen Ed Klink nor Oleh Koropey in quite awhile. Chuck McCloskey attended solo since his wife had to work. Joe McChristian and I talked a little bus while Rocco took an unplanned swim in the pool on Sat night. Chuck Moseley is still in the nuclear power bus and Chris Needels showed us the required camouflage outerwear for White House staffers. Don Parcells and Ray Paske both looked to be in great shape and were seen rehashing old gridiron stories with new DIA Al Vanderbush. There seemed to be a lot of wrestlers and gymnasts this time, including Grates, Tommy Abraham, Tad Ono, and Bob Wolff.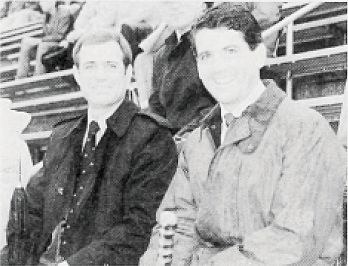 I was able to get the inside scoop on Fire Birds, the movie brought to the big screen by Step Tyner and John Swensson. Rick Wetherill wandered in late on Sat night. It was good seeing Barrie Zais with his wife, since most of the pics I get of him have some head of state in them also. Jim Stephenson came in from Minneapolis while George Ruggles came in from the W Coast looking great. Bill Reisner is still in NY in the brokerage bus while Howie & Betsy Reed are enjoying ret. Terry Ryan was there, as was Dan Steinwald and Freddie Smith. Joe Sanchez, one of the organizers of the event, was there and did another great job pulling this whole thing together, as did Jim Tomaswick, who was responsible for getting all the goodies. Jerry & John McMillan were there along with John Wattendorf and Carl Peterson. Marty resick and John Salomone were also there, along with Hank Sterbenz, Larry Wiest, Steve Paek and Jim Paley. Hank Mickells, Frank Skidmore and John Seymour spent some time on the dance floor. Wayne & Susan Scholl came down from DC where Wayne is the Engr's environmental czar. Bob Scully came in from Chicago while Jim Mirando spent some time renewing old friendships. Steve Morrissey, Glen Nenninger, Frank O'Brien and Ross Wollen came in from all over the globe trying to figure out who the first Reg O'Leary was. Jim Dyer, Dick Kramer, Barry Levine and Dave Hurley was seen going back for seconds at the ice cream soda bar on Sat night after the game, as were Steve Harmon, Jack Barwis, Dave Bangert and Slats Letterie. Speaking of the do-t-yourself ice cream bar, Mac Gilchrist, Pete Howard, Ray Hawkins, Jim Greene and Dave Gnau spent a few spare moments there also.
Although some of the less brave decided not to weather the rain storm at the football game, I am happy to rep that a few of us stayed till the very end, among them Steve Ammon, Ray Pollard, Preston Motes, Ed Sharkness, Gene Manghi, Pete Lounsbury, Lowrey West, Don Parrish, Jim Berry, Bill Birdseye, Mike Huston and Larry Isakson, as well as Doug Kline, Don Erbes and Jimmy Ferguson. Not seen at the game but indubitably enjoying themselves were Sonny Arkangel, Sandy Hallenbeck, Jose Gonzalez, Guenter Hennig, Henry Kelley, Larry Leskovjan and Doug Gentzkow. Also rep as early depart for Hollander hall were Dick Coleman, Jim Harmon, Roger Griffin, Ron Bailey, Mike Teeters, Johnny Wells and Ed Winstead.
Rusty Pullen flew in from CA while Tommy Sheckells was also there. Richard C Williams was there, along with Ernie Westpheling, Harly Moore, Larry Bennett, John Bell and Jerry Eichelberger. Russ Dornier, Richard Donahue and Jim Coughlin joined the festivities, along with Robert D and John C Thompson. Bill Tredennick spent some time poolside with Gene Parker. Jim Hardin and Jim Harvey were also there, along with Bill McKemey.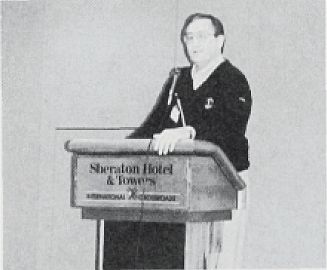 Speaking of Jim Harvey, everyone, and I mean everyone that spoke to me during the Sat morning memorial svc, commented on how moving it was. After opening remarks by Bill Zadel and Chap Ford, Pete Lounsbury read a scripture. Following Fr McCormick's comments, John Pickler, Dan Christman and Barrie Zais read the names of our 34 deceased classmates (Arvin, Berdan, Berdy, Borrego, Brown, Bryan, Al Clark, Gerry Clark, Collins, Davis, DeWitt, Dickey, Echols, Endicott, Gagne, Glynne, Hays, Hemmingway, Hutton, Jeffcoat, Johnson, Kedetz, Keats, Kistler, Lee, McArthur, Menninger, Metzner, Momcilovich, Myers, O'Conner, O'Toole, Wuertenberger and Zonne). I recall this list here so that those of you who were not in attendance might spend a moment in reflection. After the Roll call, Chuck Mosley asked for special requests from the participants, followed by John Swensson singing a song. Bob Wolff read a psalm and was followed by Chaplan Ford, who reminded us that he also was a plebe during our first yr at the ripe age of 29. Joe Anderson followed that by singing "Amazing Grace" and Chuck McCloskey offered a prayer for the Class. Jim Harvey led the husbands and then the wives in the reaffirmation of our marriage vows, and he was followed by Wayne Scholl, who offered a thanksgiving for all the Lord has provided this Class. Dave Kuhn closed the ceremony with some brief remarks.
But as I said at the beginning, Fr McCormick set the theme for this, our 25th Reunion: "This was not just another col reunion. It was more than that," said the Monsignor. "WP grads are special. They use strength for peace and justice. They must articulate the truths and ideals of WP more clearly and concisely now more than ever before." How true it was on this special wkend.
The Class owes a debt of gratitude to Bill Zadel and Rollie Stchweh, who were ably assisted by Abraham, Barber, Boohar, Doughty, Harmon, Harvey, Hopkins, Kuhn, Letterie, McEliece, Carl Peterson, Sanchez, Tomaswick, and Wollen.