Greetings once again from Chicago! By the time you read this, the reunion will be history, but because of my deadlines I will have to rep on the reunion in our next column. It is with regret that I start this column off on a very sad note. Tom Johnson, who recently was an advisor to the Secy of En, died of cancer on 27 Jun at Walter Reed. In addition to being an authority on satellite communications, lasers, magnetic confinement fusion and nuclear weapons, he was also spec asst to the Pres' Sci Advisor and exec dir of the White House Sci Council. Our sympathy goes out to Cynthia and their 3 daughters on this most untimely passing of a good friend. Step Tyner has volunteered to write Tom's obituary. If anyone wants to assist Step, please contact him at 408-626-1913.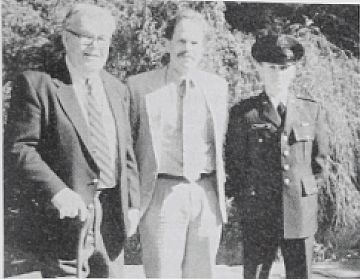 While in New Orleans to visit daughter Shannon (now at USMAPS), I called Lee Atteberry to try to get together. Unfortunately, Lee was out of town but I had a very nice chat with Janet. For some unknown reason, the narrative never made it with the picture that Lee sent me. The pic of Lee, his father and son, shown here, was taken during his son's grad from Duke (magna cum laude) with his BA in physics. He was the AF ROTC Corps cmdr. Joining Lee at the swearing-in ceremony was grandfather Roy '41.
Let's hear it for change of address cards (PS Form 3576)-a great little invention. Zig Roebuck sent one with his new address in Huntsville, AL. Ziggy, a rocket scientist? No way!
We received a couple of copies of a most interesting Jun article from the Aiken SC Standard Magazine with a pic of Art Mark and his children, all 10 of them. Art ret from Ft Sheridan and moved down to Aiken to become a teacher. Of the 10 children, 3 are in col and 7 are at home. The oldest is USMA '91 Nicolette. Mark rep that he has unconfirmed sightings of my old bridge playing, football partner Mike O'Grady in the Augusta, GA area. If anyone knows whether that's a fact or not, let me know. If you wonder how someone on an 0-5 salary makes ends meet with this many children, listen to this: in addition to Nicolette, Claudette is on a full scholarship at the U of IL, oldest son Mark is on a full scholarship also at U of IL, and the rest of the kids look like they are going to be pacesetters also.
Also received a most unusual note from Dan Speilman who is currently in Hanoi--yes, folks, Hanoi--where he is a plastic surgeon for a privately funded health care org. He works directly across from the infamous "Hanoi Hilton." He rep that the conditions in Hanoi are worse than they were during the war. Dan ret from the service a yr ago and he & Nancy are enjoying ret (when not in Hanoi) in Sterling, VA. Oldest daughter Trina grad from U of TX in May and son Danny is a jr at George Mason. The two younger ones, Angy and Molly, are still in grade sch. Dan, thanks for the ltr, but don't wait so long next time.
Speaking of drs. John Bell wrote from Melbourne, FL with an article on our own DeAnza Col (CA) English prof. John Swensson. John's first movie, Fire Birds, was to be the Army's answer to Top Gun. Unfortunately, after a lot of editing and rewriting, and rewriting, it didn't turn out quite that way. John was helped by Step Tyner, which we rep earlier.
I have had a number of discussions with Bill Zadel about the reunion. Bill is still in the Boston area where he runs a blood testing equipment co that is a gp effort between Corning Diagnostics and CIBA. His oldest boy starts law sch in Toledo and is also a tennis teacher. Their daughter is a sr at Boston U. Has another son who is a sr in HS.
John Pickler, who is the SO to the. COS, will become ADC of the 4th Inf Div at Ft Carson. Our congrats to John on his first star, our 7th?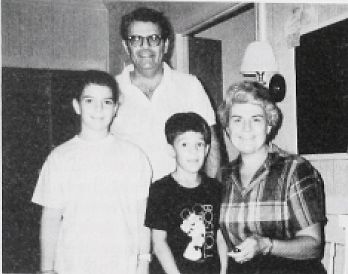 I received a nice ltr from Jay Vaughn who is at TRADOC. He enclosed the nice pic of Graham Forrest and his family. Jay enclosed an interesting update on the H-1 files, parts of which (only those that are reprintable) I thought might be of interest. Jim Airy sells main frames for GTE but would rather be getting his own orthopedic products co off the ground. Jim holds 3 US patents on orthopedic products and has an MS from Stanford and an MA from U of CA. Bob & Barbara Ann Anderson are still in Anchorage where he runs a VA outpatient clinic. Bob remembers H-1 days when he, Bob Hill and Lee Atchley were working on a physics project and they passed. He is also constantly reminded of Airy since he somehow ended up with Jim's hatbox. Lee & Suzanne Atchley have been married for 4 yrs. Lee's daughter Cathy just graduated from TN U. Lee is a sr mgt engr at Erlanger Med Ctr in Chattanooga. Dave & Cheryl DeMoulpied's son David (21) is a jr at Cornell, Nicole (17) will be going to Babson Col next fall, and Steven (12) is in 7th grade; all are doing well. Dave works for a gp of high tech companies within EG&C. Bo & Maxine Forrest and their daughter Mary Graham (10) and son Russell (7) are leading a very active life also. Bo is a dentist who makes his living "drillin', fillin ' and billin'." Bo wants his tombstone to read "better the stomper than the stompee."They live in Shelby, about 30 mi from Charlotte, NC. Ron & Ann Kolzing live with daughters Kristine and Karen (15). They are very active in sch activities. Ron is a chief probation off. Ron fondly remembers MAJ "Yeiks" (later LTG Yerks) shaking his hand and telling him, ''when you graduate, the LAST of my problems will be over."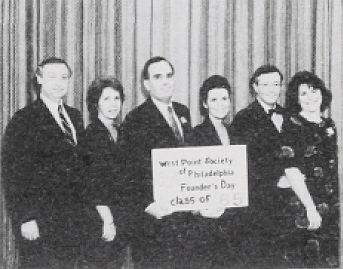 Ron & Dolly Layer live in Munster, IN and have two daughters, Lisa (21) and Michelle (16). Ron is a trial lawyer who would rather own an Italian rest. Ron apparently is just noted for falling asleep during Douglas MacArthur's infamous talks to us when we were plebes. Ron, I happen to know another guy who fell asleep (in his football pads!). Tony & Katheryn Livic have two sons, Krizan (14) and Nik (12).Tony ret from USAF in 71. Tony's best remembrance of H-1 was seeing Bart Barry chase Guy Riley around So Area, after Guy, doing a little impersonating, telephoned Bart and announced that Bart had been "turned out." Bill & Roberta McCreary have 4 sons, as we rep last time. Bill filled out a survey sheet for his alter-ego Cadet Gray Hog McCreary. Gray Hog & his lovely wife, Army, have been married forever. Their kids are named A-1, M-1, Airdropable, Push-to-Walk and Kick-to-Talk. All of their kids are girls that look like him. Gene & Judy O'Neill reside with their 3 children, Tom (21). Sean (19) and Heather (12). Gene is still in the Army as a Signal Corps 0-6 assigned as dir of the Army Space Inst at Ft Leavenworth, KS. He has had 3 tours in Korea (lucky guy). Jon & Joanne Plaas have 3 children. Joanne is an accomplished painter and sculptor. Rachel (25) is studying to become a med admin, Joe (23) is a col jr and Elishia (14) is a tall 8th grader who excels at basketball. John is a sr pharmaceutical exec and worked for Pfizer for a while before joining Marion Merrell Dow. He is the chm of MMD Puerto Rican manufacturing subsidiary.
Tony Pyrz (who, to the best of this scribe's recollection, has never written said scribe) & Marianne have two grown sons; Paul (24) graduated from AZ St in 88 and Ron (21) is a sr at George Mason. Paul will be married in Phoenix this Oct while Tony & Marianne will be moving to Tampa. Tony is beginning a new career as project mgr of RM Parsons consulting firm in Tampa.
Jay & Sharon Vaughn have been married for 23 yrs. They have 4 daughters, one son and one granddaughter. Daughter Tracy (21) & Doug attend U Of A. Jennifer (19) is also at U of A as a soph. Amy (16) will soon be a high sch sr and works as a teen-age drug prevention peer counselor. Patrick (13) is an honor student and loves to write. Heather (10) is learning to play the piano and sax. Jay is still in the Army (a spook). His current job is dir of Advanced Tech for the Army's intelligence ctr. Jay's favorite H-1 incident is the same one that others remember in conjunction with "Blue Flame" where they prove the hypothesis that Jay was indeed a human Bunsen Burner. And finally, Joe & Shawn Zurlo have one daughter, Melanie (18) who is an award-winning dancer, writer, pianist and scientist on her way to William & Mary Col. I think Joe is a dr. So much for the H-1update. Jay.great ltr and thanks.
As of the date of this writing (Aug), our good friend Max Thunnan is in Johns Hopkins Hosp undergoing treatment for a serious case of leukemia. Our prayers and thoughts are with him.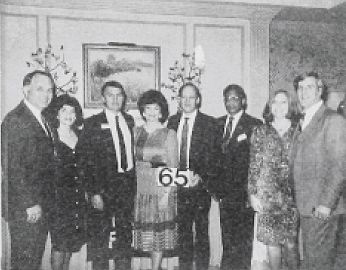 Mike Stanko wrote his first ltr in 25yrs and enclosed a nice pic of Joy & him, along with Frank & Dorma Prokop, Keyes Hudson, Art Hester, and Penny & Tommy Thompson. Mike rep that he and the girls are located in Bedford, TX between Dallas and Ft Worth. He has attended some breakfasts with Bob Bedell, Bob Axley and Prokop. As you can see by the pic, Frank is in disgustingly good shape, still playing soccer and has managed to coerce Keyes into doing the same thing. As rep last time, Art has taken over managing the GM plant in Arlington, TX and is making an impressive impact on that business community. Bob Bedell gets a feather in his cap for his work in support of the dedication of the TX Vietnam Vets Memorial with the Press attending. Mike also rep that according to their WP roster, Jim Holmes, Larry Konermann, Harley Moore and Ray Woodruff are regular members in No TX. Mike, thanks for the ltr and stop by if you pass through again.
Well folks, that's it for now. See you at the reunion. Keep those ltrs--esp pics--coming.