Greetings once again from Chicago. First of all, an update on our reunion. It's a definite for the VMI wkend, 20-23 Sep. Contacts are Stichweh, Zadel, or Kuhn. A mailing went out in late May with details and a request to return forms to Jim McEliece at the Dean's off at USMA. The function will begin on Thurs and go through Sun, highlighted by the dinner dance Fri night and a cruise Sat night after the game. The Class will be staying at the Sheraton Intl Crossroads Hotel in Mahwah , NJ (201-529-1660). Special group rates for our Class may be obtained. Activities during the period will include a business mtg and approval of our new Constitution, election of offs, several seminars to include one on job searches, etc. All in all, it's really coming together. The committee expects about half of our classmates to show up.
On a different note, I had an opportunity to have a pleasant chat with our former classmate, Bill Rennagel and his lovely wife Sue. Bill was in H-2 as a plebe and then joined '66, where he spent most of his time in A-2 and M-2. He & Sue live in Vienna, VA and have two girls (20 and 17). Bill has been on the AOG Bd for several yrs and has fond memories of Art Hester, Chris Kinard, Glen Nenninger and John Alger. He works in DC for the Intelligence Community staff.
Speaking of Hester, there was a great article in the 20 May Dallas Morning News about Art taking over GM's Arlington assembly plant. He joined GM in 81 as gen supe and then went to prod mgr in Kansas City. The Arlington plant is completing a $I30 million overhaul and will build the restyled 91 Chevy Caprice. Art received his MBA in finance from NY U in 77, going there at night while he was still at USMA.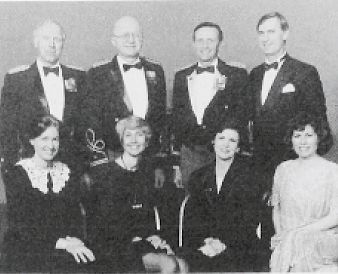 I received a nice pic from the Founders Day celebration in Wash, DC with the Christmans, the Applins, the Zaises, and the Birdseyes.
John Bell wrote in Mar updating me on John Swensson's movie. About two yrs ago, John and Step Tyner formed a film co called Belvoir Film Productions. Step wrote the screenplay and John took it to LaLa Land. He negotiated with Francis Ford Coppola (producer of Platoon).and John became co-producer of the new movie, Fire Birds, which will hopefully be the Army's helicopter movie answer to Top Gun. The movie premiered in DC in May. It stars Nicholas Cage and Sean Young. John is currently starting another movie project based on the last soldier out of Vietnam. John Bell also saw Dick Williams at the Army-Navy game along with other K-1 plebes, Don Kurtz and Jim Tomaswick.
Marianne & Jim Paley wrote and sent word that they are on a two-yr asgmt to Kuala Lumpur, and so far they love it. They live downtown within walking distance of the Esso off. They will probably come home for the 25th and look forward to seeing everyone. Anybody going through KL should give them a call. I have their no.
Tom Fergusson wrote and gave me a lengthy update on what's happening in his life. After a very difficult yr in 89, Tom and daughter Robin were in MA where he is a Fellow at Harvard Ctr for Intl Affairs. In Jul, they moved to Camp Zama, Japan where he will take over the 500th Ml Bde, which has 4 units in HI, as well as one in Japan. He should be in Japan for two yrs and Robin will grad from HS there.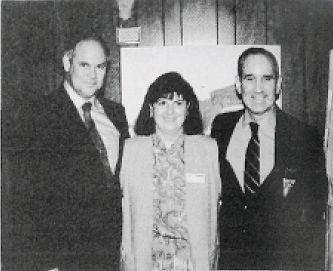 During a recent visit to WP, Tom saw Jim Golden. He also ran into Wayne Scholl at the Pentagon, where he and Wayne were both there to talk about their respective fellowships. There are 3 COLs in the Army Sr Fellowship Prog and we have two of them. Tom also stopped in to see Dan Christman and Bob Frank in DCSOPS. He spent the night with John & Karen Pickler at Ft Myer and also spent some time visiting Barry & Lynda Zais across the street. Tom also saw Bob Rood who has a great Job with GTE in Taunton. MA as an engrg project mgr. And while out in Carmel, he saw Jerry & Tina Ledzinski.
Skip O'Donnell wrote with a pic of Preston Motes and himself, taken at the WPS Intra-Mt Region Founders Day celebration at Ft Douglas in Salt Lake City. The pic shows the two of them with Sandy Motes. Skip inquired as to whether any of our classmates are stationed at Ft Benning? His son Chip has Airborne training there this summer.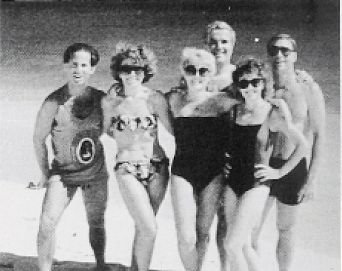 Speaking of Airborne, our daughter Shannon also has been selected by her ROTC bn to jump out of airplanes in Jul. lt should be a hot time in the old town. She also has been accepted at USMAPS. Stay tuned.
ln perhaps one of the best private vacations of this scribe's young life, Judy & I, along with 24 others, were guests of our good friends Bob & Sue McComsey on a private isl (Guana) in the Caribbean just off Tortola. The enclosed pic of the McComseys, the Coils and Jim & Julie McEliece show you what a tough life some people have to live. Elsewhere in the ASSEMBLY, you will see other attendees to include Joe & Connie Franklin '55,Peter & Kathy Boylan and Jay & Linda McCann '61. All in all, it was one great time, to say nothing of 360 bottles of champagne flown in (and consumed in 8 days) for the occasion.
1965: Jerry Hoffman with Mrs Salomone (John's mother) at Camp Buckner, 62

1965: Ray Schaltenbrand, JP O'Connor, John Salomone and John Connor on Spring Leave, 63

1965: Doug Davis at the Berlin Wall, 64

1965: Walt Saxon--warrior in Panama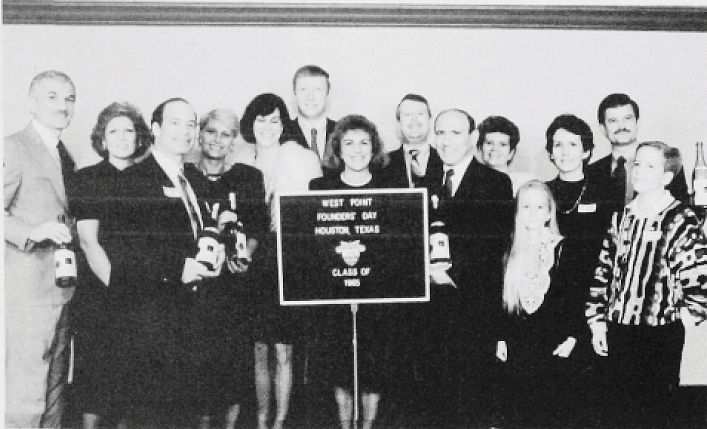 Jerry Hoffman wrote from Houston with some old and new pics. See if you can identify who is who in the pics. The first one is with Hoffman and John Salomone's mother at Buckner in 62. The next one shows stud muffins Ray Schaltenbrand, JP O'Connor, Salomone and John Connor during Spring Leave 63. At the Berlin Wall, we see Cadet Doug Davis in 64. And. finally, sitting on the sand bags is Walt Saxon in Panama. I particularly like the one from the Houston Founders Day meeting. The cute guy (with no hair) standing immediately to the right of the sign, if he had a cigar, looks a lot like the recently deposed CEO of Shearson. In addition to Fred Grates, the pic also shows Ray Woodruff, Jon King, Woody (are you still alive?) Epperson, Mike Deems, Jerry and spouses. They are all holding Charlie Shaw's wine. Incidentally, I had a bottle of his 86 Gamay at dinner on Judy's birthday and it was superb. Not everyone from Houston is in the pic. Absent were Mert Munson, a pilot, Jim Lane, a lawyer, Jim Paley, who is still with Exxon and recently moved with Marianne to Malasia, Grover Starling, who is a prof of business at U of Houston, and, Mike Deems, who just moved to Houston with NASA. Speaking of the Hoffmans, children Jeff and Paige are also in the pic, and go to a sch that uses the controversial math text written by John Saxon '49, Saxon must be on to something because John's kids are testing out 3-4 yrs ahead in math. Jerry also traced Randy Guenther to Wash, DC. He is an engr consultant there. Bill Bachman is an English prof at USL in Baton Rouge. Jerry was wondering if anyone has heard from Arnie Kovak since he left the Houston ministry? The Hoffmans are doing well in Houston. The door is always open for classmates who come through.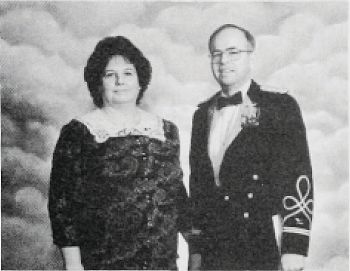 Jerry & Michelle and her parents will be coming to the reunion. Her dad ret from USAF 23 yrs ago and has traveled the world ever since.
Jerry also sent a mag article quoting Chuck Pfeifer as saying, concerning his Harley, "this (a 'hog') is now a very upper middle class mode of transportation. It's about a yearning for freedom, staying in touch with reality little, rebellion maybe, but's that's American. Like being a 20th-century cowboy." What would this ASSEMBLY article be like without another Chuckie saying or sighting?? Great ltr and thanks, Jerry.
The last two pics show our folks at Founders Day celebrations.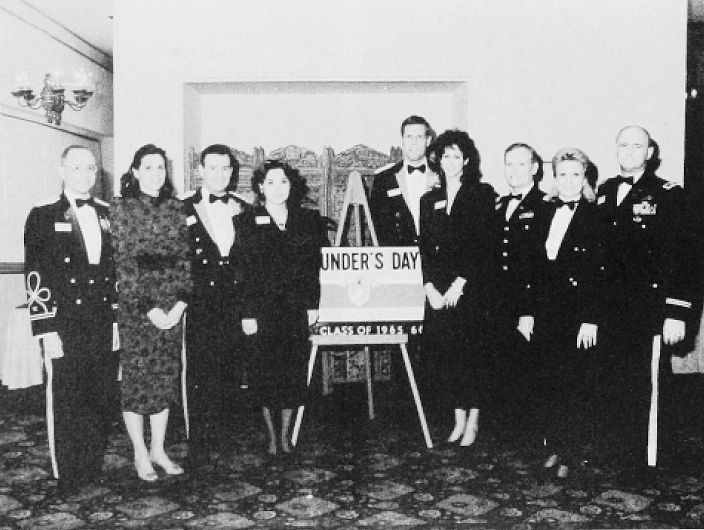 I thought this article, just before our reunion, merited an update on our obituaries. We still need obits written on 8 classmates: Bob Berdan, Al Clark, Jimmy Echols, Bob Keats, Ken McArthur, Bob Lee, Mike Momcilovich and Ladd Metzner. Come on guys, we need volunteers. Please let me know.