Greetings once again from Chicago. First an update on the reunion. Our reunion comm is doing an outstanding job pulling this all together. We are definitely scheduled for Thurs through Sun, 20-23 Sep for the VMI game. Don't forget to order your football tickets. The function will be held at the beautiful Sheridan Intl Crossroads Hotel in Mahwah, NJ. No one will be staying at the Hotel Thayer. Transportation to and from the WP activities will be provided. For your info, Mahwah is about 15 mins west of the Tappan Zee Bridge on the NJ side of the river. It is about 30 mins from WP. Gp room reservations will be available, so there's no need to call the hotel in advance. The comm will provide more detailed instructions, in addition to the ones you should have received in early Apr.
My travels took me to DC again, and I was able to attend the '65 luncheon. Herb Smith ret in 85and initially went to work for Hill & Knowlton. He has since left and is running his own op in the same business.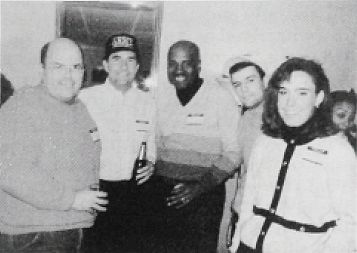 Ed Simpson was there and reported that he's still married to his blind date from Ft Knox. He has a daughter at UVA and two at home. He's also with SAIC. Dan Christman will probably be moving on sometime in the next yr or so. He, Susan and their children, along with his mother-in-law, just came back from a visit to Disney World in FL, a place not too unlike his current pl of employment, according to Dan. Peter Linn has two children, ages 10 and 7, and has been with the DOT for 3 yrs. Ed Knauf rep that he has one boy at Villanova and two at Gonzaga in DC. He's the pres of Titon Corp and rep that he regularly beats SAIC in competitive bidding. Stash Genega rep that he is still married to his blind date from Plebe Christmas and will become dep dir of Mil Programs in Jun. One of his daughters is in first yr of med sch and his son is a sr at the Citadel, and will receive his RA shortly. Stash works in the off of the JCS. Barrie Zais dropped over after his visit with the new pres of Poland and rep that he has two boys in HS.
During the course of my discussion with John Pickler, he rep that he is in constant contact with Hennessee in Panama. I asked him to see if anyone else was in Panama during the invasion and to send along some pics.
Sandy Hallenbeck just ret after working at the Pentagon for Christman. He's now with SAIC and has a 14-yr old daughter. They live in Burke, VA. Curt Adams ret 8 mos ago and rep that his son Frank is at Savannah Coll of Art and Design. Mike Applin, whose charm and wit have not diminished with advancing old age, rep that daughter Heidi was married in Oct and lives in NYC, and that his son is a sr at Mary Washington Coll. Mike's in the Concepts and Doctrine Div. John Howell was there fresh from his ret and rep that he has been coaching HS lacrosse for the last 4 yrs. His son is USM A '92 and his daughter's a sr and will probably be going to sch in CO to study sports medicine.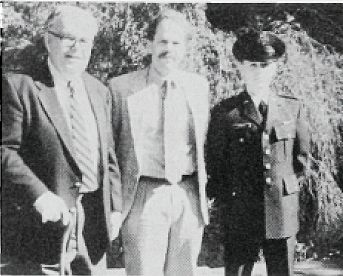 Kent Brown rep that his one boy is at USAFA and the two twins are at James Madison U. Kent's with J-7 at the Pentagon and lives in the DC area with Sherry.
The highlight of the luncheon was hearing that Walt Kulbacki attributes a lot of his success at WP and in the Army to his membership in the Rocket Club at USMA (along with Zig Roebuck). He has two kids at VA Tech-his son's a jr and his daughter's a freshman. He will be changing jobs soon. Hank Sterbenz also attended and rep that he has two children still in HS and works at Command Sci, Inc. John Vann rep that he & Eleanor have 3 daughters and one grandson, and he's still with the DOD IG. He rep that brother Dave & Stash are doing well and had two daughters at USMA, one just grad and the other '91. Bob Harter rep that, with 200 hrs on the area, it was not unusual that many in attendance didn't recognize him. He ret after 20 yrs and is now with Command Sci. His son is with the 11th ACR and daughter is in coll. Roger Griffin, who claimed to be Herb Smith's illegitimate son, rep that his daughter is a freshman at Mary Washington U. Roger has been in the automation business for 13 yrs. He's now at Ft Lee, involved in Army retail logistics. Randy Guenther was also there and is a civ in the nuclear weapons bus. Zig Roebuck rep that his daughter just grad from NC State and is trying to get into Duke grad sch. Bob Cato is still in the Army on the Army staff in def mgt review. His 3 children range in age from 15-6.
The gp informed me that Steve Bliss, heretofore whereabouts unknown. is at Ft Drum. Given the fact that I will be spending about 10 days with his boss in Apr, I hope to be able to get a ltr out of Steve. Zig Roebuck also rep that he had learned that one of his btry cmdr mates, Ladd Metzner, had passed away from stomach cancer. Please send details if you have any.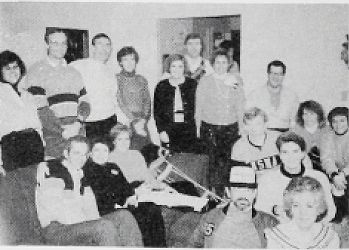 Curt Adams also provided me with the pic of the A/N get-together last Dec in the DC area. In the pic are Larry Bennett, Ann Adams, Jean Bennett, Terry Ryan, Fred Laughlin, Nancy Ryan, and Maralee Laughlin in front; in rear are Carol Maimone, Lance Hewitt John Harrington, Susan Kerner-Hoeg (Lance Hewitt's wife), Jim & Janet Dyer, Pete Linn, Martha Birdseye and Barb Genega. Also in attendance but not pictured were the Applins, Ammons, Harrington, Helberg and Lehman.
Also in attendance were Ron Bniley, who is with the Logistics Mgt Inst, ret two yrs ago and lives in Bethesda; Hank Sterbenz, who is a civ and works with Bob Harter at SDI; and Leo Kennedy, who is dir of resources in the Off of the Asst Secy R&D. Two of his children are in coll, one's in HS, and Doris is working. Manny Mamoine rep that his oldest boy will be married soon, his oldest girl is in a cloistered convent, and that he is with SAIC also. Bob Frank was medically ret in 88 and joined the Army staff as a civ in 89. Still lives in MD. Dr Joe Zerloe was also there.
Judy & I were able to go back to WP in Feb for the Trustee's meeting and the A/N wkend. Tom Barron and Jim Conley were also there. It was announced that Jim McEliece has been elected our Class trustee and Dave Kuhn has been elected a trustee-at-large. Our congrats to both! For those of you who wondered what happened to Lou Csoka, he has now resurfaced in a second life as the semi-official video cameraman for the Army basketball teams.
It was also good to see, at halftime of the men's basketball game, a spontaneous standing ovation for our out-going DIA Carl Ullrich. It was led by the cadets, for an ex-Navy man who has served WP so very well over the last decade.
| | |
| --- | --- |
| 1965: Mike & Judy Liebowitz and friends at A-N get-together, Dec 89 | 1965: A-N get-together, Dec 89: Joe Sanchez, Bill Zadel, the Stichwehs, and Tom Abraham |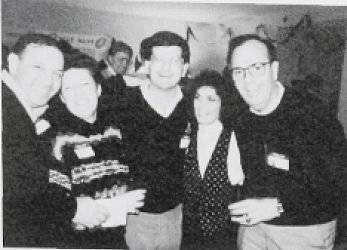 George Ruggles called as he was passing through. He was in Europe last Sep and saw Jack Lyons, who is the principal of a big American sch in Waterloo, Belgium. He also saw Bob Huffines, who is an atty in Longview, WA. Bob grad from Harvard Law. George also had dinner with Chuck & Cathy Moseley last Aug. George's step-daughter, Stephany, is at Northwestern Sch of Speech and will be working in kids' TV this summer. George also saw Ed Fochl at the Portland A/N get-together.
Dick Knudsen moved to Chicago recently after ret. He & Marianne are from WI and wanted to be back in this area to be near their parents. His last asgmt was at Ft Lee where he was the XO of a readiness gp, working with VA Reserve and NG units. Before that he was in the J-1 in Europe. He has a son at OH St and a 10-yr old daughter who really likes Chicago. I happened to read Paul Barber's latest work, "Digitally Synthesized Three Phased Wave Forms for the Innovative Elec Power Engring Classroom" on my way home one night (just kidding).Good to see that someone in the Class is still exercising the old brain power. George Seaworth is still here in Chicago with Quaker Outs. They had been in PA for 12 yrs. Oldest son Brian grad from RPI last yr and works for McDonald Douglas as a mech engr in L.A. Son Doug is USMA '93 and Theresa is a HS jr here in Chicago. George's wife Jill returned to nursing in Naperville after a 21-yr hiatus at home raising the kids. Rick Osgood rep that daughter Jenny '92 is probably our first 3rd-generation offspring and the 1st granddaughter of '41. Son Rick is studying at the Lebeder Inst of Physics in Moscow, after grad from MIT. He'll go to grad sch next fall. Son Nate's a computer sci major at MIT and grad this yr. Rick continues to travel a lot and runs the Columbia U's micro electronic sci lab. Alice, thanks for the update.
| | |
| --- | --- |
| 1965: Dave & Rose Kuhn, John & Dede Malpass, and Donna & John Seymour at Founders Day, Orange County, CA | 1965: COL B.Clarke & Sue at Founders Day 90, Ft Riley |
Judy Fahl (George O'Toole's sister) rep that her parents are doing well and think often of Pat's classmates. They split their time between MN at their lake house and a condo in San Diego. I presented Judy a copy of our "'6.5 in 85" book which we'd previously sent to her parents. Gil Curl's son David had an early appt to USMA, but I'm not sure whether he went or not. Skip also rep that in answer to my APB for Jack Blau, he remembered staying at his folks' house In Panama City, AL, just across the border from Ft Benning. Perhaps somebody at Ft Benning could look them up if they're still there.
Well folks, that's about it for this time. Keep those cards, ltrs and esp pics coming. Our 25th is not too far away, so stay tuned.