Greetings once again from Chicago. The good news is that the 25th reunion comm is well underway and in the able hands of Zadel, Stichweh and Kuhn, for the wknd of 20-23 Sep. Please note that the comm is contemplating starting on Thur at a facility away from WP. We will try to get into the Jul ASSEMBLY article as much final info, since that will be the last article before the reunion.
I had a great dinner in Newport Bch with Dave Kuhn and his lovely bride of almost a quarter of a century, Rose (aka Rosebuds, as he calls her). These two people haven't forgotten what is really important in life. When I asked Dave how things were going, he indicated that everything was on the upswing, to include his bus and his golf score. Dave & Rose, both "A" tennis players in what I understand is a tough CA tennis environment, have decided to get .serious about golf. Apparently John Seymour, who's in the gold bus in Newport Bch, also took home some gold that day on the golf course.
I happened to read another book entitled, Duty. Honor, Vietnam--Twelve Men of WP by Prashker and would recommend it to you. Although l did not think the writing was as good as The Long Gray Line, several of our classmates are prominent in this new book, namely Wes Taylor, Joe & Lynne DeFrancisco and Jim McEliece. For those of you who share my wife's observation that not enough has been written about what the spouses endured during and after Vietnam, Lynne's poignant insight is right on target.
Larry Strassner has apparently stepped down as pres of Nuclear Support Services and will become a consultant to the co.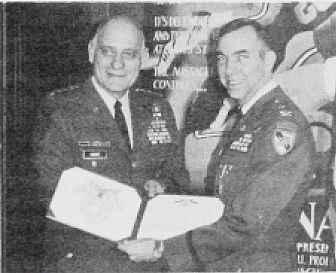 There was an interesting article in the 17 Jan NY Times about Buddy Bucha and his Port Liberte' project across from NYC. Several of you sent along an update on the latest Chuckie Pfeifer sighting--namely as the security guy at the 72 convention in the movie "Born on the Fourth or Jul."
Jim Golden has completed the Class constitution and will be getting it out to ea of us for our comments prior to the reunion. Jim also received a nice award from the CS for his work on accreditation at the Academy.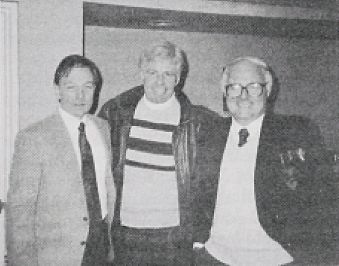 I also received a nice picture of 3 old buddies at the A/N game at Giants Stadium: Reg Dryzga, Jim Harmon and Ross Wollen. Ross also saw former roomie Alex Alexander, who had some health problems in '88 but is fine now. Ross is working on getting Alex back for the 25th for his 1st visit. I tried to get a line on our classmates in Panama during the recent invasion but with little success. To the best of my knowledge, Frank Hennessee and Joe DeFrancisco were down there. If anybody has any more info or pictures, please let me know.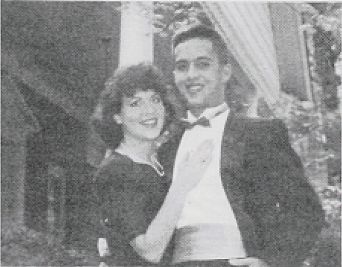 We received a nice Christmas newsletter from Cathy & Chuck Moseley. Daughter Debbie grad from UNC-Chapel Hill and has landed a job teaching 4th grade near her parents' home. Cathy continues her work w/Christian youth gps, as well as women's clubs. Chuck has taken a new position at Carolina Power and Light as mgr of Lab Services. The attached picture is of daughter Debbie and son Chip.
I also received a nice Christmas ltr from the Scholls who were writing from Alexandria. Needless to say, I was shocked to hear of Suzie's serious ailment but was super glad to hear of her full recovery. She is back to normal now and everyone has described it as a "medical miracle.'' Daughter Jenny is a freshman architectural engring student at Cal Poly in San Luis Obispo, where she enjoys sch and volleyball at the beach. Son Brian is doing well finishing his jr yr in bus at Sacramento State. Suzie is back selling real estate with Coldwell Banker in VA, and Wayne is an Army fed exec fellow at the Brookings Inst. He's involved in research to improve the Army's environmental prog. Bob Wolff wrote from Potomac, MD to rep that his org (EHSC) had a get-together that was attended by Tad Ono, TRADOC Engr; Emory Pylant, FORSCOM Engr; John Knowles, cmdr. Installation Support Activity, AMC; Ralph Locurcio, Savannah Dist Engr; Claire Gill, Pacific Ocean Div Engr; Duncan Brown, DEH, Ft Bragg; Chuck Nichols. cmdr. Cold Regions Research Lab; Ken Yoshitani, 416th Engrs (Reserves); Wayne Scholl, fellow at Brookings lnst; and Bob, dir of Facilities Engr at EHSC. At the conference, the Chief of Engrs announced that Stan Genega will become dep dir of Mil Progs for the engrs until he's assigned to his one-star slot. Bob also had dinner with John & Linda Concannon. They are both attending foreign language sch full-time, after which John will go to attache duty in Budapest.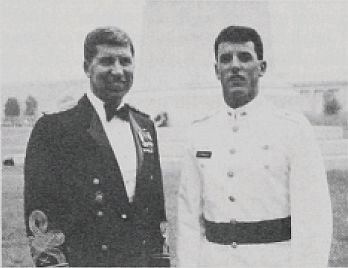 Speaking of Joe DeFrancisco, he's the CO of the 7th Inf Div Arty, a job he's had for a yr and a half. Although no one from '65 is still in the Army at Ft Ord with the DeFranciscos, he has seen Gerry Ledzinski, Step Tyner and John Swensson. Son Eric graduated from WP (sec picture) in May 89 after which he completed Basic, Ranger Sch and then will be going off to Ger as an infantryman. But can you believe this--they gave him a wk or two off during Christmas from Ranger Sch! Boy, the Army really has! Daughter Laura is in college in Phila and enjoys it. Lynne is keeping herself busy with a part-lime job in Carmel. Definitely two of my most favorite people.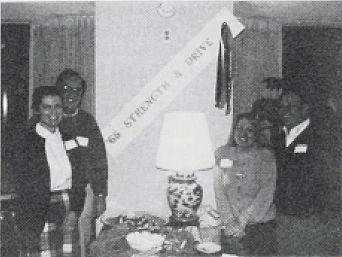 The pictures from our gala event at the A-N game in Dec arrived too late for the last article, so I will include them in this one. We had a turnout of over 150, thanks in large part to the fantastic efforts of Joe & Nancy Sanchez and Slats & Angie Letterie. They really put a lot of work into it and it clearly showed. We were wondering where Terry Throckmorton was. Terry's in northern VA with Judith Ann and ownes 4 picture frame stores. To set the record straight. John & Mary Kay Salomone live in Burke, VA, where John's the head of dentistry. Mary Kay showed her A pin to a firstie during A/N weekend and when he looked closely at it, his reply was that "he wasn't even born then!" They reported that our new BGs are Scan Genega, Rick Shinseki, Clair Gill and Jon Thompson (from TN). The Salomones also brought along their little 3-yr old who had a grand old time at the party.
At the football game, we ran into my old roommate Zig, & Linda Roebuck. Army played hard but Navy just wanted it more than we did.
| | |
| --- | --- |
| 1965: Ken Slutsky, Russ Pullen, Julie McEliece and Judy Coll--A/N game, Dec 89 | 1965: Linda & Zig Roebuck--A/N game, Dec 89 |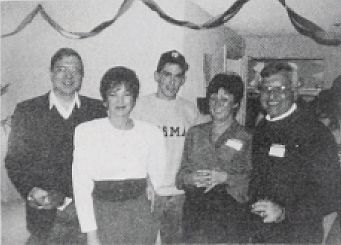 In terms of the offspring dept, John Howell's son Pat shot more than a passing glance at Kim Green, who is a jr at BU and was there with her parents Lew & Barbara Green from Orlando. Also in attendance at the party were Joe Barkley, his wife and daughter, Joe Anderson & friend, Mary Smith, the Kuhns, Ed Knauf, wife Susan and son Mike (sr at Villanova), as well as Mike's girlfriend Julie. Mike & Judy Leibowitz and Don Rowe, who is now the Dean at Valley Forge MA, were also there. It was good seeing Karl Plotkin again, as well as Kim & Gerry Olmstead who were there with son Kip '93. Also heard that John Swennson's movie may be coming to fruition. The star is Nick Cage (Cher's husband in Moonstruck), as well as Sean Young from No Way Out. The co-producer w/John is Arnold Copelsen, who also did Platoon. Step Tyner has written the screenplay. Stay tuned.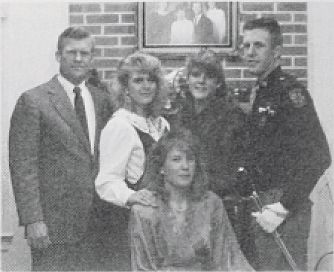 The included picture of Annette & Jack Lowe came in the mail over the holidays and shows a good looking family who fortunately take after their mother. Steve Harman wrote from Ft Huachuca where he is an 06. He & Anne will soon celebrate their 25th, as well as Steve's 25th yr in the Army. He is a dir of opns for the Army Info Systems Cmd, and she is a substitute teacher on post, and also busy decorating their quarters (built in 1880) that they just moved into. Son Steven grad from the U of M, sch of journalism, last May and is a reporter with the local newspaper. Daughter Mary grad from Seton Hall Coll where she was cpt of the soccer team. Son Joe is a freshman at Yavapai Coll in AZ. He was the cpt of the HS soccer team and also played football and baseball. He will probably go to college in VA. Daughter Kate is a sr at the local HS and was co-captain of her sports drill team. She is also playing soccer and is a member of the Natl Honor Soc. She lists AZ State as high on her list. Son John is into soccer also and a freshman in HS. And finally, daughter Barbara is in 5th gr and supposedly made a killing in the lemonade bus last summer. Well, Harmans, even though that was your 1st letter in a quarter of a century, it was a great one. Please put me on your Future Christmas ltr list.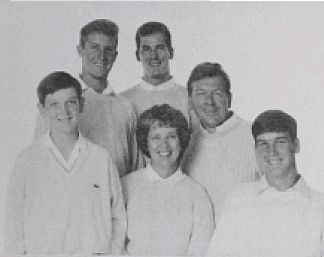 In a previous article, I mentioned that I ran into Bill McCreary in Wash and took him along to our Class luncheon there. Bill promised, and Roberta followed through with a family picture of the two of them and their 4 boys.
Karl Savatiel was at the A/N game and has a new job as pres of Satellite Comms for AT&T in Bedminster, NJ. Tim Timmennnn wrote from USAA in San Ant, indicating that he would write the obituary for Bob Lee. However, he needs some help. If interested, please call him at USAA. Speaking of the Bob Lee obituary, I had written Steve Bliss a while back to see if he would help, but have received no response. Steve, if you're out there, let us know. Received a nice letter from Pat Kenny, who's still at Engr Hqs in DC. We are still looking for some help in writing Jimmy Echols' obituary. Dan Donaghy gave it a shot in 85 but we need some help. If anybody out there is interested, please call.