Greetings again from Chicago. During a recent DC visit, Fred Laughlin and Curt Adams were kind enough to set up a luncheon with all of the classmates in the area. While in DC, I ran into Bill McCreary, who came up from FL for an Inc Mag seminar. As Bill said after attending the luncheon, WP graduates, when they die, don't go to heaven or hell, it seems like they all go back to DC. As the pictures show, there were about 25 people there, Many of their comings and goings were reported in previous articles so I won't duplicate that. One of the pictures shows Ann Adams and Mary Harter looking at the Oct issue of Army Times at the article in which Ann was prominently featured concerning working spouses of career mil officers. In addition to Ann and Mary, Mac Gilchrist was there with his wife Martha. I found out from one of the people there that in addition to Max Thurman doing battle with Noriega I Panama, Frank Hennessee has gone from the Old Guard to be Max's aid. Chris Needels came over from the NSC. It was good seeing Lance Hewitt again, who's now working for Sun Life as a real estate agent. He looked very fit. One of the things I notices as that with the exception of Manny Maimone, Ed Simpson and myself, most of the folks there didn't have any gray hair. All denied use of any additives. Steve Ammon was there and reported that he is no longer at CitiBank but is with Coopers and Lybrand working on a Navy project. My old buddy Jack Lowe, was also there and will be coming to Chicago on some business for EDS. I hear that Jack has a good shot at a pretty high promotion with EDS. Hob Harter also indicated that Hank Sterbenz came out of the Army staff and is working with Bob at SDI.
1965: Kulbacki, McChristian, Ryan, Adamses and Mary Harter at DC luncheon

1965: Guenther, Simpson, O'Brien and Chase at DC luncheon

1965: Laughlin, McCreary, Adams, McGurk, Kenny and Ammon at DC Luncheon

1965: Linn, Brown, Zais, and Harter at DC luncheon

1965: Ann Adams and Mary Harter at DC luncheon

1965: Needels, Gilchrist, Hewitt and Maimone at DC luncheon
One of my topics at the luncheon was to find authors for the 7 outstanding obits that have not been written. I am happy to report that we were able to find potential writers for several. The ones we are still missing are Bob Berdan, Alexander Clark, Jim Echols, Bob Keats, Ken McArthur and Michael Momcilovich. If you are interested in writing on of these or if you know a good friend of one of these people, why not give me a call.
I ran into Mrs Jannarone (Jack's mother) and was delighted to hear that she was the first "jockette" inducted into Montclair State's athletic Hall of Fame--if I remember correctly, she won letters in 4 different sports each yr that she was there. Speaking of the Jannarones, Jack has been having some health problems; we wish him a speedy recovery.
The Koz wrote saying that he & Ann will be grandparents in June. Their other daughter, Julie, works in DC and their son, a 6'4" young man, goes to Coastal College in Myrtle Beach, SC where he studies art and design. I wonder if he has as good an outside shot as the old man? Joe says he'll still be sleeping with a beautiful grandmother. They're in Israel as the def attache where they average 9 DOD visitors per day, one general officer per wk, etc, etc. One of their visitors was Dan Christman, who was over viewing the US peace keeping forces in the Sinai. Joe also saw Max Thurman at TRADOC while Joe was escorting the Israeli COS and reports that Max hadn't changed a bit, although we wonder, now that Max is down in the thick of things in Panama. Joe, I may not be all excited about visiting Israel but my wife keeps on talking about it. While that may not top your recent MIG fighter pilot defection, we'll keep it in mind.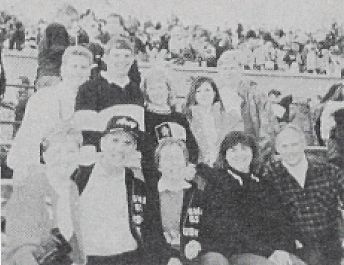 Imagine my surprise in Nov while watching network TV to see none other than our Mike Hudson discussing the recent CA law on changing the teaching of the evolution theory in the CA schools. Don Exelby has reported that while closing up his summer place, he picked up a copy of the Aug Vanity Fair and who was there but none other than our Canal Bar, ex-Wall St cycle jockey, Chuck 'n' Charlie Pfeifer. This boy certainly gets around, or at least his press agent does. There are a number of people who are supporting Dave Kuhn's nomination for an at-large position on the AOG. Good luck Dave and we hope that you are successful. That would give '65 6 reps on the AOG. Dave & Rose went to WP for the Rutgers game and were joined by Denny & Marie Lewis.
Speaking of Rocco, if you haven't read Atkinson's book, The Long Gray Line yet, you've got to do so. Especially for those of us in the 2d Regt who had George Crocker and Tom Carhart as plebes; it brings back some very hilarious moments. I still remember the look on the OIC's face when Rocco suggested that we "stack 'em to the ceiling" prior to the Penn State game. I suspect the OIC's mil career headed southbound that night.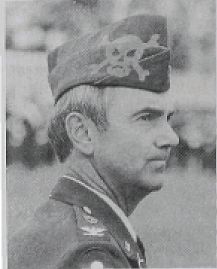 I received another nice letter from Skip O'Donnell, who sent along some pictures of him and Chip in VA beach on Labor Day 89. Skip, Marilyn and daughter Maureen went to the Army-AF game where he ran into Lou Coska. After the game, they took a gp picture of all in attendance. Left to right are Betty Lemley, Skip & Marilyn, Sandy & Preston Motes. The second row shows Jimmy, Jim & Bobbye Greene. Ken Lemley Jr is USAFA '92. Ken Sr had to stay at Ft Knox where he's the IG. Jim Greene is still with Delta in Atlanta, where he flies the 767's. Jim Jr came from the U of WA, and Becky came in from San Diego State. Jim, I have continued to look for that picture of yours from the 20th reunion book, but it is nowhere to be found.. Considering it was the only picture we lost, could we have sent it back to you? The Motes traveled from Salt Lake City. Nice picture also of Lou Csoka with his skull and cross bones capon at AF game. Skip reports that he got the WPPC of ID organized and guess who was elected their first pres. Good luck with that.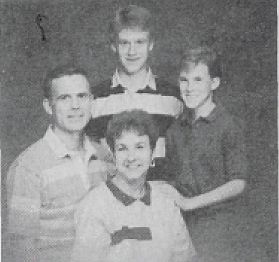 Nancy Singelyn called and sent along the picture of her, Paul and their 2 boys Jim (16) and David (13). They are here in Chicago where they recently acquired a wood molding co (picture frames). They came from 11 yrs in Nashville where Paul was in the chemical bus with his brother. Paul ran into Bob Scully here in Chicago.
I'm happy to report that the 25th Reunion has been scheduled for 22 Sep (VMI game). Rollie Stichweh and Bill Zadel will head the comm and will be joined by Dave Kuhn, Slats Letterie, Joe Sanchez, Tommy Abraham, Jim Tomaswick and myself. More details later. Jim Golden has prepared the first draft of the Class Constitution and By Laws. It looks good. It appoints an exec comm to run the Class ops for 5 yrs (reunion to reunion). Approval of the documents and elections will be held 9/22. Send me your nominations.
Well folks, that's about it for now. Please drop us a line and send those pictures and let us know how the children (and grandchildren?) are doing. Best regards from Chicago.