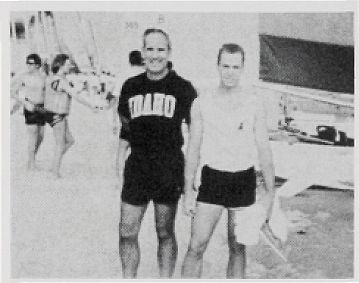 Greetings once again from Chicago. I saw a nice article in the Pointer View about Lou Csoka and his Performance Enhancement Prog at USMA. Lou initially got involved in this program with the football team kickers, and it has now been expanded by the Supe to "take winners and make them champions." Judging by the performance of the football team over the last few yrs, it's had a significant impact. Skip O'Donnell wrote and sent a copy of an article on the change of cmd from Frank Hennessee to Barrie Zais. Frank received the LM from MG Hilbert and has been assigned as Max Thurman's exec in Panama. Barrie received his master and doctorate degrees from Duke. No. Skip, Frank wasn't issued a smile for parade pictures. Skip's in the process of forming a WP Soc and l do wish him lots of luck in that endeavor. Skip, Preston Motes and Frank Meier and their kids will meet at the Army-AF game in Nov and hopes there'll be other classmates there. Speaking of Skip, he sent a picture of himself and son Chip '92 at VA Beach, where he went after his two-wk Res duty at the Pentagon in Sep. He worked with Leo Kennedy massaging the Army's funds for weapons R&D. He also saw Bob Cato, who probably will be getting out this coming summer. Skip al so saw Dan Christman, who is OSCOPS-Nuclear OPS, who looked great smoking a pipe. Kent Brown also at the Pentagon and is the XO to the Asst Sec of the Army for Acq. John Pickler is the exec to the CS and lives next to Zais at Ft Myer. Tom White was in Leo Kennedy's office begging for more money from Ft Sill. Tom says he is being reassigned to Ft Meade this fall as the garrison CO. Tony Gamboa, an ex armor and JAG officer, is also in DC where he is the dep Army gen counsel for acq and lives just S of Annapolis where his wife's in real estate there. They have 3 daughters, one a grad of the UMD, another sr at the UMD and one daughter in HS. Mike Applin is the DSCOPS-Star Wars and Skip wondered why an MP COL would be doing that? Mike's daughter graduated from VPI and now works for Dunn & Bradstreet in NY. His son is a sr at Mary WA. Rick Wetherill is still at the Pentagon and doing his job, as well as that of his boss, who has not yet been appointed by the CinC. Frank Meier and Skip chatted from Kirkland AFB where he just moved into the underground testing branch for the DNA. Preston Motes is alive and well in Salt Lake City where he is VP for WP Intermountain Region Soc. Skip's son. Chip, is on the Army lightweight rowing team and doing well. Skip. Thanks for another great letter and especially for printing it.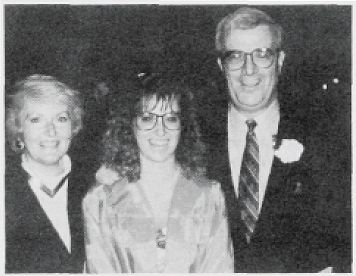 As you can see by the attached picture. John Howell, Judy & I got together with my former roommate, Pat O'Toole's sister, Judy Fahl & her husband Gary '69, who both live in our Chicago suburb. We had some great talks about good old George Patrick, a classmate about whom I think often.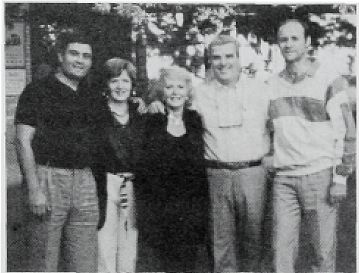 While Judy & I were taking our daughter, Shannon, to Tulane, we passed through Atlanta and I decided to give Wayne Scholl a call. Wayne had just departed the day before and was replaced by Emory Pylant, who had come from being the dep asst Com at Ft Leonard Wood. No word yet from Wayne as to where his next asgmt will be. I think Emory mentioned that he had a fellowship job in DC.
I received several copies of a great article that appeared in the local Dallas papers about Art Hester being promoted to take over GM's big Arlington assembly plant in Oct. Art will be GM's only active plant mgr. After graduating, Art received an MS in industrial engr from Stanford and an MBA from NYU. Ray Woodruff, who's a VP of Ops at Ryland Homes, is also in Dallas. Mack Gill wrote from Kalamazoo that he has hung up the spurs after 24 yrs and ret as PMS from Western MIU in Jun. He is now a court administrator with the Ninth Circuit Court in Kalamazoo. He & Dianne will be grandparents by the time of this article when oldest daughter, Jennifer has her baby. Daughter Mindy is a sr on a 4-yr Army ROTC scholarship at Niagara Univ majoring in nursing. She will graduate and be commissioned in May 90. Son Chip has a 3-yr ROTC scholarship at Western MIU and will be commissioned in Apr 91. Dianne visited WP and stayed with the Reeds. Betsy Reed is at NYMA where she is teaching and taking care of housing. Mack also ran into Art Mark at their ret orientation. Art just departed Chicago as PMS at the U of C, and went to SC to work at a nuclear power plant.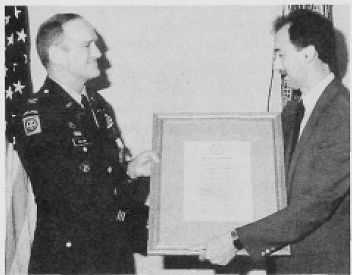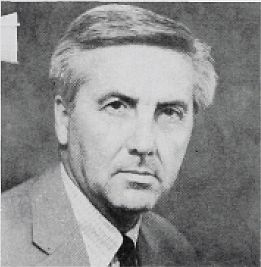 I received a nice picture of Dick Williams who, last Aug, became the PM for Sense and Destroy Armor at Picatinny where he's developing a smart submunition to shoot down at enemy artillery. It will only cost $6.3billion, according to Dick. He reports that he also sees Barry Levine, who's the PM for nuclear munitions and Orlin Mullen as PM of Tank Main Armament System. Speaking of PR release, Norm Boyter has just been promoted by the Westinghouse Hanford Co where he has been named mgr of the Chemical Processing Div in Richland, WA. Norm received his MS in nuclear engr from NC State. We also received the picture of Denny & Diane Hawker at the Phoenix Founders Day.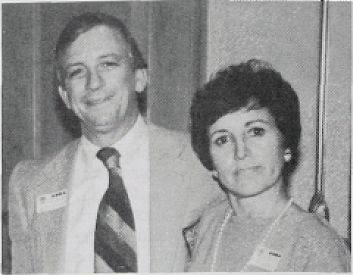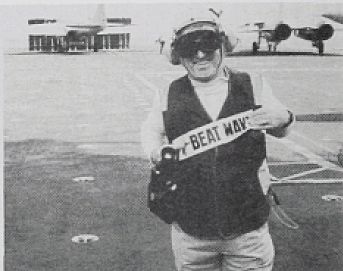 And one parting shot to all my Swabbie friends. The picture with the "Beat Navy" sign of your friendly scribe was taken on board the Carrier JFK about 60 mi off the SC coast in Aug. I was invited out on a VIP tour and spent a great 2 days watching the Navy operate. I doubt very seriously if I'II ever be invited back again once the Admiral finds the "Beat Navy" stickers in hi shower, desk drawer, over his. Bed, and at various other strategic places on the carrier. It was quite an experience and one I'll never forget.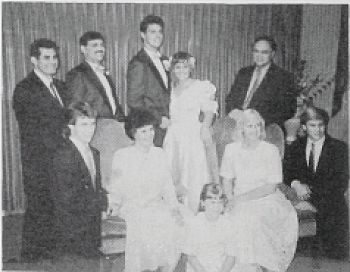 "Swick" (aka Tomaswick) sent a nice letter and the great picture of himself & Carol with Tommy Abraham and Pete Lounsbury and offspring at young Swick's wedding. Abe, Pete, and Jim were roommates and have stared very close over the yrs. Jim also reports that Bart Barry is still at Polaroid, as is Jim, and also that he saw Bob White, who lives in Manchester, NH and works for Sanders Assoc. Tom Hennebury is asst corp sec at MIT, according to Jim.
Late news the front. New "stars". have been won by John C Thompson, Stan Genega, Clair Gill, John Pickler and Ric Shineski-our congratulations go out to all of them.
And how about my old plebe George Crocker '66 being the 10/9/89 US News cover story. Great article if you haven't seen it. I have copies.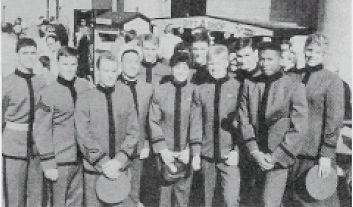 And finally, Judy & I had a great wkend at WP for Homecoming and saw a strong Army offense dominate a 5-0 Holy Cross team. At halftime, as you can see by the picture, we were able to get almost all of the '65 offspring (and some parents) together. Seen in the picture are plebes Harold Jenkins and Dave Curl, yearlings Brian Coll, Chip O'Donnell, Pat Howell and Debbie Vann. Jenny Osgood was on CQ duty. Also, cows in attendance were Nicholette Mark, Eric Timmerman and Shaw Yoshitani; and finally, firsties David Hurley and Mike Gabel. Missing from the session were Ballard Barker '92, Kim Olmstead '93, Doug Seaworth '93 and Bill Hecker '91. And finally, our 25th Reunion? Well folks, not much has been done. It is scheduled for the VMI game, 9/21-9/23/90 but we will not have a priority on the WP facilities. I will be working with our NYC and DC classmates to try to set it up. Call me with ideas, etc. More in the next article. We will have our first coordination meeting either in NYC or at WP on 2/23 or 2/24/90.
Well, folks, that's about it for now. Keep those cards, letters and especially pictures coming.