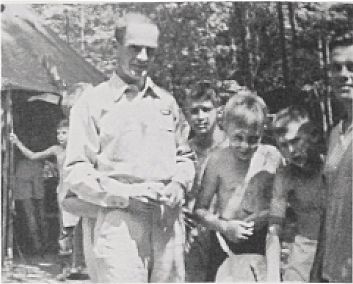 Lots of info and pictures this time, so here goes. Skip O'Donnell called and indicated that Frank Meier went to Kirkland AFB in Jul. Rosemary McCloskey called and told me that Chuck left Ft Sheridan during the summer to go to Little Rock, AR to take over an engring district. Rick Wetherill wrote in response to a letter I had sent him concerning an old Boy Scout master he had known a few yrs ago. As I told you Rick, your old friend sent a picture, which is enclosed. Ranger Rick-at age 10! Rick declined promotion to 0-6 and ret two yrs ago and converted his position in OSD to civ and is now a career civ servant. A yr ago he became the principal dir. His boss, the DUS for planning and resources, works for the US for policy. They are involved in the policy aspects of long range strategic planning. Mary-Ann and the kids are doing well. Jody (23) graduated from VA Tech last spring and is working in retail mgt. Mark (18) graduates from HS and will enter VMI as a Rat this fall in the Marine Corps ROTC program. Roy Garms dropped a note from Singapore during his second trip around the world this yr for Exxon.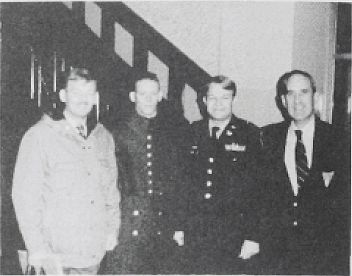 Jack Lowe wrote that Annette and kids will be joining him in Centreville, VA this fall. Son Bruce is at TX A&M where he is a bn cmdr and is the pres of the Honors Comm, in addition to being rated one of the top 11 jrs last yr. Mary Melanine is at Mary Baldwin College this fall. Stephanie is their resident jock and is a frosh; she won the shot put and discus in the district and qualified for State. Their new home was ready in Jun, about two mi from the Manassas battlefield. Mert Munson wrote from TX where he moved after living in Portland, ME for 12 yrs. He now lives on the northern fringe of Houston and invites all classmates to visit. He is a pilot, formerly with Peoples Express who also spent 20 yrs in the USAR, the last 3 as a MALO for WP. He saw Keyes Hudson, who works in Austin for Lockheed Missile and Space Co in the Remotely Piloted Vehicle Div. Keyes travels worldwide but they will hopefully get together and do some wind surfing. Mert's wife Gerry came back for a 25th reunion at Ladycliff (remember that guys?) and stayed with Mark & Linda Sheridan. Linda and Gerry were roommates as 'Cliffies. Mert wanted me to pass along to my old buddy Floto in Tampa that he (Mert) is hoping that Ron will buy Continental so that Mert can fly for them.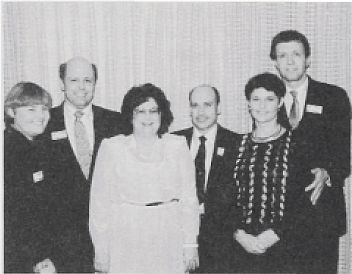 You should have received the letter from Dave Kuhn back in Jun, reminding everyone to contribute to the '65 Class Fund. 176 have already done so. Guys let's think about $65 for '65.It's not a lot or money and if you mark it on your calendar and do it once a yr, it will really add up. Do it now! Incidentally, if you look at the contributions for the Class funds, '64 has $192,000, we have about $5,000,and '66 has $75,000. Come on, we can do better than this.
June Harvey wrote from Alexandria that she & Jim had two graduations and a wedding this past summer. Son Jim just graduated from UVA and was commissioned an 0-1 in the Army. He was the DMG and is going to FA. He married Kimberlee Hancock, an Army nurse in Jul. The Harveys' daughter Juliet graduates from Duke Ellington Performing Arts HS in DC where she was the 89 Wolf Trap Scholarship Endowment Award winner for dance and has been accepted at the Alvin Ailey Dance Theater this past summer. After that, she will go to SUNY at Purchase, NY to pursue a BFA in dance. Jim Sr is working as an investment banker for Dominion Savings in Alexandria, and June is teaching and running her own business. June also reported that Emery Chase's son, Emery, Jr, just graduated from WP and will be going to basic at Ft Belvoir. He married the former Tara O'Connor in Jun. Their other son, Ken, will be entering his 3rd year at USMA. June also reported that Ed Simpson's oldest daughter, Beth, just finished her first yr at UVA. Ed is now a civ living in Alexandria. June, thanks--a great letter.
I had breakfast with my old buddy Phil Wherry in Jul. He & Cookie are doing well and I am told Cookie is one of the foremost gardeners on the near no side of Chicago. Phil has his own law practice in Chicago and does a lot of work for Texaco. Rumor has it that he is being considered for a high level position in the Daley admin.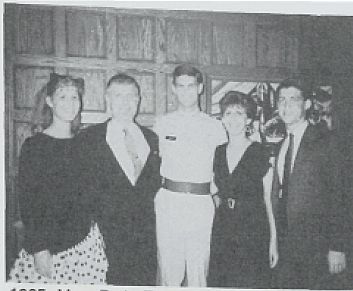 Curt Adams reported on the Jun get together for all the DC folks at Fred Laughlin's house. Apparently they had a great time. Terry Carlson wrote and enclosed the picture of the Carlson clan at the graduation of their second son, Stephen, USMA '89. In the picture are daughter Mary Beth, Terry, Stephen, Sharon and Christopher. Stephen chose Armor. He'll be going to Ft Hood with the 1st Cav. Chris, their oldest, graduated from Notre Dame in 88 and has just finished his first yr in law school where he's no 5 in his class and made the Law Review. This past summer he worked for the federal judge who ruled in the Pete Rose case. Mary Beth started at IN U this past summer as a business major. Sharon teaches nursing at Otterbein College and is in a PhD program at OH State. Terry remains Chief, Psychology service at the VA-Outpatient Clinic in Columbus where they also live. They saw the DeFranciscos at graduation watching son Eric as well as the Vanns, whose daughter Sandy also graduated. Terry reported, as did many others, that contrary to popular news reports, there was no hissing or booing at the graduation. Terry occasionally sees Rick Sullivan who is a VP with a co in Columbus. When the Carlsons go back to Rockford, IL they also try to visit John & Carol Roseburg. John continues as a lawyer in city govt.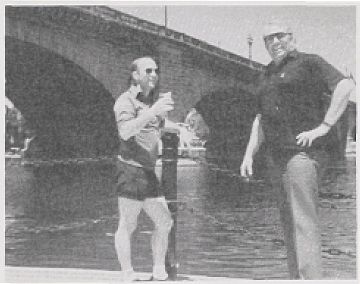 Ron Walter wrote from Sierra Vista, AZ and enclosed a picture of him and Rick Bunn. The picture has them standing in front of the London Bridge in AZ. Rick still works for Totem Ocean Trailer Express Co in Tacoma. WA while continually serving in the USAR. Ron works for Mandex since he ret in 85. He was recently promoted to dir of op and hopes to stay put in the def contracting business for a while. He occasionally sees Jay Vaughn and Steve Harman, who are both on active duty at Ft Huachuca. Jay is the TRADOC systems mgr for the Unmanned Aerial Vehicle, and Steve is the DCSPER for the US Army Info Systems Cmd. Jay's daughter Jennie just graduated in the top of her class and was a guest of Ron's Kiwanis Club.
Not to be outdone, '65's engrs were represented by a great letter from Chuck Nichols (his first since 6/65?) who is the CO, Cold Regions Research and Engring Lab in Norwich, NH. He wrote this letter only under duress, having promised the classmates in the picture that he would do so. From left to right, there is Rick Charles, deputy to the ACE; Pat Kenny, dir of info mgt for USACE; Ralph Locurcio, CO, Savannah Engr District; Clair Cill, CO. 7th Engr Bde; Tad Ono. CO, LA Engr District, soon to be TRADOC Engr; Frank Skidmore, CO. Vicksburg Engr District; Pete Cahill CO Belvoir R&D Center; Emory Pylant,. deputy com of the Engr School; Chuck Nichols; Bob Herndon, CO, Jacksonville Engr District; and Wayne Scholl, FORSCOM engr. Chuck, Elaine and Jason (18) report they really enjoy the Hanover (Dartmouth) region. I wish I had known earlier about your location, Chuck, because Judy & I stayed in the famous Lyme Inn just down the road from you when Army played Dartmouth this past spring in baseball. Perhaps we'll catch you in two yrs.
Joe Sanchez reported that the plans for the big get-together at the Army-Navy game at the Meadowlands are going great guns. They have reserved 40 rooms at the Meadowlands Hilton. A hospitality suite will also be in operation from Fri p.m. until Sun a.m.. Sat pre-game, a continental breakfast will be served in the suite. Bus transportation will be available. Post-game, a buffet dinner will be served in the suite. Call Joe at 609/443-2218 if you have any questions. Joe also reported that Preston Hughes is in Turkey and won't be able to make the Army-Navy game. Ed Abesamis also wrote from the Philippines that he'd love to come but won't be able to. Eddie, drop me a line if you read this. Joe also reported that Joe Anderson is now running a $650 million business for GM and makes all the plastic parts for their cars. Way to go, Joe.
Judy & I had dinner in Jul with Judy & Gary Fahl, who is Pat O'Toole's sister and who lives nearby. We were also joined by their good friend, John Howell, who's out of the service and did spend some time coaching a local lacrosse team and is now job hunting. John's son Pat is doing well at USMA and was the only non-recruited athlete to make the JV lacrosse team.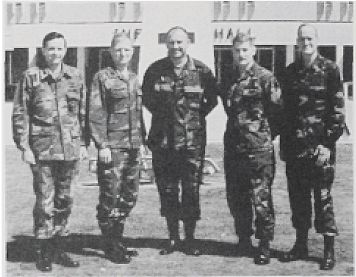 Incidentally, for some of you brats who spent some time in Ger as a kid, my good friend Jeff Tsanti, who works here in Chicago at First Natl Bank of Chicago as a SVP sends his best, especially to Zais and O'Donnell
I received a very nice letter from the Arvins expressing their appreciation to all of our classmates who turned out for the dedication. They were especially pleased to know so many c1assmates thought enough of Bob to make the trip to attend the ceremony. It was truly a first class event!
Jack Cooley passed along his new brochure providing consulting services as an arbitrator and mediator here in Chicago, working out of Evanston. Jack enjoyed some authentic green beer at our St Pat's Day party early this yr. We understand Maria was in the hosp and we hope she's doing well.
As I reported in an earlier issue, my good friend Bob Berdan passed away last Dec of a heart attack while out jogging. His widow Ruth and daughters Kristin and Michele all live in Monte Sereno, CA. He was an account mgr for Arix Corp in San Jose. Memorials may be made in Bob's name to the Natl Muscular Dystrophy Assoc. If anyone is interested in writing the obituary, will you please let me know?
Rich Boerckel, in addition to sending info on Berdan, also reported that Jack Concannon is with the Warsaw Pact section of ITAC for DIA in DC. Ken Slutzky is still in Atlanta with Allied Security where he's been for the last 10 yrs. His daughter was married in Jul. Ken also sees Ray Schaltenbrand who is in property mgt at Marietta. Don Exelby called and had a visit with Charlie Shaw in the Napa Valley. Don also stopped to see Dave LaRochelle, who's still an MD in orthopedic surgery there. He & Peg had the occasion of visiting Grand Rapids to see Dave's two daughters, Tiffiny and Stacy. Dave & Peg have 3 daughters in Napa. He reported that Tony Livic is in Livermore. Chuck saw Doug Gentzkow in DC where he's also in the wine business.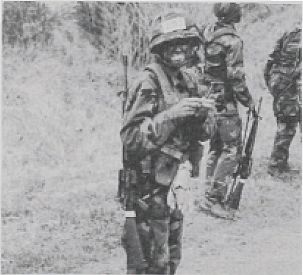 I saw Jim Conley recently. His son was looking at USNA and USMA, but leaning toward being a swabbie; the other son graduated from Lake Forest Academy here in Chicago. Also, Chuck & Cathy Moseley have a daughter who is a sr at Chapel Hill. Glen & Joanmary Nenninger were at the Arvin dedication with her parents.
There was a nice article in the Feb 89 Fortune about Buddy Bucha and his Port Liberte dev in Jersey City. Rick & Alice Osgood also wrote enclosing a shot of their daughter Jenney in the Apr Sandhurst competition where she represented D-3.
lf we had an award to give to the most consistent contributor to your friendly scribe, it would have to go to Skip O'Donnell, who passed along some great pictures. In the first we have Skip with Mike, Clint Baker, and Paul Barber. In the next one, we have Skip with Gil Curl. All of them were taken during Skip's visit to NJ. Also, there's a picture of Preston Motes and Skip. Last Christmas, Skip, his youngest daughter Maureen and son Chip, went to Salt Lake City for some serious skiing where they saw Preston Motes who has a nice condo there. Preston works for Waddell & Reed. While on a flight to Kennedy Airport, Skip was getting stares from a guy in front who finally came up to him and was none other than Rich Donahue. He lives in Phila and works for a consulting firm specializing in hostile takeovers. While at WP, Skip went out to Gil & Ginny Curl's house in Wappingers Falls and rehashed old times about helping Gil qualify the M-14 course. While at USMA, Mike, Carol and Clint Barker walked in while Skip was talking to Paul Barber. Mike is ret and is the airport dir at Tupelo, MS. Skip's daughter Jackie was married in Jun. Skip, thanks again for your great and timely letters, and thanks also for printing them so that I can decipher them.
| | |
| --- | --- |
| 1965: Gill Curl and Skip O'Donnell | 1965: Preston Motes and Skip O'Donnell |
One final note for all of you lost classmates. You may not think you're lost, but let me tell you who USMA thinks is lost: Dean Loftin, Roy Ludwig, Lew Maness, Paul McDonald, Ladd Metzner, Jim Mims, Ken Moorefield, Bev Motal, Jim Murphy, Tom Mushovic. Gene O'Neill, Jim Peters, Doug Richardson, Tom Ridenour, Frank Riley, Jim Seaburn, Fred Shapiro, Steve Spoerry, Greg Steele, Frank Tantalo, Mike Thompson, Tom Thompson, Terry Throckmorton, Jim Tillman, and Bob Timbrook, as well as Bob White. You are hereby officially notified that you are AWOL. If you're out there, or anybody knows about them, please drop your friendly scribe a line.
Well folks, that's about it from Chicago. Great letters and great pictures but please, keep it up. Best regards from the home of the Beans and Cubs!