Greetings once again, but this time from WP! I thought we would dedicate this article to the events that occurred on a Sat morning last Feb; a cold, crisp, sunny and refreshing day in front of the old gymnasium. The same doorways through which so many of us passed so often during those 4 yrs in the early 60's, on our way to a movie or to see Peter, Paul and Mary, or to shoot some hoops, now housed a bronzed plaque, temporarily enshrined in the age-old colors of our Alma Mater.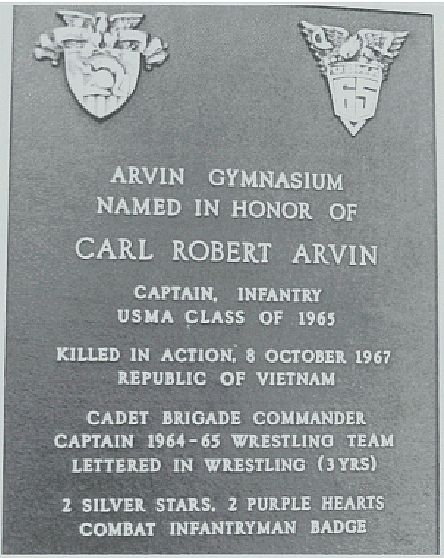 Arrayed like semi-circles, cascading out from the plaque into the bright, shining sunlight, were temporary seats for about 50, which were far too few to hold the crowd that numbered more than 4-fold that many. Over the doorway were 11 simple letters attesting to why we had all come from different parts of the world to spend 45 mins on this day-The Arvin Gym.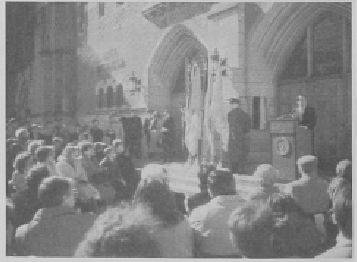 p>We came from near and far. Some to recall our fallen classmate and others to hear about who he was. From NY came Tom Barron and his adopted son Jamil from Africa. Jim & Julie McEliece, as well as Jimmy Golden and Tom Johnson from WP. Howie & Betsy Reed, Paul & Anne Barber, Lou & Judy Csoka also joined us from WP. The DC contingent was there in force: Mark Sheridan, Tommy Abraham, John Alger, John Howell, Bob & Phyllis Wolff, Dan & Susan Christman (wearing his new and richly deserved stars) with daughters Karin and Katherine; Hank Mickells & wife Doreen along with Kristina and Robin; Walt Kulbacki with Cathy and Pam from Fairfax Station. Curt Adams came from Springfield, along with Freddy Laughlin. They were able to spend some time with Fred Smith and Mary Ellen.
We were also represented by those sons of the Long Gray Line, Pat Howell and my son. Brian, both '92. From the great heartland of the country, nearer to Bobby's roots, came Ed Sharkness from Bettendorf, IA, Joe & Carolyn Aucure, friends of the Arvins accompanied Bruce & Susan Allison and Bob & Jill England. Jim Conley came from his new location in Kettering, OH. Ron Williams, not often seen at these events, traveled all the way from Edwardsville, IL. Joanmary & Glen Nenninger came from Livonia, MI with son Glen III and friend Cadet Mulcady '92.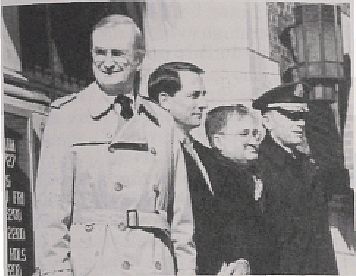 Traveling even further distance were Dave & Rosemarie Kuhn, of whom I will make more mention later. Chuck & Cathy Moseley drove for almost a half a day from Raleigh in order for Chuck to salute his dear friend and roommate. Joe McChristian and son Joe III came from Hobe Sound, FL. They also represented and read a telegram from Duncan MacVicar, who was unable to attend. Tad Ono came from San Pedro, CA with his lovely wife Hiro. JP Greene & his lovely wife Bobbye and son came from Marietta, GA. Dave & Darlene Hopkins came from Wilmington, DE with son Mark and friend Travis. Dan Steinwald traveled all the way from Ottawa with wife Marie.
Making a short trip to WP for this very important event where a lot of our classmates who live in the Northeast, namely Dave Hurley along with wife Kathy and two daughters. From Wappingers Falls, NY came Virginia & Gil Curl. Russ Campbell and sons, Russ and Glen, came from Glen Rock, NJ. Rich Kuzman came from Bridgewater, NJ along with wife Dagmar and daughter Alexandra. Ernie Westpheling came from Medford Lakes, NJ. Ross Wollen made a trip up from NYC. Roger & Patricia Griffin came up from Hopewell, VA along with Terry Ryan from Fairfax Station. The Stichwehs came from Darien, CT. And Doug & Jan Gibson came from Hingham, MA. From Port Jefferson, NY came Ray & Linda Hawkins. Not coining too far were Mark & Linda Sheridan who live in Garden City. Carl & Angela Letterie came from Cinnaminson, NJ, Joe Sanchez also came from NJ. Gene Manghi came from Mahwah, NJ. Jack, Jane, Bari and Molly Barwis traveled from Monroe, CT, while from Buckview, VA came Mary Kay & John Salomone. Also from CT were Diane & Paul Schultz, who live in Weston.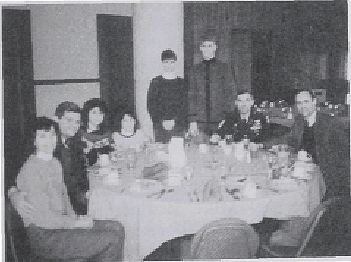 A little further away came Chuck Boohar from Media, PA as well as Denny & Marie Lewis from Warren, OH.
I'm sure I have forgotten a few, but these were the ones your scribe was able to identify. The accompanying pictures pretty much say it all. The presentation ceremony in front of the new Arvin gym was both simple and classy. Bobby's parents traveled from Melbourne Beach, FL along with their younger son and his two sons, as well as Bobby's widow. Seated on the steps in positions of honor were the Supe, our old Com, Gen Mike Davison, Chuck Moseley, Monsignor Cunniffe and Dave Kuhn. The Supe opened the remarks by welcoming us all and outlining the very stringent criteria that were needed for this type of dedication. Dave Kuhn then followed with a very simple eulogy, which none of us will forget for a long time. Chuck Moseley then reminisced about his old friend and roommate, pointing out the 4 factors that had most distinguished Bobby to him, namely leadership, perseverance, character, and faith. And then, attesting to Bob's keen respect for his religion and love of his God, Father Cunniffe of the Catholic Chapel, closed off the Ceremony with a fitting commentary.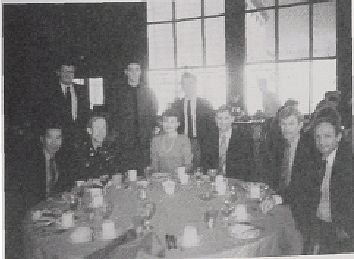 Following this late morning ceremony, we all repaired to the Officers Club for a lunch overlooking the Hudson River resplendent in the bright winter sunlight with melting ice packs signaling the coming of spring.
We owe a deep statement of gratitude to our former bde XO and Bob's flrstie roommate who put this whole thing together, an endeavor made even more difficult by being three thousand mi distant Dave Kuhn has worked tirelessly and quietly to make this happen. It was truely a lasting testament to not only the man whom we chose to lead our Class, but more importantly, to an outstanding soldier, husband, son, and American. Dave said it best during his remarks: "I never met anyone that did not like Bob Arvin, let alone respect him."
It seems to me that this dedication signals the next stage in our Class' career, namely that we move on, never forgetting the past, but remembering that we were blessed with the camaraderie and a vast storehouse of experiences that we should use to make this world a little bit better, as Bob Arvin made our world a little bit better.