Greetings once again from Chicago! Before I go on, let me ask that when you move you send a forwarding address on to your friendly scribe. Now for the news of the Class.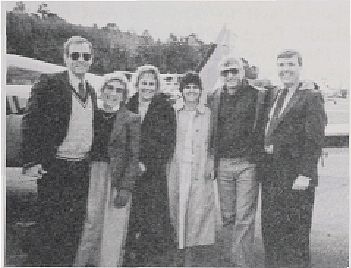 Unfortunately, my deadline is too early to include news of the Arvin Gym dedication. I received a nice letter from Janet Dyer. The enclosed picture was taken at Stewart on Homecoming wknd. With Janet & Jim are Lansing & Susan Hewitt, Carol & Manny Maimone. They saw a lot of the Class at the homecoming game, but were amazed how "old '68 looked-much older than us!" as Janet said. The Hewitts are newlyweds who met while working together on the "Army Yr of Values" project. Susan worked for DA for a while and joined Calibur Assoc. Lansing was with the Army Community & Family Support Center and will ret early 89, after which he expects to become a financial planner.
Manny is currently working for SAIC in program dev. Shortly after this pix was taken, he left for Switzerland and Africa for several wks to work on a project. His wife, Carol, had an unusual illness earlier which caused the loss of hearing in one ear, but other than that she's fine and has gone back to teaching. Son Chris graduated from UVA and is attending law school. Daughter Sarah is a sr at Tulane and will probably join the Peace Corps. Gregory and Lauren are still at home.
Jim is still at the Pentagon and is dir of C3CM. He was the pilot who flew everybody up there in his Cessna. Their 16-yr old son David is Jim's first student pilot Their daughter Lauren will graduate from VA Tech in May and is not sure what she'll be doing, although she's considering law school also. Kristin is in 5th grade.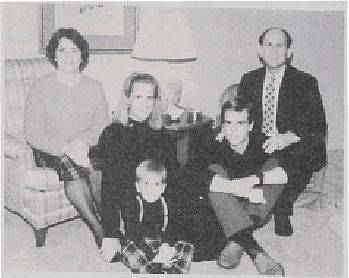 My old throwing buddy, Bill Triick, dropped a short note with another picture of Jim Hennessee escorting the former CINC and PM Thatcher at the White House. One of these days Jim will, hopefully smile. Bill is in Danville IL. I had a nice chat with Joyce, who informed me Bill has taken a new job in Miami with MD Resources, a hosp consuiting firm. Bill had been VP/mktg at a Danville med center for the past 2-1/2 yrs after moving from CT. Their 3 children are doing very well. Daughter Kristi is a sr in HS and looking at different colleges. Son Ryan is in 8th grade and is very much into soccer and tennis, while son Clayton is 3. They haven't seen any classmates down in Danville, although I think Bill has been traveling quite a bit.
I also discovered that Carl Letterie is working as a PM for NJ. He ret last yr and was in the QM business. Locurcio made the introduction.
More on the Army/Navy game at the Meadowlands. Apparently Jim Gardner, who's at Pfizer, is trying to set something up at Pegasus, a restaurant which is a 10-min walk from the stadium. I'm not sure how firm this is, but I hope the NY/NJ guys can decide what we're going to do. Please remember my deadline of 14 Aug to get into the Oct ASSEMBLY. Joe Sanchez reports that he has reserved 40 rooms at $130/night for Fri and Sat nights at the Sheridan Meadowlands and the rooms are filling up quickly.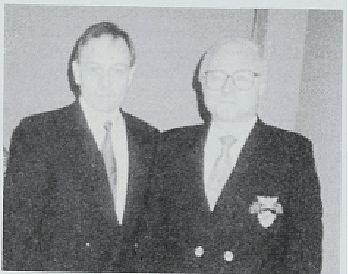 Joe Sanchez also reported that the following people were at his post Navy game get-together: Jim & Carol Tomaswick, Ross Wollen, and Reg Dryzga plus friends, Bill & Betty Zadel and Ray Nicklas & his wife ('63). Don Kurtz and lady friend, Carl Letterie, the Harmons, the Hawkins, George & Carol Bell, the Scheiners, Tom Abraham, and Chuck McCloskey's son, Mike.
Doug Sikorski reports that he is, in fact, not lost and is still a senior lecturer (equivalent to assoc prof) at the Natl U of Singapore. Doug received his PhD at Bradford, Engl and is a lecturer in intl business and finance. Ron Layer reports that he's overworked and underpaid. His eldest daughter is a sr at NYU in "dramatic writing," i.e. she writes screenplays. She loves NYC and works at the skating rink at Rockefeller Plaza. Bill Lehman is a student at the War College. He graduated from law school in 69 after 4 yrs in artillery. He has a daughter at the USMMA. He was the SJAG at Ft Knox and will probably go to the Pentagon to OTJAG after the War College. Marty Andresen is still at the War College where he's an historian and is in charge of the Founders Day at Carlisle. Bill reports that Mark Walsh is also there. Don Appler just came to Ft Knox last summer with the Armor School. Ken Lemley was the IG at Ft Knox also.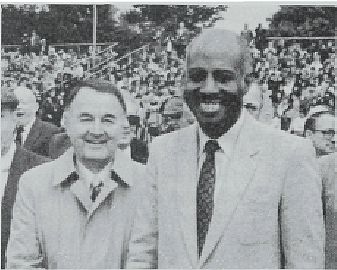 Joe Anderson reported that he is in material mgt and quality In GM's Inland Div in Dayton, although he retains his house in Detroit. He hopes to go back to Detroit within the yr to run a div. He also just bought a place in San Diego at a country club. The production of the Anderson Platoon II will probably not be done until Apr. Stay tuned.
John Alger wrote from Arlington that he ret in 87 and joined Pete Dawkins in his US Senate bid. John has seen Tom Barron as we1l as Mike Liebowitz in Middlesex Cty, NJ as well as Sandy Hellenbeck at the Army staff. John is now out in the job market after having gotten his doctorate in modem European history at Stanford. Karl Savatiel wrote over the holidays and passed along a Sports Illustrated article on Kala Kukca. Kala is the steersman for the oldest of the Hawaiian outrigger canoe clubs, which came in second in the 40-mi outrigger canoe race between Molokai and Oahu. This was Kala's 15th crossing.
In a previous issue, we inquired as to the whereabouts of George Menninger's son, and the following info came from George's sister, Jane Mallon, who lives in Mesquite, TX. As we know, George was killed in VN. His wife had died a couple of yrs earlier. Their son, Jeff Scott, was adopted by George's wife's brother, Edward Butler, who lives in Tinton Falls, NJ. Jeff is now a sr at Cornell. Pat Kenny, feeling ashamed at not having written this scribe for quite some time dropped a very nice note. They dined with Wes & Linda Taylor who were in town along with Dick Tragemann attending "charm school" prior to pinning on their stars. Pat also reports that Curt Adam s organizes periodic Class luncheons and has been doing a great job. Pete Linn was at the last luncheon and is alive and well somewhere in the Wash area. Also in attendance at that luncheon were Frank Meier, Bernie Ziegler, John Vann, John Swenson, Randy Guenther, Bob Cato and Lance Hewitt. Pat & Alice get together periodically with his Ranger buddy Mike & Kathy Applin. Mike is trying to set a new record for the longest stay in the DC area on active duty. They've been there 9 yrs. Mike, as reported previously, is the Army Star Wars expert. Zig Roebuck is also back in Wash, although there were reports of heel marks all the way from Ft Lewis to DC. Pat, please do stop by and visit us on your next trip to WI.
Received a nice note at Christmas from Joe & Lynne DeFrancisco. They're in sunny CA in the Carmel area. Joe has a DIVARTY cmd and they will be joined by their two college students over the holidays. Son Eric is now a firsty at WP.
On a sad note, my old buddy Bobby Berdan died in Dec 88 in CA. We are trying to get more details for the next issue.