Greetings once again from Chicago. Here's what is going on in the '65 world. After seeing Joe Sanchez at Homecoming, we decided to get together the next wk in Chicago. Joining Judy & me (see photo) were Chuck & Rosemary McCloskey, Frank & Donna Heller and Bob Bradley. Joe is the head purchasing honcho for NL Chemicals, a huge intl chernica1 co located in Hightstown, NJ. He was in town for a convention. Chuck just recently arrived at Ft Sheridan where he is the equivalent of the VP of marketing for the USAREC. Frank is the Fourth Army Engr, and he & Donna have been here for a little over a yr. We had a great time talking about old times and, as you might expect, old war stories get better with yrs. Here's an update on what everyone seemed to know at dinner. Jim Tomaswick is still with Polaroid in Boston, but lives in Londonderry, NH. Tommy Abraham is in DC and has his own consulting firm. The gp was wondering about the whereabouts of Preston Motes, last heard from in Salt Lake City; DJ Mogan, last heard from in Springfield, VA; and Bill McKemey, last heard from in El Paso, TX. If you guys are out there, drop me a line. Sonny Arkangel, or rather Doctor Sonny, is still in Victoria, TX where he is an emergency room MD. Art Mark is still here at Ft Sheridan, although he is now a PMS at a local univ. They are apparently now on child #10 and, as someone said at dinner, I wonder if he ever heard the remark about which Groucho has so much trouble on TV.
After our dinner at Ft Sheridan. Bob Bradley took Dorthea back to Berlin to celebrate their 20th where they met. They were joined after dinner by John Pickler who is Divarty CO, 8th Infantry at Baumholder. Their picture shows Bob and BG Miller.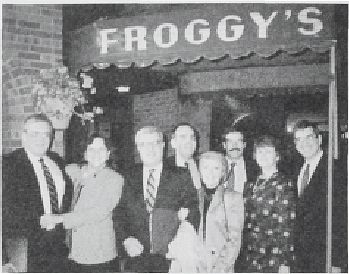 Also mentioned during dinner were Frank & Susan Arnall, who are in Orlando, FL where he has a very successful insurance bus and is thinking of retiring. Walt Oerhlein is still in Detroit. Glen Nenninger is still working for Ford, while Joanmary is teaching in Livonia, MI. Ed Winstead is also in the MI area in the real estate bus. Ronnie Westpheling and John Knowles are now at Ft Dix. They were also wondering where Bruce Marshall is, although our records show his last address in Columbia, MD.
Some really interesting stories came out during the evening. Art Mark's daughter is now at USMA and was a good friend of the Rellers' son, Chip, who is also in college-a civ school in southern IL where he has joined the USAR. The bottom line is that if they both get out as offs, Chip will have a yr of TIG on his former HS girlfriend. The other three Reller offspring, all girls, are all in school near Ft Sheridan.
The Sanchezs and McCloskeys met in a most unusual way. While they were going to flight school, they decided to have dinner together, but then it was determined that Joe & his wife had forgotten their silverware, so the McCloskeys brought over the silverware and dined on the china that the Sanchezs had, since the McCloskeys had forgotten to unpack theirs. Also in the small world dept, Joe Anderson's new love interest, Jane Smith, turns out to be the best friend of a Denise Goodman, whom Joe Sanchez knows from the chemical business.
John Harrington is at the Pentagon working on the future of the Army and something to do with the anti-armor study. John Longhouser is a PM for the M-l Main Battle Tank. Dick Wirth is still flying for Eastern and apparently lives in Amherst, N H. Gunner Hennig is still in northern MI where he runs a paper mill.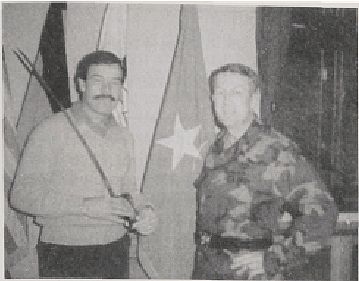 Other interesting tidbits: Bob Bradley thinks that women are good at WP-good at least for the men so they can get used to taking orders when they get married (an exact quote). We also heard many funny stories about the world class ability of Don Phillpolts and his ability to sleepwalk on Ranger patrol. And finally, Ranger Bradley told us of leading his first patrol as an infantryman in Vietnam. Because of his Ranger qualifications, he led the patrol which went out and did a gigantic circle in 12 hrs. All in all, I don't think the 8 of us have laughed so hard for so long. The evening was capped off with cocktails at McCloskey's, and a good time was had by all.
Judy & I watched a great Army team hold the top-ranked USAFA rushing offense to about 1/2 their normal yardage and gain a fantastic 28-15 victory. The weather was terrible, but our Class stalwarts were there in force. Located on the upper deck on the windward side of the storm gale were the Buchas, the Barbers and the Reeds. Taking shelter down below were the McElieces and the Goldens, with Julie playing host to some of her business clients.
It is still strange to see yearlings with corporal stripes on and cows with firstie sergeant chevrons on. It's even stranger to see plebes walking around Highland Falls and cadets walking hand-in-hand with members of the opposite sex, sometimes also cadets. Oh well, as Mr Dylan sang, "These times they are changing!"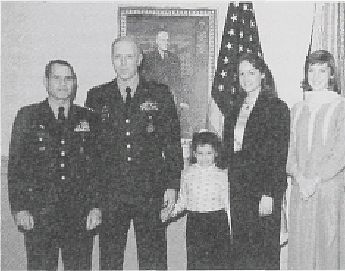 We were sorry to have to miss the promotion party that Dan & Susan Christman had on 19 Nov (see picture). In attendance were Tom Barron, Johnny Johnson, Dave Bodde, Fred Laughlin, John Knowles, Pat (Coll doesn't know where I am) Kenny, Sandy (who, me EVER WRITE the scribe?) Hallenbeck and Curt Adams. The promotion was handled by our good friend, the VCA, Art Brown, in a very "emotional" event, according to the recipient. All pix of the actual party have been rated XX because of the events of this "ribald affair,'' according to one participant. All in all, a great way to get '65 up into the stars, led by 2 very nice people. Congrats to you both, Dan & Susan, from all of us!.
Lee Hewitt wrote from Alexandria to report on the joyful birth of Brett David in Oct. Lee is at the Def System's Mgt College and will go to Ft Monmouth in Dec to become PM of PLRS. Lee reports that Rocco McGurk is also on the faculty there. Don Exelby dropped me a note from Grand Rapids, MI about Charlie Shaw's 1988 GAMA BEAUJOLAIS NOUVEAU, which received a big play there!
Zig & Linda Roebuck are changing over their cmd of the 31st ADA Bde in Nov at Ft Lewis but, as of the date of this writing, they still don't know where they'll be going. Stay tuned. And low and behold, what the mails bring in. My old buddy Ron Floto is up to it again down in FL where he has led a mgt team LBO to buy Kash 'N Karry for $305 mil. They are listed at number 134 on Forbes 400 largest private companies. The hqs are in Tampa. Good luck, Ron. Dave Kuhn reports that the Arvin Gym is moving along. It's a definite for 25 Feb, 10:30 a.m. followed by the Army/Navy wrestling match. A letter will follow. Incidentally, we still have less than half of the Class who have made any contribution to USMA. Why don't we all pay a special honor to our first cpt by making a contribution? The Glee Club should be there for 20 mins or so, and Mr & Mrs Arvin are planning to attend, as well as Bob's widow, Lindsay. A plaque for the recipients of the Arvin award will be installed inside the gym door. Stay tuned for more details.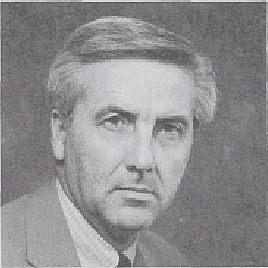 A great picture of Norm Boyter, who was just promoted by Westinghouse at Hanford in Richland, WA where he will now oversee facilities maintenance, craft support, utility ops, etc. Congratulations, Norm, but try smiling for the next picture!
We saw a lot of '65 at the Army/Navy game in Philly. Sitting in our section were John Knowles and his attractive young daughter, as well as Walt & Cathy Kulbacki, Fred & Mary Ellen Smith, along with son Andy, Chuck Boohar, whom we haven't heard from in a long time, Oleh & Roma Koropey, Howie & Betsy Reed, Jim & Carol Tomaswick (aka The Swick, of C Squad football fame), and Tom Abraham (also of C Squad fame, with his everpresent stogie). Joe Sanchez was there with Chuck McCloskey's son, who goes to Princeton. Up in the box, we also saw Ross Wollen, who is the only "Office of the CEO" person that this scribe knows, as well as formerly "lost" classmate Reg Dryzga, who came over from Newtown, PA. Reg, good luck to you on your latest personal endeavor!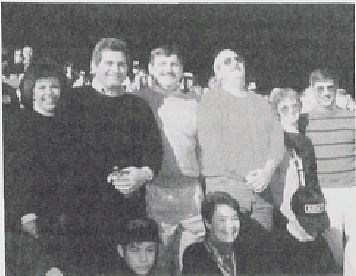 Over a few beers, we started to talk about Army/Navy in 89 at the Meadowlands. Ross is cooking up some idea of having '65 march, en masse, across the GW Bridge to the Meadowlands. Good idea, Ross, but wear some comfortable walking boots! Seriously though, how about some of you NY/NJ guys putting something together, preferably at the game. How about: rent a sky box or other private digs? Rent a large Winnebego and have a cookout in the parking lot? As Carl Letterie and the boys found out, to get anyone to attend we have to advertise it a lot and make it easy to get to. Over 40 showed up for Letterie's bash in NJ. I'll have more on that next time. If you guys will give me the poop, I'll publicize it. My deadline to get it into the Oct 89 ASSEMBLY is 1 Aug, so let's get humping.
I received another great letter from Skip O'Donnell. Skip spent two wks at the Pentagon and saw a number of our classmates. Frank Meier, who works on the JCS staff in the natl mil cmd center. Leo Kennedy is on the DA staff where he watches how appropriated money is used. Rick Wetherill is a principal dir in the planning and resources offs under the SEC DEF. Curt Adams is on the DA staff and the manpower officer. Skip also saw Bill Hecker and Oleh Korbey. Bill is the PM, MRLS. Oleh is the PM, nonlinus site system. Both are stationed in Huntsville, AL. Tony Gamboa is in the Gen Counsel's off at the OD.As you can see by the picture, Skip is shown at the Northwestern game in Sep with (L to R) Sue & George Ruggles, Jim Tomaswick, Merritt Bumpass (nice hat), TJ & Linda Kelley and Dave & Eleanor Vann. Skip also ran into Paul & Ann Barber at halftime. And Skip finally found out why he was having trouble with his camera-he took the cover off and found an inscription that said "for hives only!" Speaking of "Skip,'' it didn't surprise me to see his son "Chip" attending as MC during the '92 show during Beast at Lake Frederick. This bud's got some talent! You can see it all on the "made for prime time" video that USMA had made of Beast Barracks!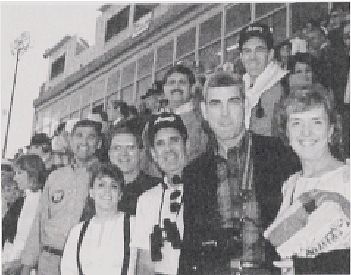 I got a list from the AOG of our "lost" classmates, and I thought it might be a good idea to put out the APB if anybody knows their whereabouts. Speaking of "lost souls," I received a nice letter from Russ Dornier indicating that he was not, in fact, lost and is still in Baton Rouge where he is a lawyer. He doesn't see any classmates down there, but he did run into Bob Axley while teeing off in CA at Carmel last yr. Russ remembers a bet he had with Buckosky that if anybody in our Class became a movie star, it would be Pfeifer. A Charles Hayward is looking for Lance Stewart, with whom he served in VN. Lance, if you're out there, please let us know where you are or call Hayward at 404/355-4213. According to the AOG computer, the following guys are lost and must either report to the clock tower in Central Area or drop a line to your friendly scribe: Loren Albright, Ballard Barker, Peter Becker, Bobby Berdan (Bobby, I know you're out there-you're too big to hide from me), Paul Bergmann, Jack Blau, John Bohannon, Burke Buntz, Chuck Burgardt, Rob Butterfield, Dennis Chudoba, and Charles Cook. Tom Croak was officially listed as "missing" but my spies here in Chicago have tracked him down. I'll give you more names next time but please, if you guys are out there, let me know. If any of you know where these guys may be, even a city or a phone number, drop that line to me also.
Well folks, that's about it for now. Thanks to all of you who inquired as to daughter Shannon. She has recuperated completely now from her accident and is back in the full swing of things. She has decided to apply to WP, as well as an ROTC scholarship at Tulane and James Madison, and wants to become a mil psychologist (I've asked her to look up the word oxymoron!). One late note-all you Glee Clubbers-they are planning a big reunion during graduation for '90. Call Dwayne Milburn (914/938-3913) for details.