Greetings once again from Chicago! We hope that everything is well in your world as it seems to be with our classmates. Tom Kelly is still here in Chicago but his firm has lost the govt contract on which they were working. The business had grown to about $19 million. His daughter is at the U of Miami, and his son is a HS soph and a great soccer player. The Koz (aka Kosciusko) wrote from the US Def Attache off in Tel Aviv where he & Ann play host to about 2,200 visitors per yr. Needless to say, they are quite busy. They just returned from Dallas where oldest daughter Dawn was married. While Koz was in Ger at Graf, he saw EJ Armstrong '63 on the tank range and found out that his dep was none other than our Bob Higgins. Bob and Koz were also roommates who had not seen each other in 20 yrs. Bob is still as feisty as ever and should be getting a brigade by the time this article is printed. Koz scored two direct hits with the M-1while escorting an Israeli 2 Star. Joe, it was great hearing from you and let's keep in touch. Are you still playing any hoops?
I had a nice chat with Becky Bell who, as I reported last time, moved back to her home area with Dr John. They are in the Cape Kennedy area after spending 18yrs in CA. She reports that it's a much slower pace. John is trying to set up a new dental practice which will take a bit of time. Their two boys (12 & 10) had a tough transition to FL but seem to be coping with their new found friends. Jack & Annette Lowe are still just outside Dallas, although Jack has just been promoted to gp VP for finance in the Govt Services Gp of EDS. He will leave the family in Dallas until Mary Melanie graduates from HS and then they will all probably move to their new place in Herndon, VA. Son Bruce is a jr at Texas A&M studying construction engring/architecture. Their youngest, Stephanie, is turning into a great athlete in both soccer and volleyball, as well as B ball, and at age 14 is the city champion in shot put.
We received a news release from MO Mil Academy in Mexico, MO that Hubbert Leverett has been appointed as a science and math instructor. MMA, founded in 1889, is about to celebrate its "century of distinction." Chuck McCloskey called from Ft Sheridan here in Chicago. He just came over from Lansing, MI where he was CO of a recruiting station. He is now the equivalent to the VP of marketing for the Recruiting Cmd. He & Rosemary have 3 sons; one is a jr at Notre Dame, one is a frosh at Princeton and playing end on the football team. The other is still at home.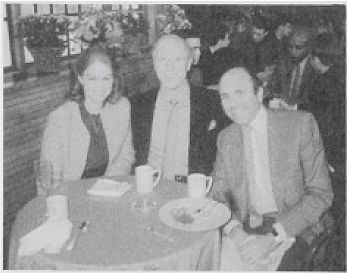 We got together with the McElieces, Christmans, and Joe Anderson at Homecoming at WP in Oct. Dan is scheduled to get our first star in Nov. He & Susan are shown with our Darmouth grad/friend Jack Ferraro at the WP Train Station. Speaking of that, Bob Anderson wrote from Anchorage that Dick Tragemann is on the 1-star list. According to his bio, Dick just came back from XO to CINC-Korea. Prior to that, he cmded a div arty bde. Our congratulations to him and his family on a job well done! Bob Anderson just returned from a two-wk tour as asst attache in Egypt. His move to Anchorage in 87 put him in charge of VA health care programs in AK, a big job because of the 71,000 veterans in the largest state in the Union. Daughter Cheryl went to Japan on a Lions intl youth exchange and had a great time. Bob and his friend for life, Barbara, are shown in the attached picture on a cruise to view the glaciers.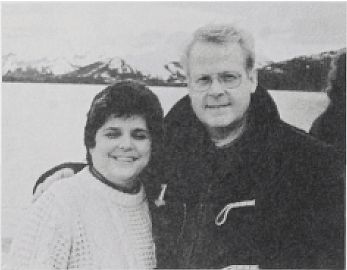 As Judy & I were watching our son Brian play baseball at WP, who do we see sitting in the bleachers but our old Chicago buddy, Bob Scully, who was visiting his mother and brought her up to see the game. Bob is doing well with Amoco Chemical where he has just been promoted to corporate, while his wife just finished her master's. Their oldest child is in college. I received a great letter from my old ranger buddy Jack Terry, who looks as good as he did when I saved his butt down in the Okefenokee swamps. He & Sue and their three sons (19, 17 & 13), daughter (9) and the new comer, Karen (4), have settled in the Catskills, about an hr north of USMA, on 5 acres out in the sticks. There are no neighbors around and lots of trails for hiking and cross country skiing. Jack reports he's a local protection off and is responsible for overseeing a lot of "baddies." Jack, thanks for pointing out the otherwise easily-forgettable fact that we have, in fact, reached middle age. Jack, I always get a lift after reading your letters. You are really an inspiration to us all. Let's keep in touch.
I saw a nice article in the Journal that Culbro Corp (the maker of cigars and other consumer products) has just created an off of the chief exec consisting of five sr offs. One exec was our Ross Wollen who is also SVP, gen counsel and secy. Ross also reported that he located and reached Reg Dryzga and is trying to get him to NYC for a reunion with Jim Harmon.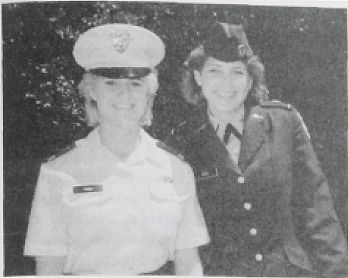 The two lovely young ladies in uniform, one a firstie and the other a USMAPS, belong to Dave & Stash Vann. As I indicated in the last article, Sandy is a firstie and doing extremely well, and younger sister Debbie is now a plebe. Dave is still in Annandale, VA where he is a mgt consultant, and Stash is now TRW's dir of configuration mgt for AWIS. Their last daughter, Kathy, graduates from HS this yr and may end up at USAF, God forbid. John Vann is currently chief, program and budget coordination div at DCSLOC. Speaking of the Class of '92, I have also enclosed a picture of John & Pat Howell, just before beginning R Day. Good to see that '65 is doing well.
The latest intelligence reports indicate that Skip O'Donnell's son, Chip, is clearly a chip off the old block as far as being one or the outstanding plebes in '92.Skip thinks we ought to get Cousin Brucy (Bruce Morrow) to do a rock 'n roll show, DJ style, for our 25th.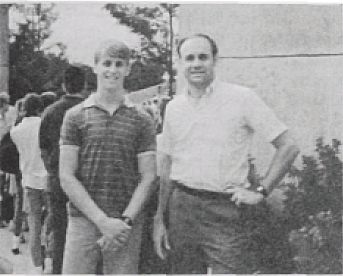 Jack Barwis has just joined American Tobacco as the dir of Human Resources. He & Jane live in Monroe, CT with daughters Bari Anne and Molly. Joe Anderson reports he may end up in Dayton as dir of Materials Mgt for part of GM. It will give him a chance to take over one of their business units which is what he really wants to do. He also reports that a sequel to the "Anderson Platoon" TV show should be coming out sometime soon. Tom Barron and I are working with Joe to have a special preview in NY in Feb 89.Call us if you're interested. I also had a nice talk with Wayne & Susie Scholl, or as they call themselves, the "bi-coastal couple." Susie is still in Sacramento where she is doing a great job selling real estate until daughter Jenny finishes HS and goes off to Berkeley. Son Brian is at CA State at Sacramento where he is a jr. As you can see in the attached picture, they make a very attractive family. Wayne has a new job in Atlanta at Forces Cmd after doing a great job as the district engr in Sacramento. He travels around constantly and is a very hard man to track down. Wayne has seen Loco who is the new Savannah district engr, replacing Stan Genega. He also flew out to St Louis where he saw Zig Roebuck who has an ADA Bde. He & Linda should be heading to the Pentagon "shortly." Jim Wood is at Ft Wainwright in AK where he is taking a bde of the 6th Light Inf Div. Frank Reller is here at Ft Sheridan, or so Wayne says, as the Fourth Army Engr. Once again, dear Scholl family, If your travels bring you back to Port without a stop at Meadow Hill Farm, your name will be mud in the next series of articles.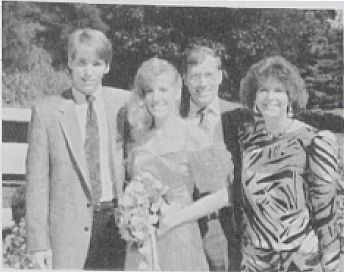 I called Bob Wolff in DC where he is a dir of facilities engr. Bob hosted a party for all the visiting ('65) engrs, including Dan Christman, who just moved over to DCSOPS from the JCS. Tad Ono, Emory Pylant (bde CO in Korea, now DCS/Doctrine in the Engr School at Ft Leonard Wood), Pete Cahill (CO of the R&D Lab at Ft Belvoir), Mike Viani (with the off of asst Chief of Engrs), Kent Brown (New Orleans DE) and Terry Ryan (a civ with Globetrotters Engring in Rosslyn, VA).Bob is the dir of fac engring at the Army Engring & Support Ctr where they handle all base support, etc. He & Phyllis (a very successful interior designer) live with their daughter (at the U of MD) and their son, who is a jr. Bob also ran into Emery Chase, who's at the Def Nuclear Agency and has two sons at USMA. The Chases live in Woodbridge, VA.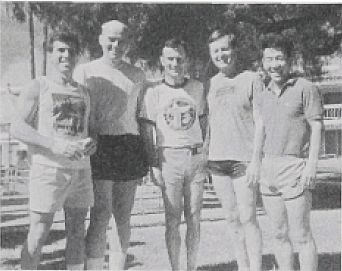 Bob attended a conference for the sr engr leaders with LTG Hatch at Scottsdale, AZ (tough job-someone has to do it) hosted by Tad Ono. In attendance were Pat Kenny, who is the chief of info mgt at Engineer HQs, and Chuck Nichols, who is the CO of the Cold Regions Engring Lab at Dartmouth/Hanover, NH (another tough asgmt!).
Well folks, that's about it from Chicago. Keep the letters and pictures coming-especially the pictures. They really add pizzazz to our articles.