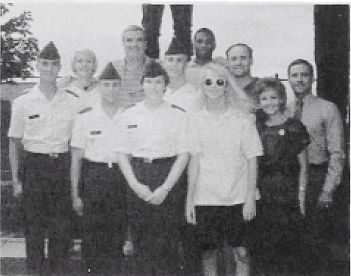 Greetings once again from Chicago. We hope your summer went well and that you are now in the swing of things this football season. As the accompanying picture clearly shows, '65 is well represented in '92. Joining Judy & me in front of Patton's monument are (L-R) Brian Coll, Chip O'Donnell, Jennifer Osgood, Kristin Howell, Julie & Jim McEliece. In the back row next to us are Pat Howell, Harold Jenkins, Jr and John Howell. Missing from the picture were Ballard Barker, Jr, Debbie Vann and Dan Wattendorf. The 7 young adults reported some 9,860 days after their fathers and oh I what a difference. First of all, the crowd of parents numbered in excess of 5,000. The in briefing for the parents consisted of about two hrs of psychological "transition tng" by Will Wilson '63. But the haircuts were the same, the nervousness was the same, and the swearing-in ceremony was the same, although it was held on the Plain, since they were 1,330 strong. Some things change, but fortunately, not our Alma Mater! Visiting WP for R Day were Skip & Marilyn O'Donnell who came in from ID Falls. Initial G-2 reports indicate that Chip is indeed a chip off the old (Skip's) block. As we all vividly remember, Skip was one of the most memorable plebes ever to don cadet gray. Alice Osgood forwarded the picture of Rick and daughter Jenny on their first wkend of freedom. When the new cadets came scurrying out of the old Central Area, "like so many rats fleeing a trap," Alice, like the rest of us, had difficulty picking out her daughter. But as we all found out when they made it to "freedom," they're all doing well, and Jennifer, in particular, is one very fine young lady. John Wattendorf wrote from WP that Danny was unable to make our picture-taking ceremony because of some missed instructions. Danny reported that a new cadet heard the announcement for area formation, and he wanted to attend optional supper that evening and thought the announcement pertained to the uniforms for supper, so he asked the sqd ldr if he could come to supper formation, with crossed belts under arms! As John says, "Nothing changes much.... "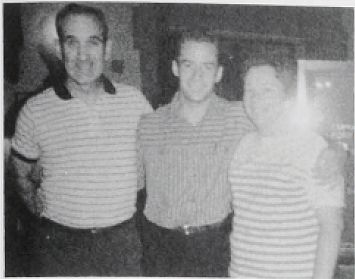 O'Donnell reports that they saw Larry Isakson & wife Becky when they were out in Salt Lake City. Larry is a general practitioner in UT (Just no of Salt Lake City). Preston Motes & fiancee Sandy were married in Jun. Although Debbie Vann was unable to attend the picture-taking, she's in good co at WP. Older sister Sandy is a firstie and in charge of the cadet counseling program. She also briefed the parents during R-Day. In addition to that, Sandy is the CPT of the Rabble Rousers and will be going to natl cheerleading camp this yr. Debbie comes out of the Prep Sch where she was on the Dean's list and played field hockey and basketball. Dave reports that brother John is still at the Pentagon where he is dealing with DCSLOG's budget. John has 3 children, two of whom are grown, and daughter Elizabeth still at home. I was unable to make contact with Ballard Barker, Jr or his father who was last at Hunter Airfield. Ballard, if you're out there, drop me a line.
I'm still trying to track clown Zaleski Pete Linn, Russ Dornier, Mike Hudson, Dick Wirth and Doug Sikorski. Guys, I have some pictures for you and if you'll drop me a line, I'd be happy to forward them on to you.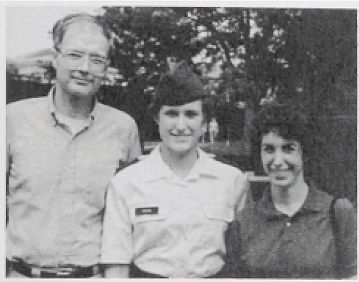 Joe Barkley wrote from NY reporting that he joined Frank Koleszar & wife at Founders Day in Phila. Frank is PMS at Widner and is looking forward to winding things down a bit. He has Freddy Smith's daughters in one of his cross enrollment programs at Villanova. Joe had lunch with Russ Campbell and Rick Kuzman. Rick is with Equitable and lives in Somerset, NJ and, according to Joe, looks the same as when he graduated. Ray Paske is also in the World Trade Center with Dunn & Bradstreet where he runs their intl ops. Also at Founders Day were Carl Letterie & Angie. Barkley is trying to put together a possible '65 reception after the Army-Navy game. If anybody is interested, give Joe a call at 212-676-2371. Joe, we'd be interested and would have about 6 guests. Kuzman has accepted an offer to join Chase Manhattan's telecommunications div.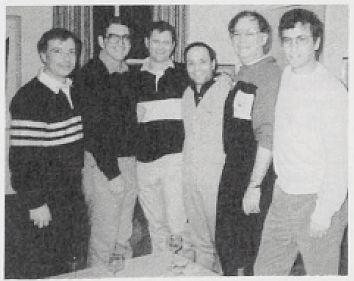 Received a great letter and picture from Freddy Smith of a party that Jim & Kristin Scheiner had in Harrisburg, PA in Jun. Shown in the picture are Mike Abbott, Chuck McCloskey, Freddy, Ralph Locurcio, George Bell and Jim. Also attending the party were Dr Bill Byrne, who's an ob/gyn in the area, Carol & George Bell, who is a local atty, as well as Fred & Mary Ellen Smith. The Scheiners live in a great old townhouse on the flood plain of the muddy Susquehanna River. Great times were had by all. Sounds like Jim didn't fair too badly in the PA lottery. Freddy, thanks for the picture-guy, I need pictures, pictures, pictures!
I also received a nice picture of Chuck and (a blinking) Elaine Nichols from the Founders Day in NH & VT.
I finally received a picture of Rollie Stichweh to go along with the business update in the last article.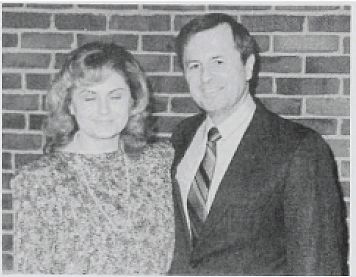 I received a great 5-p letter from Peter Lounsbury who's up in Pittsford, NY. Jim & Carol Tomaswick visited last wkend on their way to the Pittsburgh area to see Swick's parents. They visited with them on a number of occasions since they were stationed at Ft Devens. Their son Jamie will be married in Aug 89. Pete had a tough time calling a man who is 6'7" and wears size 16EEE shoes, Jamie. It was an interesting get-together since one works for Kodak and the other for Polaroid, two giants tied up in litigation now. Peter & Heidi will be going with the family out to visit the Kuhns in San Diego. Guys, if you take any pictures, please send them along. Their oldest boy Todd is 21 and in Japan serving on a church mission. He is on leave from the AF Academy to do this. He should be back in CO Springs next May to start his second class yr. Craig, their second child is 15 going on 19. He hits the big 16 in Dec and can hardly wait to drive. Derek, 13, is into a lot of sports. Heather is 8 and tries to keep up with her older brothers. She's involved in ballet and gymnastics. Heidi sells real estate and is also involved in a clothing boutique. The Lounsburys sat next to ODIA Carl Ullrich at Founders Day and had a good time with him. Pete has some obvious problems during the Army-AF game but manages to hang in there and root for the right team. Pete, a great letter and my best to all of you.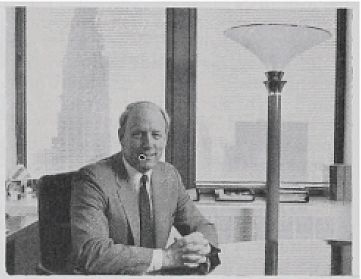 Once again, I'm sure you're all aware that the old gym has been named after Bobby Arvin. Our hat is off to Dave Kuhn and everybody else who worked on this project. Speaking of WP, here's a quick update. A ldrshp comm has been formed by the AOG to study WP's role in educating (at a graduate level) future leaders of our Country. Placed on this select comm were Buddy Bucha, Joe Anderson and Rollie Stichweh. Good luck to all of you. Speaking of that, the first step in ldrshp is to train 4 new Tacs this yr so that they will come out with a master's in ldr dev. One of the teachers will be our own Wattendorf. If you haven't visited the McEliece home on Professor's Row, they have the best view of the Hudson of anyone there. Julie has done a super job of decorating, both inside and the landscaping outside-at no cost to Uncle Sam, I might add. At the meeting of all the soc pres at WP in Apr. we were well represented by Tom Barron (NY), Tom Bumpass (Cleveland), Larry Green (Central FL) and Dave Kuhn (Orange County). At the Apr trustee meeting, Joe Anderson became our first Trustee Emeritus and was highly complimented by GEN Davison. A commendation by the AOG was also forthcoming. They also mentioned that overall fund raising is down and that the average gift is now $200; 24% of the alums give and their goal is 30%. So. if you haven't sent in your $65 or more, please do so. The Class gift memorials are now being taken out of the Class's hand and will come from a wish list the Supe and his staff will provide each class. This seems to be a more sensible way of doing it.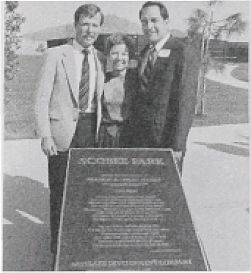 And finally, an update from Dave Kuhn. He is shown in the attached picture with the widow of Dick Scobee (cmdr of the ill-fated Challenger Mission) and Hoot Gibson (astronaut and NASA classmate of Scobee). The Kuhns and the Scobees were neighbors earlier in their AF careers and the Kuhns decided it was fitting to dedicate a park and have the ceremony to celebrate Dick's life. The park, a 10-acre complex, is part of Dave's real estate dev. Also in attendance were John Seymour, who came along with Denny Lewis and Don Parcells who formed a partnership and are presently building a 33,000 sq ft industrial, multi-tenant building in the same area.
Dave reports that his son David is a frosh at USC in their cinema & television sch and plans to make a career directing and producing films. Daughter Rose is now in the 5th grade. Dave & wife Rose enjoy playing tennis and savoring Army's last two victories over Navy. Dave's also looking for additional info that anyone might have on Scott Menninger, Ed's son. According to John Swensson, Ed's wife died before Ed was killed in Vietnam. Their boy Scott was adopted by Ed's sister, Janie Mallon. No one seems to know their whereabouts. If anybody has any info on that, please pass it along to me or Dave.
As I'm sure everybody is aware in the letter that Dave sent out, he reports that our Class Fund has slightly over $27,500. We also have approximately the same amount in two separate funds currently kept with the AOG. He's investigating the possibility of combining all the funds. In this past yr, we had no expenditures and received 144 contributions totaling $8,825. We also received pledges from 150 individuals to contribute annually. We're all shooting for 100% participation so, if you haven't contributed or pledged, please do so now. I had a great lunch recently with Steve Ellenbogen here in Chicago. Steve is the pres of CMD, a large, old line, Chicago real estate op that's involved in a lot of industrial dev across the US. Steve looked good.
Well folks, there's not much more from this end. We will continue to track our 7 offspring in the Class of '92 as the yrs go along. Keep those cards and letters coming.