Greetings once again from Chicago. We hope that you survived gloom period and spring, and are now into the festive summertime. (It just snowed in Chicago.)
First of all, news that I am sure you are all dying to hear. I understand that the box office totals surged after my last report that Chuckie Pfefier was in Wall Street. I have now been told, although I did not see it myself, that Chuckie was also on the Oprah Winfrey Show in Apr discussing bimbettes! Stay tuned for this never ending saga.
Received a nice letter from George Ruggles io Portland where he is recovering from knee surgery, the result of a skiing accident (hit by another skier) on Mt Batchelor in Mar. The arthroscopic surgery apparently was successful and he should be back on the slopes next yr. Stephanie is now at Northwestern and enjoying the School of Speech, except for the cold (frostbite) walks to class. My humblest apologies to Stephanie's mother Sue whose name was incorrectly spelled Linda in the last issue. George, we can't all be perfect, but given the fact that I've blown this one two times, my apologies to you&6: Sue. George & Sue were in Europe and spent some time at a favorite place of ours, namely the Lion d'Or in Normandy. As he walked around the place (which incidentally happened to be where DeGaulle spent his first night on shore during WWI!), he noticed a thank you letter from none other than Bruce BG Clarke. George, given the fact that we've all been there, I think you're right in saying it really is a small world. George's son, Jonathan, is looking for his first Maserratti, while his old man is looking for a 3.0 GPA. The safe bet is on the latter. Jonathan will be hosting a Belgian boy this spring. George & Sue have seen Bob Huffines. He is an atty in Kelso, WA, about 50 mi from Portland. Bob is also on the board of their local soc. They will be coming out to WP this fall to see Northwestern play football. George & Sue, if you come to Chicago, the door is always open. Thanks for the update.
Preston Hushes decided to write after the last ASSEMBLY article. A WP Soc MS was formed earlier this yr by none other than our former English instructor, MG Joe Fant. They had their first Founders Day with the Supe as guest speaker. '65 was well represented by Preston & his wife Ann, as well as the Skidmores and Colemans. The latter live in Vicksburg; he is out of the Army. Dick almost went into the catfish bus but thought better of it. Frank, who is also in Vicksburg, is deeply involved in Yazoo mud and swamp. The Yazoo River flows into the Mississippi and I gather that Frank Skidmore is up to his knees in drainage problems there, judging from a local newspaper article which Preston sent. The Hugheses have been in MS for about 3 yrs where he has been attending Ole Miss and will be going, in Jun, to Turkey where he will be NATO ln off to the Turkish mil. Passing classmates are welcome, and will be shown the best deals in copper, brass, rugs and pistachios. They should be there for 3 or 4 yrs.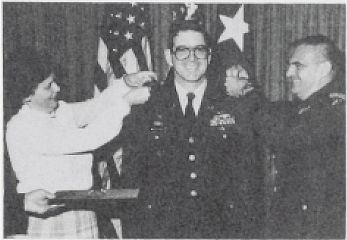 Also heard from Chuck McCloskey at Carlisle Bks where he is in the USAWSC 88 (with Rosemary and Steve, and BG Steve Silvasy '63-Steve, if you read this, good to see one of the old football players make good). Chuck & Rosemary are coming here to Ft Sheridan to work for MG Tom Carney '63 at the Recruiting Cmd. Their son Chuck is a soph at Notre Dame; another son, Mike, is going to Princeton to play football, and Brendan (11) is just finishing 5th grade. Chuck, I forwarded your check on to our local WPSC for membership. I'll also have them send you a questionnaire and application. Also at the AWC is Ralph Lacurcio, who will be going to Savannah to replace Stan Genega as the dist engr. Stash moves to Ft Stewart, GA to be CIS, 24th Inf. Ralph & Ingrid have bought a lovely home and are looking forward to the move. Mike Abbott is in the class and will be going to Ft Rucker. Marty Andresen is still the dep dir of the MHI. Also at Carlisle for Founders Day were George Bell & wife, Dr Bill Byrne & wife, and Jim Steiner. Also reported in the area was Bruce Raybeck. Carl Letterie and George Gehringer are both ret and in the Philly area. Joe Sanchez recently moved back there also. Chuck, thanks for the newsy letter and give us a call when you get settled in the area. We're looking forward to seeing all of you.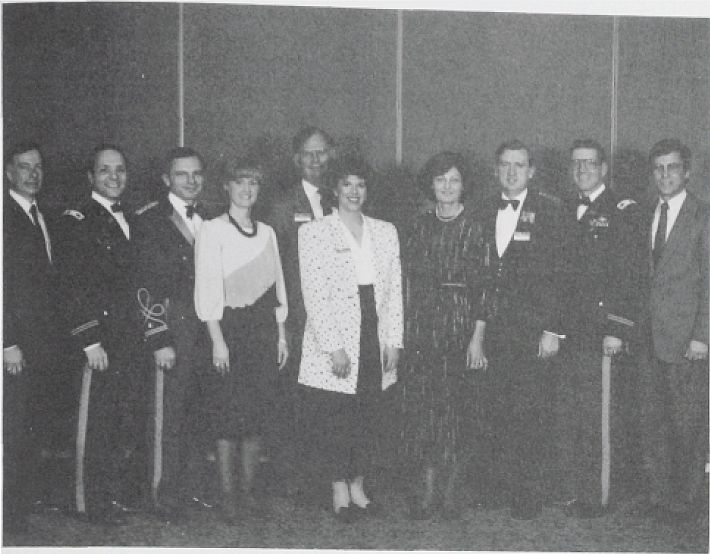 Received word from NY that Rollie Stichweh, VP with Towers Perrin Mgt Consultants and Actuaries, has been elected to the firm's bd of dirs. Rollie manages their resources op. He's been with the firm since 74 and was elected a principal 79.
Joe Barkley wrote from Chase Manhattan in NY. Joe also saw the Oprah Winfrey Show and noticed a subtitle being flashed when Chuckie was on camera saying ''Chuck Pfeiffer loves younger women." If you still have that tape, why don't you pass it along to Chicago for the archives? Joe saw Jim Green and Jack Barwis at the Lafayette game last yr. Jim is still flying for Delta and living in Marietta, GA. Jack is still in Danbury, CT and working for Durcell as dir of Human Resources. Also at the Lafayette game was Stephen Carlson (Terry & Sharon's son, who is also on the basketball team, as well as Eric Timmerman, Fred & Sue's son, who is playing JV soccer.)
Joe occasionally sees Jim Donahue on the train in NY. Jim is an investment banker in Manhattan and apparently doing well. Jim, believe it or not, I still have my note and tried to get hold of you about a yr ago, but was unable to connect. Iwill try to do that before this letter goes out. John Alger also takes the train from Trenton. He is ret and lives in Eatontown, NJ, and is Peter Dawkins' campaign mgr and has run for the Senate. Joe also saw Carl Letterie at a bd meeting of WPSP. He ret last summer and is now a PM for the State of NJ. Joe also saw Loco Joe and Russ Campbell at lunch the other day, and they see each other frequently at the Chase. Russ is head of ops and systems for the Chase Investment Bank. Diane & Joe had dinner with Reg Dryzka who lives in nearby Newtown and is trying to do some residential real estate dev in PA and NJ. Joe has been traveling a lot to London, Luxembourg and GA for the facilities div. Diane keeps herself busy with charity fund raising. Chris is a jr at GA Tech. Son Patrick, HS jr, was knocked out of athletics for a yr with torn ligaments.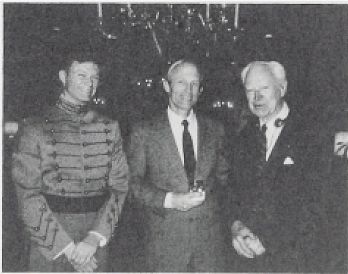 Bill Hecker wrote from Redstone Arsenal. In Mar 87 he transferred from the Anny staff supporting the def and space talks with the Soviets in Geneva, trying to get on the PM list, which he did for the summer 89. He will be the PM-Nuclear Munitions. Last Jul his oldest son, Bill, entered USMA '91. As you can see by the picture, Bill is there with his son and his wife's great uncle, COL Dan Hundley '24. Their second son, John, is a soph in HS. Wife Nancy just finished up as pres of the AOWC in the DC area where she led a gp of ladies to London, and handled a number of other activities. Their move back down south was quick and quite unexpected. Son John has adapted very well being back with his classmates that he left in 84. He will be attending the NASA Space Camp in Huntsville and also will be turning 16 (drivers beware). Nancy again is taking some ladies over to Paris for some special activities. Bill saw Joe DeFranciso, Hugh Kelly, Leo Kennedy, Frank Skidmore and Sandy Hollenbeck at the Pentagon quite a bit. In Huntsville he has seen Dick Mohler at Founders Day. Dick is with Boeing doing work with the Missile Cmd. Bill, thanks for the letter and especially the picture, and good luck to you in your new job.
In case you aren't aware, John Swensson is co-producing a movie called Wings of The Apache, a Top Gun genre film about the tng of pilots of the US attack helicopters. He's doing it with Oscar-winning producer Arnold Copel-son (Platoon). It should be a big ticket movie, so watch for it.
Richard Osgood (of I-1 and A-1) wrote with an update. He lives in Chappaqua, NY just down the river from USMA. He works at Columbia U where he is prof of EE and Applied Physics as well as the dir of two major research orgs. He has two sons at MIT, and wife Alice works in the local school system. His daughter Jennifer will be entering this yr's USMA class. She was cpt of two HS teams, gp cadet of the yr for CAP, and a real social whiz, according to justifiably proud father. Richard has also seen Buddy Bucha as they passed on the local interstate. Tom & Isee Johnson also live nearby with their 3 daughters, all doing extremely well. They gave Sonny Ray a quiet good-bye dinner at Tom's house in Cornwall in Mar. Sonny is moving to TE to take a civ job. Omar Rood is in MN and Tom Genoni recently moved to Albuquerque, NM. Richard, thanks for the great update.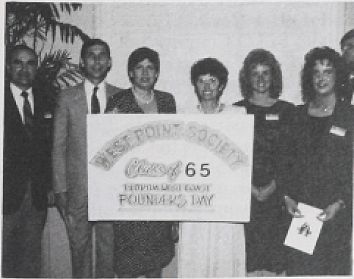 World traveler and bon vivant Joe Anderson wrote from San Juan Teotihuacan, Mexico where he was visiting. Joe, if you'd stay in one place long enough, Judy & I could track you down.
Finally, as most of you know, I've been pushing for everyone to contribute at least $65 once a yr (and now is certainly that time), so that we can start building up the Class Fund. If you think about it, $65 is not going to make or break anyone. We all should be at that time in life where giving a little bit back to an institution that has given so much to us might make some sense. So, for the 3rd yr in a row, I would like to ask each of you to take the checkbook out and send your $65 or more, to the AOG for the Class of '65 Fund. Our efforts are slowly starting to pay off. In the last yr, 112 classmates donated $12,194, which works out to an average of $109. The contributions range from $20 to as high as $1,400 (thanks John) with quite a few in the $65 range. So you can see, it doesn't take more than a small contribution from a large number of people to start building this Class Fund. So, if you want to help us out, please send your check now.
Thanks to all of you who have closed your letters with kind words-this scribe really enjoys keeping everybody up-to-date, and the job is made much easier by those of you who take five mins to drop me line, especially if you include a picture. This is the fun time of our lives when everybody has gotter: over the milestone of "who are you and how much do you make?" and are now looking at each other as comrades in arms who share an unbelievable historical relationship. So, if you haven't written, even in the last 20 yrs please be like 5 of the authors this time and drop me that first letter and let me know what you are doing-and please. please enclose a picture or two.
Best wishes from Chicago and let's not only beat Navy, but let's also beat those Boston Irish folks in Eire!