Greetings once again from the very chilly Windy City. We are now on our new schedule of more articles per yr so this one will be a little bit shorter than usual. I had a nice letter from Dave Gabel who now lives in Northport, NY and indicates that this was his first-ever letter to the friendly scribe, but did so because these are unusual times for the Long Isl Gabels. He's involved in forming a WP soc for the northern part of L.I. and was elected treasurer. This soc is for those who don't want to travel to the Big Apple. One of their prime ops will be to establish a relocation/assistance comm to help people moving into the area. Contact Dave if you have any questions-he's in the book. He saw Ray & Linda Hawkins, Mark & Linda Sheridan and Jim & Jeanne Harmon at the two mtgs that the soc has had so far. Jim Coughlin also joined. Sonny Ray was their guest speaker at the last meeting and is set to ret soon as the S-4 USCC. Ilse & Dave's older boy, Michael, is '90. Dave's bus as a writer is flourishing he reports, and he's now working on his PhD in EE. He also just finished 2 wks of AD where he was a MOBDES Off with the EE dept at USMA. He welcomes any classmate s passing through L.I. Joe Anderson sent a postcard from Egypt where he viewed history dating back 3000 yrs BC. He reports that this helps him put life and the world in perspective. Good hearing from you, Joe.
The Scholls wrote their usual Christmas greeting from sunny Sacramento where Wayne is still the dist engr. They have volunteered to stay a 4th yr but they will probably be reassigned this summer. Susie's doing extremely well at Coldwell Banker selling real estate. Brian is at CA State, Sacramento studying bus admin and likes everything except accounting. Jenny turned sweet 16 last Aug and had the house TPed-a great American tradition. Jenny will stay in Sacramento to finish HS through 89. The Scholls also report that Jay & Carol Stewart and their teenage daughters, Jamie and Cheryl, and 3-yr old Sahra shared a condo at Tahoe where they skied and had fun. Jay's doing very well with P&G and manages their Pampers plant in Memphis. Gracie, the Official Scribe Roster still has you folks in Tunkhanoock, not in Memphis. Since I know Jay isn't great at writing, how 'bout writing your old Pittsburgh buddy and letting us know what's happening-and send a picture. Wayne apparently comes back to Chicago on a quarterly basis to visit an engr co here. Wayne, we're only about 20 mi from that co, so plan on spending a night sometime. And both of you, if your trips bring you back this way to WI, please plan on staying at Casa Coll-it's a little different than the last house.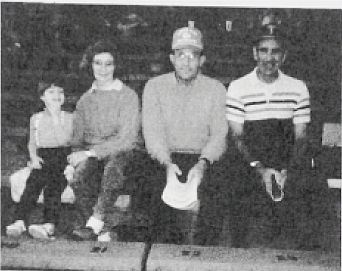 Another nice letter was received from Skip O'Donnell along with a great picture of him and the Fergusons (Lauren Karen and Jim), which was taken during a mini-reunion that they had while Skip was at Ft Sill. He also saw Tom White who has just taken over the FA School Bde. Also at the mini-reunion were Lowry West and Dan Benton. Jim and Lowry live in Lawton and work for the same co (LB&M Assoc), a consulting firm. Dan Benton is across town as the dep asst com at the FA School. He'll be leaving this summer to take over the DIVARTY at Ft Hood. Skip, if your travels bring you back here to Chicago from sunny, downtown ID Falls, please let me know and plan on spending the night. We're not too far from the airport, and it's very easy for me to come and pick you up. Say hello to Preston Motes when you see him on the ski slopes also.
Chuck Mosely returned my call. He & Cathy are still down south. Chuck had tried to contact Bob Axley and I told him that Bob and family have moved from TX out to CA where he was doing some work for FSLIC, I believe. Bob, why not drop me a line and let me know what's going on. Chuck had dinner with Duncan MacVicar, who was his Ranger buddy. They decided that whoever could tell the worst Ranger story would pay for dinner. They were both the "worst" so they split the bill! Duncan was with Hewlett Packard in their laser business and has since gone into a smaller laser co doing independent consulting. He lives in Los Altos.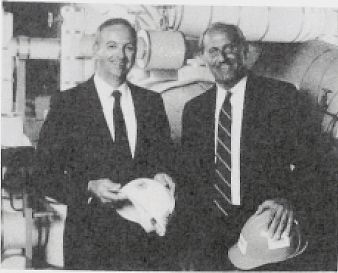 I had a chance to go through Larry Strassner's Annual Report at Nuclear Support Services Inc. He's doing extremely well there.
Bob Anderson wrote in Jan and indicated that he & Barbara along with their children, David and Cheryl, moved to Anchorage, AK. They drove from Newark, DE where he had been assoc dir of a VA med ctr and took the Trans-Canada Hwy up to AK. He's now in charge of health care for AK's 70,000 vets, complete with a $95 million budget. He and the family have taken up cross-country skiing and really enjoy the fantastic scenery up there. He even reports that the WP Soc of AK had a well-attended Army-Navy game. Bob will probably be going back to Egypt as asst Army attache in Mar.
Also received a letter from Rich Hall at Christmas. Rich & his wife of 7 yrs, Laurie Fehlberg, live in Grand Junction, CO where Laurie is a CPA and financial planner for a local hosp. His 19 yr old daughter, Bethany, entered the Army and is now stationed in Korea. His son David is 17 and lives in Denver. His stepchildren, Jennifer and Mason, live with him & Laurie. Rich & Laurie are making plans for when they leave home. Rich apparently still plays a lot of handball and will probably go the Natls in Berkeley in Jun. He is a practicing lawyer and has 3 partners. Rich reports that the only classmates he's seen in the last 17 yrs are Tim Simmons, who practices law in CO Springs, and Les Hagie who was raised in Grand Junction. Les has ret after 20 yrs and is about to complete his law degree at UVA. He will be working in Roanoke, VA. Rich, thanx for your kind words on the column.
More update on Don Exelby's input to me last time on Chuck Pfeiffer. Yes, folks, the Chuckie in "Wall Street" was in fact none other than our own CP. By my count, he had about 6 appearances. If you see the movie, he is the tall guy with black, slicked hair who is talking about "bimbettes" in the opening scene. Don is still in Grand Rapids practicing law and has been involved in the start-up of the WP Soc of Western MI. They have 2 boys, 6 and 9, both of whom are active in sports. They have been married since 71 when he grad from MI law sch. He does a lot of flying in his Bonanza and has not seen any other classmates.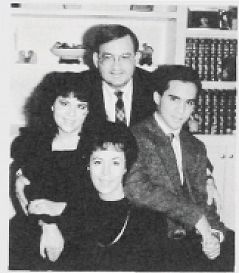 More from Chuck Moseley via his Christmas letter. They are still in Raleigh, NC. Daughter Debbie is off to school and Chip is going soon so they bought a bigger home, then added on to it. He asks why people say our generation isn't logical? Debbie is a jr at UNC-Chapel Hill and is majoring in education. She began student-teaching this fall and loves it. She also spent a couple of mos in Guadalajara doing mission-type work this summer and lived with a Spanish family. Chuck reports she's happy, busy and fun to have home "occasionally" with her friends. Chip is a HS soph and is involved in the Fellowship of Christian Athletes as well as long distance running. He ended up with a leg injury that resulted in a cast-on his 16th birthday. Cathy completed her second yr of Bible Study Fellowship leadership and continues in a Junior high FCA gp. Chuck is still the mgr of ops quality assurance/quality control for a big utility that operates nuclear plants and also serves on several natl comms. He is in the process of playing the world's top 100 golf courses which included Pebble Beach, Spy Class and Pinehurst last yr. Chuck's mom, Nida, has adjusted to living in a ret complex near them in Raleigh. Chuck, thanks for the picture.
Received another Christmas letter from the DeFranciscos who are still in Wash, DC. Joe is still on the Army staff and runs into lots of old classmates at the Pentagon. Eric is in his 3rd yr at USMA and is doing well. He attended Abn this past summer and served with an FA unit at Ft Lewis. Eric, if your parents show you this article, try to get some time off next homecoming to come down to our annual party at the McComseys. Their daughter is in her last yr of HS and is busy now looking at colleges. The DeFranciscos will be heading to Ft Ord, CA this summer where Joe will be joining the 7th DIVARTY. If your trip west, fine DeFrancisco folks, does not include a stop overnight in Chicago, me thinks that you're in deep trouble in future ASSEMBLY articles.
Well folks, that's about it for now. As I dictate this letter, a gigantic snowstorm and sub-zero wind chill temperatures are heading toward Chicago-just as Judy & I become airborne on our way down (sans lovely kindern) to the Caymans for a peaceful wk of R&R! If there's no article next time, you will probably be able to find your friendly scribe snorkeling off Grand Cayman somewhere.
Keep those cards, letters and PICTURES coming. With additional articles to write, I need all the help I can get.