Greetings once again from Chicago. This will be a short column since the number of cards and letters has been reduced dramatically. Why not take a moment now and drop me a line, especially with a picture of you and/or your family.
Did any of you happen to catch the article in the 11/5187 Wall Street Journal about the "Year of the Bimbo" and our own Chuck Pfeifer? Chuck was referred to as a "man about town in NY" by none other than gossip columnist, Taki. He was also referred to by the journal as a middle-aged man who once acted in a soft-core porn movie who later posed in ads as the Winston cigarette man and who now produces TV commercials. His idea on where to find the latest crop of bimbos? Try the modeling agency "Face Books." Love it! Incidentally, if you have seen the movie "Wall Street," the 6th stockbroker in order of appearance was none other than Chuck Pfeifer.
Received a nice reply from Bob Doughty, our own, who is also the chm of the Museum, Historical and Memorialization Comm at USMA, indicating that Bobby Arvin is a strong candidate for consideration for having the gym named after him. Stay tuned. Rich Boerckel wrote that he was receiving all of the mail addressed to him as "Class pres." Rich, you're correct that I have the most accurate list of our classmates. As correspondence is received, I update my list manually and then once or twice a yr, I send it to Paul Barber who updates our computer list, a copy of which is then sent to AOG. Speaking of that, Rich wonders why one of the permanent troops at WP doesn't become our acting Class pres, an idea which I think has merit. So, why don't you folks at WP get your heads together, elect someone as our acting Class pres, and notify me as well as the AOG? Rich inquired about Harry Joyner who, according to my info, is still in San Ant at Lackland AFB. Rich seemed to think that Harry had moved away. Rich, you're right, Ray Woodruff has moved to Sugarland, TX. Rich indicated that one of our lawyer classmates called him in San Ant but unfortunately, he lost the message. While we do have a relatively current list of names and addresses, we have not sorted them by zip code. Sorry. Rich indicates that he's with the Def Mapping Agency's Latin Amer arm as the dep dir, which requires frequent travel to Latin Amer. He still corresponds with Lucky deLaar who ret last Jun and works for a Consulting engr firm at Brown U in Providence, RI. Lucky was very impressed with the ret assistance provided by the Providence WP Soc.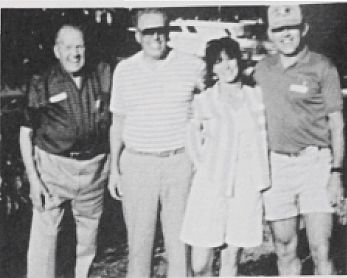 Part of Rich's correspondence to me included a picture of the plaque that lists the athletic team cpts for 1964-65 and the AAA trophy winner (Ron Butterfield). I checked all the names and they seemed to be ok, except they had Ron listed as Robert R. Speaking of Ron, does anyone know whatever happened to him?
Rick Bunn wrote in Oct and reported that WPS had their picnic for the Pugent Sound area at Ft Lewis. As you can see in the picture, Rick's father, Bob, is substituting for missing wife Donna (who was busy with the co she just started) and Linda & Zig Roebuck represented us well. Linda, how did such a good looking young lady as you marry such a hairy former roomy? Zig was called in to provide some type of temporary dock so that the boats could be brought in at the lake. Zig is the CO of the 35th ADA Bde at Ft Lewis.
Dave Kuhn reports that donations for the Class Fund are continuing to be received and are increasing. He also reported that most people are following my suggestion that they contribute $65 per yr. You would be amazed at how quickly this fund would add up if we all did that. Dave is also leading the charge to have the gym named after Bob Arvin. Dan Christman wrote that he & Susan were unable to attend our Homecoming brunch at WP in Oct because he had already committed to another engagement. Dan, we will certainly invite you to next yr's festivities. Dan anticipates that he will know about his promotion date sometime in the spring.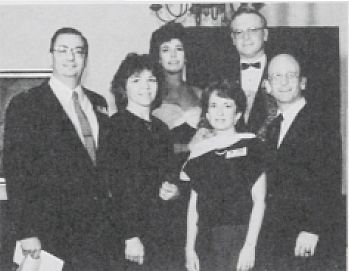 John Swenson found a letter that he was going to send me last summer and had somehow misplaced. As usual, John's missives were full of good info. Denny & Edna Brewer ret and moved to San Jose where Denny works for FMC. His last asgmt was instructing at the Naval PG Sch in Monterey about two yrs ago. Cam McConnell & Debra are living in Pittsburg, CA at 4418 Valley Vista Dr where Cam has his own structural engring firm (the premier and only firm of its type in Pittsburg). Duncan & Jeanie McVicar are still in Los Altos where Duncan has a successful mktg mgt firm tied into the Silicon Valley bus community. Manny Maimone works for SAIC in McLean. John has also talked with Terry & Nancy Ryan who live in the DC area. He reported that Joe Anderson came out last semester and showed the "Anderson Pit" and lectured to his class. Joe is the dir of quality control for the Chevrolet/Pontiac Canada gp of GM. John also saw Buddy Bucha at Buddy's father's funeral in DC. Bud's doing real estate dev very successfully in NYC. Ralph Adams is doing very well in commercial real estate in Palo Alto according to John. John Bell & his wife Becky just sold his dental practice in Cupertino and is opening a new off in Milpitis. The two Johns play tennis every wk and Swenson will be his inaugural patient in the new practice. Step Tyner is in Carmel and is doing well in their joint bus. John reports that Jerry Ledzinski & Tina are also in Carmel and that their children are state-ranked in tennis. Jerry called me on Thanksgiving evening from a phone booth in downtown Chicago wondering where one might find a good restaurant. I suggested to Jerry that with some advance notice, things like that can be taken care of. Jerry was in Chicago watching his boy play in the Natl Finals where he lost in the singles and was doing pretty well, at last report, in the doubles. Jerry is switching his bus to fee-based as opposed to commission-based in time of great uncertainty, as he calls it. John Swenson also reports that Marty & Vicki Johnson ret and are living in Castroville, CA, the artichoke capitol of the world. Marty is teaching engring and math in Gavalin Coll in Salmos, CA. Bobby Berden is the mktg spt mgr for Arete Computers and lives in Monte Sereno. John Malpas & wife ret in Orange Co where he works for TRW in L.A.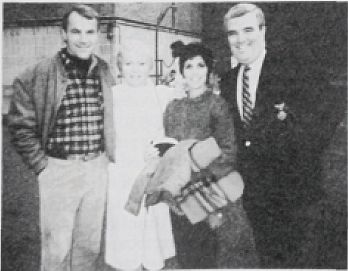 That great outside shooter of WP basketball in the mid-60s, Joe Koz, wrote in Sep with an update on what he & Ann were doing. I last saw Joe at USMA when we were trying to get the USAFA/USMA game to Chicago. He was the dep com at USAFA from whence he went to the Air War Coll at Maxwell AFB. While there, his basketball team beat the Natl and the AWC team which had Dick Chilcoat '64 coaching while Dick Murray coached the War Coll. Koz then went to Korea for 3 yrs where he was the CO of the A-10 outfit and dep cmdr of the 314 Air Div and then vice wing cmdr of the 51st TFW at Osan AFB. At present they are studying Hebrew in DC in anticipation of being the def attache in Israel. All of their children have gone: Joe, the youngest, is at TX Tech along with daughter Julie. Don works and lives in Dallas. Joe reports that his sister lives here in Chicago and I would like to extend an open invitation to the Koz family to come by and visit us on your next trip. We're in the northwest suburban phone directory.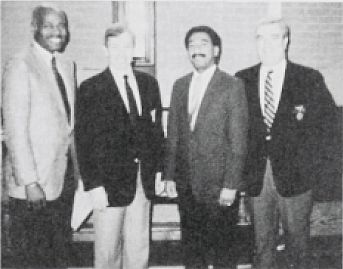 During one of our visits to WP, we took some pictures that will be included with this article. One shows 4 of the 5 classmates who are trustees Joe Anderson, Tom Barron, Jim Conley, and myself) as well as another picture of Ray & Linda Hawkins behind the gym after a football game.
I would close by hoping that all of you watched Army's great victory over Navy and especially the natl TV shots just after the game with Louey Csoka embracing an obviously jubilant sr quarterback, Tory Crawford. It was really a neat sight to behold.
Well folks, that's about it for now. The letters really are drying up, and the number of articles to be written has increased, so please, please send those cards, letters and pictures.