Greetings once again from Chicago. The big news of the day is, of course, Dan Christman's promotion to BG. Dan is currently with the off of the chm, JCS. He received his graduate degree from Princeton, law degree from George Washington and is a member of the Bar of PA. Our congratulations go out to Dan & Susan as well as their daughters, Carin and Catherine.
Judy & I took all 4 of the children to WP for the Holy Cross game and had a great wkend. Our oldest boy is looking at WP and their baseball team, and it was interesting seeing USMA from the perspective of a parent. For those of you who haven't followed baseball, Army's new coach Dan Roberts (Robin Roberts' son) has done a great job in turning this program around. They are now very competitive in playing Ivy League type teams.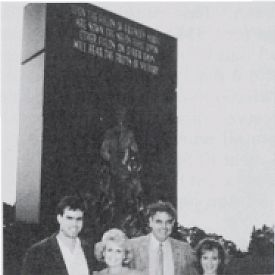 The picture of Denny Lewis, his wife and their son, along with our daughter Shannon, was taken after the dedication of the new Red Blaik Memorial outside of the ice rink/basketball field house. I also ran into Gil Curl and his father-in-law who is a football coach. They were up for the game also. As I was walking out of Cullum Hall, an obviously soiled, grimy type came walking by and I recognized him immediately as Howie Reed. Things are really tough at USMA. We have one of our sr ranking offs moving rugs in Thayer Hall in preparation for part of the renovation. Also ran into Lewis Green who was up from Orlando. He and several others (Rusty Pullen) have formed a USMA Med Assoc. They are meeting at WP once a yr, I believe.
I need some help on addresses. We sent pictures from the reunion back to the following people and the post office returned the letters with no forwarding address: Pete Linn, Russ Dornier, Mike Hudson, Dick Worth, Andy Zaleski, and Doug Sikorski. If you're out there guys, or if anyone knows where you are, please send the addresses to me.
Tom Kelly has moved to Chicago and now lives in Fox Lake, a far north suburb. He's with Systems and Applied Science Corp where he's the dir of the midwest region. He's got the responsibility for 6 states and may have to move back to VA, although he's looking around here for a different job. Jon King's daughter Laurel was married in Jul to Bill Franklin in Houston. We had an inquiry as to the whereabouts of Grant Steadman. If anyone knows, please write Joel Dilworth, 1021Olmstead Ave, Pacific Grove, CA 93950. Joel wrote an obituary on Grant's father, Altus Steadman '42, which was published in the ASSEMBLY quite a few yrs ago and would appreciate Grant's address so he can contact the family.
Incidentally, the ASSEMBLY will be going to 5 issues starting next yr. That means that there will be more space over a yr, so keep those cards and letters coming. And incidentally, if you received a letter from me returning your 20th Reunion pictures, how 'bout taking time to respond to that letter. I would appreciate it.
Our new BG wrote and indicated that they entertained Lloyd & Kitty Briggs in the Berkshires this past summer. Lloyd is up to running 6 mi a day now and has a daughter Elizabeth who is competing in the Jr Olympics in fencing. Susan & Dan also saw Tom Barron in Alexandria. Tom's with Dunn and Bradstreet in NY. Dan reports that he'll probably be staying on ADM Crowe's staff for the foreseeable future.
I mentioned last time that USMA has a new purpose ("to provide the nation with leaders of character to serve the common defense"). There are lots of discussions afoot to take this to its logical conclusion. A graduate sch of leadership at USMA? This could be a significant change for USMA long-term. Stay tuned. Also, I had the opportunity to meet the new Com Fred Gorden '62 & his lovely wife Marcia-extremely nice people.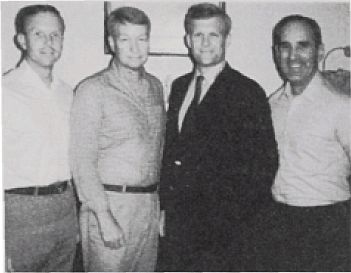 Received another nice letter from Skip O'Donnell who reported back after his res duty at Ft Sill. As you can see in the picture, he got together with Jack Lowe, Dan Benton and John Pickler. He was promoted to LTC early this yr and will be going to Wash DC for his future asgmts. Preston Motes came out to visit Skip. Preston is now ret and works for Waddele and Reed in Salt Lake City. Also received a letter from Joe DeFrancisco who's still in DC. He's now TDY at Ft Leavenworth where he has seen Don Appler (dir of Scenario and War Games), Tim Timmerman (dir, Center of Army Leadership), Bill Tredennick (In from Soldiers Spt Center) and Steve Kempf (dir of Concepts Dev). Also at Leavenworth is Paul Renschen (ch of Reinforcement Planning at SHAPE). Joe is working on the Policy, Plans and Strategy Directorate of ODCSOPS with Hugh Kelley and Sandy Hallenbeck. John Alger was with them until he ret to join Pete Dawkins' campaign staff. Speaking of Joe & Lynn, I ran into their son Eric at the Holy Cross wkend and tried to get together with him for dinner. Unfortunately, he was unable to make it. We will hopefully get back together with him at Homecoming.
Dave Kuhn sent out a letter to all of our classmates following his visit to WP for the presentation of the 3rd Annual Arvin Award to Cadet David McCormack, co-cpt of the wrestling team. David, despite a torn knee ligament, came back to wrestle against Navy in the Nationals. Dave reports that Cadet McCormack is a fine young man with a terrific future. David's younger brother is an outstanding wrestler from PA and will enter as a plebe next yr. The permanent bronze plaque commemorating the award has received final approval and is in the process of being fabricated. As reported previously, it will be installed near the entrance to the gym. Dave also has answered the question, "how can we do more?" Our previous suggestion of $65 per yr, if you think about it, would add up to a nice kitty in a relatively short period of time. Dave's feeling is that it's more important that we have 100% participation than the size of our gifts. Please send your contributions to Dave at 14 Corporate Plaza, Newport Beach, CA 92660.
Bruce Clarke wrote and returned some pictures that I had inadvertently sent to him. Bruce missed the 20th because he was in Geneva. He reports that Curt Adams is in Wash on a periodic basis. The Clarkes are heading back to Ft Riley, KS next summer where Bruce will cmd the 2d Bde, 1st ID. It sounds like a good asgmt except Sue will miss her real estate activities and the attendant commissions. Bob Wolff also wrote from Dallas where he's been stationed for a while without his family. He had worked for 13yrs at the hq of the Corps of Engrs and then took a 6-mo sabbatical to the Dallas regional off. He recently visited Kent Brown who is the New Orleans dist engr. Bob's oldest daughter, Dina, started at MI State in Sep.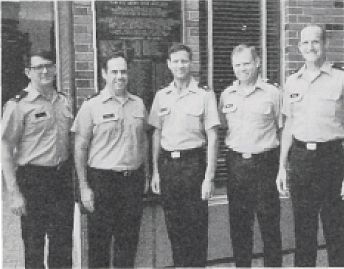 Word has it that Paul Barber has been named permanent associate prof in the juice dept at USMA and that Tom Johnson,who is head of the Science Research Lab, just came out on the 0-6 list at our Alma Mater. Dick Williams wrote from Carlisle, PA and sent a picture of Sonny Ray, Emery Chase, Ernie Westpheling, Ron Williams, and Dick. Dick was at USMA in Jul to present the Supe with a service pistol (M9 Beretta) serial no 3 for the WP Museum. Dick reports that Ron Williams has been reassigned from the Pentagon to PM CH47 Helicopter Program. Sonny is still at WP and he wasn't sure about the others.
We're still receiving odds and ends about the whereabouts of lost classmates. Larry Leskovjan wrote that while stationed at Ft Bragg in 68, he met Judy Hemmingway (widow of Chuck) and her parents, Dr & Mrs Elford J Seige. The parents lived on Canterbury Rd in Southern Pines, NC. We are now tracking that down. Larry reports that he still exchanges Christmas cards with Ralph Locurcio (going to the AWC), Tad Ono (CEO, Los Angeles Engr Dist) amongst others. Larry is an individual mobilization augmentee with Mobil Engr Dist HQ. Larry, if you & Kathy decide to come back to her hometown here in Chicago, please give me a call. We have plenty of room. (Larry prefers FL!)
Good old Roy Garms wrote from Sterling, NJ, a letter which was only his second to the scribe. He still works for Exxon Engr and reports that they are down to 40% of their earlier size and hopefully have stabilized. Roy just returned from a 5-mo asgmt at Pattaya, Thailand where he designed an expansion of the Esso refinery. On the way back, he stopped in Kathmandu, Cairo and Budapest, so life can't be that bad. He also had another asgmt in Normandy for 8 mos. He has two daughters, 9 and 13, and both he & his wife enjoy NJ. Roy reports that Lee Attebury is back from Columbia but he thinks is now out in Boise, ID. Roy, good letter and don't wait for another 10 yr to write your third. Ed Foehl reports that he had been working for a family-controlled co out in OR, lost out in a power play and is now looking for a job. He would prefer a job as a CFO. He mentioned that he saw John Olson who lives in Beaverton, OR.
Last minute missive from John & Carol Knowles who is the dir of engring at Ft Dix ("home of the ultimate weapon"??? I thought McGurk was in VA???) John will go down in the annals of CE history for being the design engr behind the "realignment" of the Plain. He attended Loco's C of C in Phila and is off to the AWC. Carl Letterie also attended and is stationed at Dix with the Readiness Gp but is awaiting finalization of a job with the state of NJ in their CLI (Circle Light Inf).
John also reports that Ernie Westpheling arrived at Dix in Aug on asgmt from the NJ Guard IG. Ernie and the two children are there, but his new bride Gail is AWOL (quoteth John). She is a USAF LT who was supposed to be assigned to McGuire AFB but ended up at Travis AFB. John also saw Jose Sanchez who just moved from the West Coast to a town near Dix. (Jose, what's the scoop?)
Best regards and BEAT NAVY!!!!