Greetings once again from Chicago! We all hope that you r holidays were happy and that you are on your way to a very prosperous and healthy New Year. Santa Claus brought lots of nice letters from the troops, so here goes. Janet Dyer writes that she & Jim and the children are in great shape and that Jim has a new job. Last Sep. he was appointed to the Sr Exec Service and is the asst dir for CCCM in the off of the Sec Def. This is a big promotion for Jim and we all congratulate him. It turns out that Jim is also a private pilot and took the family on several trips in his airplane. Janet is a paralegal and her firm is merging with a large Richmond firm. From Wes & Linda Taylor, I learned that Wes is still traveling for the Chief and hopes to present his findings in Mar. He'll begin some of his pre-cmd course work in Jan, and they'll be moving to Benning in Jun with a change of cmd sometime in Jul. It was also good to hear that he has completed the eulogy on Jamie Bryan and it should be published shortly. Thanx!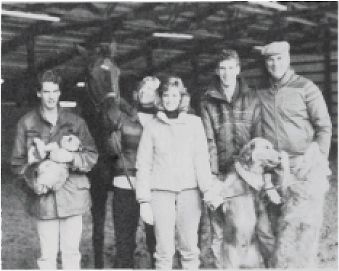 On one of my travels to the great NW, I made a number of phone calls to sec who was in and around the Seattle area. Had a nice chat with Grant Fredericks, who got out in Jun and is now with the WA State Dept of Natural Resources, running their engr dept. This group manages 5 million acres of land. He & Anita are doing very well and are enjoying their roles as gentlemen farmers. They live on about 6 acres and have some horses and raise Schipperkes (pure bred, short black hair, small dogs). They just bought 60 acres and will be building a house there soon. Grant also filled me in on Charlie Brown's parents. Also received a great picture and letter of the Radcliff family. I thought Bob was also in the Seattle area but by the time I tracked him down, he was down in San Fran. He is the dep CO of the Western Recruiting Bde at Ft Baker. Bruce & Anne Gailey will spend a portion of Christmas with them. They re-established their friendships in Seattle. Bruce is still in the silk screen business.
Clair Gill wrote with the address of the Hemmingways (Chuck's Parents). We will send a 20th Yearbook off to them. Clair also reports that Rory Kistler (Bernie's widow) and sons, Bill and Bernie, are in Atlanta. Bernie is a sr a U of GA and Rory is working for the LtGov of GA. Bill is a PhD candidate in natural physics at Berkeley. Clair, thanx for completing Bernie's eulogy for the ASSEMBLY in conjunction with Ron Floto and Marie & Dennis Lewis. Please send me a copy. The Gills (all 5 of them) were up at WP for the Army-AF game. Sherry is a local girl from Cornwall, although her family is no longer there. They will be off to Europe in about 6 mos. Clair retained cmd of the 7th Engr Bdc (just north of Stuttgart). Sherry has spent a lot of time in the PR business.
My good Irish Catholic friend. Mike Leibowitz, wrote with some great pictures of his family. Mike has taken a sabbatical from polotics and decided not to run for re-election. Judy is a field supervisor for the NJ lottery, a job she loves and is doing especially well in. Mike, did anybody ever tell you that you could easily take the Achmed Yamani-Look Alike Award (deposed oil czar)? Happy Chanukah, my friend.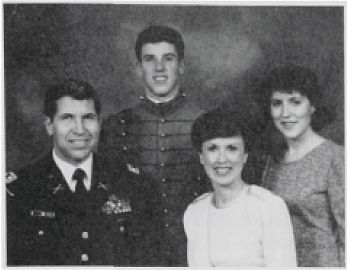 In the best-family-picture-in-uniform category, the DeFranciscos take the award standing up. Joe & Lynne are back in DC and I'm sure they're just absolutely ecstatic to be back there with all the brass. Upon their arrival, they bought a new house in Springfield. Joe is on the Army staff in the War Plans Div, and Lynne is now working at Bloomingdale's and loves every min of it.
Pat Kenny wrote his "mea culpa" letter, which I will quote without observation, "I made a gross error in leaving IL to go to my sister's house in WI: all I did was catch grief from 3 sisters." Pat, I don't want to say that I told you so, but... Pat reports on WP contingent, some of whom everybody knows about. Bob & Diane Doughty are there and he's the head of the History Dept, Jim & Elain Golden are there and he's in Soc Sci, Lou & Judy Csoka (BS&L), John & Adrienne Wattendorf ( BS&L but currently attending the Army War College) and McEleices. Paul & Anne Barber are on their 2nd tour with the Just Dept and their son, Paul, Jr, is now a cow and wears stars. Howie & Betsy Reed are on their 2nd tour with the Math Dept, John & Carol Knowles are still there and he's with engr. Don Rowe may not be permanent in the Dean's Off, but he's been there longer than the average bear. Tom & Cynthia Johnson are assigned but live in Cornwall with a beautiful view of the Hudson. Don is the dir of the Science Research Lab and works with Dr Edward Teller who just received the Thayer Award. Mike Applin is one of the Anny's experts on SDI and works at the Pentagon. Sonny & Sherry Ray work with Pat in the Com's Off. Sonny continues to be a great athlete and spends a great deal of time with the water polo team.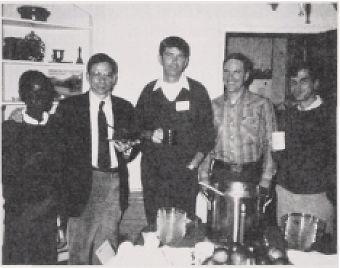 Last summer, Tom & Sheila Genoni ret and went to Albuquerque, NM where Tom is doing the same thing as when he worked with Tom Johnson in the Science Research Lab, only he's now doing it for a commercial firm. Mac & Diane Gill are at Western MI U in Kalamazoo where he's a PMS.
Several sons are cadets. namely David Hurley, Eric DeFrancisco, George Gehringer. Speaking of George Sr, he recently ret as a financial consultant in Cherryhill. NJ. Pat Kenny has offered to help any of the Class offspring who are at WP. In closing, Pat mentioned that the best write-up in our 20th Reunion Yearbook has to go to Bob Bradley (to say nothing of the picture).
Jack Lowe mentioned that John Pickler is at Ft Sill where he is the DCS-OPNS for the post and will take over 8th Inf DivArty. Dan Benton is the head of the gunnery dept. Also received another PR report from a law firm in Phila indicating that George T. Bell has become "Of Counsel" and will be practicing out of Harrisburg, PA off where he will concentrate on state and local taxation matters. Until Nov of last yr, George was the chief counsel to PA Dept of Rev (as reported last time). Prior to that, he was in the off the Chief Counsel of the IRS serving as asst regional counsel. He graduated from Akron Law School in 72. His new law fir, Morgan. Lewis and Bochius is one of the country's largest law firms with approximately 490 lawyers and offices all over the US.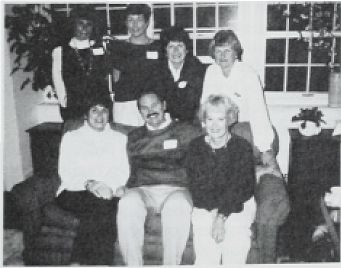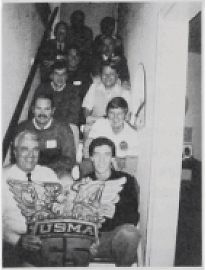 As you'll see in the accompanying pictures, Jim & Julie McEleice were kind enough to have a little get-together after the game at their new quarters. In attendance were John & Carol Knowles; John & Karen Longhouser came up from Wash where John works for the Chief. Jim & Darlene Hopkins came up from Wilmington, DE, where he's been a chemist with Du Pont for 10 yrs. Tom Barron stopped in for a visit before returning to NYC. Tommy has joined Dunn & Bradstreet in their strategic planning op, and he tells me that Ray Paske, who left the intl ops with American Express, is now a SVP and has intl responsibility (except Europe) for D&B. Gill & Virginia Curl came down for the game from Poughkeepsie where he is still a sr engr with IBM. Their youngest child will be leaving HS soon, and they may consider looking at IBM overseas.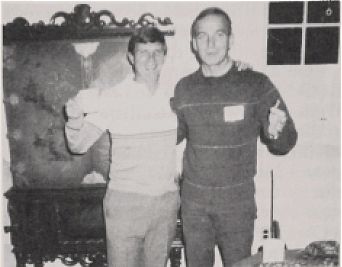 Bob Doughty apparently has two new historians who will be teaching for him this yr. One is Palmer '56 as in the Supe and the other is Flint (as in the Dean).
I don't know how it got started but a trivia contest ensued around the great food layout that Julie McEleice has prepared. See if you can answer some of these questions. Who was (is?) the Class treas who somehow ended up with $2.000 of Class funds just after graduation and has invested them very wisely and just made a transfer of over.$11,000 to the Class fund? If your answer is Jon Thompson, you are correct. Jon is still down in Memphis and I understand that Steve Olson works with him in the farm equip business. Speaking of Class funds, barring any unforeseen surprises, we will end up with over $2,000 profit from the sale of the reunion yearbooks. A lot of that credit goes, once again, to Rollie Stichweh and his great money-raising crew. Speaking of yearbooks. we still have a few left and if you're interested, a check payable to the Class in the amount of $35 to the address above will do it. If some you have still not received your yearbook, it's probably because you owe the Class some money for the reunion. If there's any doubt, drop me a line.
Mac Gill has apparently taken an ROTC job out in MT somewhere. John Wattendorf went to Carlisle for one yr and then will return to USMA. Chuck Pfeiffer was on Long Isl but is apparently moving back into NYC where he produces commercials and apparently was/is a model. Reports had him at WP in a Chuck Pfeiffer outfit. Also on the good news front, I understand from John Knowles that the award plaque for Bobby Arvin has been approved for the new gym and will be very similar to the Olympians awards which will be on the opposite (that is the right) wall as you enter the gym. Dave Kuhn is now working on the final design. They are hopeful that the plaque will be up for the spring presentation. John, if pictures are taken, would you please send me one in time for the 6/30 cutoff?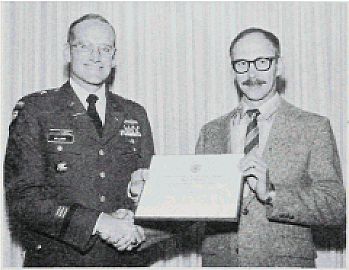 I have been supplied with more names for the 0-6 list: Mike Applin, Bill Connolly Tom Genette, Steve Harman, Deve Jones, Bill Hecker, Jack Keith, Chuck Nichols, Gene O'Neill and Dick Williams. Congratulations!
Well folks. that's about it from Chicago on this Christmas Eve. Judy & I,as well as our 4 children, wish each and every one of you a happy holiday season and a very prosperous 1987. Please keep those cards and letter coming, and by the way, we're making great progress on the obituaries on the names and addresses of the next-of-kin, but we're still missing some. I really want to get this accomplished so here are the names of the ones we're still missing: Carl Arvin , Anthony Borrego, James Bryan, Alexander Clark, Jerry Clark, Richard Collins, Leonard Davis, Spotswood DeWitt, James Echols, Richard Endicott, Robert Gagne, Michael Glynne, John Hays, John Hutton, Gary Kadetz, Robert Lee, Kenneth McArthur, George Menninger, Michael Momcilovich, Chester Myers, George O'Toole, Charles Wuertenberger and Robert Zone.