Greetings once again from Chicago! I hope your summer and fall were good and that your travels brought everyone back safely. Before we get into the news of the Class, please note two things. First of all. I have a new mailing address as noted above. I am no longer at the Dearborn St address. Like,wise, my phone no is different. Secondly, the 20th Reunion Yearbooks are out, and I must say that they came out very well. In fact, as one wag pug it, they were almost better (albeit much shorter) than our yearbook. If you have not received yours as of this date, please drop me a line and let me know. Also, please give me your new mailing address and phone no. The books were sent out with instructions to either forward to a new mailing address or to return to me. So.as I start getting them back, if I have a new address on them, we'll zip them out to you. Secondly, we do have some copies left over, which we will sell on a first-come, first-served basis. If you are interested, a check in the amount of $35 made payable to the Class of '65 Reunion fund and sent to me will do it. Complimentary copies went out to those people which I indicated previously': Westmoreland, Stilwell, Jannarone, Davison, AOG Permanent File, US MA Library and we are also in the process of sending a copy out to the parents or next of kin of our deceased classmates. Speaking of this, we are having a dickens of a time tracking down the parents or spouses of the following classmates: Carl Arvin, Anthony Borrego, Charles Brown, James Bryan, Alexander Clark, Jerry Clark, Richard Collins, Leonard Davis, Spotswood DeWitt, Charles Dickey, James Echols, Richard Endicott, Hebert Gagne, Michael Glynne, John Hays, Charles Hemingway, John Hutton, Gary Kadetz, Bernard Kistler, Robert Lee, Kenneth McArthur, George Menninger, Michael Momcilovich, Chester Myers, Joseph O'Connor, George O'Toole, Charles Wuertenbergcr and Robert Zone. Please, please if you have any ideas on how we can track them down, even if it is a city, drop me a line immediately. This is part of that unfinished business that I brought up when l took over as the scribe and I would really like to get it done!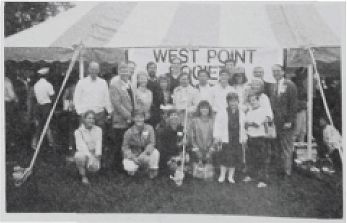 I guess guilt finally got to Pat Kenny because he wrote me the first letter that I call recall. He mentioned his enjoyment at reading the Reunion Yearbook and esp in what Bob Bradley had to say-or was it the picture of Bob's wife? Pat and daughter Trish came to Chicago for the Northwestern game and joined the Chicago contingent of Roseberg, Carlson, Yoshitani, Bumpass, Bradley, Kovachs and our good friends (of Reunion Sun Brunch fame). The McComseys. Absent from the picture, but observed in the john were Ron Layer and Jack Cooley. Lou Csoka was on the field. Pat still has family and other interests in WI. Speaking of Pat Kenny, I happened to be at a wedding sitting next to a very attractive, tall woman who lives not too far from us in Chicago who wanted Pat to know that the "Dragon says hi." I am desperately researching this new intelligence, and if I uncover any "dirt," you will read about it. Pat's secret HS admirer next time.
Also received a letter from Bill Mitchell who is an 0-6 in DC. Bill was promoted in 81 in the AF, where he is now the special asst to the IG of the 31st TAC Fighter Wing (F-16s). Bill reports that Emory Pylant is now in Seoul. Korea, as DE, Kent Brown is the Northern MS River Area Engr in DC at CEHQ and, as I think was previously reported, Dan Christman is the Dep to LTG Mollering who is the exec to the CJCS. Billy now lives in Centerville, VA. Thanks to Dan Christman we have more info on classmates prooted to 0-6: Mike Abbott, Leroy Adam , Don Appler, Paul Barber, George Brock , Burke Buntz, Pete Cahill, Bob Cato, Fred Charles, John Concannon, Lou Csoka, Joo DeFrancisco, Gene Farmelo, Tom Fergusson, Roger Griffin, Bob Guy, Colin Halvorson, Lee Hewitt, Bob Higgins, Jim Kelly, Leo Kennedy, Pat Kenny, John Knowles, Oleh Koropey, Ken Lemley, Barry Levine, Ralph Locurcio, John Longhouser, Chuck McCloskey, Jim McEliece, Frank Meier, Beverly Motal, Don Parrish, Bob Radcliffe, Frank Reller, Doug Richardson, Hugh Scruggs, Bill Sherrell, Frank Skidmore, Hank Sterbenz, John Vann, Jay Vaughn, Mike Viani, Mark Walsh, John Wattendorf, Ernie Westpheling, Rick Wetherill, Tom White, Ron Williams, Jimmy Wood, Barry Zais and Bernie Ziegler. Congratulations to you all and I hope that we haven't omitted anyone.
Dave LaRochelle wrote from Napa, CA, that Tony & Kathy Livic plus two children are living in Pleasanton, CA. Dave & wife were unable to attend the reunion due to the birth of a new little girl.
Joe DeFrancisco reported that the only incoming students at the AWC that he could identify were Jack Keith, Tony Pyrz (USAF), Myrt Webb, John Wattendorf (USMA fellow-not sure what this is, but would appreciate hearing from you John as to what a USMA fellow is). Wes Taylor was off on another of his speaking engagements in England during Jul but was able to complete his on-post move to Carlisle. He began traveling to get info for his fellowship in Aug and will be meeting with the CSA and the DCSOPS. He will be accompanied by four other 0-6's.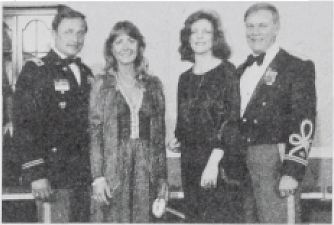 Received another nice letter from Bob Anderson who is in Newark. Bob points out an interesting them that ran through many of the bio's in the '65 in '85 Reunion Yearbook all of which indicate the strong ties this Class has with WP: "(Classmates) made West Point an enjoyable time to remember" (Abesarnis); "During our years at West Point as cadets, my ethic, my sense of right and wrong and my sense of integrity were crystallized. They served me well in the intervening years." (Curt Adams); "We're better because of West Point." John Alger); "West Point has done its job-giving me the guidance, training, incentive and motivation for being a professional soldier."(Sonny Arkangel ); "I value greatly my West Point and Army experiences and relationships." (Lee Atchley); "There are some things that one finds too rarely in the business world." (Tom Barron); "My West Point ideals, honed by 20 years of real world living, remain undiminished." (John Barwis).Bob is applying to the AWC for the corresponding studies course and sent along his picture amid full regalia.
We also received some pictures which were too late for the last issue, all of them apparently taken at Founders Day.
Diane Kline wrote from Vienna, VA where she & Doug live. They were really sorry that they couldn't make the reunion. Doug ret in Dec 85 and is a consultant for DOD and SDI(where he worked before ret) with a co called WJ Schafer and Associates in DC. Doug is the dir for special projects and he loves it. Diane is in real estate and according to her card (member of the Million Dollar Club) is doing very well. They live in VA and just added a large screened porch with a hot tub, so we're all invited over for a dip, ala CA. Diane reports that they see the Sperrys and that Don Parrish recently visited. Don just ret and is going to FL to work for Martin Marietta.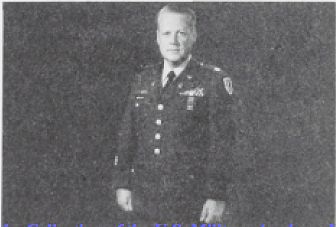 Gene Parker wrote from Greenville, NC that they enjoyed the yearbook and that he's looking forward to the 25th Reunion. Jimmy Hennen reports that he & Diane are now in Lookout Mountain, TN and that they're looking forward to living in the US after 17 yrs abroad. Welcome back, Jim. Skip O'Donnell also liked the yearbook and reported that he will be at Ft Sill in Sep for res duty and will report back on who was there.
(Dr.) Karl Plotkin wrote from a new address Trotwood, OH that he heads up the radiology dept at the USAF Med Center at Wright Patterson AFB, a position he's held for slightly more than one yr. He is just recovering from major surgery to remove a herniated disk in his back and reports that he's about back to normal speed. Karl, who now lives by himself, reported that his oldest daughter Cheryl just started college at OHU in Athens, OH. He also reports that he should be coming here to Chicago in Nov and hopefully, we can get together at that time.
Jim & Julie McEleice are back at WP after a yr or so of skiing, mountain climbing (and getting a PhD I think, or at least that was the cover story provided to the Dean).
Carl Sabatiel called from Room 4A115 in Bedminster, NJ complaining that he was overcharged for his reunion dues. He's still with AT&T and is now the dir of satellite communications which means he transmits TV programs, etc. His town is near Allentown, PA and reports that he's still single although his daughter is at Georgetown and another daughter is currently living with her mother. He reports that Walt Saxon is with Western Electric in MO. Carl, because you're such a great guy, I have forwarded on a copy of the yearbook, even though your record shows you're in arrears. We'll take your word for it. Jack Koletty wrote from MO where he is with Morton Thiokol. Unfortunately, he didn't tell me what was going on there, but simply returned my letter (which asked he and the others to take a few moments to tell me what was going on) with a check.
Received a nice letter from Dave Bodde who is at the Natl Research Council in the Commission on Engr and Tech Systems in DC. He reports that the Bodde family is in the midst of a house change and they are living in temporary quarters waiting completion of their new house. Dave suggests that we use his address as the exec dir of the above until the new house is built. And by the way Dave, you were right-you're all paid up on the yearbook. Thanx. In case you wondered, Dave's agency is the principal operating agency of the Natl Academy of Sciences and the Natl Academy of Engr to serve govt and other orgs.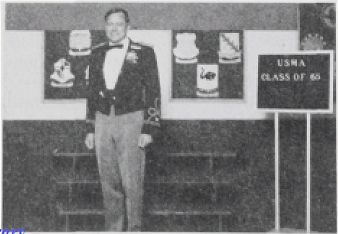 Larry Strassner called in response to my letter to him on the yearbook. Larry is doing very well for himself in Hershey, PA. He was in the banking business during which he served on the Board of Nuclear Support Services, which incidently, was founded by 3 NCO's and a warrant off. When they were looking for a new CEO, they asked Larry and he accepted. It is a $31 million co which is trading OTC and provides personnel and tech support for the nuclear business. The CQ was recently listed as one of the Forbes top 100 growth businesses. Larry got out in 70 and as mentioned above went into banking initially in trusts in Baltimore. Larry reported that he sees Jim Sheiner, who is just down the road. Jim is still the Secy of Revenue for PA and has generated a $50 million surplus for the state. Jim will probably leave that position when the new PA governor is elected, and according to Larry, he will leave it with a superb reputation. George Bell is a tax atty who heads the legal counsel for the Secy of Rev and works for Jim. He will also probably leave with Jim. Jimmy Tillman called Larry to report that he's in Baltimore with Baltimore Gas & Electric and is responsible for their business dev area. He works with new commercial projects to determine their needs and specifications. Larry also reported that he ran into a banker from MD who was dating a son of Bob Johnson. Johnson apparently wrote a book about WP and also invented a game which was a parody on ripping off the govt. Montgomery Ward and Sears supposedly pulled it off of their shelves and Bob sued, selling investor units in the law suit, which sounds like a real first. Larry also reports that Ralph Locurcio is a dist engr in Philadelphia and just went on the 0-6 list. Carl Letterie is getting out of the QM Corps with a degree in petroleum engr. Jim Hardin is in NYC where he is an asst DA involved with prosecuting the mob (did you see the cover story of TIME back in Sep?). Also received a very nice note from GEN & Mrs Westmoreland: "Kitsy & I were very pleased to have the Yearbook and flattered by the inscription from the Class of '65. Your feelings toward us as reflected in the inscription are all reciprocated in full measure by us. With regards and best wishes to all," signed Westy. Last min addition finds Joe Sanchez alive and well in Oakland, CA with Clorox. His daughter just started college and his (6'3") son just turned 14. Joe, on your next trip through Chicago, please call. Joe also forwarded the 12 Sep USA Today article concerning one of the first uses of instant replay. It was Army-Navy in 63 and the CBS producers wanted to cover Roger the Dodger, so they isolated one camera on him and hooked it up to a video machine. Unfortunately (for USNA), a fellow by the name of Rollie Stichweh stole the show and became the star of one of the first uses of instant replay!
Well folks, that's about it for now. I still have one complaint, and I may as well get it off my chest now, in case you noted some sarcasm earlier in the column. I find it almost unbelievable that when we go through the time and effort to send out a letter to people asking them for info on themselves and their families as well as other friends, that they could send a letter back with absolutely no comments and, in this case, just a check to pay up their reunion dues. Come on guys, it's tough enough tracking everybody down, but when we go to the effort to write and you go to the effort to open the letter, at least take five mins and write on the back of the same letter what's happening with you. If you don't want to write that, just tell me to go get lost and I'll understand. But as my trusty asst, Colleen Finley, here in Chicago always tells me "that's the way it is, sometimes!" And this is the way it is from Chicago. Good luck and we'll see you in 3 mos.