Greetings once again from Chicago! Before we get into the news of the Class, please note my new mailing address effective 15 Jul 86. Thanks to the new phone system, we probably won't know our new phone no until after we move in, so if you need to call me, use the number shown above and I'm hopeful that the phone co will refer you to the correct number. If not, call info.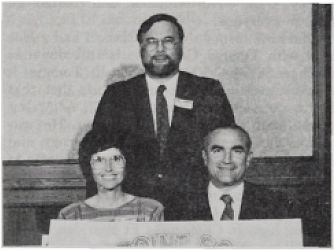 Good news from the printer! After a de1ay of several mos due to the illness of our sales rep, I'm happy to report that the Reunion Year Book should be in the mail by the end of Jul. If you ordered one and have not received it by the time of this article, please drop me a line or call me or my secretary. Colleen Finley, and let us know. We also will have about 30 extra copies which we will sell on a first come, first served basis. If you're interested, please send a check for $35 to the me at the above address, payable to the Class of 1965 Reunion Fund, along with your return mailing address. Also, please, please send me your change of address cards so that we can keep our master file up to date.
We are also sending complimentary copies to the following friends of the Class: LTG & Mrs. Scott; LTG & Mrs. Palmer; BG & Mrs. Boylan; USMA Library; AOG; parents of our deceased classmates; GEN & Mrs Westmoreland; Chap Ford; and Joe Palone. If you know of anyone else that should receive a complimentary copy, please drop me a line and we'd be happy to forward one on to them, subject to availability.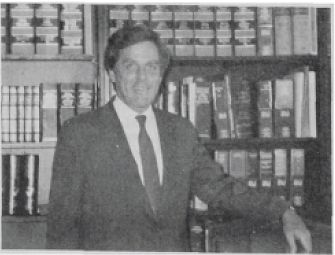 And, last or all, some more good news, and that is that we were able to contribute the excess funds to our Class Fund. At the time of this writing, I do not have an exact amount, but I wou1d suspect it's going to be close to a couple thousand dollars. This is due in great part to Rolly Stichweh and his advertising campaign crew who raised the extra money from advertisements. Our thanks go out to everyone.
And now to news of our Class. I had a nice chat with Tommy Carll who is still down in College Station, TX. As I recall, Tommy is in the fitness club bus and reports that that bus is not so good. He is near TX A&M but doesn't see many of our classmates. He was asking the whereabouts of Chris Dorney, and I reported that our last known address was in Shrewsbury, NJ.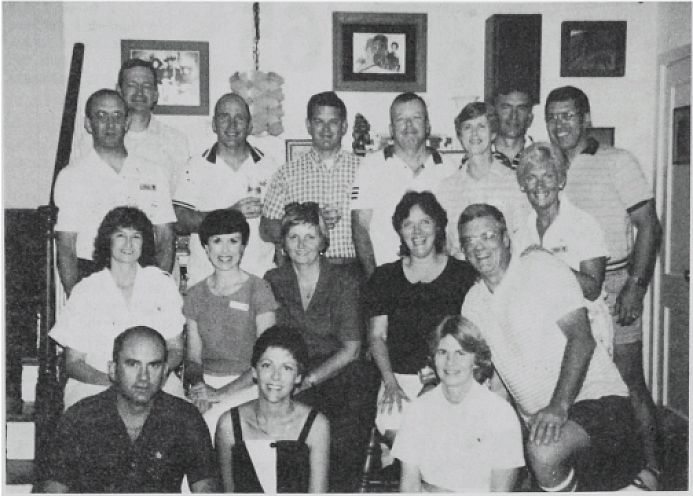 I received an update from Joe DeFrancisco on the group at Carlisle: Frank Reller will be coming here to Chicago at Ft Sheridan where he will be the post engr; Jack Lyons is leaving his job as protocol off and will be ret and going to Belgium as a HS principal (perhaps winning the award or most unusual job after ret); Duncan Brown will be going to Huntington, WV as the district engr; Fred Scruggs will be going to Ft Bragg in the special warfare center; Jay Vaughn will be going to Ft Huachuca to practice his spook trade; Rick Charles will be going to the DC area as will Joe & Lynn DeFrancisco. Joe will be in the war plan section of DCSOPS. Bob Cato will also be going to DC and will be working in the Chief's off; Bob Guy will be the Div G3 at Ft Polk and Steve Kempf will be going to Leavenworth; Leo Kennedy will be going to DC in DCSRDA and Wes Taylor will stay at Carlisle for a yr as a research fellow before taking over the Ranger Bde at Ft Benning. Our former classmate (now '66) Ted Sendak will be going to NATO HQS Europe. Joe also reported that Kim Olmstead has ret in the Carlisle area and is involved with a local bank there.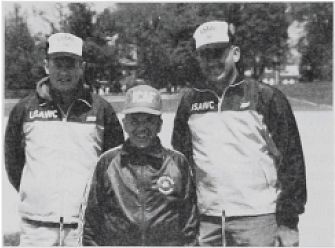 Over the last several yrs here in Chicago, I've had the chance to renew an old relationship with a former classmate of ours, Phil Wherry. As some of you may recall, Phil was with us through yearling year and originally halls from Pekin, IL. After leaving USMA. he attended Northwestern U and then the U of Miami. He originally wanted to be an MD but instead got married and then went to Kent Law School here in Chicago. After graduating from law school. he went with the law firrn of Winston & Strawn and is now in private practice. He was also the sr law clcrk to Judge Julius J. Holfrnan of the "Chicago Conspiracy 7" trial fame. He & his wife live on the north side of Chicago and are both very active in several civic and charitable organizations. I've encouraged Phil to join the AOG.
I also received a copy of the FY 87 0-6 Cmd Selectees which I will list below along with their unit: Mike Connor (OCLL); Jim Hennessee (OCSA); Wes Taylor; Bruce Clarke (Arms CON Disarm Agency); Jim Steele (MILGRPELSAL); John Pickler (III Corp Arty); Dick Sinnreich (USACGSC); Don Nowland and Sig Roebuck (ODCSOPS); Bob Brown (USAWC); Stan Genega (ODCSOPS): Clair Gill (PA&E); Tad Ono (HQ, USARJ&IX Corp); Steve Bliss (ODCSLOG); John McGurk (OASO, IL). I hope we haven't omitted anyone, but that's the latest list that I have. Congratulations to all of you that have a cmd and let's all work hard to keep our country safe.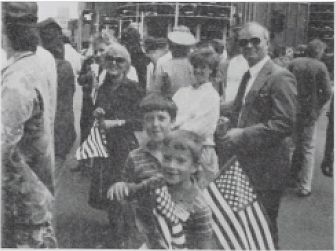 As you may have read, we had a little parade here in Chicago last Jun. The parade organizers anticipated about 50,000 VietnamVets marching and about 200,000 spectators. We were all pleasantly surprised on the morning of the parade to find about 200,000 marchers and over 500,000 spectators. There was a good contingent from Chicago represented by the Coll family and Maria Cooley (Jack was AWOL). It was a very special parade for all of us and was something that I don't think anybody will forget the rest of their lives. After the parade, Judy & I and the children were resting in Grant Park when up walks a combat veteran, dressed completely in jungle fatigues, who was none other than Roger Frydrychowsld, looking like he was ready to re up for another tour of duty. Roger was born in Chicago and his parents live in northern IN. He indicated he "just had to come back for this parade." That same sentiment was echoed by a lot of people that day. Roger is a successful atty in Richmond, VA with a large law firm there. It was really good seeing him again at the parade.
I was contacted by another former classmate of ours, Dr. Eddie Dye who is a dentist in Memphis near the U of TN. Eddie was at USMA for two years and got out and moved to TN. He & his wife have three children and live in Cordova, TN. Eddie was in Co F-2 and was also in 6th Co in Beast. He was Gennoni's roommate, a fact that I'm not sure I would spread around.
As you can sec by the picture, Guy, Taylor and Hannon were at USAWC where Steve was visiting from the ICAF. Russ Campbell wrote from NY where he is with Chase Manhattan Bank.
In addition to the list of names at the War College, Joe DeFrancisco sent the two pictures of the "old-timers." They include Taylors, Eileen Cato, Sharon Vaughn, Lynne DeFraocisco, Sandi Scruggs, Donna & Frank Reller, Jay Vaughn, Fred Scruggs, Leo Kennedy, Bob Cato, Steve Kempf, Carolyn & Duncan Brown, Barbara Kempf and Joe. The other picture has some new faces to include: Jodi Guy, Kim & Sherri Olmstead, Marti Andressen, Steve Kemps (with original Chinese bandit hat) and others.
As I was reading the Sunday Chicago Tribune on 12 Jun 86, I happened to read an article entitled "Chardonnay Shoot-Out." This was sponsored by the Chicago Tribune and apparently is a very prestigious contest. I was delighted to see a bronze medal for the medium priced Chardonnay for Chuck Shaw's 1984 vintage.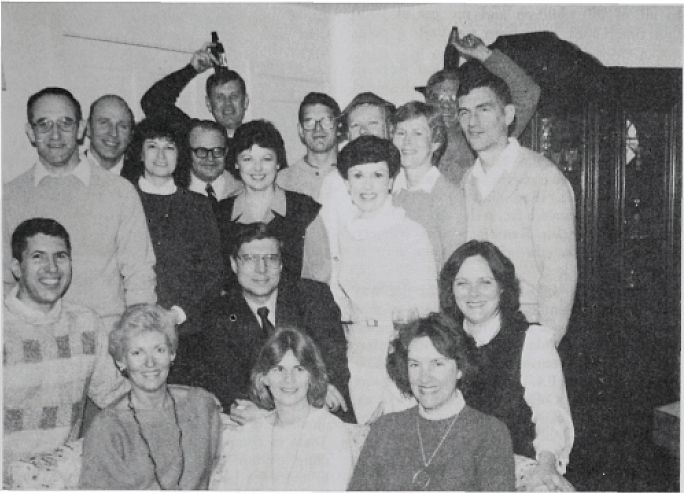 Just before the deadline for this article, you friendly scribe, in desperate need of poop for the article, started calling around to see what was happening. As luck would have it, I caught Dan &: Susan Christman walking into their house just after vacation in New England and received the following info. Stan Genega took over Dan's job as the district engr in Savanna in Jan. Clair Gill will be taking over cmd of the 7th Engr Bde in Stuttgart next Jun. John Herrington is with the JCS staff and is just hack from a fact finding trip to Europe on conventional defenses. Our old Chicago buddy, Lloyd Briggs, is now the pres & CEO Christiania General Insurance Corp located in Terrytown, NY. They are a subsidiary of a Norwegian reinsurance co. Prior to this, Lloyd was in Iran working for Ross Perot during the fall of the Shah and apparently just got out by the skin of his teeth. After that, he went with Intl Paper in NY. Susan Christman also ran into Carolyn Bucha who reported. that Buddy is still working on that large residential dev on the Hudson River, Dave Bodde apparently has left the Congressional Budget Office and is now running an offshoot of the National Science Foundation, doing research in the DC area. Frank Hennessee will he taking cmd of the Old Guard shortly.
Tom Fergusson also called and is leaving to cmd the 532nd MI Bn in Seoul in Jun 86 and will be there for 2 yrs with his family. (APO SF 96301-0055)
Well folks, that's about it. The last two articles have been much shorter than usual. It seems that we had a tremendous letdown after the reunion. Please write and send pictues so that the scribe doesn't have to use all local pictures. Remember how much enjoyment we all got out of the previous articles when they were very long and very newsy. There's only so many people that I can track down every three mos, and so. I need all of your help. Best regards from Chicago! Beat Northwestern! Beat Navy!