Greetings once again from Chicago! As I write this article, the weather in Chicago is changing toward being more springlike and thus, the late winter doldrums are slowly beginning to fade. I am also sitting here watching Chicago's annual St. Patrick's day parade from my office window, which will give you some idea of how long a lead-time these articles require. Now, the news from our Class.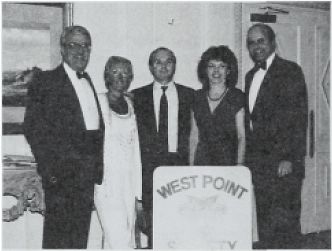 We had Founders Day here in Chicago several wks ago with the dean as our guest of honor. '65 was well represented with the Colls, Jack Cooley (Maria was vacationing) and the Scullys, Bob & his wife are just back to Chicago from Denver, even though they never sold their house in the Chicago suburb of Naperville. Bob works for Amoco Chemical in their new capital projects area and was looking very distinguished, with a few speckles of gray hair.
Received a nice letter from John Salomone who writes from Ft Hood, where he has been for the last 2 yrs assigned to DENTAC. John Thompson arrived at Hood last Nov and became the CO of the 1st Bde, 2nd AD. Linda Thompson is teaching in the foreign language dept of one of the local high schools. The Salomones really enjoyed the reunion and reported it was good seeing all of their "old" friends, especially a healthy Joe Palone. John is the endodontist at the Perkins Dental Clinic where he treats soldiers of the 1st Cav for root canal (oh swell!) John hears from Gerry Hoffman in Houston every once in awhile. They were good friends plebe year in G-1. They also hear from Sonny & Judy Arkangel who have just built a beautiful home in Victoria, TX where Sonny is in chief emergency medicine at the local hosp. Sonny turned down 0-6 to take this job. John also sent in a picture of the change of cmd of John Thompson, where John takes the colors from BG Burleson ('59).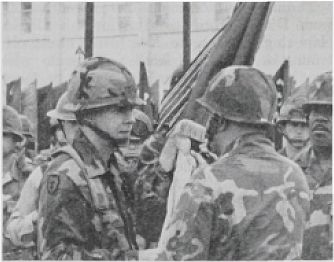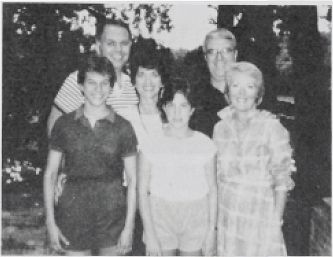 One of the Tac's at USCC is trying to reconstruct the history of F-1 (good luck!). Anyone interested in providing him with "historical" material concerning their achievements and misadventures, both of a serious and otherwise nature, write or call CPT Porter, F-1 at WP.
It's about that time of the yr when your friendly scribe reminds everyone that if we each gave $65 to the Class Fund to be earmarked for orphans and scholarships, this small amount would add up very quickly. Why not send in your check today and mark it for the Class of '65 Fund. Mine has already gone in.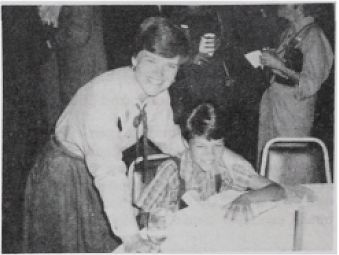 I received a nice announcement of Tom Kovach's acceptance as a partner with Stein, Roe here in Chicago. Tom also wanted to know why he didn't see me at the Peach Bowl in Atlanta. Tom, after attending 4 football games in 85 in which Army almost won 1 (Homecoming) and lost the other 3, the Supe personally called and suggested that Judy & I skip Atlanta. The results indicate that we did. Joe Anderson reports from Detroit that Art Hester is in GM's KC plant where he's a production mgr and that Jim Conley is in their Dayton plant where he is a plant mgr. Speaking of Joe, Melke's two children, a 13-yr-old boy, Mered, and a 14-yr.old girl, Kedist, have arrived safe and sound from Ethiopia and are now learning how to become very active American teenagers. It was a long and difficult process to get the two children out of Ethiopia but all is well now. While in Detroit, we also saw Walt & Francey Oehrlein and their two children ages 7 and 2 who live not too for from Joe. Walt reported that Tom Genoni will ret soon and go to NM to do research and that the "Z"' Zaleski is a base cmdr in MA where he lives with his wife and two children. Dave Gnau and wife, (Bob DeLaar's sister) are moving to MI. I wasn't aware of this but apparently during the half time of the Army/Navy game, Brent Musseberger did a special on Mike Berdy with some input from Johnny Johnson. If anybody has a copy of that tape, please send it along to me for our historical records.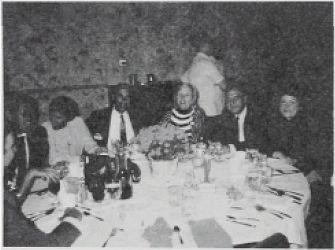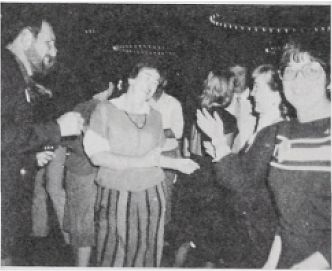 Received a nice note from the Scbolls over the hollidays from Sacramento, where Susie is in the real estate bus and Wayne is the district engr. Everything seems to be going well with them out there especially their skiing-I thought engrs worked every once in awhile? I heard that Dick Trageman is now the CO with Div Arty at the 101st at Ft Campbell and that he was in the hosipital with some lower back surgery, but is doing well.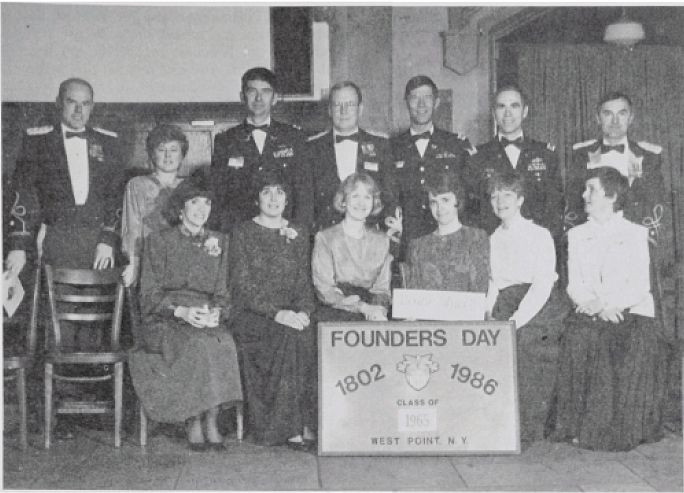 An update on our reunion yearbook. Our publisher, Ev Arnold, was laid up for the better part of a mo with this respiratory flu that was going around, and as such, the book is a little bit behind schedule. It should be out by the time you read this, but if not, please have patience. We are pushing as hard as we can, but unfortunately, it sometimes becomes very difficult. A special note of thanks to Rolly Stichweh and his fantastic fund-raising staff who raised almost $8,000 to defray the costs of the reunion yearbook . Our hats are off to all of you guys-Thanx! Also, a great big THANX to everyone else who has helped, especially COL Morris Herbert and you other guys at WP! Speaking of things historical, the friendly scribe/photographer took the night off the evening of the alumni dinner dance at Washington Hall during the reunion. If anybody took pictures that night and would like to pass them along for our historical archives I would appreciate that.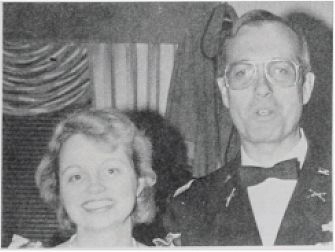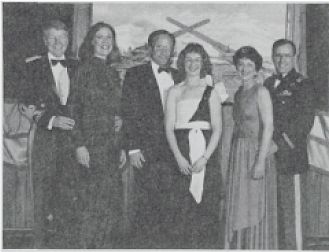 Bob Bedell called from TX where he's in new construction. After he got out of the AF he went to Iran to teach the Shah's pilots how to fly (must have been an interesting task and one that he hopefully finished prior to the Shah's downfall). Bob is married with no children and his wife also works in the construction co. Received a note from J. P. & Bobbye Greene that their daughter Becky was seriously injured in a car accident just after the reunion. She had serious head injuries, but is back home now. All of our prayers are with Becky for a speedy recovery.
Also received a nice letter from Step Tyner from Carmel. As some of you may know, Step received a master's from Johns Hopkins and has completed alI but his dissertation for his PhD. He ret in 84 and is now a free-lance screen and television writer as well as a consultant on defense policy, public policy, creativity and innovation (not sure what that all means). He & wife Beth Hemenway, live in Ledzinski-land with daughter Lauren. Speaking of Ledzinski, I hope you feel like a "shomoo" for not going to the reunion. George Ruggles reported that prior to the reunion, he went to Wash to the Vietnam Veterans Memorial and looked up the names of all our classmates. He was kind enough to send a list with the locations of each name, which I am taking the liberty of publishing here. The abbreviations are as follows: Arvin-E, 27, 68 stands for the East Wall, panel 27, line 68. Here goes: Berdy-E, 32, 61; Borrego-E, 23, 9; Brown-E, 12, 9; Clark-E, 22, 29; Collins-E, 12, 27: Davis-E, 9, 96; DeWitt-E, 113, 67; Dickey-W, 53, 33; Endicott-E, .53, 11; Gagne-E, 24, 12; Glynne-E, 7, 113; Hayes-W, 39, 37; Hemingway-E, 21, 98; Hulton-E, 24, 100; Kadtz-E, 7, 86; Keats-E, 36, 76; Kistler-E, 12, 43; Lee-E, 30, 71: Menninger-W, 29, 103; Moncilovich-E, 55, 23; Myers-E, 16, 54; O'Toole-E, 31, 85; Wuertenberger-E, 34, 65; and Zonni-W, 11, 29. Thanx, George, I'm sure everybody really appreciates this.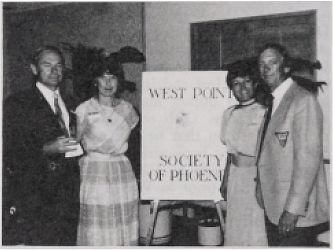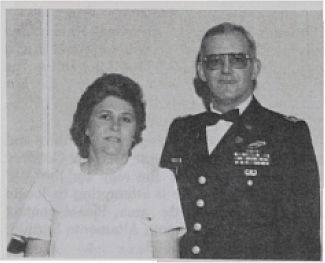 We were also saddened to bear that Jerry Merges' date at the reunion, Carol Applegate, died in a car crash two wks after the reunion. Jerry had been dating her for about two mos. I forgot to mention previously, but I .saw a nice article on Joe Anderson in the Nov issue of Black Enterprise. Joe Barkley reports that George Gehringer is the PMS at Drexel and is thinking of ret shortly. Word has it that Tony Livic is in the San Jose area. If anybody knows of his whereabouts, please let us know.
I received a last-min letter from Bob Frank who saw a number of our classmates while he was attending a conference at Stanford. John Alger, who teaches strategy and history at the NationaI War College, was there and presented a major theoretical paper on "operational art" at the US Readiness Cmd-Natl Def U. John returns this summer to the Army staff to head the Political-Military Div in the ODCSOPS. Oleh Koropey is a resident fellow at the Hoover Inst and is working on a book on acquisition during his yr as a sr service college attendee. Oleh will return this summer to Wash so that he can work in ODCSRDA. Another book writer is Bob Doughty whose book Seeds of Disaster is on French Army doctrine prior to WWIl and is apparently a significant contribution to French and military history.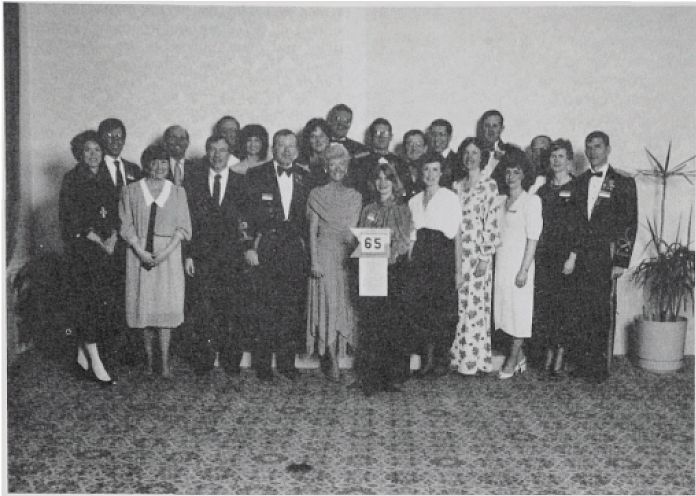 Bob Frank's wife will be graduated from C&GS this Jun and will be assigned back to DC in the Off of the Surgeon Gen. so they will have to give up the joys of a commuter marriage. She was also selected for promotion to 0-5 and awarded a JSA medal for her work on a film on Army and nurse POWs in WWII. Bob is completing his 2nd yr at the USA Center of Military History, which has kept him quite active during the recent resurgence of Army interest in military history.
Well folks, that's about it for this time. This is a much shorter article than we normally have which I hope is not indicative of a reduction in the cards and letters. Please keep everything coming and we can keep these articles a lot of fun.