By the time you read this, our 20th Reunion will be history. Unfortunately, to meet the appropriate deadlines, I will have to write this article well before the reunion, so I will be unable to fill in all the hot poop on the reunion until the next issue.
First for the news from around the World. I had a nice chat with Tommy Abraham in Sep. He is still in MD, very active in local politics and also is the Chief Admin Off of the Arab American League, a group with which he has been involved since the early 70's. He intends to stay in this job for another year or so then go back into the business world in MD. He ran into Mike Connor at the Boston Airport a while back. Mike is not an 0-6 and apparently is responsible for answering all congressional inquiries at the Pentagon. George Ruggles passed through Chicago also in Sep and called to say hello. He reported that Ed Foehl and Steve Darrah will be coming to the reunion. We were sorry to hear of the passing of our old friend BG America Sardo (USMC-Ret) early in Sep in Salisbury, MD. For those of you with a good memory, GEN Sardo taught Latin American Studies in 62. Our thanks also to Bob Frank for passing this info along. John Malpass reports that he's changing careers in Dec, having been influenced too much by Seymour and Kuhn . Tom Barron reports that in addition to changing careen this yr, he & Tosh are expecting their first child and are looking forward to it. Tom continues to play rugby to see how much punishment his antique body can take.
Walt Kulbacki wrote that he returned from Ger in 83 after 3 yrs as a bnCO. He then went to ICAF and then took over as a bde CO for a strategic communications bde which supports the CINC in Wash. He gave a superb update on who was there and although we've mentioned some of these names in previous articles, I'll mention them again just to make sure you don't miss any: Kurt Adams-DCSPER; John Alger-faculty NWC; Steve Ammon -ret and working in the area; Bill Birdseye-working with computers at DA; Kent Brown-ODCSOPS-task force leader; Steve Clement-Ft Ben Harrison leadership study; Mike Connor-legislative liaison; Fred Eichorn- MILPERCEN; Gene Farmelo-OA PA & E; Stan Genega-DCSOPS; Gil Gilchrist-CSA Office; Clair Gill-CSA Office; Steve Harmon-ICAF student; Lee Hewitt-bnCO, Ft Gordon; Steve Kempf-CFA study group; Rick Kuzman-ret, working for EDS; Fred Laughlin-Price Waterhouse; John Longhauser-CSA study group; Rocco McGurk-PA & E; Frank Hennessey-CSA study group; B.J. Mogan-MILPERCEN; Frank Probst-DCA; Zig Roebuck-DCSOPS; Terry Ryan-NWC; Rick Shinseki-NWC student; Dick Tregeman-DCSPER; Jim Woodard-DA; Bernie Ziegler-JTC 3A and Joe Zurlo-surgeon at Ft Belvoir. There were several other names that Walt reported on but unfortunately, his handwriting has gotten worse in his advancing yrs. Walt reported that he ran into Dave Kuhn at WP who was there for the presentation for the first annual Bobbie Arvin Award. The presentation of the award, which Walt reported was very moving, was made by Dave and Bobby Arvin's parents. Great letter Walt, but don't wait so long next time.
Received another nice letter from the Sholls, Wayne in DC and Suzie visiting her parents in Port Washington, WI, both of them on their way to Sacramento. By the time of this publication, they should be firmly ensconced in their new home, with pool, enjoying Wayne's engr duties in Sacramento and Suzie's new real estate duties with Coldwell Banker. We were sorry we missed you on your way through Chicago guys, but VA Beach beckoned us.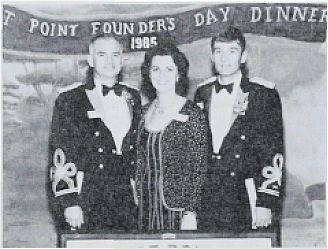 Mike Stanko & his lovely bride Joy stopped by along with their two children while they were visiting his uncle not too far from our house. Although we were only able to spend several hours, it was good reminiscing. Mike is in the Minneapolis/St. Paul area and will probably make a career change soon. Received some info from Doug Gentzkow who is the dir of flight training for PSA in San Diego where he & his wife have lived for 15 yrs. Prior to that, he was a pilot for PSA. Don Parcells & his wife are living in Short Hills. NJ. He is with Marine Midland Bank which was just acquired by a Hong Kong bank. He's involved on the intl side, where he runs their correspondent banking opns and will shortly assume the domestic part of it also. Don was with Chase for about 7 yrs where he traveled extensively, a privilege he does not miss in his new job.
Jack Koletti wrote from MD where he is the mgr of launch opns for American Satellite Co, which sounds like a great job to me. Last yr Jack relocated to Cape Canaveral (aka Cape Kennedy) to support ground operations for NASA during his co's initial satellite launch.
P.D.J . Kenny reports that be & Alice are beginning residency in their 14th location and are still trying to determine where home is. Pat's now in charge of the 3rd Regt of USCC and has assured us that everyone will be in locked step for the reunion. Nice try Pat but you're still on my list.
Frank Meier reports that he's the only classmate in Omaha where he is with the JSTPS. There are very few Army types out there so he keeps the AF straight. They expect to be there until Aug 86 and perhaps 87 and welcome any classmates coming their way. Frank reports that they will be unable to attend the reunion. Fred Timmerman wrote that he had a great yr at the War College as part of the Fellowship Prog. He has decided to stay on for a while where he will be the editor and chief of the Military Review. He sees his mission as making the Review a sounding board for the exchange of professional ideas.
Latest word on the reunion from John Knowles is that he sent out the last mailing to the 199 classmates who said they were coming. There are another 303 undecided so it could be a very interesting reunion if about half of those decide to come. I was unaware of the reputation that this fine Class has for procrastination, especially in the area of paperwork. But after having spent the last yr trying to get people to fill out a simple biography form and then to write a personal bio, any such ill-reputation that we have is totally unjustified. It really is much worse.
Jim Hennen wrote in Jun and apologized for being 7 mo late while he was awaiting the arrival of Christopher and solving the Middle-East problems. He & his wife are currently living in Wimbledon as in England and is hearing from many of his old tennis friends that he never knew liked him. He & his wife will be at the reunion. Ginny Curl sent a long interesting letter of our 20th Reunion Gp at Camp Buckner with a picture. Hopefully I can get it in the Assembly. If not, it will be in the reunion yearbook.
Well folks, not much more to report at this time. Much more news and all the hot poop on the reunion in the next issue. Keep in mind that we will be going to press at the time that you read this on our 20th Reunion Book. If you have not ordered your reunion book, you might call my office at 312-427-2600 and talk to Nancy. If you get us in time before we go to fina1 print, we can probably still order a book for you. Adding any additional info such as the bio will be impossible at that date.