Greetings once again from Chicago. I have a lot to report this time thanks in great part to a lot of you who have taken the extra time to drop me a line and send some pictures. First of all, on the reunion. You should have received the last mailing sometime in Jul. There will be no more mailings and no further communications via the ASSEMBLY after this article. Therefore, for the 50% of you out there who have still not responded to our request for a questionnaire, picture and a bio, this is the last shot. We will be going to press before the reunion in order to meet the early 86 publication date that we have set for ourselves. As you sit there and contemplate further procrastination, please keep in mind several interesting facts: First of all, this will be our only 20th Reunion and (unfortunately), some of us may not be around for the next one. Secondly, your scribe, aided and abetted by the friendly staff of Murdoch & Coll, is capable of handling over 500 questionnaires and bios if done over a reasonable period of time. However, if they come in at the last moment or, as has been the case, they come in with no pictures or no bio, it requires us to issue a follow-up and multiply our efforts significantly. So, as you sit there and promise that you'll do it next wk, please keep in mind that you're causing us a lot of extra time and effort.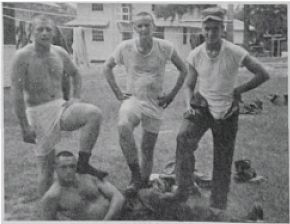 The Reunion Yearbook is moving along very nicely, thanks in great part to Rollie Stichweh's adv sales network. If you can advertise, please contact one of the following, Sonny Ray (USMA), Steve Aron (Laramie), Bob Axley (Dallas), Buddy Bucha (NY), myself (Chicago), Julio DeSantis (WA), Bill Griffin (Cincinnati), Jerry Hoffman (Houston), Doug Kline (VA), John Kollety (MD), Dave Kuhn (Southern CA). Jim Lane (Kingwood, TX), Ron Layer (IN), Jerry Madden (Garland, TX). Dave Mastran (VA), Bill Reisner (NJ), George Ruggles (OR), Charlie Shaw (Napa Valley, CA), Marie Sheridan (NY), Stich (Boston), Ross Wollen (NYC) and Ken Yoshitani (Chicago). Ads start at $500 per full pg and go down from there. Our goal is to raise a significant amount to cover our printing costs. A small ad can be placed for under $100. Please contact Rollie if you can help.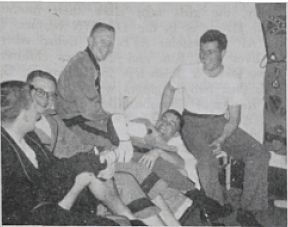 John Knowles reports that arrangements are going very well at the Academy for the reunion. Billets have been assigned, mostly at the Thayer. We have over 200 definite grads returning, which will probably end up being closer to 250-300 at the end. If most come with spouses, we will be well over 600 bods! It's Party Time! If you have responded affirmatively, your letter in Jul had attached to it a list of attendees. Now, the schedule: Thurs (10-24): 1-6 pm check-in at the Thayer (not Cullum Hall), 6:30 cocktails & dinner-Thayer, Fri (10-25): 8 30 am breakfast and bus meeting. 10-6:00 pm-tours of USMA, co picnics (if you want them, tell John Knowles; Hey F-2, let's have one!), 6:30 pm dinner at Bear Mtn Inn. Sat (10-26): 10:10 am assemble for parade, etc. 2:00 pm-Beat Colgate, 7:00 pm-alumni dinner dance at Mess Hall. Sun (10/27): 9:00 am memorial service, 11-2 pm brunch at the McComsey Estate. Guests invited and who have indicated they will attend: Westy, Davidson, BG Scott. Working on Chap. Ford, Palone, Thurman, Super Tac, Billy Joe and others. The brunch on Sun, following the memorial service should be a fitting way to cap off a fantastic reunion.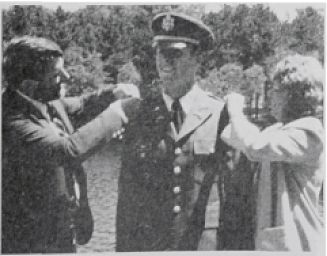 We have a lot of info to pass on, so I'll forego any further reunion chitchat with the exception that I thought you might like to see some of the pictures sent in by Tom Ginetti of Ranger School back in Aug 65. Chuck Mosely also sent a picture of what looks to be a B-robe party taken in Apr 65. Jack Lowe took ret leave in Apr and is now working for EDS in Dallas as a mgr of financial systems. Dave Jones is apparently also getting out and is involved in some kind of non-defense work. Jim Tully wrote with a few pictures of his son Jimbo who grad with the Class of '85, our first Class son. Jim is a franchisee for Winners of so AL in Mobile.
Our congrats to Tom Furgusson who received the 1984 Best Book Award from the National Intelligence Study Center for his volume on British Military Intelligence. Tom has his Ph.D from Duke and was chosen over 27 competitors. In looking through my follow-up files, I see that Jay & Gracie Stewart have still not responded to follow-up of my 1/85 letter. If Tunkhamock, PA has a post office, please let us know guys. Jim Scheiner lives in Harrisburg with Kristin and their 3 children where Jim is the PA Sec of Revenue (Tax Collector). Jim also hands out the checks for the PA Lottery and claims be has no sticky finger problems.
Joe Barclay reported from Philadelphia that Don Kurtz is with Shearson/American Express in Bala Cynwyd and has become quite active in the WP Soc Philly of which Joe is sec. Ralph Locurcio is the dist mgr and lives in Holland, PA. Ralph's daughter and Joe's son work at the same (dairy) bar in Newtown. Joe reports that Tommy Abrams was in Wash last yr where he also ran into many others from the 173rd.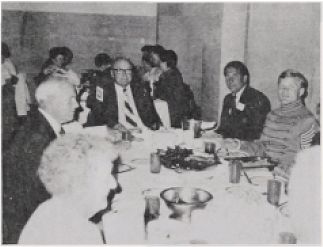 Dave Kuhn sent along several letters, one of which contained pictures from the awards ceremony at USMA for the Bobby Arvin Award. Mark Schneider ('85) was selected as the outstanding member of the wrestling team for this award. Consideration was given to leadership, spirit, ability, participation and performance as a cadet. Dave reports that he was very impressed with Mark, as were the Arvin's by the entire ceremony. The entire Arvin family wants to thank our Class and extend their personal appreciation to everyone who made this award and tribute a reality. And our personal congrats to you Dave Kuhn. During the same weekend, the shovel that Bobby Arvin and the Supe used in 65 to break ground for the new construction at the Academy, was also reclaimed and donated to the Museum. Dave reports that the fund-raising has been extremely successful, having received almost 5 times as much as was necessary to guarantee the award in perpetuity. 140 donations from classmates and ex-classmates have been received. Dave is trying to set up an annual Class fund-giving program which would be used to assist orphans (he believes we have one) and other Class projects.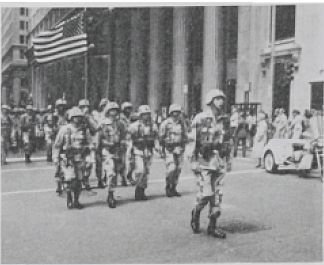 Marv Jeffcoat was in town in May where he lead his troops down LaSelle St for the Armed Forces Day parade. The bn looked great and it was good seeing Marv. Marv reports that Dick Tregeman will be going to DivArty from DA and that Mile Ballard is with an MI avn bn in Korea. Hank Michaels is still in DC with the DEFCOMMAGENCY. Bob Cato formerly in Korea, is now in Gcr. Herb Smith is in DC and is getting out. Some interesting observations from Marvin on the US Army today: he feds that the overall capabilities of the new recruits are as good as they've ever been. Marv and his bn from the 101st will be going to the Sinai for 6 mo with the MFO from Jul-Dec where he will hopefully keep peace between the Israelis and the Egyptians. Marv served for 18 mo as the bde XO and 14 mo as the G-1. Marv also reports that Don Knowland is at Leavenworth with Fred Timmerman in a yr-long study group and that Mike Connors was at the NWC but apparently has gone to TRADOC.
Joe & Lynn DeFrancisco stopped by on their way to Carlisle, and we spent a delightful weekend with them and their two children (Erik and Laura). Erik was on his way back to USMA to join the Class of '89. The "hasn't changed a bit" award goes to Joe and the "as pretty as at Camp Buckner" award goes to Lynn. We really had a great time and it was good seeing old friends again. During Joe's visit, he mentioned that Bob Radcliff and Grant Fredericks were out near Ft Lewis and were invited to dinner at the Defrancisco's. It turned out that the two of them were roommates and hadn't seen one another for 20 yrs. I received a nice letter from Bob who is with USAREC and has responsibility for WA and parts of ID. Grant is currently the cmdr of an eng bn at Ft Lewis and will apparently be getting out and ret to the farm with his wife and their horses. Bob reports that Bruce Gailey is in the area where he's in business for himself marketing sill screens. Bob will be coming here to Ft Sheridan in Sep and hopefully he'll be able to spend some time with us. Bruce Clark sent along a great picture of Founders Day at Belvoir. At the function were the Armstrongs, Kulbaskis, Harmans, Algiers, Adamses, Heckers, Kuzmans, Kempfs, Probsts, Ammans, Bianis, Schools, Maimones. For those of you that heard about the fantastic NYC Vietnam Veteran's Memorial Day parade on 7 May, I was glad to hear that some of our Class participated. Bill Reisner and Ken Morrefield were two for sure, and I think that many others were there also. Jerry Ledzinski wrote from Carmel and reports that he & Tina will be coming to the 20th. Steve Darrah has been appointed vp-opns for Phillip Morris in the EEC area. Phillip Morris/EEC manages the business of Phillip Morris, Intl in Europe. Steve apparently will be working in this hazardous duty job in Lausanne, Switzerland. Tough duty but congratulations, Steve. Charles McClintock (x '65) is now living In Spring Grove, PA and requested info on the reunion which has been sent to him.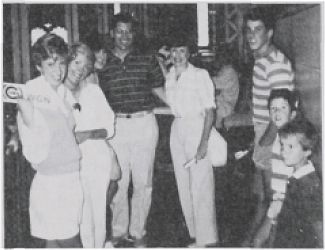 Dan Christman relayed the latest Info on the newest 0-6 List: Wes Taylor, Emory Chase, Bruce Clark, Don Dubia (?), John Harrington, Orlin Mullin and Rick Shinseki, all of which were apparently below the zone. Congratulations guys. And low and behold we actually received a note from Freddie Grates. Freddie is the exec dir of a hosp in TX where he lives with Carolyne and the two children, one of whom is a state-ranked tennis player. Fred recalled the time back in 5/68 when he was flying a Medevac in the Mekong when he overheard an urgent request from his classmate and roommate of 3 yr; (Tom Genetti). He He Immediately acknowledge and went to evacuate Tom and one of his troopers. During RVN, Fred also Medevaced George Gehringer and Max Thurman. Freddie & his wife will be coming back to the reunion with his old wrestling buddy, Jerry Hoffman. Jerry is a pathologist in Houston. Good hearing from you Fred. We tried to send some info out to Paul Rau in Rockford, Ml but it was returned. If anyone knows where he is, let us know. Steve Leach wrote a brief note indicating he went to the USMC with Ron Butterfield, Murphy, Greg Steel and Bill Zadel. He got out in 70 and works for Honeywell as a mgr in the Optoelectronics Div in Costa Mesa. CA. He is not sure if he's coming to the reunion.
Speaking of Don Kurtz, I had a nice chat with him. He reports that Larry Strassner is a bank pres in Lancaster, PA. Don reports that he got out in 69 and is still selling to financial planners while working for Shearson, and living in Plymouth Meeting. Mike Stanko is a sales mgr with American Monitor and sells blood chemistry analyzers in Indianapolis although he lives in Hudson, MN near St. Paul. He just started this job in 84. He has two girls, (11 and 14) and lives there with his wife Joy. Ron Walters reports that he got out in Jun, and he & his wife will probably move to the Southwest. He & Janice had a daughter (Tara) last Nov. Ron reports that he has seen no classmates in WA nor in Ft Greely, AK. He is going to look for Rich Bunn in Seattle. He also reports that Bill Rich is a PMS at UC Davis in CA. I talked with Lee Atteberry who is probably going to be moving to Columbia, SA with Exxon shortly where he will be working on a coal project. Wayne School reports that Kim Olmstead is at the War College as is Emory Pylant. Steve Ammon inquired about whether we could get a list of names of the children that will be at the reunion. Steve, I'd love to but as you can see by the above, I am having enough difficulty just getting the info in.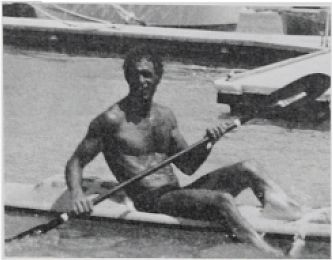 Tim Simmons and wife Bobbie with their three children live in CO Springs; he is a MOBDES at WP. Timmy Themes & lovely wife Sandy are at EUCOM. Tom Furgusson is at Leavenworth with wife Beverly and daughter Robin. Fred Charles in Frankford where he's been the Asst Corps Engr. Steve Burrell is a vp with the MW Kellogg Co in Houston where he & wife Kathy live with two children. His firm is involved in construction sales and marketing. They apparently are moving to London shortly.
Now for more poop on recently received questionnaires. Larry Bryant & Sue and their 3 children are in Eagle Pass, TX where he's a plant mgr. Bill Brush & Judy are in Maitland, FL where he's a program mgr. My old buddy Boris Borkowski is in Ashville, NC with Robin and their 3 children. He reports that Warren Kennedy is with DuPont in Augusta, GA. Judging by the picture Boris, you are going to be very young for many more yrs. I wonder if he still has his Elephant Ear racing gloves? Midge Bonnett lives in Bloomfield Hills, MI with JoAnne and son Brian. Jack Barwis is with Duracel and lives with wife Jane and their two children in Bethel, CT. Bill Byrne & Mary Paula are in Harrisburg where he is a doctor. Steve Aron is in Laramie where he's an atty and lives with his wife Mundy and their two children. Bob & Michelle Axley and their two children Chris and Jeff are in Dallas where he's kind of ret-must be nice Bob. Mike Abbott is at Ft Campbell with Carol and their two boys. He will be moving to Panama on a DCS trip. Jim Tomaswick is in Londonderry, NH with Carol and son James who's at Norwich U. Ralph Asplund & Josey have ret and are moving to Boston to work for Raytheon.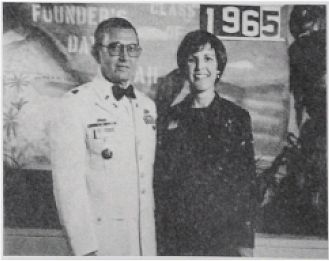 John Chaffer is with Boeing in Seattle as of Jul. Emory Chase & Eleanora are in Woodridge, VA where his son is with USMA Class of '89. Larry Clewley is in MI with Jacqueline and their two children. Bob Carini is in my old home town of Pittsburgh with Georgia and their 3 children. Ken Cherry is a doctor in Springfield, IN where he & Linda live with their two boys. Tony Clay is still on Wall St and lives with Calla and Paige. Jim Conley is working in Dayton although apparently he still lives in West Bloomfield, MI with Beverly and their 3 children. Mike Connor is the Chief of the Congressional Inquiry Div for DA and lives in Alexandria with Reggie and their two children. Harry Dermody is the CO of the main spt bn for the 25th in HI, where he lives with Kay and their two daughters. Fortunately, the girls take after their mother. Walt Divers is in the OB-GYN business in the AF at Kesseler AFB near Beloxi where he lives with Rita and their two children. Steve Davis & Trish live in Dunwoody, CA with their two daughters where he will join the faculty of Clemson. Glen Doughty is in San Antonio with wife Diane and their two daughters.
Ed Foehl is out in Portland with Katy. Gene Farmelo is at the War College with Beverly and their 4 children. Jim Ferguson will be getting out and going into the consulting business in Lawton, OK. Bud Fish is in Ger with Judy and their 3 children. Bud is into orientiering. Bob Fritz is with the FBI in Miami where he lives with Trish and their 3 children. Claire Gill is in DC with Sherry and their 3 children where Sherry is a physical therapist. Tom Genoni & Shiela and their two children, all of whom play a lot of tennis, are at WP. Tom Cenneti is in Enterprise, LA with Judy and their 3 children. Anybody know where Enterprise is? Lewis Green is a doctor in Longwood, FL with Barbara and 3 children. Roger Griffin is with NICSMA with Pamela and Allison. Tony Gamboa is a civ asst to the general counsel at DA. He, Irene and their 3 children live in Laurel, MD. Bob Guy is in CA where he's a bn cmdr. Jody, and their two children will be going with him to the War College. Jose Gonzales & lovely wile Ana and their 3 children are in Oakville, Ontario.
Jim Helberg is with the JS, OJCS and lives in VA with Lynne and their 3 children. Jerry Hoffman, Michelle and their 3 children live in Houston where Jerry's a pathologist. Jim Hennen is a consultant in London where he lives with Diana and their two boys. Lee Hewitt is in VA with Donna and daughter Pam. Bob Higgins & Jo are at Ft Riley with their 3 children. Linda & John Harrington are at Carlisle with their two children. Bill Haller is a proj engr in OH where he lives with Johann and their 3 children. Frank Hennessey & Cam live with their 3 children at Carlisle. Dave Hoskins is a chemist with DuPont in Wilmington where he lives with Darlene and their two children. Bruce Hulin is a salesman in Morristown where he lives with Marjory and their son.
Most beautiful women in one family award goes to Jade & Marilyn Jannarooe who are with the USAF/RAF Exchange Program in England. They have 5 children, 4 of whom are lovely young ladies. Larry Isakson is a doctor in Kaysville, UT where he lives with Rebecca and their 4 children. Tom Johnson is with the science research laboratory at USMA. He was in the USAF until 80 when he transferred. Cal Kahara is in VA Beach with Pat and 3 children where he has ret. Cal, we have a place on 82nd st so I'll look you up the next time I'm down there. Jerry Tully is in Wash with USALSA and wife Lee and 3 children. Steve Kempf is at the Pentagon with Barbara and daughter. Pat Kenney, Alice and their 4 children are going back to the Dept of Tactics. Pat, you're still on my you-know-what list. Jon King is in Midland, TX and sent a picture of him swinging a golf club. Nice form Jon, but you never could hit a ball worth a dam. Tom Kovach is here in Chicago with Stein Roe. Dick Leary is prog mgr with GE in Philadelphia where he lives with Susan and their two children. Fred Laughlin is in Wash with Maralee and two children. Jerry Lipsit, Maritta and their 3 children are here in Chicago.
Steve Leach is with Honeywell in Costa Mesa. Mike Leibowitz is in Spotswood, NJ with Judy and two children. Peter Long & Mini Lou and their two children are in Ger. Bob Molepske will be in McLean with Sylvia and their two children. Chuck McCloskey is at Ft Sill with USAREC. Frank & Kathryn Meier and their two children are in the AF in NE. Tom Mushovic, Lois and their 3 children are in Richmond where he'll be ret in Sep. Jerry Murges is sales mgr in OH with Castle Metals where he lives with Janie and their 4 children. Preston Motes & Barbara are in Salt Lake where apparently he's gotten out of the service. Dave Mastran is in McLean where he runs a co and lives with Shelly and their two children. Jim Marando owns a construction co in PA where he lives with Connie and their 3 children. John McMillan is an atty in FL with Susan and their one son. John Malpass is in Los Alamitos, CA with their two children.
Tim O'Hara is in Redwood City, CA with his 3 children and Wilhelmina. Frank O'Brian, Betty Sue and their 3 children are in VA. Kim Olmstead is with Wang Labs in San Fran with wife Carol. Charles Nichols is in England with Elaine and son Jason.
Tom Powers, Dorothy and their two children are near Tampa where he is in the USAF. John Pickler, Karen and their 3 children are at Ft Sill. Steve Pack is with Northrup in AL with wife Olive and their two children. Rusty Pullen, Hope and their 3 children are in CA where he's an orthopedic surgeon. Gene Parker is with P&G and lives with Margaret and their 4 children in Greenville, NC. John Plass & Joanne live with their 3 children in Kansas City. Bub Pickup is in CA with Susan and their 3 children where he works for Digital. John Rich is in Wash and is not married. Zig Roebuck is in VA where he works at DA and lives with wife Diane and daughter. John Salamone & Mary Kay live with their 3 children at Ft Hood. John Smoak is an atty in Panama City, FL with Pamela and their two children. Tom Satorie owns some family steakhouses in Lincoln, NE where he lives with wife Mary and 3 children. Marshall Schwartz is in MN with wife Judy. Bob Stowell is an atty in NE where he lives with wife Jean and their 4 children. Tim Simmons & Roberta live with their 3 children in CO Springs where he is still in the reserves. Roberta is a published author. Steve Sperry is in Springfield, VA with Carol and two children. Mike Stanko, another great PA jock, is a sales mgr and lives in Hudson, WI with Joy and two children. Bill & Susan Sherrell are at Ft Riley with their 4 children. Fred Smith sent in some great pictures of cadet life from Coatesville, PA where he lives with Maryellen and their 3 children. Valentino Sammarco is in Hyde Park, NY with Joan and 2 children. Larry Strassner is a bank pres in Lancaster with Sharon and 3 children.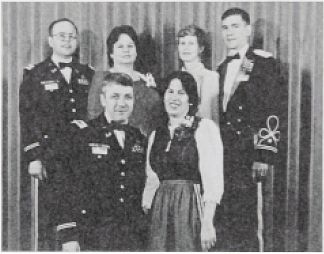 Kim Talbot is a doctor in New Cannan, CT with wife Sharon and 4 children. John Thompson is a bde cmdr at Ft Hood where he lives with Linda and two children. Kevin Toomey is with a div of the Singer Co in NJ where he lives with Linda and two children. Kim & Diana Webb and their 3 children are in Universal City, TX where he is still in the service. Ron Walter & Janice and their 4 children are in WA where he is a PMS. Tom, Niki White and their two daughters are at Carlisle and will be going to Ft Drum, NY. Ron Wells is in Atlanta with Erika and their 3 children. Walter Wells is a vp with Aegis and lives in Potomac, MD wth Rose Ann and their 3 children. John Wattendorf is at WP with Adrienne and their two children.
A last minute update on our efforts to get the Class obituaries up to date. We have received the obits on Anthony Borrego, John Hays and Jim Echols and our thanks to the authors. We have also asked the following people to write the appropriate (in parenthesis) obits: Mike Shaver (Ken McArthur), John Roseberg (Al Clark), Denny Lewis (Bernie Kistler), Jesse Whitten & Nick Princlpe (Mike Momcilovich), Mike Concannon (Bob Zonne), Tom Croak (Bob Keats) and Steve Bliss (Bob Lee). John Smoak will do Chuck Dickey's. Still haven't heard from Wayne Scholl, J Tillman or TJ Kelly on Chuck Wuertenberger's. If you would like to help on any of these, please call or write me today. Let's make the 20th a fitting time to remember our lost classmates!
Well folks, that's about it for this time. If your name did not appear in this issue or the Jan issue, we have not received any info on you as of 1 Jul and would really appreciate your taking the time now to get the poop into us. There is a tremendous amount of excitement building about the reunion, and we hope you will become a part of it. Even if you're not there, your contribution to the yearbook will mean a lot to other people. So, please let us hear from you now so that we can get this thing going.