Greetings once again from Chicago. Before we go into the news of our classmates, I wanted to bring everybody up to date on the planning for the reunion. Please note that this information is as of 31 Mar so that anything that is mailed to you subsequent to that date will obviously be the latest poop. You should have received a mailing in early Mar (poop sheet and questionnaire requesting additional information that had been left off the questionnaires we have received) and another mailing, probably in Apr, requesting a 200-300 word narrative for the yearbook. If you have not received these, please contact Paul Barber at (914) 938 3644 immediately. First of all, Don Rowe has had to step down as our reunion chairman and has passed the baton on to John Knowles. We thank Don for all the help that he's given to us, and we know that John will do a superb job. Secondly, the responses are starting to pick up. As of 31 Mar, we have received 177 out of the approx 500 of you that are out there. If you haven't sent your questionnaire in yet, please do so. If you have lost it, please call or write me at the above address and we'll send you another one. Based on a review of the info and details of your responses, the reunion comm has decided to ask each classmate to expand, in 300 words or less, on what you are doing now, what your family is doing, and what West Point has meant to you. Please keep your narratives to 300 words or less so that we can get everything in to the reunion book.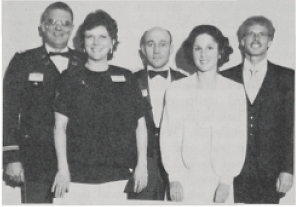 Some odds and ends on the questionnaires. It is simply amazing that so many questionnaires came back with a considerable amount of information not completed. For a group of guys who spent 4 yrs filling out forms and doing it by the numbers, our Class ability to fill out a 1 pg questionnaire appears to leave quite a bit to be desired. We have now had to institute a follow-up questionnaire. Please, if there is a place for some info, either fill it in or indicate that you don't want to fill it in. Same goes for the family pictures. About half of the questionnaires have come in without a family picture, and we have had to write for one. If you're going to send one later on, simply indicate that on the form. The bonus prize goes to our classmate in Omaha who returned the follow-up questionnaire without his name or any other identifying mark. The extra 5 or 10 min that it takes to complete these forms will be well worth the effort in terms of compiling a detailed and exciting history of where we are after 20 yrs.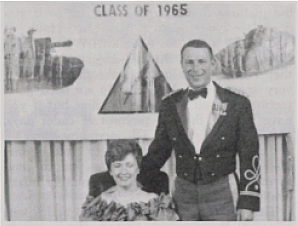 Here's a preliminary look at the reunion: Thurs (24 Oct)-arrlval, check in, followed by an evening buffet at the Thayer. Fri starts off with a business meeting followed by tours of USMA and co picnics, perhaps a business planning seminar for those getting out, with the evening reserved for a revisitation of 500th Night (20 years later). Sat will be filled with the traditional alumni services, cadet parade, tailgate lunch, football game and finally, the alumni dinner dance. After the Sun memorial service, there will be a brunch at an estate on the Hudson. Plan on departure about 2-3 pm.
Some other odds and ends, based on your questions. Activities for children, especially younger ones, are going to be difficult to coordinate. There will be lots of different age groups. If the older ones are interested in West Point, call the Admissions Office to arrange for an official tour.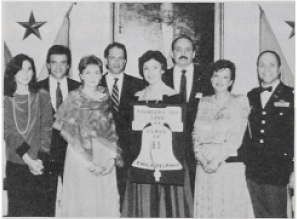 Don Nowland reports from Leavenworth that he & Maria are heading hack for Ger in Jun. He is completing a War College fellowship and is looking forward to getting back with the troops in Ger, where Maria was born. Sonny Arkangel is now an MD and also a FACAP (not sure whether that is a strac MD or not) at Fort Bragg where he works at Womach Army Hospital. I love his opening sentence: "no excuse! procrastination! ..." Sonny is ret in Jun, orders from which arrived the same day that they told him that he was eligible to be considered for 0-6. They will be going to Victoria, TX where he will be part of Citizen Memorial Hosp. His OAO who also happened to be his date at Ringhop Judy) as well as Sonny, Jr., Judith Mary (soph in HS) and the youngest Andre (8 yrs) will be going along with him. Sonny reports that Stan Touchstone (who was a Tac when we were there) is now ret in Fayettsville working as a financial consultant and still looks as lean and mean as ever. Johnny Johnson is also there at Bragg and is probably due for reassignment. Tom & Gwen Shaw are there where Tom is with the XVIII Abn Corps. Sonny also mentions that he has worked with Wes Taylor, Fred Scruggs and Chris Needles there. Fred is at the Southern Command, Chris has a classified job and hopefully, they will all write to us. Sonny will be coming to Chicago for an exam, so l'm hopeful that he'll give me a call. Skip O'Donnell called during a pass through at O'Hare here in Chicago. He provided some good advice to those getting out of the service-get your resume ready early. A 12-18 mo lead time is not too much. Find out where the regional job fairs are and attend those. I would echo that 100%. Most Chicago area grads who are getting out in Jun give me a call in May saying hey, do you have any job opportunities for Jun!
It's amazing but I have now received about 10 versions of Super Tacs address. Somehow, we'll find him. I received a great letter from Larry Laskovian with a picture of Mike Hudson and the other engn watching their team go down in flames during our Cow Year, Goat-Engr Game. I love Hudson's hat.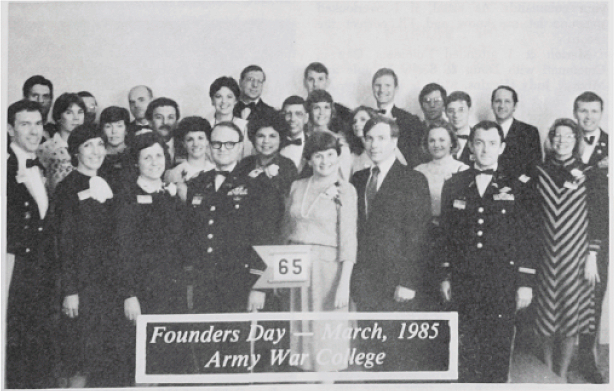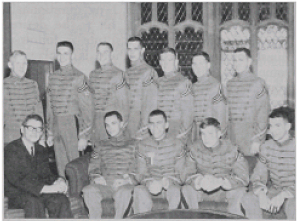 During a recent visit to NYC, I had a chance to do a little business with Bill Reisner who is a VP with Drexel Burnham. He mentioned that Val Sammarco is a lawyer in Poughkeepsie and also a Justice of the Peace in Hyde Park. Steve Ammon wanted to know if there was any way that we could get a list of the college-age and teenage kids who plan to attend the reunion. Since that might be of interest to everyone, I'll try to summarize that for everyone in the next issue. (N.B. Paul Barber) Tony Rengl, who was a former classmate of ours) is in Stickney just outside of Chicago. Tony was at the Academy for 1-1/2 years and then had to quit because of a medical injury.
Received another good picture from Ziegler of the "Boys from Minnesota" with former Governor Orville Freeman. Les Hagie wrote from Leavenworth that he will be retiring in Aug and going to law school at UVA. They hope to get up to WP. He is presently a Soviet FAO in charge of the Strategic Studies Comm. He reports that Mike Shaver is also on the Comm as weil as several others that were mentioned in last month's article. Bill Tredennick is living next door to Les and is Ft Harrison's LNO to Leavenworth. Lee Hewitt attended a short course there in Dec and is working with the White House Communications Agency.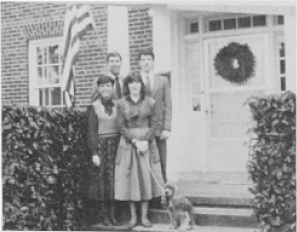 Received a nice letter from Lynne & Joe DeFrancisco who are spending an unexpected 4th yr at Ft Lewis where Joe has been extended in cmd until Dec 85. They are coming East for the summer and hopefully will make the reunion. Lynne, you also better stop in Chicago or your name is real mud in the next article. Judy & I went back to my old hometown of Pittsburgh for the wedding of Joe Anderson & Melke Tadesse. The wedding was held at a lovely old church out near Pitt, which was very reminiscent of the Cadet Chapel. Melke is from Ethiopia and came to the US to study at Pitt. Her family is still back in Africa. She was a financial analyst for Mobay, but will be moving with Joe to Detroit where they just bought a new house. During the lovely service, they had a singer which reminded me a little bit of the fantastic voice that Joe used to exhibit when he was in the Glee Club. We wish both of them all the love and success possible.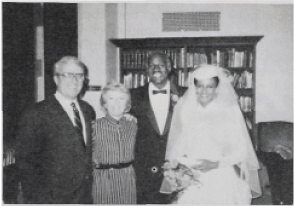 Now for more infor from the questionnaires. Steve & Phyllis Darrah are in Brussels where he is a VP-Ops. Dan Christman, Susan and their 2 children as previously reported, are in Savannah where Susan is involved in body building. Dan Donaghy & Elaine are in Philadelphia where Dan is an industrial engr. Dan, need a picture. Bob deLaar & Pauline are in Europe and John Lyons & JoAnn and 3 children are at Carlisle. Need a picture from both of you guys. Joe Barclay sent in a great picture of himself and Lee Atteberry in B-robes. Bill & Jean Griffin are in Cincinnati while Ron Kolzing, Ann and 2 children are in Medina, OH where he is a probation off. Peter Linn is a mgt analyst in Wash and lives with Susan and their 2 children there. Barry Levine & Chris are al Ft Leavenworth (need a picture). Lee Atchley, Nancy and daughter are in Chatanooga while Marty Resick, Lenore and 2 children are in Pittsburgh where he works for a health care operation.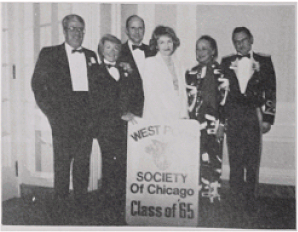 Bernie Ziegler is in VA where he & Ellen and 4 children live. Walt Oehrlein, Frances and their 2 small children are in Birmingham MI where he is a manufacturers rep. Walt, how come you missed all of your classmates at the Cherry Bowl? We were looking for you. Duncan MacVicar, Jeanne and their 9 yr old daughter are in Los Altos, CA, while Russ Campbell and family are in NY where Russ is with Chase Manhattan. John Anderson wrote from Austin, TX where he is a lawyer and lives with wife Shelley and their 3 children. John, thanks very much for addresses of 4 of our lost classmates. I really appreciate that. Also. I need a picture of your family and also one for Don Parrish. Don is in Omaha -where he is an LTC. John McCullough & Mary live with their 2 daughters in Nashville where John is a preacher. Jim Tully is with the WishBone Corp in Nashville where he is an EVP and lies with Debby and their 3 children, one of whom will be our first Class son to graduate from USMA with the Class of '85. Torn Barrron & Tosh still live in NY where Tom is with Ayers Whitmore and Co. They are living in a one-room apt while their place is completely renovated. Tosh runs the NE Region for Xerox. Bob Frank is an 0-5 in Wash where he lives with wife Mary. Steve Morrissey is pres of a co in Atlanta where he lives with Beverly and their 2 boys. Howard Reed & Betsy live with their 2 children in Sparta, NJ where he is an LTC. Rick Kuzman & Dagmar live with their 2 children in Springfield, VA. Need pictures from both of you. Guenter Hennig is a products mgr in Gaylor, MI where he lives with wife Diana and their 2 children. Bob Brown (and new bride Carolyn) is now with the 130th Engr Bde in Europe. Terry Carlson is with the VA in OH where he lives with Sharon and their 3 children, one of whom is at Notre Dame. Terry, we need a picture.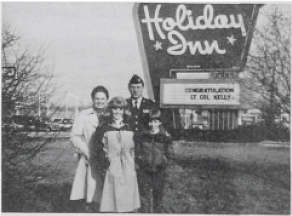 Great picture from Tad Ono with Hiroko and their 3 children at Camp Zama, Japan last Dec. Tad is on the promotion list to 06. Received a letter from David Gabel who is pres of a small firm in Northport, NY where he lives with Ilse and their 2 boys. We need a picture also. Bob Cato & Ellen are in Ger with their 3 children. B. J. Mogan is in Alexandria with Donna and their daughter Tara. George Ruggles sent along a picture of himself & Lynn and their 2 children, all of whom are in OR. Still need pictures from Bob Mace who is Needham, MA where he lives with wife Judy and their 2 children and also, need a picture from the Taylors. Did receive a nice picture from Frank Koleszar with wife Gisela and their 2 children while they were on leave last year in Budapest. Frank is in Ger. Frank Arnall is down in Orlando, FL with wife Susan and their 3 children where he is a VP of a firm. Dave Gnau is in Mount Vernon, OH as previously reported with his wife Marcella and 2 children. My old buddy Paul Drass is in Athens, GA where he is involved in real estate investments and lives with Deanne and their 2 children. Paul, we need a picture badly. Speaking of pictures, we also need one from Grover Starling who is a prof somewhere. (No address, no picture). He lives somewhere with wife Yolanda and their 3 children. Also need a picture from Larry Konerman of his wife and their 2 boys, who live in Dallas where he is an LTC in vet medicine. Frank Skidmor is still in the scrvice at the NWC where he lives with Dore and their 3 children. Stan Genega is at the Pentagon with Barbara and their 2 childrenwDon Shutters is a la\v partner here in Chicago (believe it or not). Don, where have you been keeping yourself? Jim Berry is a dir of distribution at Johnson & Johnson in N J where he lives with Margie and their 3 children. Steve Ammon & Jan as well as their 3 children are in Arlington, VA where he is a logistics analyst. Steve, can you send along a picture of the family? Also need a picture of Jay Stewart, Carole (aka Gracie) as well as their 3 children. Jay is with Proctor and Gamble as previously reported. Speaking of pictures, I also need one from Jose Gonzales who is in Canada with Anna and their 3 children. Rich Boerckel, Jean and their 2 children are still at WP.
Lloyd Brown is still in the.service at the Pentagon where he lives with Sherry and their 3 children. Bo DeSantis (although he forgot the picture) is still not a bad former quarterback who is a managing gen partner in Wash where he sells bull semen (Really!). Anybody interested in a couple of gallons of this fine commodity, give Bo a call. He, Judy and their 2 daughters live out in Wash. Believe it or not I had to go to Wash. DC to get Wayne Scholl's questionnaire, but I now have it along with some great pictures. Dave Hurley, Kathy and their 3 children are in NJ where he is a VP with the Prudential Asset Mgt Co. Bill Curl sent in a great picture of himself and his family. Larry Leskovjan & Kathryn and their 2 children are down in FL and sent along a nice picture, as well as one of Paul Drass showing his derriere. Dross, the next picture will be very embarrassing if I don't get one from you first. Ray Paske & Ginny and their 2 children are still in NY where he is with Dunn & Bradstreet. Ray, need a picture of the family if you have one. Kurt Adams is still in the service, with wife Ann and their son at the Pentagon. Bill Mitchelle is a COL in the USAF at Homestead AFB where he lives with wife Sakina and daughter and promises to send a good fighter pilot picture as well as a family picture, I hope.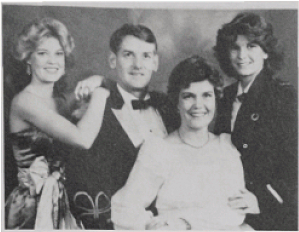 We received questionnaires with no pictures front Paul Renschen who is in Ger with wife Nevea and their 2 children. one of whom Paul Jr. will he starting at USMA shortly. Also need a picture from my old buddy Jack Lowe who is going to ret in Jul and is going to move to Dallas where he will work for Ross Perot (or GM, depending on your outlook on life) in financial systems planning, design and implementation. He & Annette and their 3 children are now living in Alexandria, but everyone will be moving probably in Apr. Jack, old buddy, you're in big trouble if I don't get a picture post haste. Bobbie Jones is looking good in the picture with wife Karen and their 2 children. Bob is still flying and lives out in CA. Carl Plotkin is still a radiologist and lives with Gail and their 3 children in OH. Carl need a picture. Bob Thompson is in NJ with wife Jean and their 2 children; he sent along a great picture of himself and Bill Mitchell in yearling year. Larry West is still in the service in Lawton, OK. Larry, need a picture. The 2 cutest daughter's award go to Jim & Lee Wood. As you can see by the picture, young Lee and Lynn truly take after their mother, although I'm not sure how the old man let young daughter into Zoomie U. The math whiz of the Class (Chuck Heindrichs) & Loretta live with their 3 children in Kearney, NE where he's a system engr. Bob Anderson is with the VA in DE where he & Barbara Ann live with their 2 children. Bob, need a picture. Paul Rau is apparently no longer in Rockford, MI. Paul where are you?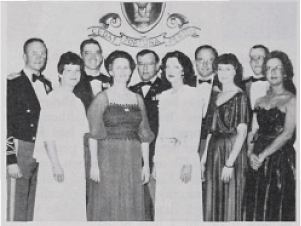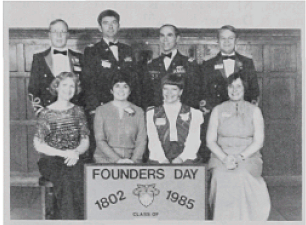 Because of space, I'm unable to print all the pictures that everyone sent in, so if you don't see your picture here, have faith. It will be in a future ASSEMBLY as well as in our year book. On the subject of pictures. they really are going to make this reunion a very special one. Not only do we need good pictures of you and your families but if you have any of the old pictures of cadet days, please send those in. I'll guarantee that I'll get all those pictures back to you in one piece, but I really encourage you to send them in. Some of them are absolutely hilarious.
Thats' it for now folks. Only 3 and a butt mo until the reunion. Please, please, please send in the poop and money the day that you read this. It will really help. Strength and Drive!