First of all. 1 wanted to bring everyone up-to-date on the planning for our 20th Reunion . Based on what's happened so far, this is looking to be one of the best reunions of any of the classes. Don Rowe and his staff at West Point are doing an outstanding job, and I think you will see the results at the reunion. It will start on Thurs, 24 Oct and will be finished around 4 pm on Sun 27 Oct. The normal festivities will be augmented by a Thurs evening boat ride and then on Sun by a memorial service followed by a brunch at an estate on the Hudson just south of West Point. So, if you are making travel arrangements, it would probably be best to schedule to depart from either Westchester County Airport after 5 pm on Sun or LaGuardia after 6 pm on Sun. If you are driving, the Sun brunch about 30 min south of West Point on the east side of the river near Ossining.
The response to the questionnaire with the initial mailing has been good but not as good as we had hoped for. As of this date, we have received only 60 out of a possible 450 or so. Take the time while you are reading this article and fill out that questionnaire. If for some reason you never received one, drop me a line or call me at (312) 427-2000 (Ask for Nancy) and we will get one off to you. Also, please go back in your memory book and give us whatever suggestions you can about other classmate.. The classmates name, a company and location or telephone number is all we need to track them down. To make the reunion yearbook a great one, we need to have input from everyone.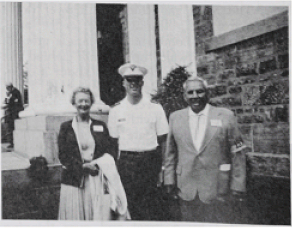 During my annual pilgrimage to watch the Army Homecoming Game, in addition to a delightful football game in which Army blew a very good Pennsylvania team off the field I also had the pleasure or running into quit a few of our Class in the stands. Mac & Diane Cill were sitting next to Bob Doughty. The entire Bucha family was there. The Barbers, Knolls, Gables, Boerkle's and Don Rowe were also there as well as the parents of Lucky DeLars, who apparently are avid Army football fans. Upstairs in the cheap seats, Tom Baron looked forlornly down upon Dr. Jim & Sharon Talbot and behind them were my good ole buddies Ray Pollard and Jake Barwis. In the really cheap seats, we noticed one of our AF flies, Tom Genoni with his lovely wife Sheila. Barwis lives in Monroe, CT where he works with IBM. He has been there 6 yrs, is married and has two children. The Talbots just had a baby back in mid-1984, and he is a doctor in CT. Ray Pollard is involved in systems analysis at the Aberdeen PG. He has a son who is a yearling. Speaking of that, if my records are correct, there are six sons (any daughters?) at West Point. Please take a careful look at this list and if you know of anyone else, drop me a line. There are four plebes, namely Barber, Barclay, Harman and one other. There is one yearling (Pollard) and our first graduate (to be) Jimbo Tully. He is Jim Tully's stepson. Also, we have one at USAF (Lee Wood).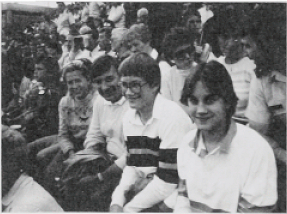 One of the group at the game told me that Art Hester got out after 17 yrs and is now into oil somewhere. Art, if you are out there, let me know what is happening. While walking across the Plain, I walked into Ernie Oerhlain ('64) and his wife Ginny. He told me that Walt is still in MI and is now a manufacturer's rep. Walt reported that tennis at West Point is still going strong. He had recently played the #1 man on the varsity team and had his sword cleaned. In case any of you missed the Homecoming Game in l984, you missed one of the rare sights at USMA. Just as the cadets were about to pass in review, some wise-guy (gal) turned the sprinklers on much to the chagrin and dampness of the reviewing party and the grand and glorious Class of '64. In typical military fashion, however, a couple of cadets (obviously impressionable plebes) as well as the MP's, dashed over and placed their caps on top of the sprinklers for about 1-1/2 hr, until the problem could be resolved .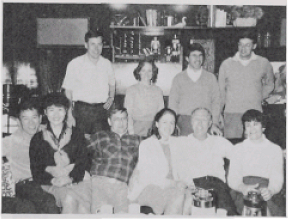 Someone mentioned that Chris Spire is in the beer business with Anheuser Busch. Chris, if you are out there, let us hear from you. Buddy. Bucha reported that he is in commercial and residential real estate. The Lucky DeLar's have one child and are located in Darmstadt. George & Sue Gehringer are expecting. Steve Amon has apparently gotten out of the service. Bob Wolf is a civ with the Corps of Engineers where he has taken a yr off to go to ICAF. His wife Phyllis is an interior decorator and their daughter is a superb ice skater.
Back to the reunion planning, we have received some interesting names in terms of people to invite to be our guests. Invitations have or will shortly go out to Max Thurman, Cecil (Super Tac) Adams and GEN Westmoreland. If you have any other ideas, let's hear them now. We also need financial help in the way of advertising for the yearbook. Rollie Stichweh has agreed to head up this effort. If there is any way that you can contribute or have your company contribute for an advertisement in our book, we would certainly appreciate it. If you didn't so indicate that on your returned questionnaire, please drop me a line and I will pass it onto Rollie. The total cost of this yearbook will probably be in the $10,000-$15,000 range, so the more contributions we can get, the better the final product will be.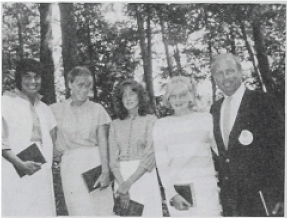 I received a nice letter from Ed Simpson. He gave me a list of people who work in Washington, most of whom were mentioned in the previous column as a result of that picnic they had. He did mention that Wayne Motal is in the OCSOPS (Nuc Div) where he came from being a Bn Cdr at Ft Hood and just made the Sr Ser Sch list. In scanning through that list, I see several other classmates. Dan Christman also sent me a list of our classmates scheduled for the War College: Adams, Barker, Brown, Cahill, Cato, Dean, DeFrancisco, Dermody, Guy, Haman, Higgins, Lemley, Motal, Mushovic, Reller, Scruggs, Shinseki, Taylor, Vaughn, and Zais.
It was great this year watching the Army football team play with the intensity and esprit that many of us remember from the old days. We had a get-together here in Chicago where '65 was well-represented by Jack Cooley and myself. Since the get-together was with the swabbies from Chicago, we took particular delight in rubbing it in.
Now, I want to go through some of the questionnaires returned. If your name does not appear hereinafter, that means we did not receive your questionnaire as of early Jan 85. Please, if you have not written, take the time now to fill out the questionnaire or at least drop us a line with your name & address. Dan Alger was one of the first to respond with some great pictures, one with he, Stich, Hennen and two fellows from USNA by the name of Staubach and Orr. Don Appler, a LTC, replied from Ft Leavenworth; he sent two great pictures, one of Floto and one of DeFrancisco, which could well be bribe material if the people at Jewel or the Pentagon are interested in talking to me. Ed Armstrong, a COL in the AF, wrote from Springfield, VA. Tommy Abraham wrote from Rockville where he is the Dir of Facs and Serv for Montgomery County. Lee Atterberry sent along a nice letter from NJ with a picture of his lovely family. They reported that they had a great time watching Army beat Navy with Joe & Diane Barclay, especially enjoying Diane s glorious breakfast. Lee reports he is travelling quite a bit to Columbia but hasn't run into too many classmates. He liked my reference to Gracie in a previous column. Gracie, if you are out there, and that crazy husband of yours doesn't want to write, why don't you? And last but not least (at least for the A's) was my old buddy Ed Abesamis who reports that he is still in the Philippines, although his stevedoring job is now winding down and he will be moving back to Manila. Ed & his lovely wife Katherine have three children ages 12-4. Ed, I hope you do make the reunion. Steve Bliss is at the War College with his wife Rhonda and their three daughters.
Rick Bunn is a marketing rep in Seattle where he lives with his wife Donna and two children. Rick sent quite a few pictures, especially of the oldie but goodie type, which should be enjoyable for our yearbook.
Dave Bangert wrote from Honolulu where he is presently a student at the UHI. He lives there with his wife Sheila. Jack & Maria Cooley are here in Chicago as reported previously. Jack, we need a picture. Russ Dernier is in Baton Rouge where he is an attorney. He suggested that we invite Paul Dietzel and Tates Locke to the reunion. Mike Deems & his wife Chris live with their three children; Mike is at MILPERCEN in Alexandria. John Gailey is a gen mgr in the retail art production business somewhere. John, we need your mailing address as well as a picture of your wife Ann and son. Jim Golden replied from West Point with a family picture of his wife Elaine and their three children. Doug Gibson is an engr in MA where he and Janet live with their four children. Richard Hall is an attorney in Grand Junction, CO where he and his CPA wife Laurie live with their four children. He has only seen two classmates since getting out of the Army. Bill Hecker is still in the Army at Ft McNair with his wife Nancy and their two children; he is attending ICAF. We have another nice picture of the bearded Jim Holmes who lives in Springfield, MO with his wife Marie and their four children; Jim is a supervisory senior resident agent with the FBI. Steve Harmon is still in the Army and lives with his wife Anne and three children in Springfield, VA. Oops, there was an indication on the questionnaire to tum it over and when I turned it over, there were. more kindern-so, make that seven for Steve & Anne.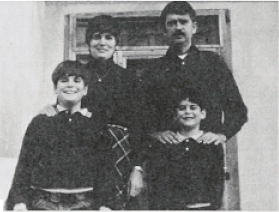 Jim Hannon is the exec dir/chief counsel of the President's Commission on Organized Crime and works in Washington where he & Jeanne live with their three children. My secretary has awarded the "hunk of the year" to Kala Kukea who is in Honolulu, where he spends a lot of his time on a surfboard for the rescue division for the fire department. His wife Carol and their child also enjoy all the water sports there. Jim Kelly is stationed at Ft Bragg where he is in the 1st PSYOP Bn. He lives there with his wife Mary Ellen and two children. As previously reported, the Knowles are at West Point and seem to like red sweaters. COL Koz, as I am sure the fly-boy cadets used to call him, has left USAF and is now somewhere with an APO SF mailing address. His wife Ann and three children also live somewhere, probably in Korea. Jack Koletty retired from the AF and is currently a manager in the launch segment of a co involved in communication satellite engineering. He & Peggy live with their three children in MD. I received a very interesting questionnaire and note from Chris Kinard who lives with his wife Carol and three children in San Francisco. Chris, some of you may recall, was medically discharged upon graduation and really has lost touch with a lot of his classmates. Chris, we are glad to have you back in the fold; how about changing your mind and coming out to the reunion? Although no picture was attached, Ed Klink reported that he & Judy, as well as their three children, are alive and well in Carmel, IN where I think he is running his own company. Labe Jackson wrote from Lexington, KY where he runs International Spike, Inc (Jobes Spikes) and lives with Carol and their two children. Lowell Lawson is the pres of Sun Laundries in Phoenix where he and his wife Judy live with their two children. Johnny Longhouser is still in the service at ICAF with wife Karen and two lovely daughters. Ron Layer is in Hammond, IN with wife Dolly and two children. Harley Moore is in Arlington, TX with wife Diane and daughter where he is a vp-planning for an engr firm. I also received a response from Vernon Matthews (Ex-'65, through yearling year) who is the chief photographer for a newspaper company in Gulfport, MS. Harley Munson wrote from Portland, ME where he is a flight manager with People Express Airlines and lives with his wife Gerry and son. Glen Nenninger is a prod mgr in Warren, MI where he & wife Joanmary and son live. Skip O'Donnell, a senior engineer with Westhinghouse at their Naval Reactor Facility in Idaho Falls, lives with Marilyn and their three children. Amongst the pictures Skip sent along was one taken at Ft Sill with Jim Fergusson and Lee Acthley. Also, one of Skip in his bathrobe, obviously after the Army-Navy game in 1984. I love it-Skip sent along a dollar so that he would make sure that I return the pictures to him. Don Philpotts wrote from Naples, FL where he & wife Sharon and their two children reside. Don retired in Jan 84. He is now a Jr ROTC instr and will eventually be moving to WY.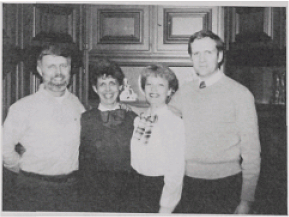 Bill Reisner works in Paramus, NJ where he is a vp-investments for Drexel, Burnham and where he & Frances live with their two children; he sent a great picture of a Camp Buckner poker game. John Rosenberg is an attorney in Rockford where he & wife Carol live with their two daughters, both of whom are in college. He sent a picture of them with Denny & Sharon Carlson. Frank Probst, still in the Army, lives with wife Peggy and two sons in Burke, VA. Rollie Stichweh wrote from Boston where he is the mgr part of a consulting firm. He enclosed a great picture of wife Carole and three lovely daughter. Paul Singelyn & wife Nancy live with their two sons in Nashville where he is a vp with Techmatic. Bud Sikorski & his wife KC live in Singapore where he is a lecturer at the university. Ken Slutzsky is still the vp-ops of his company; he & Gabriele live with their two children in Roswell, GA. George Seaworth is in Camphill, PA with wife Jo and three children. Denny Shantz is now a mgr in environmental services in Largo, FL where he lives with his wife and daughter. Paul Schultz, an exec vp in Fairfield, CT, lives with wife Diane and son Paul. Best looking family of the Class award may go to the Shaws. Lucy & Chuck live in the Napa Valley with five children. Dan Steinwald & wife Marie live with their three children in Ontario, Canada. Richard Worth is the pres of Wings and Wood In Amherst, NH where he & Pat live with their three children. Dick Williams is still in the Army; he & wife Joan live in Alexandria. Bob Wolf is the asst dir of Civil Works in the CE, and he & wife Phyllis and two children live in Potomac, MD. Great picture of all of our Engineers at the Wolfs' in Apr 84.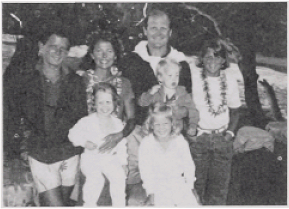 Rosa Wollen wrote from NY where he & wife Carol live with their one child. Bob White is a prod mgr still in the Army; he & wife Ceil live in Ocean, NJ; they have seven children. Ray Woodruff is a div pres with his company and lives in Sugarland, TX with wife Connie and son Greg. Jell Whitten is a prod mgr in Tyler, TX where he lives with Betty and their two children. Rick Wetherill, still in the Army, lives in Fairfax, VA with Maryann and two children. Finally, Bill Zadel & Betty and their three children are in Coming, NY where he is a vp in business development for Coming.
So folks, if you name was not mentioned above, we have not received your questionnaire and would really appreciate hearing from you. Also if you have heard or know of any classmates not mentioned in this article, please give me a lead on them. And one final note on the questionnaire-it is not quite clear, but we do want the name of your company as well as a picture including one of your family. This information will be greatly appreciated.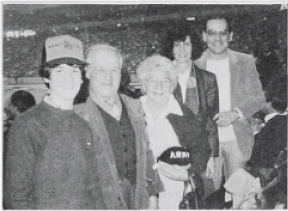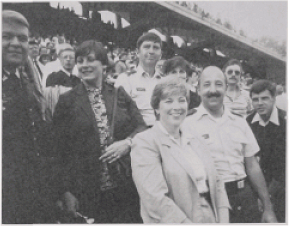 Just before Christmas, Jody & I and our children traveled to Detroit on our way to Lake Placid, to take in the First Annual Cherry Bowl. Jim & Bev Connelley, their three children and family guest sat next to us during most of the game. As we all looked around to see who was there we hardly recognized the fact that two or three rows immediately in front and behind us were all '65ers. Jim & Bev are looking great along with their two lovely daughters Kelly and Kimberly. Next to the two girls, is young James Jr. and another James (Martin) (whom the Connelleys have just about adopted, although he is still a ward of the state). The entire family had a great time yelling the Army team to victory. On the other side of Judy and our kids, T.J. Kelly & his wife and two children had just arrived from Dayton, OH where he was just promoted to regl dir for SASC, a computer operation. It turns out he may be moving to Chicago, so T.J., if that happens, drop us a line. Sitting in front of the Kellys, fresh off the airplane from Leavenworth, were Tom Ferguson and Barry Zais who reported that Rick Sinnreich had just made the 06 list and would probably end up being their new boss. During half-time, Joe Anderson and his to be (that evening) fiancee Melki joined us from the mayor's box. I understand Melki is from Ethiopia. Sitting behind these guys were Ray & Marca Gnau who came in from Columbus with their two children Meredith and Matthew. Sitting behind them, having changed neither one bit nor one ounce, was Merritt Bumpas, who drove up (snas Wife) from Cleveland where he's as lawyer. After the dinner following the game, Merritt drove to Cleveland where his wife was getting ready for their trip down south for the holidays. Also in our section was Tom Kovach & his wife and two children who just moved to Chicago where be runs the data processing operation for Stein Roe. Rich Boerkle was also there having flown in from WP.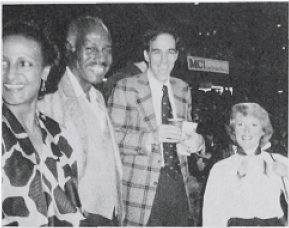 One final note and observation-there was absolutely no doubt in anyone's mind, least of all the Army team as well as the cadets, that Army had come to play and to win this football game. Lest any of you at WP think that a visit like this to a city outside of the NE won't bear fruit, I suggest we all look at the recruiting results for the Detroit area over the next couple of years. I think it's safe to say not only the football team but all of West Point recruiting will gain significantly because of the fantastic impression that the cadets made on this city. That is a tribute to the Supe as well as Coach Jim Young. All of '65 salutes both of you!