Greetings from the Windy City! First of all, let me give everyone a brief update on the 20th Reunion which is scheduled for Homecoming Weekend 1985. The Organizing Committee has been formed and will be headed by Don Rowe, who is presently stationed at WP along with several of the other committee chairmen (Jim Golden-Activities, Paul Barber-Registration, Rich Boerckel-Class Gifts, John Knowles-Lodging, Mac Gill-Transportation). I'll be heading up the Publication Committee and will be responsible for producing a "'65 In '85 Yearbook." By now you should have a1ready received the first letter from Don concerning the planning and requirements for the Reunion. If you did not receive a letter in Oct or Nov, please call or write me immediately. Attached to that letter you will find an information sheet which we need completed and returned to me at the address listed above. Several other thoughts have come out of our planning process and we thought we would run them by you. First of all, we would like to invite some of the Tacs and other folks who made those four years such a memorable- experience. Initial names that come to mind are Max Thurman, "Super Tac" Cecil Adams and the like. If you have any suggestions on who else to invite to be our special guests, please let Don Rowe or myself know. Because of the deadlines imposed upon this scribe for these articles, we will have to communicate with everyone in the Class via direct mail. Accordingly, we would appreciate everyone talking with one another and if you find someone who has not received a letter from Rowe, please let Don know. My guess is that the mailing list that we are using is probably no more than 50% accurate. While some of the mail will be forwarded, past history would lead us to believe that as much as 35-40% of the Class will never receive our communication. So, spread the word and let's try to get a reasonably accurate mailing list.
Now for the current poop. Up until two weeks before the deadline for this article, we were in bad shape in terms of information. We had received only two letters, which means that everyone grew quite complacent during the summer. Unless we get your letters, the scribe can only call and track down so many people. Fortunately, through my travels and contacts with others, we were able to generate additional information, esp from the Washington, DC group as you will see later on. If you haven't written in the last year or two, please drop us a line and let us know what's going on. This article is only as good as you folks will make it. Pictures really make the narrative come to life.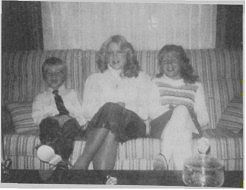 Greatest letter of the last decade goes to young Beth Simpson who wrote to tell me that her father Ed "is still alive and well." They live in Alexandria, VA where they moved in 1983 from EUCOM. She reports that her dad is now at the Pentagon at DCSOPS. "He seems to like it most of the time." Her mother (Lee) and sister and brother really like VA. Jim Harvey is a neighbor and also works at the Pentagon. His wife (June) and two children are good neighbors, Beth reports. The following is priceless: "I know you probably think that it's a little strange to hear from the kid instead of the graduate, but my father wasn't going to write. So I thought I might." WP needs 9th graders like you Beth, so keep up the good work and let us know when you're ready to apply. Not only that, you certainly take after your mother in the looks department.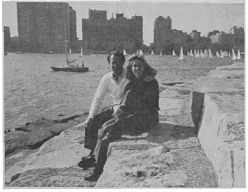 We had a little get-together out at the scribe's house and spent some time with three of our local classmates. Jack & Maria Cooley were there and Jack reports he's left his old law firm and started his own practice in the legal field but primarily as an arbitrator. Jack has all the qualms of all of us who have started businesses, and we wish him the best of luck. Steve & Gloria Ellenbogen also were there and Steve reports that everything is going well in his new job in real estate here in Chicago. Steve & Gloria haven't changed much over the years. We were particularly delighted that Ron & Dolly Layer could make the long trip up from booming metropolis of Munster, IN. They report everything is going well and that their children are still actively involved in sports.
Also received a great letter from Norm Boyter who is a site manager with Westinghouse in the Philippines. He is presently stationed on Bataan. His wife Angie and their two children have been there for 3 yrs and expect to leave in Jan 1985. Westinghouse is building the first nuclear plant in the Philippines at this site. Prior to this, they lived in Korea where Norm was also involved in a nuclear plant site. He got out of the Army in 1974. Norm reports that prior to his overseas tour, he was with Westinghouse in ID back in the late 70's where he saw Skip O'Donnell, Duke Wheeler and Ron Wells. He also added that Paul Singelyn was there until 1978 and left to go into business in Nashville, TN. Paul and wife Nancy had two boys and apparently are still in Nashville. Norm reports that he and Angie are going to try to attend the 20th. Norm reports that he has one of those rare nuclear projects that is on schedule. He asks that if anybody is passing through Manila, let him know. Ron, if you can bring this one in on budget and schedule, you ought to be able to come back here and make a million dollars. Good luck to you.
Tom White reports that be is not the CO of FATC but rather he commands a battalion in FATC. Sorry about that.
Judy & I went on a boondoggle to Washington in Sep and while there spent an extremely enjoyable evening with Wayne & Suzie Scholl, Rocco & Mary Alice McGurk and our good friend and loyal '65 supporter, Max Thurman. For those of you not in the military, Max (you remember him, the L-1 Tac and then the Cadet CAO) is now a 4 Star and the VCS-Army. As we found out at dinner that night, Max still has many pleasant memories of our Class and was peppering us throughout dinner with queries as to where everyone was. Rocco is doing very well for himself as is Wayne Scholl. Both of them are on the 0-6 List. Speaking of that list, I received a nice letter from Dan Christman who is the CO of the Savannah Engr Dist. Attached to his letter he sent along the results of the most recent selection board for 0-6 from which I have culled the following names: Genega, Gilchrist, Gill, Hallenbeck, Hennessee, Kelley, Kemph, McGurk, Ono, Pickler, Pylant, Roebuck, Sinnreich, and Timmerman. Dan saw Loco and also Bob Wolff who was a guest speaker and gave a very polished performance to a Commanders Group on his responsibilities as special asst to the Asst Chief of Engineers. Bob will be attending ICAF starting this Aug.
Wayne Scholl reported that they saw Bob & Carol Bell and Jim Scheiner and his wife while in PA. Jim hands out the checks to the lottery winners in PA while working at the IRS there. Wayne suggested that Jim wager $2 on 6565 for us and when we win, have an absolute blowout at the 20th. Sounds like a good idea to me.
Wayne also reported on a new phenomena in the Class. namely sending offspring to college. Beth Genega (nee of Stan & Barb) was valedictorian of her high school class and was escorted by her dad to Notre Dame where she received an academic scholarship. Stan's only request was that she get straight A's and four season tickets. Kim Longhouser (John & Karen) also is doing well academically and was taken by her dad to NC where she's on a volleyball scholarship. Lee Wood (Jim & Lee's) is our first Plebe offspring with the class of '88 at USAFA. My guess is that there are more offspring out there so pop up your chests dads, and let us know what's happening.
Wayne filled in some additional information on a rather new (albeit repeat phenomena) namely, new offspring to the Class. Jay &: Carol (neo Gracie) Stewart recently returned to PA where Jay manages a Pamper Factory for P&C. Somewhere in the transition from Germany, they had a little girl. Apparently, the Scheiners also had a small child. Any other "cabooses" out there?
Wayne also reported that the Olmsteads and their children are back in CONUS alter 5 yrs in Germany. The Locurcios are in Philadelphia where Ralph has taken over the Engr Dist. COL Locurcio sounds a little bit classier than "Loco." Bob &: Phyllis Wolff are with the OCE where he was promoted to VP for Federal Engineering. Apparently Bob, John Longhouser, Tad Ono and others kept the spirit alive at the Anny-Navy gymnastic meet.
Wayne reports that after reading about all the fun that corporate executives in the civilian world are having, Las Vegas vacations and world wide travels, he wanted everybody to know that the Pentagon isn't too bad after all. They all have chauffeur service (Metro), the executive dining rooms can't be beat (snack bars), health spa is outstanding (POAC) -he wonders how anyone can manage to not go to the Pentagon.
Stan & Barbara Genega organized a super '65 family picnic for the DC contingent. Thirty families had a great time at the Belvoir Boat bridge training area on Accotink Bay. Anyone remember getting wet there during the Firsty Trip? What follows is a brief description of where the DC crew is working: DCSOPS win, the prize for most '65 alumni with Stan & Barb Genega in Force Integration, Kent & Sherry Brown in High Tech Testing, Zig & Linda Roebuck in ADA Force Devl (Zig really loves life in the Pentagon and wonders how he could have missed all the fun for 19 years ...come visit... Beat Navy!) Ed & Lee Simpson are working with those neutrons in Nuclear Div. Ron Bailey advises the Tech Advisor. The OSD has policy written by Rick & Mary-Ann Wetherill, programs by Bob & Mary Harter, communications by Jim & Janet Dyer, Peter & Susan Linn are reported to be "improving management" in DOD from the Comptrollers office and Jim & Lynne Helberg run the JCS's Natl Mil Cmd Cen.
Fear not, your tax dollars are well spent in the Army Chief's Program Analysis and Evaluation Dir where Wayne & Suzie Scholl, Rocco & Mary Alice McGurk, Claire & Sherry Gill and Hugh & Grace Kelley are all plotting together while Steve & Barbara Kemph study in Crystal City. Dave & Patte Jones are buying things on DESRDA. We are also well represented in the pers community where Curt & Ann Adams do long range planning, B.J. & Donna Mogan plan for new systems and Dick & Kathy Tragemann are the chief recruiters.
There is more-Steve & Ann Harman are going to keep the communications on at the President's Inauguration. Mike & Cheryl Viani are keeping the Ch of Engrs operation resourced. Walt & Kathy Kulbacki manage information in the new ACSIM. Steve & Carol Sperry are also working with neutrons, but over at DIA. Terry & Nancy Ryan do war gaming at the NDU. No, everyone does not work in or for the Pentagon. Fred & Maralee Laughlin took time off from Middle East consulting for Price Waterhouse to join us. David & Priscilla Bodde were there to represent the Congressional Budget Office, where they have absolutely nothing to do with Defense. George & Carol Bell came down from Boiling Springs, PA where George is Chief Counsel to the Commonwealth's IRS. Local war college attendees included Bill & Nancy Hecker, and John & Karen Longhouser from ICAF and Frank & Dori Skidmore (got the spelling right this time) from NWC. Finally, all the way from Carlisle were Jim & Lee Wood. Jim also brought word from other AWC classmates: Emory & Johanna Pylant, Frank & Cam Hennessee, Gene & Bev Farmelo, Steve & Rhonda Bliss, Pat & Alice Kenny and John Harrington & wife. At the AWC as faculty, we got word of Marty Andresen and Jack Lyons. Some people like Leavenworth so well they insist on returning as War College Fellows as is the case with Fred & Sue Timmerman and Don & Maria Nowland.
I was finally able to touch base with Larry Leskovjan who has been with FL Power and Light in Juno Beach as mgr in their environmental div since 1974. Larry & Kathy have two small children (Mark-4, Andreana-6) and live in the Palm Beach area. Larry resigned in 1971 to get two degrees (nuclear and environmental engineering) and says he likes FL. He reports that Denny Shantz is with FL Power Co (different company) near St. Petersburg. Frank Arnall is in Orlando where he runs an insurance agency. Bob Sterba is also with FP&L in the Ft. Lauderdale area. Larry & Kathy are planning on attending the 20th.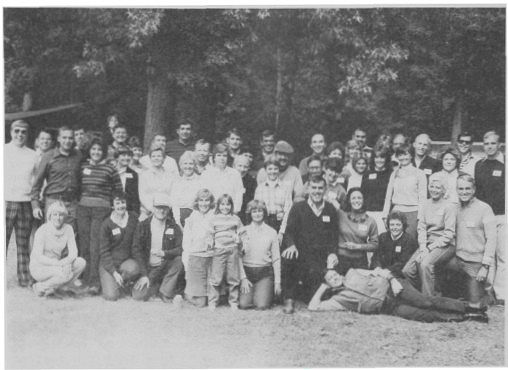 Great warm up for the 20th Reunion for the DC crowd. And a special thanks from the scribe to Wayne Scholl for getting all of this DC poop and pictures to me by Fed. Express in time for the article.
Some other last minute notes. John Swensson called. He is out of the Anny and seeking gainful employment. The job he had prearranged fell thru due to a merger. In the "small world" category, one of my wife's friends here in Chicago gave us some inside poop on another long lost classmate, Johnny Wells. His older sister Carole reports that Johnny & Roseann have nine (yep. count 'em NINE) kinde and live in Potomac, MD where he works for a company that designs and builds embassies. (I'll bet they are rethinking that business about now.) Johnny, if you're out there, send us a picture and note.
That's it folks. Beat NAVY-and please write!