Greetings from the Windy City! I hope that your summer was very enjoyable and that you will continue to send the cards and letters. In the last issue we were the second longest Class article, and I'd like to keep us up there, but I really can't do it unless those cards and letters keep coming. As I've told many of you, even a small lead in terms of one of our classmates being in a new city, with either a telephone number or an address, will permit me to follow it up. So, let's keep in touch.
Before we go into the notes, we have scheduled a meeting of any and all who would be interested in helping out on the planning cmte for the upcoming 20th Reunion. This meeting will be held on Fri evening, 19 Oct 1984, over dinner and will take about 4 hours. Please confirm your attendance in advance with my secy, Nancy, at 312-427-2600. Even if you're a tentative attendee, let us know in advance so we can make sure we have everything arranged. Exact time and place to be announced.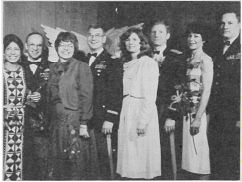 I think I mentioned in the last letter that Chuck Moseley is the manager of operations, Quality Assurance/Quality Control for Carolina Power & Light Co. He's located in Raleigh, and we hope to see him this year when we go down to VA Beach. We received a great picture, albeit one shot with miniature film, of the Berlin Founders Day '84. And, who of you out there doubted that our Class pres was alive and well in Berlin. Now, if we can only get him to write, we'll be. in great shape. Cam Hennessee sent the letter and indicated that Frank and she are enjoying themselves in Berlin. Since Cam is the "family scribe," she was designated as the information relayer of the official group. She indicated that Bob Baldinger is the DEH in Berlin, Jim Long is the chief of the Mnt Div. Frank just turned over his Bn command and should now be with the AWC, and Mark Walsh is the DCS for Political and Mil Affairs in Berlin.
I also received a nice letter from Frank Meier who reports that Steve Sperry is leaving JSTPS in the summer of '84, leaving only Frank to represent '65. Steve will go to DIA, and Frank will continue as Chief, Technical Analysis Branch-War Gaming, in the SJOP. Frank reports they really enjoyed Steve's company in the midst of all the flyboys. Frank returned with his family from EUCOM in Aug '83 and settled in NE. His boys are into soccer and also like to ski. While in NE, they saw Ed Simpson and Barry Zais and also reported that Rich Chapman replaced him. Carl Letterie joined the same unit at the time that Frank left. Hallenbeck was with J3. Frank has volunteered to help with the reunion even though he's located at Offutt AFB in NE. No, Frank, we have not done anything about two regional reunions, although it's not a bad idea. Frank also reports that the 06 list appears as if the 2nd Rgt USMA did pass. He recalls seeing Zig Roebuck's name on it. Congratulations, Zig. If anybody knows who else is on the list, please let me know.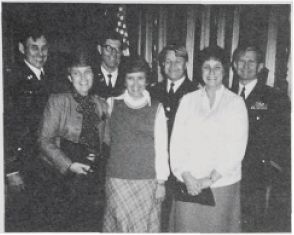 Our local Class rep at USMA, Rich Boerckel, wrote that everything was going well at WP. He also reports that the local '65ers are a very quiet group. Of the 12 classmates at WP, they are all in separate depts or with staff agencies and, consequently, they tend to go their own ways with their fellow workers. Here's a rundown of who's who. Bob Doughty is our Class treas and was officially installed as professor and Dpty head of the History Dept in May in an impressive ceremony hosted by the Supe. Bob joins Jim Golden as the other Dept head. Jim has already received his 06 and Bob will probably get his shortly. Dave Vann retired in May and has moved to the DC area. He did not have a follow-on job lined up at the time of the letter. George Gehringer is leaving in the summer also and will take over as PMS at Drexel in Philadelphia. which is George's hometown. George and Sue's son, George Jr, hopes to go to the Prep School on his way to WP next year. Rich reports that while he was at USNA as the OIC and assistant coach of the gymnastics team, he saw Tad Ono, Bobby Wolff, and John Longhauser, an old calvary-man from the Black Horse. The picture that was enclosed with Rich's letter was from Pauline DeLaar . Pauline and Bob are on their way with son Mark, to Darmstadt, Germany. Bob will be the engineer with the 32nd AADCOM. They were all at the Picatinny Arsenal at the Founders Day dinner. Incidentally, Paul Barber will be joining the faculty at WP this summer.
Received a nice letter from Wes Taylor after a visit to Chicago. He reports that Linda's mother is still not doing well, so we hope that everything turns out okay there. Schedule permitting, Judy and I and the children are going to try to get down to see the Taylors in Aug while we're at the beach.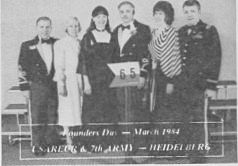 And out of Newtown, PA we received a nice letter from Joe Barkley, who was last seen by this scribe at Ft Put in a compromising (verbal) situation. Joe wanted to pass along his heartfelt appreciation for the efforts of this Class scribe to give him a daughter, considering that he and Dianne only have two sons. Well Joe, I just wanted you to know that your scribe will go to any length to satisfy our classmates-and their wives. It is also good to find out that Timmy Timmerman had a first name other than Tim (Fred). Sorry about that, Fred/Tim, but since I've been calling you Tim for the last 24 yrs, I hope it's okay if I call you Tim for the next 24. Joe reports his oldest son, Christopher graduated from high school in Jun and has received an appointment to USMA, although at the time or this writing, he's not decided whether he'll go or not. He also had a 4-year Navy ROTC scholarship and another scholarship to TX A&M. It looks like the final choices will be between WP and Lehigh, although Penn State and TX A&M are running a close second. Joe has volunteered to assist with the Class reunion because of his proximity to WP and said offer is hereby accepted. Please see elsewhere in this newsletter for detai1s on the reunion cmte meeting.
Joe has been very active in the WPS of Philadelphia and reports there are many of our classmates there. Hopefully, he'll give us a rundown on them in a future letter. At the last Founders Day, Joe ran into COL (Ret.) Ed Knoll, who as some of you may recall, was a Tac in L-2 during our Plebe and Yearling yrs. The colonel admitted that he did like to do chin-ups on the alcove rails to inspect for dust, but denies that he ever ran up the stairs wearing only one shoe. As I'm sure most of us recall, that was the domain of SuperTae (Cecil Adams). Speaking of Cecil, has anyone seen him? He and his wife were here in Chicago for a year or so when he had one star, and then they were transferred somewhere and I lost touch with him. If anyone knows when he is, please drop me a line.
One of our civilian world travelers. George Ruggles, is back in Portland and reported he saw Ed Foehl out there. He also reports that Duncan Brown is the head of recruiting in Portland and is probably in Europe at this time. George and his wife now make their home in Milwaukee, OR.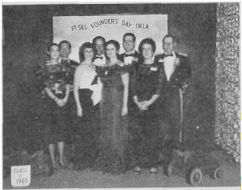 Also received a nice letter from Lowry West, who is in Ft Sill, who sent along a photo. Tom White is manning the 2nd Tng Bn at the FA Tng Center. Jim Ferguson mans the 2/12 FA, Chuck McCloskey commands the 299th Engr Bn and Lowry is the Director of Tactics and Combined Arms at the FA School. Jack Keith is also at Sill commanding the 1/12 FA, but couldn't make Founders Day.
Jody and I are moving into a new home in Jul, which has plenty of room for visitors. So if your travels bring you to Chicago, please give us a call and we'd be delighted to have you stop over. The mailing address for the scribe will remain the same as indicated above, but in case anyone is looking for our home, we are now located on Meadowhill Road in Barrington Hills, IL 60010. Our number is in the Chicago Northwest suburban phone book. That's it for now folks, so keep those cards and letters coming.