Greetings once again from Chicago. Please note our new mailing address.
The longest and most detailed handwritten letter award goes to Timmy Thames, who wrote in Nov that he started writing this letter in June '73 and just finished it now. Tim, Sandy, their 17 year old daughter and 14 year old son now live in Stuttgart after 2 years in Cairo, where he was in the second wave of advisors to replace the original 6. While in Cairo, Sandy became the landscape architect for the new ambassador's residence and ended up supervising 70 foremen and gardeners plus designing each year's plantings. The children had a fantistic high school not too far from the house. They saw Mike & Marge Drinkwater where Marge practiced her camel riding on the meanest camel in Egypt, Rameses II. The Drinkwaters are stationed in Ramstein where Mike was working on a joint Army Air Defense/Air Force Planning Committee. This was after a two year hitch at VII Corps in Stuttgart. Mike is currently assigned to the ADS at Fort Bliss. They also visited with Bill & Janice Connolly along with their three children. Bill is G3 of the 1st Inf Div (Fwd) located just outside of Stuttgart.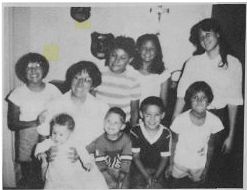 Tim was watching his son play soccer one afternoon when he realized that the referee was none other than Fred Laughlin who is with Price, Waterhouse and is a consultant in Cairo. Tim and family have moved to Stuttgart after R & R in CONUS. He talked with Barry Zais in Stuttgart earlier in 1983, who said that Carl Letterie was being assigned to USEUCOM in 1983. When Tim tried to track Barry down in Stuttgart, he had flown the coop. It seems that the Inf Branch needed him to command a battalion. Tim did find Carl who, with wife Angie and three children, live in the apartment across the stairwell The two families sent the children off to ski in Italy while the grownup kids went to Strausbourg in France and had a great time over Thanksgiving. Carl is in the Jt Petroleum Office of the Dir of Logistics. He's been out of the States for 9 years. Carl and family went from Bahrin to Korea to Hawaii to Germany. Tim also found Rich Chapman (Dir of Logistics) and Sandy Hallenbeck (J3) in Stuttgart. Tim is still in the Security Assistance. game as Ch of the foreign Trading Branch. Mike Thompson was down from Oslo, Norway where he is the Dpty Ch of the Office of the Events Cooperation. He and Joan (just married in 1983) are having a great time up there. The Thames went to the Christmas bazaar in Heidelberg and ran into Steve Harmon and wife. Steve is commanding a bn in Heidelberg. Tim reports that Bill Connolly convinced DA that after two years in Italy and three years in Germany that he should now go to the Presido for Japanese language training and then to Japan for three years. Must be nice! While visiting with the Connollys one day, Jim Helberg popped in. At the time, he was part of 21 SUPCOM based in Kaiserslautern. Apparently, Jim's in DC now. One final observation from Sandy Thames-they spent a good evening with Bruce & Judy Raybeck at their home in Harrisburg, PA. Bruce is with EDS and apparently the executive life doesn't look like it's hurt him at all.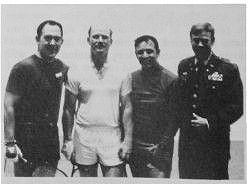 I received another great letter from Dave Kuhn with the enclosed picture of the owners of West Point Properties, although a skeptic might consider this the local hit group from the Las Vegas mob. Denny Lewis, John Seymour, Bob Jones and Dave formed West Point Properties and together they own six condominiums in New Port Beach. Because of the bylaws, they have their annual meeting every year on the third Sunday in January in Las Vegas. That has to be one of the greatest ideas I've heard in a long time. They were joined by several other classmates. Starting at the right and working around, Denny Lewis is a commercial developer and building contractor in Warren, Ohio where he lives with wife Marie and two children. Denny's son is taller and bigger than he is and going into his senior year In high school, after which he will probably go to Princeton. Next to Denny is John Seymour who lives in Irvine, CA not far from Dave with wife Donna and their four children. John left Imperial Oil a couple of years ago and is now dealing in gold jewelry, primarily distributing gold chains and charms to department stores on a nationwide basis. John's son, Matt, is also an outstanding high school football player. Next is Bobby Jones, who is looking great and is reportedly in great physical shape as evidenced by his prowess on the racquetball court. He and wife Karen and two small children live in Escondido, CA near San Diego where Bob is an airline- pilot with American AL. Next comes my old friend, Tony Livic, who flies for Western AL out of San Francisco. Tony is married and he and Kathie have two children and live in Napa, just north of SF. Next to Tony is a slimmed down Rollie Stichweh who, with Carole and three daughters, just moved to Weston, MA outside of Boston. Stich is in charge of the management consulting office there as reported previously. Next is Don Parcells, who lives in New York and is a top level loan officer with Marine Midland Bank. Chuck Shaw is next and, as we all have taste tested, has a fantastic winery in St. Helena in the Napa Valley. I didn't notice but apparently his vineyard, winery and home were all featured in the movie, "Yes, Georgio," starring Luciano Pavarotti. According to Dave, the movie wasn't very good but Chuck's place sure looked great. Chuck and Lucy have five children ranging from fourteen down to an infant. To Chuck's left is a business associate of John Seymour's and at Chuck's right is Denny Lewis' younger brother. Next is Dave LaRochelle who is an orthopedic surgeon in Napa. Dave is recently married and he and Peggy are expecting a baby in May. Next to Dave is John "Dad" Thompson who lives with his wife and children in Memphis, TN and is president of Palo Machinery Co which has the Caterpillar franchise for that area. Dave Kuhn and wife Rosemarie have two children and also live in Irvine. They have been there thirteen years but they will be moving to Emerald Bay in Laguna Beach shortly. They invite anyone coming through the area to contact them through the office in Newport Beach (714-640-5251). Dave spent seven years with The Irvine Co and five years with Cadillac Fairview. He started his own co with Ron Lane last summer. Their financial partner is the Boswell Co, the largest cotton-producing co in CA. They are presently involved in an 800-unit condo project in Walnut Creek and hope to break ground in late 1984 for a 3,000 acre new community in San Diego County.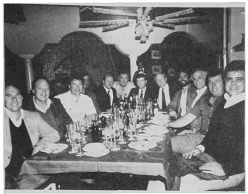 Dave also reports that he saw Steve Aaron, wife and children, who live in Laramie, WY. Steve and Rich Hennig have a law partnership there and are apparently doing quite well. Denny Sellers is living near San Francisco and is still working for the Bank of America. John Malpass is living with his wife Dede and two children in Fountain Valley, CA and is an LTC and is hopeful of retiring and staying in southern CA. John Swensson is also an LTC and is in charge of recruiting in the LA area. Ray Paske and wife and their family live in Singapore where Ray heads up the far-eastern operations for American Express.
Dave also mentioned that he is heading up an apparently successful effort to establish an award in the name of Bobby Arvin. The Awards Committee at USMA approved this award last Dec and starting with the Awards Convocation in June '84, the award will be presented on an annual basis. The listing will be "The Carl Robert Arvin Memorial Award" established in 1984-A silver tray awarded to the outstanding member of the wrestling team in memory of the First Captain Carl Robert Arvin and those follow members of the class of 1965 who were killed in the Vietnam conflict. The financial goal is $3,500 and apparently Dave has some contributions in place now but he needs more. I'd like to suggest that we all dig into our pockets and write out a check in the amount of $65 (or more) to the "USMA-Class of '65 Memorial Fund" and send it to Dave at 18 Corporate Plaza, Newport Beach, CA 92660. My check has already been sent.
I received a short note from Bill Zadel who is now a VP in the Business Dev part of the Health and Science Group with Corning in Corning, New York. I also received a short letter from Dave Bangert who is in Yanbu, Al Sinaiyah in Saudi Arabia. He and his wife will be visiting Betty and Randy Guenther this summer as they travel through Europe on their way to the States after six and a half years in Saudi. The Guenthers are in Heidelberg where he is a staff physician. Dave's job responsibilities in Saudi centered on working in the private sector as opposed to previously where all the funds came from the government. He and Sheila returned to Tanzania where they visited with her aunts and uncles for the first time since 1972. While there, Dave went on a scuba diving trip to Phuket, an island in the Indian Ocean off the coast of Thailand, during which he completed the required dives to obtain certification. Dave came in third in the Natl Racquetball Tournament, which isn't bad for an old guy. They will be moving to HI in the spring of 1984, where Dave will be entering the university there on a master's program.
I also received a "record late response" from Roy Garms who is in Stirling, NJ. Roy still is with Exxon in their engineering group ever since leaving the Army in 1970. His basic work is designing refineries, a job which has taken them all over the world. Roy mentioned that "one thing with oil companies is that they deal in very large numbers." Roy reports that Lee Atteberry is still with Exxon also but their paths seldom cross as he is located in another building. Lee returned from a California assignment last year and is apparently on a business trip to Columbia. Lee, how about dropping us a line and let's hear what's happening with you and your lovely bride. The oil glut is apparently affecting Exxon like everybody else with the very luge layoffs, which is disconcerting I'm sure to Roy. His wife, Renate and their two daughters enjoy northern NJ, and they also enjoy their frequent visits to New York.
I also received a letter from Dick Smoak who is in Panama City, FL with the famous law firm of Dewey, Cheatem and Howe (AKA Sale, Brown and Smoak). To quote Dick Smoak, he has decided that before the first 20 years pass, he wanted to come out of obscurity and communicate once with the Class Scribe. Dick, ever a true believer in the strictest meaning of the word brevity, is a lawyer in Panama City, FL, where his law firm just merged with another law firm to become one or the largest firms in the FL Panhandle. Dick apparently got his law degree from the UFL in 1972 and seems to be doing Quite well for himself. My old buddy, Ed Foehl is the CFO with McCall Oil Co (has a nice ring to it, Ed) in Portland, OR where he and wife, Katie, are enjoying themselves immensely. Katie is the VP of Devl for a large hospital out there. Ed just returned to USMA for the first time in a long time on a recruiting mission and seams to be enjoying this extracurricular activity. He reports that Duncan Brown is heading up the recruiting activities for the Army in Portland, and that Woody Epperson, a former classmate, is down in Houston, as is Jon King. He also reports that Don Larson is a dentist somewhere and John Olsen is single and with Techtronics in marketing. Merritt Bumpass is a partner in a large law firm in Cleveland.
Bob Axley reports from Dallas that he has now left the practice of law and is in the real estate business with the son of Bob Strauss. They are engaged in the development of office buildings and multi-family housing projects, as well as the management, syndication and acquisition of all types of income producing properties. He has been doing this since 1980 when he left the law practice. Bob did run into Bob Bedell, who is the owner of a construction firm in Dallas. He and Bob have been doing some construction work together on office buildings in the Dallas area. Bob apparently did quite a bit of construction work in the Middle East before returning to the US to start his own construction business.
As many of you may know, the Medal of Honor Roll of Honor was dedicated last Dec on the Intrepid Museum which is in New York Harbor. Several of our classmates played a prominent role in that dedication. Buddy Bucha planned the entire event which honored the Medal of Honor winners and drew the entire top echelon of the Pentagon. Sitting next to the CINC was our own Wes Taylor. Also in attendance was Mark Sheridan whose bank (Manufacturers Hanover) was a major supporter as well as Ross Wollen who, in addition to being the Chmn of the WPSNY Museum Fund, was just promoted to SVP and Gen Counsel at Culbaro. Ross also arranged for the portrait and class ring of Gen McArthur to be displayed in the hall during the opening ceremonies.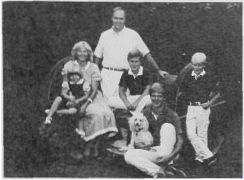 Preston Hughes reports from AFSOUTH, where he is liaison officer to the Turkish Gen Staff. He has been there since July '81 and will stay there until July '85, after which he is not sure what will happen. He has had a lot of contact with the Turkish Military Academy, which he indicates is an outstanding institution and has many similarities to USMA. His wife and their three children apparently enjoy life over there very much and, In fact, since '72 they have spent a total of 8 years in different assignments in Turkey. Preston sees John Knowles in Naples on occasion at HQ. I have often wondered if Turkey is anything like the Midnight Express?
Pete Lounsbury sent a nice letter, along with a picture of his handsome family. They saw Rick Osgood and Jim & Carol Tomaswick in 1983. Rick is a full professor at Columbia teaching and doing research and Swick is with Polaroid. Their son is a freshman in NH this year and is apparently a very large male (6'6" with size 15 shoes} and dating a girl who is a plebe at USAFA. He and his wife were in Rochester where he is with Eastman Kodak with whom he has been employed for nearly 14 years. He, like a number of others, is looking forward to the 20th Reunion although, Pete, I think our Reunion is going to be in the fall, not of our choosing but of USMA's.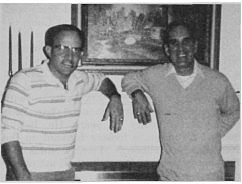 Just before press time, arrived a nice letter with picture, from Skip O'Donnell, who lives out in Idaho Falls, ID. He's a sr engr with Westinghouse, providing support for nuclear power plants for the US Navy. He reports that ID is great for outdoor activities which, as I recall, Skip really enjoyed. Skip wanted me to pass along an invite to Tom Abraham to come out and go fishing on the Snake River. Duke Wheeler also was out in ID, but he left about two years ago for a job with the NRC in Bethesda, MD. He lives in Vienna, VA. Ron Wells used to live in Idaho Falls also but he left last year for Atlanta, GA for a job with a nuclear consulting firm. Skip spent a couple weeks at Ft Sill and ran into a lot of classmates. They ran into Jim & Kathy Ferguson. He's the CO of the 2/12 ASA. Jade Keith is CO of 1/12 FA (Lance). Chuck McCloskey is CO of the 299 Engr Bn. Tom White is CO of FATC. Skip will be going back down to Sill in the Fall of '84. He received a letter from Frank Meier who is back in the States in NE where he is working at a jt planning staff. Lee Atchley was at Ft Sill two years ago but he's now advising the TNNG. George Gehringer will be leaving the G1 USCC job for the PM Job at Drexel U this summer. Skip reports that Idaho Falls is only two hours away from Yellowstone Natl Park and some of the most beautiful country in the US. If anyone is coming that way (the Colls may well be next summer), let him know. Incidentally, Skip, Jack Cooley is doing fine here in Chicago but he finally saw the light and left the Federal Court to make some money at law practice. He still plays a mean piano.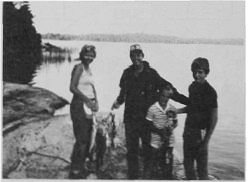 During Wes Taylor's visit to Chicago for our Founders Day, we were able to get many of the Chicago classmates together. Unfortunately, because of an Injury to her mother, Linda Taylor was unable to join us. During the course of this wild and wooly party on Friday night, we had a great opportunity to re-establish old ties with Tom & Anne Croak. Tom got out of the service in '70 and married Anne, who was from Louisville. Tom presently heads up the PR Dept at Mark Controls here in Chicago and lives in Deerfield. Tom sports a very full beard which, as Wes pointed out, acts as full camouflage for him.
Art & Theresa Mark also attended. Art is in charge of OR for USAREC at Ft Sheridan. Prior to coming here, they were in Germany where Mark ran a support depot. They are a very prolific family. The children range in age from Nicolette (14) down to little Nathaniel.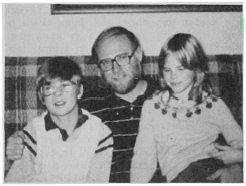 Jack (the Great Fisherman) and trusty sidekick, Maria Cooley, also attended. Jack, as mentioned previously, is with a private law firm here in Chicago and is doing very well for himself.
During the course of the evening several other classmates were mentioned. Bob Guy is apparently the CO of the 2/21 lnf at Ft Stewart, GA, where be and Jody (his HS sweetheart from Athens, GA) live with their two children. Wes and I also chatted about Pat & Alice Kenny, whom we thought were traveling up to Milwaukee for a board meeting, but whom, unfortunately, had attended the meeting the week before our party and were still down in GA. Pat mans the 3d Engr/24th Inf Div. He will be going to the War College in the summer of possibly '84. Both have made a veritable commitment (the punishment for breaking same will be severe) to stop by the Colls in Sept for a long weekend. Bob & Julie Radcliffe live at 101 Horseshoe Lane in Hampton, VA, where he is with TRADOC. Frank & Dorey Skidmore are also in GA where he commands the 92nd Engr Bn. He will be going to the War College this summer. Dan Christman is the Savannah DE as a COL. During our party, we also heard that John Scobie is living in Joliet, IL He was married for the first time a couple of years ago. Prior to that he lived near Milwaukee.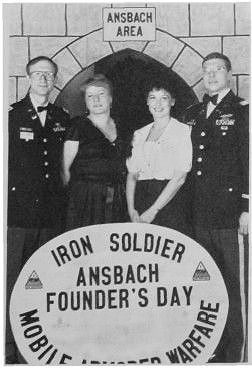 In addition to having an extremely attractive wife and two children (daughter 16, son 13-see picture), Wes Taylor comes across as perhaps one of the most impressive professionals committed to his chosen field of endeavor that this Scribe has seen in a long time. During his private discussions at our party and his public presentation at one of the major clubs here in Chicago, as well as our Founders Day Wes' central theme comes across loud and clear, this Country has the capability and the determination to move combat units quickly, forcibly and decisively into a new theater of operations and to emerge victorious.
Last minute letter received from ANSBACH showing the Fishes and Olmsteads at Founders Day. I also found out that John Roseberg and wife Carol live in Rockford, IL, where he is a lawyer. Ed Klink lives in Carmel, IN.
A couple of closing comments and observations. We are in the process of putting together the planning committee for the 20th Reunion in 1985. So far we have had Rollie Stichweh, Tom Barron and Joe Anderson volunteer to help out. Assuming Joe has not been transferred to another high priority job, he has even volunteered to run the group, If anyone else is interested in volunteering, especially some of the folks at West Point, please let me know at your earliest convenience. Our first planning and coordinating meeting will be held at Homecoming in the Fall of 1984. Details to be announced later.