Greetings, once again! I hope that your holidays were joyful and that 1984 will be a great year for you and your family. Now, for the news.
Jim Conley is now with GM in their Chevrolet Division and should be a plant manager in a year or two. Betty Anderson has been moved over in line for promotion into labor relations with Fisher Body. George Gehringer is the SGS at USMA and will be leaving next year. Saw him at the Supe's box at the football game and he is 1ooking good. Also saw Jo and Diane Barclay up at Ft Putnam. They both look good. He's with Cigna. Interesting that their daughter and Dan Doty's son are in the same class in school. We all laughed when Diane was reminiscing about the last time she was at Ft Putnam. which was with a cadet who happened not to be Joe, but good old Timmy Timmerman. We wanted to find out from Diane where her favorite spot was but she politely declined.
Had a very delightful conversation with GEN and Mrs. Davison while at West Point and I asked Mrs. Davison what their daughter Mary was up to lately . She gave the reply that she is married and has several children and doing very well. I asked if her husband's name was Rocco to which she let out a very loud, boisterous laugh and told me she had not heard the name Rocco for about 18 years, so we chatted and it turns out that Mary is married to a Navy commander who is out on the sea quite a bit. I mentioned that I had talked with Rocco, who is doing very well down in Atlanta. We had a good time discussing old times. About that time, GEN Davison walked into the conversation, and he wanted to know if I knew how he knew all the things that the Grand and Glorious Class of '65 was doing. I replied that I did not and he told me that with Mary being told she could absolutely not date any cadets from the Class of '65, then doing whatever she wanted to, he had a direct pipeline into the Class of '65. Small world.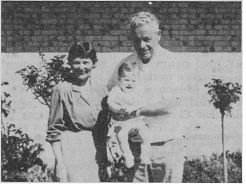 I spent a delightful afternoon with CEN and Mrs. Jannarone at a brunch and we discussed one of their five favorite topics. Jack and his new wife, Marilyn, are now over in England at the British War College, where they have a new son Bobby, who fits in with their four daughters. Incidentally, the Dean tells me that fund raising for the West Point Fund in the Class of '65 is going a little bit slow. Why don't we all consider contributing $65/year. As you know, appropriated funds are going down, etc., etc. George Ruggles reports that he's back from Europe and living in Portland. Jim and Julie McEleice wrote from Denver where Him will be getting his Ph.D. in Oprs. Rsch until 1985. Julie's teaching skiing at Copper Mountain (4 hour commute) while Annebet is now a "cool" 13.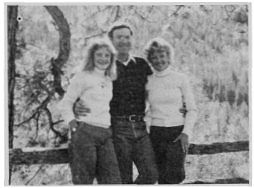 Joe Barkley followed up on his promise at Ft Put in Oct. He reports that Jack Barwis is with Duracell where he is the Dir of Pers and lives in Danbury, CT. Doug and Jan Gibson have 4 children and were with P & G in Cincinnati until their move back to Boston with Stone and Webster, a consulting firm. My old friends Janet and Lee Atteberry are back in New Providence, NJ, after 1 year in San Francisco. He is still with Esso Rsch and Engr. They had previously been in England. Joe also reported seeing Dave and Eleanor Vann, who had just returned from USAREUR where Dave was the Compt of 2 SUPCOM. He is now with OSD in Washington, where they are waiting for a house to be built. Joe is an Asst Controller with Cigna in Philadelphia. He and Diane and their 2 boys live in Newton, PA.
Rollie Stichweh wrote from Boston, where he heads up the New England regional office of Towers, Perrin, Forster and Crosby. He, Carole and their 3 girls live in Weston, MA, and they invite all passers-by to visit them.
Chuck Mosely and wife Cathy are in Raleigh where Chuck is the opns mgr for 3 nuclear Power plants (Carolina Power & Light). He reports that the 3 plants came in on tune and on budget, a rarity in the U.S. Their daughter is a cheerleader in H.S. and their son is into soccer and girls. Only problem that I can see-Cathy's father, grandfather and 2 brothers are all Swabbies! Dunca McVicar is with Hewlett Packard in the S.F. Bay area where he was in lasers, now in computer marketing. Lives in Palo Alto. Johnny Johnson is an 0-5 with 82nd Abn, is married with 3 children. Chuck reported also that Chuck Burgardt is an attorney in Fayetteville, although our letters to him keep on being returned with no forwarding address. Chuck, are you out there?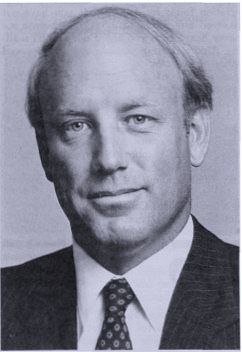 When I talked with Stichweh, he also reported that Labe Jackson is doing a great job with Jobes Fertilizer Stakes, which is now over $100 million in sales. Don Parcells left Chase and went to Marine Midland where he runs all backroom operations. Denny Lewis is still in Warren OH. where he is into building shopping centers, etc. Speaking of this group. I saw Chuck Pfeifer, our own Marlboro man, with a lovely young lady at the Supe's reception just before the Homecoming Game. Who can ever forget the time that he tried (twice) to catch a punt in midair against the Syracuse frosh team of Nat Duchett and the big, chubby, 240 lb. Jim Nance, fullback, who outran Rollie on a TD run.
I also received a great letter from Tom Fergusson who's the G2 of the 3d Div, with which he participated in Reforger 83. Beverly, Tom and their 9 year old daughter live in Wurzburg and love it. Tom, I wish I had known you were there. Judy and I spent several days in May with the Olsens ('59) in Kitzengen. Beverly is a golf instructor and is the regional CIC of the American Girl Scouts. They are due to return to Conus in the spring of 1984. They have seen Ric Shinseki, that little Irish boy from A-Z. Ric is the CO of the 3/1 Cav in Schweinfurt and, according to Tom and one of my contacts, is doing an extremely good job. Ric and Patty just sent Lorrie off to Duke as a frosh while their son Ken is still in high school. Two other classmates left last summer, namely John and Kaye Ellen Connor (he was the Division IG) and Chris and Conny Needels (he was XO of the 3d Brigade). Steve Kempf and wife Barbara are there also where he commands a Hawk Bn (6/52 ADA). Barrie Zais, wife Lynda, and twin boys were in Stuttgart where he was on the J-4 staff until Barrie received orders to command the 1/38 Inf in Korea. It was an unexpected move and, I understand, Lynda and the boys are back in Montrose, AL. During Reforger, Tom saw Hal (Swift Foot) Jenkins (Dpty Gl of V Corps) and Wes Taylor (CO 1/75 Ranger). Wes, did you visit any Caribbean Islands in Nov 1983? Anyone know if any of our Class did? Tom, great letter, but please send some pictures next time. Thanx!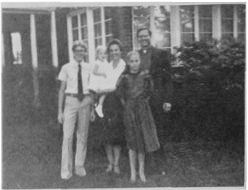 I received A nice letter From Ernie and Donna Knocke, who is the pastor of a Lutheran church in my old home town of Pittsburgh. As you can see by the picture, they all look great. Daughter Krista is the high scorer on her basketball team while son Ernie III lettered on the rifle team. Youngest daughter Jessica takes first place in the "looks" contest. Ernie, thanx for the picture.
Mike and Chris Deems had a baby girl (Elizabeth Caroline) last Aug and live, along with their 2 other boys, in Springfield. VA. Mike is with the CAA Agency (Mike, is that the old ACTIV from Vietnam?) where he is in data base management. Ron Bailey, John Howell and Ben Whitehouse are also at CAA. Bob Clover, who used to work quite closely with CAA, is now in Panama. Others seen by Mike were: BJ Morgan now with MILPERCEN, Bill Sherrll, a new father who is in the Army Compt office, John Wattendorf at WP, Steve Ammon on his 2nd tour in DC, Jose (the Fort) Gonzalez in Canada and Bob Mace.
I had a nice chat with my old roommate, Zig Roebuck, who is at Carlisle after 4 years at Ft Lewis, the last 3 or which he commanded an AD Bn. He anticipates they will probably go to DC after this assignment to get his alternative specialty. They have one daughter (15) and are able to get back to old hometown of Wilkes Barre. Zig attended the Colgate football game and reports that, in spite of having no running back or defense, the Anny football team isn't all that bad. Zig reports that Joe DeFrancisco is still at Ft Lewis and will probably be coming to Carlisle with Lynne next summer. He also thought that Ralph Adams was in CA in real estate, fixing up expensive homes. Ralph, If you're out there, let us hear from you.
Dick Tragemann is also at the AWC with his wife, Kathy, and 3 children ages 17, 14 and 11. Dick was at Ft Sill for 3 years where he commanded a FA Basic Training Bn and reports that altho he was initially disappointed at the assignment, it really turned into something that he thoroughly enjoyed. He anticipates going to DC also, probably on the DA staff. Everyone is waiting for the Bde command selection board, which is scheduled sometime in early '84. Dick reports that Tom White is at Ft Sill as a Bn CO in the same Bde that Dick was in, and Lowry Wuest is also at Sill teaching at the FAS. Altho Lowry is an Inf officer, he apparently is doing extremely well and is running his department in the absence of the 0-6 who was promoted. Congratulations, Lowry. Tom and Lowry, let us hear what's going on. Dick sends regards to Ron Floto, who is doing very well with Jewel in the north woods somewhere (actually. Great Falls, MT) running one of their subsidiaries.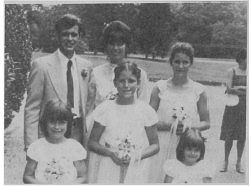 Dan Benton is also at Carlisle. He and his wife, Nancy, just returned from 3-1/2 years in Germany where he was a FA CO north of Bremen with the 2nd AD (Fwd). They thoroughly enjoyed Germany and are beginning to like the AWC. Dan's home is Atlanta and he mentioned that while he was home on leave, they got together with Steve and Beverly Morrissey. Steve owns his own construction co down there. Dan also mentioned that he saw John Pickler in Germany where John was the IG of the 8th Inf Div and is now a "Leavenworth Fellow" along with Stash Genega. I've been trying to get a handle on what exactly these two are doing.
I talked with Hugh Kelly, who was at Ft Stewart, GA for 5-1/2 years in the 24th Inf. He was a Bn CO there as well as a Bde XO. Like most of the others at Carlisle. he's not overly enthralled with the possibility or going to DC. He and his wife have two daughters, ages 13 and 10, and there mission for this winter is to learn to ski. He reports that Pat Kenny is still with the 3rd Engr Bn, Frank Skidmore commands the 92nd Engr Bn, and Jim Coughlin is with the 224 Avn Bn.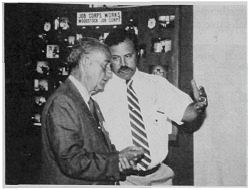 Planning for 1985 Reunion-we had some more discussions during the Oct visit to West Point. I had some long discussions with the people. that organized the '63 Reunion that was going on that weekend, and they told me that two-year advance planning is not long at all. In fact, they understand that the Class of '66 is already working on theirs. So, anyhow, we arc still looking for volunteers and are going to need all the help we can get. We really need some people at West Point to do some of the coordination. We also need some ideas. I think we are all in agreement that we want to do something a litt1e bit different and, accordingly, any ideas you have will be greatly appreciated. We will be getting some of the after-action reports from previous classes, but if you have access to any of these, please do not hesitate to get a copy and send it to me, and I will make copies and get them out to all the members of the committee.
One final observation from our Class Scribe. Judy and I visited the Vietnam Memorial in Nov. It brought back a lot of memories for both of us, some of them good, most of them sad. The memorial is simple yet elegant, humble yet awesome in the statement that it makes. The bottom 1ine is quite plain to see-like every other war of this great country, Vietnam consisted of a great many young Americans, like the name on Line 68 of Panel 27E, who laid their lives on the line. Some of us came back. Bob and others did not. That's what it is all about! Let's not forget!