Greetings once again from the Windy City. I hope that your fall has gone well and that your fortunes, as well as those of the Army football team, are looking very bright.
From the entire Class, many thanks to John Johnson and Chuck Moseley for their tribute to Bob Arvin in Sept issue of the ASSEMBLY. It was truly a labor of love, guys, and we appreciate it.
I'm happy to report that I finally found some of Charley Shaw's wine in Chicago and have been greatly enjoying a case of his 1980 Camay at home with Friends. Received a nice letter from Walt Saxon, who reports that he is still in Baltimore working for Western Electric as a Regional Proj Mgr and is anticipating the breakup of the Bell System in early 84. He and Sandy have 1 child, Jonathan (5-1/2), who is now taking up all of Sandy's time. Walt is very active in community affairs: he has just finished 2 semesters as a junior Achievement Senior Advisor, and reports that both companies made money. He is also in the local United Way. In his spare time, Walt Is dabbling in some Baltimore row house type real estate and is also trying to restore a 1934 MG (Model PA), with an estimated completion date of early in the 21st Century. Good luck, Walt, and thanks for writing.
Also heard from Fred Laughlin, who is with Price Waterhouse in DC. He just returned this past sum from a 2 year tour in Cairo, Egypt. He manages the Mgmt Consulting practice for PW, which will require frequent trips to the Middle East while he continues to be a resident of MD. He reports that he is always on the lookout for good people who are interested in working on mgmt consulting in the Middle East-particularly those who can speak Arabic-and suggests that anyone who is interested should contact him at his DC office.
We received in the return mail our letter to Chuck Burgardt, who apparently no longer lives in Fayetteville, NC. Chuck, if you're out there, old roommate, please let us know your weareabouts.
I was reading a copy of a real estate magazine and lo and behold whose picture do I see but Ken Slutzky, who is VP, Operations for Allied Security, Incs, in Norcross, GA. When I last talked with Ken, he didn't mention that he was also an author of several articles and publications on security in the private sector. His most recent is a booklet entitled "A Guide to Contracting for Security Guard Services." With all the security problems we are seeing, in real estate and elsewhere. it would seem that Ken has once again chosen the right field of endeavor.
1 received a brief note from Jerry Lipsit, who now lives in the Chicago suburb of Naperville. He is an AVP for Customer Services for Central Telephone. He has 2 children, son David (19) and dau Becky (15). Jerry also enclosed some newspaper clippings about David. In 1981 David was paralyzed when his 4th cervical vertebra was shattered during football practice at the U of Las Vegas. The doctor told David that he would almost certainly be paralyzed for life, but through a lot of hard work and courage, and with the support of his family and friends, David is now able to get up and walk around. ED note: we don't always appreciate how lucky we are. Congratulations David, and we hope and pray that your recovery continues. Jerry, you must be very, very proud of this young man.
In reading the last copy of the ASSEMBLY, I noticed that Rusty Pullen was listed as our Class rep. for the Army/Navy game in Pasadena. I called Rusty and had a nice chat with him. He is an Orthopedic Surgeon with a group practice, a profession he took up after leaving the USAF. They live in Rancho Palos Verdes, about 12 mi south of LAX. Rusty and his wife have been there for 5 yrs and have 3 daus, ages 15, 13 and 8. Anyone going to the game interested in getting together with the rest of the Class should contact Rusy (213-373-5942) and he will coordinate the details. We are going to try to try to get a group together for dinner or something. Rusty told me that Julio De Santis is coming to the game with his family. Julio is an independent ins agent in the Seattle area and is also involved in tax shelters. He and his wife have 2 young daus. Julio, how about an update from Puget Sound? Rusty also reports that John Swenson is a recruiter in. the LA area, but doesn't know much more about John or other classmates in LA. The last be heard, Karl Plotkin was still in the USAF at Wright Patterson in OH.
Bob Gates mother was kind enough to return the questionnaire we had sent, and let us know that Bob is now living in Bloomfield Hills, MI. Bob, if we don't get a questionnaire sent to you at your new address, how about a quick-note from you anyway?
Perhaps the second-slowest member or the old '65 plebe football team (next to the Scribe, that is), Mike Leibowitz, also contacted me. Mike lives in Spotswood, NJ and is an agent with Sentry Ins. He is also a Monroe Township councilman and candidate for Freeholder in Middlesex County. Wife Judy is a fashion consultant, son Jordan (16) is a computer whiz, and son Jay (8) is a super swimmer, according to an obviously proud father and husband. In 1981, Mike ran Jim Wallwork's ('52) bid for governor of NJ. According to one of his political bio's, Mike was in Vietnam for 1 yr and in 1969, received an MBA from Drury College in Springfield, MO. He is a chartered CLU and still serves in the US Army Reserve. He sent us 2 pictures from his political "propaganda," with and without beard, so we'll try to get one printed. Mike, hearing from you brought back some good thoughts. If it hadn't been for you, I would probably have spent a lot of Plebe yr doing wind sprints. Your letter was very inspirational, and I hope things continue to go well for you.
Bruce Marshall wrote from Columbia, MD where he is a territorial ins specialist with Merrill Lynch. He has a toll free number (800-368-3401, ext. 8123) and invites anyone passing through DC to give him a call. Bruce has become very proficient with Osborne 1 computers. I hope you are right, because I think they just went BK. In 1982, at about 196 lbs, Bruce decided to start running and is now down to a slim, trim 165 lbs and will run in the 1983 NYC marathon. He bumped into Dick Williams at the start of the 10K race at George Mason U in Apr and asked him what he expected to do. George said he thought he'd make it in around 40 min, way below Bruce's personal best. Bruce decided to tag along as long as possible for the experience. Results: Bruce's personal best of 42:43 and, he's sure, a mediocre time of 43:25 for Dick. Bruce says that he owes it all to Dick, and hopes Dick is reading this so they can do it again in 84 to push him to another PR.
Got a call from Wayne & Suzy Scholl, who are now stationed at Carlisle Bks where Wayne is at the AWC. On their trip back to the Mainland, they took a 30 day trip through CA, WA, Yellowstone, etc. I was happy to learn that Wayne is on the secondary list for 0.6. If you recall correctly, that should give us 3 (Dan Krisman and Jim Golden). If there are any more out there, please let me know. Wayne reported several classmates at Carlisle, and gave me their telephone numbers. Stan Genega and John Pickler are tied into Carlisle, altho they are pending a lot of time at Ft Leavenworth on a project. I'll try to track them down for the next issue.
Tom Borkowski sent an update from AL. He and Robin just celebrated the birth of Katherine (in addition to Matthew, 7 and Lauren 4) on May 27th. They are still in Birmingham, where Tom is the general sales mgr of Adamson Ford and hopes to be able to get his own dealership in the next 2-3 yrs. He and Robin ran into Henri Klinger at the 83 Founders Day dinner. Henri was the Libertarian candidate for governor of AL 1ast year and is now writing a book about the Libertarian party. Tom reports that Monty Kennedy is living in Augusta, GA and worked for DuPont the last time Tom saw him. Anything to add. Monty?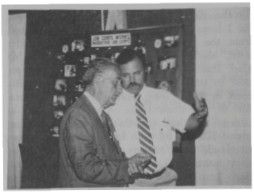 Jack Terry wrote to tell us that he, Sue, their 3 boys, Cindy and baby-to-be (in Feb) have moved to Reisterstown, MD, in the Baltimore area. Jack is Center Director of the Woodstock Job Corps located 20 mi west of Baltimore, as well as still being with RCA. The new center has 540 kids and 175 staff. With racketball twice a wk, the Orioles, bike rides and eating fresh Maryland crabs at the inner harbor, Baltimore sounds like a. great city. Jack sent a picture of him and Baltimore Mayor Shaffy at the Youth Fair. Looking good, Jack!
In closing, a couple of observations I want to make. First of all, our mailings are generating an improved response. However, a lot of it is returned with no forwarding address. The most recent batch came from: Axley, Forrest, Brush, Dryzga, Evans, Vann,Leach and McMillan. If you guys are out there, please let us hear from you.
I have scheduled 1984 as the year to get ready for our 20th. I really need a lot of help, as well as suggestions, on who, how, what and where we should celebrate in 1985. If anyone has some ideas, please drop me a line and let me know what they are and if you would like to volunteer to help. I think we will completely update the Class Roster that I published for the 15th, and I would like to do it with pictures of everyone. We are updating the questionnaires and will begin an active mailing campaign in early 84 with requests for family pictures.
On a sad note, we have decided to consolidate our two Illinois offices into one in the Chicago Loop. This is a result of our being acquired by a major Wall Street brokerage house. Due to this move, several of our people will be unable to make the commute to the Loop, and it is with regret that we must bid farewell to Shannon Mrazek, who has done a great job in preparing these Class Notes for us. She only does the '65 Notes but is also responsible for the Newsletters that go out for the WPS here in Chicago. It will be very difficult to replace Shannon, but we wish her the best in her new endeavors. Because of this move, our new address will be as noted above.
That's it for now-hope to see you in Pasadena, and let's beat Navy for once!!!