Well folks the input of cards and letters has dropped down dramatically, partially as result of a decline in the number of letters that we have sent out seeking information.We have been assured by our trusty secretary that these letters will continue to go out on a regular basis, so hopefully we will have more information in the next article.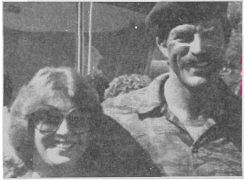 For all you non-believers who thought the reference to Suzy Scholl keeping time with Tom Selleck was a scam, the enclosed picture should put your doubts to rest. (Of course Wayne took the picture.)
I received a great letter from the Dir of Fac and Svs for the county govt surrounding Rockville, MD. Tom Abraham responded on 30 Mar 83 to my 25 Jan 81 letter requesting information. It was a good thing that he could hit the open hole in the line quicker than he seems to respond to letters, but, Tom, we appreciate it anyhow. Tom reports that he is in a political position in Montgomery County where he manages a $60 million capital improvement budget. Prior to going into this job in 1980, Tom was in the home construction business and, prior to that, he was in Germantown, MD, building apartments. Judging from his other activities, it would appear that Tom is extremely active in the JayCees on a local as well as national basis.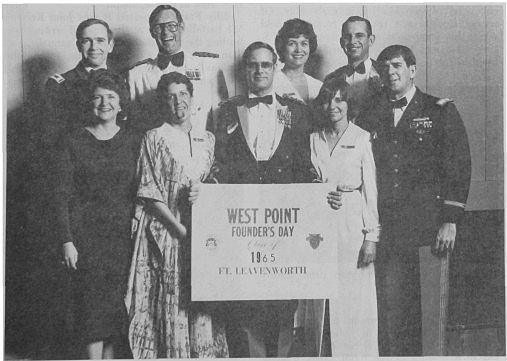 Tom reports that he sees Tim Vogel, Jack Thomasson, and Gerry Cecil occasionally. Tim is looking forward to ret this summer from the Navy, Jack is a happy entrepreneur running the family business in Greenbelt, MD, and Gerry is still on active duty in Washington. Chris Dorney just left the Pentagon and was reassigned to a post in NJ. Tony Pyrz is living in Northern VA and still on active duty at the Pentagon, as previously reported.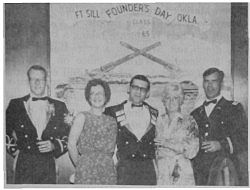 During Tom's service in Vietnam he was with the 173d Abn Bde, and he reports that there is a society of bde members that has annual reunion in Mar. He attended the last one in Mar and wished that he had attended more before that. The next one is at Ft Bragg next year. In 1985, the reunion will be held in the DC area and will be sponsored by the Robert Sigholtz Capital Chapter of the 173d. Anyone in the 173d should contact Tom for further details. Gerry Cecil is the VP of the 173d Abn Society. Tom also reports he's a godfather 7 times-and I didn't even know he was Italian. He closes by saying that his motto because of all his fishing activities is ''Have rod, will travel." He is entertaining classmates from anywhere in the country who has accessibility to grea1 fishing spots.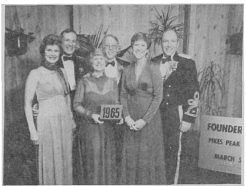 Received a nice letter from Linda Thompson. She and John are finishing their tour in Wildflecken, where John will give up command of the 1/68 in Jul. 83. Alter that, they are going to DC where John will attend the NWC. They have 2 daughters, the last of which was recently born in Fulda. They have really enjoyed Germany and will be sad to leave. Linda, I want you to know that Judy and I just came back from a trip to Europe, and we spent 4 or 5 days in Germany, and in fact went back to the place where we had spent 3 years in the rnid-60's, and I can truely understand your not wanting to leave. Whi1e Wildflicken was never one of my great vacation spots, I was originally stationed in Fulda and know that that is a lovely area. What was really neat for me to see, after having been away for about 16 years, was that the little towns in Germany really haven't changed that much .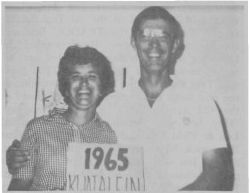 Also received a neat letter from Betsy & Howard Reed with an enclosed picture that was taken at their "unofficial" Founders Day at Kwajalein Missi1e Range on the Marshall Is. There was no guest speaker and the over flow crowd consisted of 4 grads plus wives plus one USNA and one USAFA grad. The Reeds have 2 children and will be leaving in Jul of 83 for Picatinny Arsenal in Dover, after having spent 2 years in the Islands.
We were sad to read of the death of Al Clark in Nov, 81, in Catskill. N Y. We are trying to find out exactly what happened and would appreciate input from anyone who might know.
Received a nice letter from Joe Koz, who reported that he attended Founders Day at Ft Carson, where they had a great time with Leo Kennedy and his wife, as well as many others. Joe has completed the obituary for Gary Kadetz, and, hopefully, it will appear in ASSEMBLY. The Rellers write from Ft Leonard Wood that Frank took command in 82 of the 1/2 Tng Bde in a driving, cold rainstorm. On the way there, their 5-year old station wagon self destructed and had to be replaced. They are renting their house in the DC area. They report that a better name for their location is "Fort Lost in the Woods." The nearest shopping center is an hour and a half away. They report that Grant Fredericks and Chuck McCloskey went to the pre-command course and visited the Rellers for dinner. Grant will take a battalion at Ft Lewis and Chuck will be commanding a battalion at Ft Sill. The Rellers also attended Founders Day with Jim Holmes, beard and all. He works for the FBI in Springfield, MO. They are trying to find Frank Arnall since they did not hear from him this year at Xmas. Frank, if you are out there, please let us hear from you. Donna, as previously reported, Lou & Judy Csoka are at West Point. Donna closes by saying that their door is open if you can find Ft Lost in the Woods.