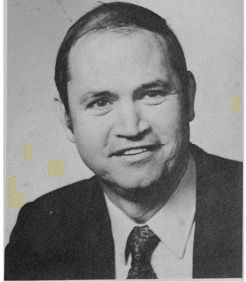 Received a nice letter from Ginny Curl with an update on Gill's activities. Gil was recently promoted to Sr Programmer. Special Products at IBM in Poughkeepsie. Gil has been with IBM since 1970, primarily in the software development area, just up the road from West Point. From 1974-78, he was a staff engineer .developing a mech design automation sys. Gil received his MS from Syracuse. He is also teaching at a local community college. They have two children (15 & 11) and report that they saw the Raybecks last fall during one of the football weekends. Bruce is working for Electronic Data Sys in Harrisburg, PA. They have three athletic children who keep them moving constantly. In closing, Ginny pointed out that they live only 45 minutes from the Academy and would appreciate hearing from any classmates passing through.
Bob Guy has been at Ft Stewart since Aug '82. He is the CO of the 2/21 Inf in the 24th ID, a command assumed from Hugh Kelley in Nov '82. Hugh is now the XO of the 1st Bde, and he and Grace are headed for the War College this summer. Pat Kenny has the 3d Engr Bn at Stewart, and Frank Skidmore has the 92nd Engr Bn. Apparently, Jim Coughlin is at Hunter Army AF in Savannah where he is commanding a non--divisional MI Bn. Jodi and Bob Guy are happy to be back at Stewart, where they spent some time in '76-'79. Since they are both from Athens, GA, which is not far away, it makes it a very convenient tour of duty. They live in Hinesville and welcome any classmates in the area. They are building a house which should be finished by the lime of this publication. They send their regards to all.
Our C1ass's only veterinarian, Larry Konermann, reported from West Point that he received a letter from the Supe indicating that they are erecting a plaque in Cullum Hall listing the names of all the grads killed in VN from the Classes of the '60s. They estimate the cost to be $22,000, which works out to about $105.00 per name. The funds will come from the Southeast Asia Memorial remaining funds. There will be no cost to our Class. Larry wanted to be sure that everyone knows about the plaque. Larry reports he may be leaving West Point in early '83 and will keep us up to date.
Joe Sanchez reported that he thought he'd be in Saudia Arabia sometime soon negotiating with the Pittsburgh Co. to provide consulting services for a large project in Turaif. He reports that Sonny Arcangel is doing well, altho we're not sure where, and that Rosemary McCloskey reports that Chuck should be getting his BN this summer. Joe promised that he would take a picture with Ed Abesamh in Saudi and send it to us. Still waiting, guys!
Also got a great letter from Jim Ferguson, who followed up on a promise he made after the AF game at West Point, reporting on our classmates in the D.C. area. Tony and Irene Gamboa hosted the annual Army/Navy, where about 21 classmates and spouses managed to have a great time while complaining about the lousey game. Dick and Joan Williams are in the area, where Dick is currently at the OTEA, but plans to move to the Pentagon in June (ODCSRDA). Bob and Tricia Clover are also in D.C., where Bob is also in the Pentagon (ODSCOPS). Frank and Betty Sue O'Brien are at ODCSRDA. Others in the area are Jim and Joan Harvey (Jim is in the OCE-Pentagon.) My old friend Harry Dermody and his lovely wife, Kay, are there, where Harry works at the Force Modernization Office (Pentagon) of the OCS, but will depart shortly for HI to take command of the 725th Mnt Bn. Tough duty, Harry!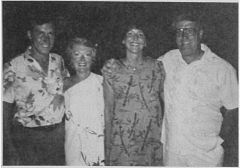 Speaking of HI, Judy and I were there recently and spent some time with the Scholls just at the time that Wayne had to take a 30-day sabbatical over to Korea with the 25th Inf Div. Suzy reports that she has enjoyed seeing her good friend Selleck (USNA '65) during Wayne's absences (ho-ho. Joke, Wayne, joke!!).
Back to DC: Terry and Nancy Ryan arc in DC, where Terry is "messing with computers" (?) at the NDU at Ft McNair (and at home, too). Nancy stays very busy running a dance school. Mike and Kathy Applin are in DC, where he is in the Pentagon with OSJCS. ALSO in DC are Jack and Joanie Thomasson. Jack is a partner in Columbia Rubber Corp, and he and Joanie live in Riveria Beach, MD. Jim and Janet Dyer live in Fairfax, VA, where Jim works for the Army (SW lab) in a civ capacity. Bob and Nancy Johnson are in Annapolis. In addition to being a writer, Bob has produced, or coproduced, several interesting board games now on the market Tony and Irene Gamboa live in Laurel, MD where Tony has managed to stay almost seven years in the Pentagon as an attorney in the Office of the Gen Counsel to the Sec Army. Bill and Sue Sherrell are there also, where Bill works in the ODCSLOG. They are evidence that the G&G Class of '65 is still producing: Sue is expecting in late summer, we believe. Congrats and best wishes. Dan and Susan Christman are at the NWC, where Dan is playing student while Sue is busy in the real estate business.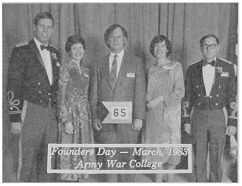 Tad and Hiro Ono are in DC until summer, when he will become a student at one of the War Colleges. Tad is presently at the Pentagon (OCSA), and word is that he still has his nametag on upsidedown! John Alger is at the Pentagon in ODCSOPS. Rumors of a January '83 wedding to the super Dottie Voltaire are strong but unconfirmed ....Well, John? As mentioned earlier, Chuck is a Pentagon programmer/developer in the OCSA. This summer the McCloskeys move to Ft Sill, OK where Chuck will command the 299th Eng BN. Johnny and Rose Ann Wells live in Potomac, MD, where Johnny is gen mgr of AEGIS Construction. Bill Birdseye is the PAO at the INSCOM at Arlington Hall Station on the VA side of the Potomac. Colin Halvorson is the XO to MG Noah in the Prog Analysis and Eval Dir, ICSA. Bob and Phyllis Wolff live In Potomac, where Bob works for the Army as a civilian in the OCE.
Others not at the Gamboa's party but in the area are Chris Dorney, Bob Harter, Doug Richardson and John Shuford, all of whom are at the Pentagon in ODCSRDA. Tony Pyrz is in the AF side of the Pentagon working for one of the asst secs. Bill Beinlich and Rick Wetherall, per latest info, were in ODCSOPS, although Jim thinks Rick may have changed jobs. John and Donna Mogan recently returned from a FA BN in Korea and John is now at MlLPERCEN. Bob Molepske is in the ODCSPER at the Pentagon.
Fergusson also reports that Terry Ryan has volunteered to computerize our address list and send copies to everyone. We appreciate that, Terry, and I would like to talk with you about it. The Fergussons will have departed DC in March for Ft Sill, where Jim will take over command of the 2nd BN, 12 FA. It was great to hear that Karen is due with daughter #3 (no sons) by the time of this publication. Hub "Cookie Leverett is in the AF and currently stationed in the Azores until Oct. Jim, thanks for the most news-packed letter I've received and let us hear from you as soon as you are settled in OK. Would love a picture of the three daughters (or 2+ l)...
George Ruggles called from Brussels and wanted me (and all the readers of this column!) to know that the attractive lady next to him in the previously published picture was not his wife but Mrs. Bob (Diane) Doughty. George's wife took the picture so there's no problem there, but we owe an apology just the same. (can't even blame this one on my secretary's luncheon martinis!) George reports that Steve Darrah is now in Brussels, where he's a plant manager for Philip Morris Tobacco Co., and commutes an hour each way to Holland. Steve was last seen in a nunnery, where he was sent to study Dutch.
Over the holidays, I had the chance to visit my sister in Atlanta and one evening got on the phone and talked with some of our locals down there. Mike Connor is in the Atlanta area, and I had a lovely talk with his wife Reggie. Mike is the G3, 2nd Inf Div. at Cp Casey, Korea. He should be back by the time this is published. They'll probably stay at Ft Benning. Reggie reports they have two horses and two children (13 and 10: the kids, not the horses) and are very involved in showing their horses in jumping. Mike is on the alternate list for the War College.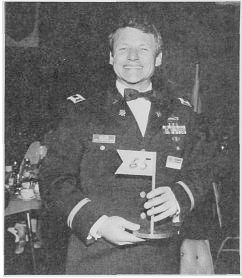 I was able to contact my old friend John Rocco McGurk, who now goes by the more civil name of John. Rocco was BN CO for the last 19 months of a maintenance bn and is scheduled for the War College in April. He spent some time in Detroit on special assignment to Lee Iacocca, for one year. He explained the program to me and apparently it was a great experience for him. They have four children. He reports that he knows that Jack Lyons is at SHAPE in Europe, and John C. Thompson was at NORAD a few years ago.
Also talked with Art Roth, who is in LaGrange, GA, 80 miles SW of Atlanta. Art got out in '70 and lived in Ashville, NC where he went to work for Milliken. They transferred to GA three years ago and enjoy where they live now. He was the GM of a carpet business, and is now heading up a new venture to market carpeting internationally.
Also called Steve Morrissey, who unfortunately was asleep and suggested I call later. Steve, I ran out of time, so why don't you drop me a line.
Ken Slutzky is also in the area with Allied Security. They're just getting into the residential housing market as a sideline. We had Ray Schaltenbrand listed in Atlanta, but his whereabouts are unknown. Ray, if you're out there, let us hear from you.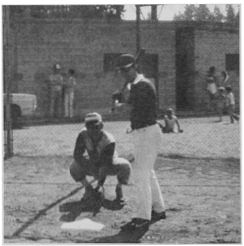 I loved the enclosed picture of the two softball stalwarts, Joe DeFrancisco and Zig Roebuck, taken at Ft Lewis, WA. These two fine BN CO's were leading their teams in a recent game. If you study the picture closely, you probably will agree with my guess that this picture was taken after the game, and after the keg of beer was put to rest. Lynne DeFrancisco (one of my favorite people) wrote us a very nice Christmas letter typed with her "good" hand. Seems that she incurred a sprained wrist while at the BN roller skating party trying to prove she was a roller derby queen in her day. Joe spent part of early '82 at Ft Sill and then at Leavenworth. Their children are now in jr & high school and apparently doing very well. Son Eric is a soph and into swimming and scouting. Daughter Laura has found her niche in skiing. Lynne, good to hear that all is going well with you. Keep your delightful cards and letters coming.
Bob Higgins reports from Ft Riley, where he's been working on Jamie Bryan's obit, and hopes to have it finished soon. Jamie and Bob were very close friends and I'm sure his loss in 1977 hurt very much. Bob, take your time and send it along whenever you and Jamie's widow are ready. Please also extend to her our best wishes. Bob reports that Rich Hennig and Steve Aron are in Wyoming where they are law partners.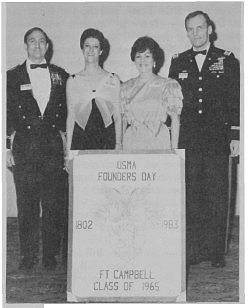 Also heard from the Lowes at Ft Bliss, TX. They live in a large victorian house on the parade field and according to Annette, they can only accommodate one-half of the Class at a time. Lots of friends have been visiting, and all classmates are welcome. Annette reports that last year they rented a camper and toured the Southwest. Annette (as usual) is very active in civic affairs and in the Mea, are their children in the local sports. Jack is the Depy Post Compt and they hope to stay there. However, the powers that be want him to go to the Pentagon, so we'll see what happens. Guenter and Diana Hennig sent a nice note from Gaylord, MI. Not a lot of information, but I appreciate the thought. As they said, "as the years move along, the news of people that were and still are friends becomes dearer." That's what this column is all about, folks.
On our trip to HI, I got on the phone and talked with some: of our classmates who are living the good life there. Greg Steele (USMC) is with CINCPAC, where he helps the CINC prepare for congressional testimonies, etc. He says he will probably get out in '85 and go into business with his brothers. He and his wife (an airline attendant) have been in HI since 1980, and are enjoying the life there. Also talked with Kala Kukea who is with the rescue section of the Honolu1u Police/Fire Dept. Kala was a roommate of Greg's. He reports that they have one son, and take siding vacations to CO. We tried to reach other people we had listed as living in HI, but had no luck.
Among the missing/misplaced: I had heard that Burke Buntz was in BN charm school prior to going to HI, but couldn't find him there. Jim Miyashiro is listed as being in HI, working in a civilian capacity. Word is that he is there, but nobody knows where. So much for our efforts in HI.
Well, folks, that's it for now. All of you out there who haven't seen your name in print: get with it! Oh, while I'm thinking of it, one closing thought. Believe it or not, ladies and gentlemen, our 20th (gasp) is not too far away. We should start thinking about activities for 1985. If anyone has any ideas and/or wants to volunteer, send them along to me and I'll take the lead in trying to get things going. I think our mission is to make the 20th something that everyone will really want to attend. Aloha!