Got a terrific letter from John Johnson, who is at Ft Bragg. He wanted to let us know that he and Chuck Moseley have completed the eulogy on Bob Arvin. It has been received by the AOG and should be published in Sep 83. John said that Chuck was a great help in editing, contacts with Bob's family, etc. Chuck, incidentally: is with Carolina Power & Light and lives in Raleigh, NC. John ran into Tom Shaw, who said he had returned from a tour in Korea and is assigned to Hq 18 Abn Corps. Dr. Sonny Arkangel is assigned to Womack AH at Bragg. According to John, Sonny looks good and doesn't appear to mind risking his skilled limbs by jumping out of airplanes. My sincerest thanks go to both John and Chuck for helping us to remember Bob Arvin. GREAT WORK, GUYS!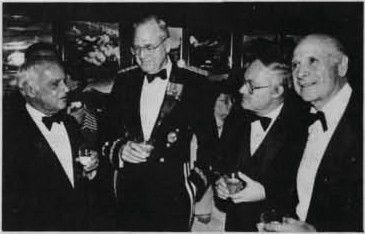 Received a nice letter from Ross Wollen, containing the attached picture taken at the Oct 27 Salute to Sousa concert in Carnegie Hall, featuring Morton Gould conducting the USMA Band and the American Symphony Orchestra. Ross ran the event for the West Point Society of New York Museum Fund. Jim Harmon was in charge of transportation and formed a mile-long motorcade of buses and limo's to wisk people from the reception/exhibition aboard the Intrepid to Carnegie Hall under police escort. From what I've been told by people who attended, it was a super affair. Congratulations, Ross.
Judy and I were back at the Academy for the Army/AF game and were delighted to see Joe Koz (aka Kosciusko). Joe is now the V Cmdt at USAFA and looks to be in better shape than when he was hitting 20-footers at Army. Koz reports that Tom DeJonehere works at Space Systems at NORAD and will be coming to USAFA in early '83. The "Z" is at Andrews AFB working as an Exec Officer to a three star. Does anybody remember the Erma The Bod incident? Joe, reports that he should be going to either the NWC or Air WC this summer. After that, he should return to flying and perhaps a shot at Wg Cdr. I wonder if Joe is our Class's first 0-6?
As you can see in the picture, we also had a little "do" at the McEliece's during Air Force weekend. Jim is still the asst to the Dean and is looking forward to some educational sabatical somewhere. We were accompanied by our good friends Bob (center, front row) and Susan (dark haired gal between Jack Terry and John Howell) McComsey. John Howell is the Dpty Post Cdr and will probably be leaving WP in the next year or so. Also in attendance were many of our other classmates. Rick Boerckel is an instructor in ES, GS & BS. He and his lovely wife, Jean, were married at WP. Bob & Diane Doughty are also shown in the picture; he is a Permanent Associate Professor, USMA in the History Dept. Larry Konnerman left just before the picture taking. Larry is the Vet at USMA. His wife, Anne, is from New Orleans. We had as our guests Jack & Sue Terry. Jack is Job Corps Dir in upstate (Hankins) NY. I can honestly say that Jack is one of the very few people who has stayed exactly the same through all the trials and tribulations of life. He is still one of the most solid citizens this Class has produced, in my judgment. Also had a nice chat with Jim Golden, who is the Dpty in Social Sciences, and who just returned from a sabatical in Europe, where he wrote a book dealing with NATO. Jim reports that Lloyd Briggs is with Intl Paper and is involved in financial analysis and planning of some sort. Jim also mentioned that T. J. Kelly is in the AF, but didn't have any more details. Also in the picture are Jim Furgesson and his wife, Karen. Jim is in Washington. They are expecting their 4th child (who is going to be named Eve, even if she is a he). Jim volunteered to coordinate gathering all the data from Washington, so Jim, I hereby appoint you Deputy Scribe in charge of the nation's capital. Tom Genone was also at the party with his wife, Sheila. Tom just arrived and represents USAF in the Physics Dept. As usual, Julie McEleice was a superb hostess, and we all had a great time.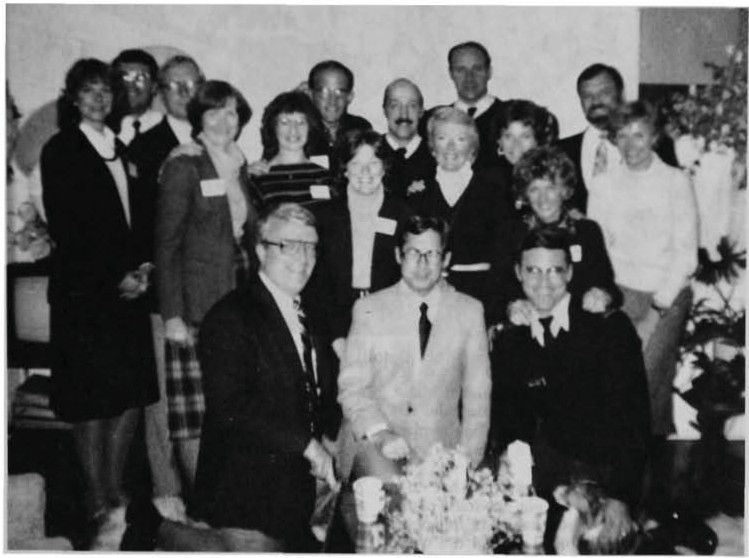 On one of my trips down to St Louis, I was on my way out to see Army play Missouri and ran into Dan Erbes' sister. She reports that Dan is a dentist in Gainesville, FL. Dan, if you're out there, let us hear from you. Also heard from our ole buddy, Tom Carll, who is running the Woodstone Nautilus & Court Club in College Station, TX. He reports that his club has been open for four years, but business has lately slowed down (where hasn't it?).
Had a nice chat with Karl Savatiel back in September. He's still working for AT&T Longlines in NY and is primarily involved in handling the 1984 Olympics. He still lives near Clinton, NJ, recently ran in the Jerry Lewis Marathon, still dates the same lovely young lady that he's been dating for some time, and is another of those people who seems not to change with the years. He said that Don Parcells went with Marine Midland Bank somewhere in early '82 as a VP in their management info sys. Don was formerly with Amexco.
Ron Floto, Ron Layer and I participated in the dedication of the Chicago Vietnam Veterans Memorial on November 11, along with Mayor Jane Byrne and a number of other Vietnam vets. The event was a very low-key, formal military dedication of a major monument, located on Wacker Dr. right in front of the IBM Building. For those of you who travel to Chicago, you might want to take a look at it. Located in Heald Square, it is an oval shaped, marble fountain, suitably inscribed by the Mayor. The event was coordinated by the Chicago Vietnam Veterans Leadership Program, of which Floto and I are board members. As I reported earlier, a number of our classmates are getting involved in this program, and I think it is one that will have some influence on our country's thinking on Vietnam . Speaking of the VVLP, the Opty Dir in Washington is our own Ken Moorefield, who took the job after spending a good number of years with the State Dept, altho I always am leary of guys who say they work for the State Dept and add that they travel extensively and speak five languages fluently. (CIA?)
I also had a long chat in Dec with David Gamble, who lives in Northport on Long Island. David got out in '76 and earned a degree in EE at Stanford. He is now a Sr Editor with Personal Computing Magazine and writes articles out of his home. He also travels quite a bit. Dave volunteered to help on our next reunion and now has increased that list of volunteers to two, counting Joe Anderson. Anyone else interested, please let me know. Dave reported that he has seen Dave Hopkins, who lives in Dover, DE. Dave is an engineering manager with Dupont. Apparently, Bill Birdseye is in the Washington, DC area where he works at an installation in Arlington, VA. I need further details on both of these folks, if anyone has them. David volunteered to do the eulogies on both Bob Keats and Chuck Wuertenberger. Also received a nice letter from Lee Hewitt, who is with the White House Commo Agcy and coordinates the commo linkup when the CIC travels. Lee reports that Burke Buntz is in Bn Cdr charm school and will take over a USACC Sig Bn in Hawaii. One of the many great quarterbacks to come out of the Pittsburgh area, Jim Olivo apparently was seen with Doug Richardson at an AFCEA convention in Washington. Doug is in DCSRDA and Jim is working for Hughes Aerospace. John Alger was seen walking home from the Pentagon and supposedly has more info on DC classmates. John, would appreciate any input you can give us. Bill Hecker just completed Proj Mgmnt School at Ft Belvoir and is now at Huntsville, AL, as Asst PM.
Joe Sanchez called in Dec and reported that he and several friends have formed Triangle Associates Intl, which is involved in consulting and procurement in the area of logistics mgmt. Joe used to be with Rohm & Haas and traveled quite a bit to Saudi Arabia, where he saw Eddie Abesamis. Joe will be going back to Saudi where they are consulting on several bid preparations for other companies. Joe got out of the service in 1970, was a pilot for one year, then got into airport engineering consulting. He and his wife and two children live in Tabernacle, NJ. He reports that he also saw Donna Mogan recently, and that Chuck McClosky was on the Bn CO list and was last seen at the Pentagon .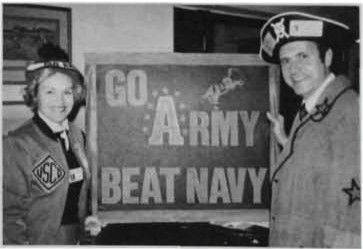 Our letter writing campaign continues, altho our responses are starting to slack off. It really takes no more than a few minutes to jot down a few things about yourself and your family, as well as other classmates, and send it to us. Now that the Class Notes are active again and there are lots of tidbits about what our classmates are doing, we're hearing more and more favorable comments which hopefully will lead to more responses and/or unsolicited info. It really does take just a few minutes, guys, so keep the cards and letters coming. Let me close on one favorable note. May the good Lord above enlighten the leaders around us to chose a new head football coach that will inspire the Army football team out of the doldrums and into the aura of respectability that disappeared from WP somewhere after 1965.
To close this article, I thought you might enjoy seeing the picture of our Class's only former U.S. Magistrate in all of his B-robed splendor, along with his nattily attired wife, at a recent Army/Navy Football game party here in Chicago. As you can see, Jack & Maria Cooley are "in it," as the kids say.
That's it for now. Keep the cards, letters and pictures coming.