Keep the letters and cards coming! It sure is a lot easier to write this column (and a lot more fun) when we receive correspondence and calls from previously unheard from sources.
Had a nice visit in Jul from George Ruggles who stopped by on his way home for some R&R from his position as head of marketing for Europe and Africa of Omark. George looked like a million bucks (as my staff is still confirming) and it is obvious the civilian European life suits him well. He reported that Jack Lyons and his wife, JoAnn, were at SHAPE, where Jack is in the operations division and is involved in the plans exercist group. Bob Doughty was a speech writer at SHAPE and is now prof in History at USMA. Mark & Linda Walsh are in Berlin where he is the G2 of the Berlin Bde. John Knowles is with the NATO Logistics Group in Naples, and lives in a house overlooking the ocean with Mt. Vesuvius in the background. Not bad, John-let us hear from you. Art Adams is the XO to the Deputy CS for Comm and Electr in Heidelberg until 10/82, after which he will be off to Ft Dietrich to take over as CO of the Telecommunications Ctr. Steve Harman is the CO of the 43d Sig Bn as of Jul 82. John Devitto works for the DCS Logs in the Special Plans Branch. Barry Zais was last seen at EUCOM, altho George was not sure he is still there. Bernie Zigler has the 509 th Sig Bn at Camp Darby in Piza, Italy. Bill Conley is in the Spt Budget Agcy at USAREUR. Walt Kubachi is the CO of the .44th Sig Bn at Karlsruh, Germany. George said that he has seen the following people in Heidelberg: Dan Christman, Tom Fergusson and John Pickler.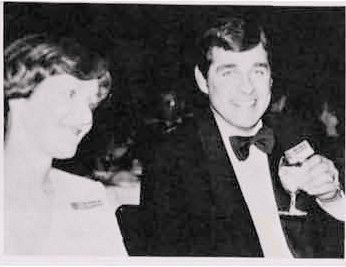 Received a nice letter from Mike Abbott, who is at Ft Campbell. This was Mike's first letter to the Scribe and we hope it won't be the last. He and Carol have a 10 yr. old son and 7 yr. old daughter. They've been with the Screaming Eagles for one year, where he presently commands the 101st Avn Bn with a feet of Blackhawk helicopters. Prior to Campbell, he spent 3 years at Ft Sill, where he was in the Dir of Tng Dev at the Artillery School. Before that he was at CGSC. He reports that Tom Genetti arrived in Jun and is commanding the 2/17 Cav. Mike also reports that Lance Hewitt is at Campbell as the XO of the Eagle Support Bde. To the best of Mike's knowledge, that's it for '65 at Campbell.
Dick Chaffer reported from Seattle, where he is still at Boeing. He says he knows of no classmates in the Seattle area. Dave Bodde also wrote from Annandale, VA, again as his first contribution to the Scribe. Dave says that Christman returned from Germany, where he was replaced by Rick Charles. Dan is now attending the NWC and is on the Jul 0-6 list (which means he should have made it by the time this goes to print). Dan and Susan have 2 delightful daughters, aged 10 and 2, and live in Alexandria, VA. Chris & Carol Kinard are in San Fran, where Chris is Dir of Human Resources for Natomas. They have 2 girls and a boy, and Chris is involved in marathon races and travels quite a bit. They live in Mill Valley, CA. Also out west are Pete & Gayle Howard. Pete is an atty for Mobil. On the home front, Dave and Pris have four children, ages 11through their baby, age 2. He has been in Washington for 6 years, First with TRW and now with the government as the Asst Dir of the Congressional Budget Office, an awkward post, he observes, for a guy who has trouble balancing his own checkbook. Dave, as a concerned taxpayer, don't worry about it. If you run a few billion short, just print more!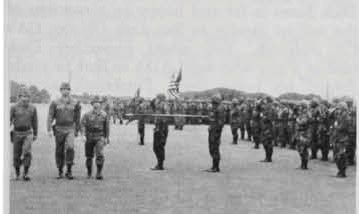 Received a photo of Clair Gill's change of command, sent by Marty Johnson, who is also shown in the picture along with their commander. Clair has taken over the 14th Eng. Bn at Ft Ord, which gives us several people in key positions there. Interestingly enough, Marty reports that the change of command occurred almost 17 years to the minute after our graduation on 9 Jun 65.
On a personal note, I would like to express a concern that I feel and, after talking with a number of our classmates, I think is felt in general by '65. The continuation of a losing team in football is something that is both frustrating and undermining the spirit not only of West Pointers but, as we can see from civilian life, to quite a few Americans. It may be difficult to believe but about 65 million people saw the Army/Navy tie last year. If you assume that each of those people told one person or had at least one person watching the game with them, that means that more than 1 out of every two Americans saw or heard about that game. The statistics for the previous years are in the same general ballpark. I guess what is so upsetting to this graduate is not so much the fact that we have lost so many to Navy but the attitude that our team has shown. Judy and I went to the Army/Missouri game in Sept and were pleasantly surprised to see Army battle a big, tough Mizzou team for 3 quarters to a 10-10 tie. However, in the 4th quarter, Army intercepted and was on the 10-yd. line, but was totally unable to move the ball in 4 downs. This broke the back of the Army team and it appeared to this observer that Army literally rolled over and played dead for the remainder of the game, finally losing 23-10. What compounded this problem was the shock I had when I read the St. Louis papers before the game and saw a quote from our head football coach hoping that the Mizzou boys would not "beat our boys up too badly." These are the same kind of comments I have read before games last year and I think it is high time that the coaching staff stop worrying about whether our boys are going to get roughed up but rather, go out and show some leadership on the field. In my opinion, it is totally unacceptable for an Army team to "run out of gas" as Coach Cavanaugh indicated happened at Mizzou and other games. With the superb conditioning and regimentation at USMA, this excuse should not be in our vocabulary. Further, when you consider that Army now has the "horses" to do battle with the big guys, this attitude of "beaten before we hit the field" is self-defeating, to say the least. According to one source at the game, our defensive line averaged about 250 lb. and the offense about 235. If this is correct, that certainly puts us on a par, size-wise, with the big ones. Judging by the interior line play for the first three quarters at Mizzou, talent-wise we're in there, also. Why don't we get off this loser kick and let the coaches and the Supe know that Army football is a winner in the same strong manner that our Country (which Army football represents) has been a winner for over 200 years.
Tom Borkowski called in recently to say that he will do the obituary for Mike Momcilovich . At the time of this writing I have not been able to get back to you, Tom, but thanks for the offer and the job is yours! Tom is commuting between his new job in Atlanta (in what, Tom?) and his home in Birmingham until the latter sells. I would guess that quite a few of us are in the same boat. We still need volunteers to write the obituaries for Lee, Kestler, Echols, Hays, Wuertenberger, Kadetz, Bryan, Dicky, Zonne and Keats. How about it?
Incidentally, Bob Keats' brother, Walter, has a very interesting business here in Chicago called Alumni Services, Inc. He handles all the record keeping, mailings, dues collection, etc., for many alumni groups, the WPSC among them.
Ken Moorefield is now the Depy Dir of the Vietnam Veterans Leadership Prog in Washington. He joins another USMA grad, John Wheeler, on the executive staff. Ken is looking for volunteers to work in the VVLP in many places across the Country, and I'm sure would like to hear from any of you who are interested. You can contact him at Vietnam Veterans Leadership Prog, 806 Connecticut Ave. N.W., Washington 20525. I encourage all of you to get in touch with Ken, or contact your local VVLP if it has already been established (check at your local Post Office for information if there is no phone listing).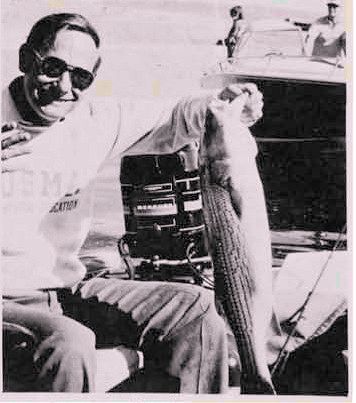 I am proud and pleased to be a part of the Chicago VVLP. In less than one year, we have established a working group of many volunteers in various areas. As a result of our efforts here, a memorial to the Vietnam Veteran was dedicated on Veterans Day by Mayor Jane Byrne, and the week of November 7-13 was declared Vietnam Veterans Week by the Mayor. I wrote earlier of the need for obituaries: if you can't write one, contribute one through your volunteer efforts!
Got a nice letter and picture from Lowell (L.B.) Lawson. Lowell owns laundry and dry cleaning centers in Phoenix, and says his customers are convinced that he has perfected the button crusher. However, he doesn't take the credit-says he imported one from the Cadet Laundry. The picture was taken at Lake Powell recently, with what LB calls a "small" striper. There don't seem to be many '65ers in the Phoenix area, but LB gets together with Dennis Hawker and his wife on Founders Day. How about a note, Dennis?
Last but not least: to Carl SaVatiel, my (and my secretary's) apologies for the misspelling of your name in the last column! We're doing the best we can-but at least it got you to call! Now write and fill us in on what you've been doing lately. Happy holidays to all, and a very bright and successful New Year. Let me hear from you!