Greetings once again from your Class Scribe, who at this moment is sitting on the beach in Virginia Beach, watching the Navy perform exercises just off the coast. To say that one of the new nuclear carriers is "large" is a gross understatement. Anyhow, the response to our letter writing program continues to go well.
Received a nice letter from Johnny Johnson, who is at Ft Bragg as the OPS with the Jt Unconventional Warfare TF. He ran into Joe Hindsley, who is the G3 of JFKCENMA. They report that between the 2 of them, they keep the Sp Fces about as unconventional as possible. John has volunteered to write the obituary on Bob Arvin, since the 2 of them served together in RVN just prior to Bob's death. We still need offers to write the eulogies for our other classmates, so please respond, '65!
Jim Conley writes from Wilton, CT, to report that he is still with Avon Prod. and was recently promoted to Dir of Sales Coor, which includes developing procedures necessary to implement a large incentive prog for Avon. In addition to being a Trustee on the AOG, he's also on the Pop Warner Football Bd of Dir in Wilton.
Also got a nice letter and phone call from a voice you would recognize anywhere, Joe Sanchez. Joe works for Rohm & Haas Co. and has been with them for 9 years. He's Mgr of Proj Proc, Contracts and Expediting within the Corp Purchasing Dept. He manages a group of 5 engrs and 4 other professionals. Their main function is to plan, on a world-wide basis, the proc side of all proj and coordinate with engineering and research. He travels quite a bit to Europe and the Orient, as well as within the U.S. Joe spoke with Rosemary McCloskey, who reported that Chuck was in Atlanta on a job related trip. Chuck is in the Pentagon as a prog anal for the Army's facilities prog. Chuck is also on the command list and should get a bn soon. They live in Fairfax, VA.
Joe heard from Sonny Arkangel, who is an MD at Ft Bragg, where he is setting up the emergency room facilities. They live in Fayetteville, NC. Joe also heard from Curt & Lennie Churchwell. Curt is out of the service and working as a safety engr for a large insurance co. They have 2 children and live in Houston, TX.
Joe spoke with Donna Mogan, who reported that John is in Korea commanding an arty bn. He will be back at CONUS in Aug., but they don't know their assignment as yet. Joe also saw Karl Sabatiel (as I did, a year or so ago). Karl is with AT&T Longlines and had moved from Chicago to northern NJ. Last time I saw him, he was in the company of a very attractive, delightful young lady. Karl, any news on that subject?
Joe and Nancy live in Tabernacle, NJ, with their 2 children, Lisa (13) and Steven (9). Joe is very involved in the YMCA youth programs and lo and behold, has been a Federation Chief in the Indian Guides. For those of you who have not been involved in this program, Federation Chief is THE big cheese! How How! Joe does some recruiting for USMA at the regional high schools in his area. He observes that the recruiting program of USNA is more effective in his area than is he, an observation which I will pass on to Manley Rogers at the Admissions Office.
Dave Bangert wrote from Saudia Arabia, where he is on a large construction proj. It seems that Dave's co is building a new city on the Red Sea, a proj which began in 1977. The city now has 30,000 residents. Dave says he is the oldest resident of the city, having been there since it was initiated. It only took 25,000 workers to build. Dave is now manager of municipal construction at the project. He and his wife, Sheila, enjoy a very active social life in the area, as well as sports. In 1980, Dave represented Yanbu at the Kingdomwide Squash Tournament. He also participated in the Kingdomwide Raquetball Tournament, advancing to the quarter finals. Dave reports that John Wells is also in Yanbu, and that Randy Guenther is in Germany as the XO of the 10th Engr Bn. I'm not sure where Yanbu is, but Dave's address is Yeddah, Saudi Arabia. Good luck, Dave, and watch out for the punishment for getting caught with liquor in your house.
Received a letter from Curt Adams, who's at Ft Leavenworth as an instructor in the Combined Arms and Services Staff School. This is a new course for captains which teaches them the generic skills of a good staff officer. His wife is going to college fulltime and they are both very active in youth programs. Curt reports that Ernie Westpheling, Sonny Ray and Mike Shavers are also at Leavenworth.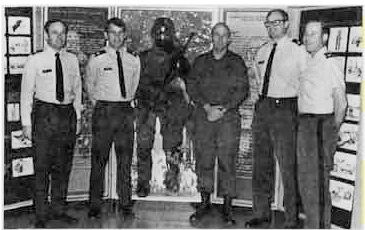 Received a letter from Marty Johmson, along with a picture of him and 4 other classmates at the Pre-Cmd Cse of the C&GSC at Leavenworth. Rick Charles is going to the 54th Engr Bn in WildBecken, Germany, Marty Johnson to the 14th Engr Bn at Ft Ord, Leo Kennedy to 1st Bn 20FA at Ft Carson, Tom Mushovic to the Petr Distr Sys in Okinawa, and Bruce Clarke to the 2/11Cav in Germany. Rick takes over from Dan Christman and Marty from Clair Gill. Rick and Marty will be at the SOLO (legal) course in Charlottesville, VA, before going to their Bn's. Rick will visit Spain with his family on his way to Germany. Marty replies that Clair & Sherry Gill are looking forward to their new assignment in Carlisle. Marty also ran into Jerry Ledzinski at the Monterey airport. Jerry is in financial planning and investments in Carmel.
Ron Layer visited Chicago and attended one of our Bd meetings for the Chicago Vietnam Veterans Leadership Prog. Ron was "volunteered" by an unknown source in Chicage to take over the Northern IN function for the VVLP. Ron reports that Larry Wiest is in Albany, NY, which is his hometown, and is married with a 7-yr-old son. He is the DA there and finished law school, at age 32, at Syracuse U.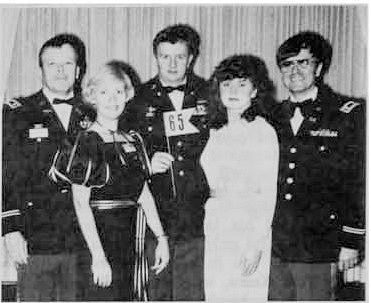 Also heard from Frank Arnall, who is with Sun State Ins in Orlando, FL. He owns half of an agency which has 7 offices and 25 employees. They specialize in estate and financial planning and he says he spends most of his time working with farmers. He and Susan have 3 children, Bess (13), Frankie (10) and another who is 5 (Frank, either my eyes or your hand is getting old). They also have two horses and three goats (sounds more like farming than insurance to me). Frank has been involved with the local WPSC and finally got our classmate, Lew Green, MD, to attend Founders Day. Lew is in Family Practice and lives with Barbara and their children in Maitland, FL, the same small town where the Arnalls live. The Arnalls stayed with Frank & Donna Reller last Aug while they were in DC. The Rellers live in Woodbridge, VA. Frank says his farm doors are open for anyone visiting Disney World.
As a last thought, it would be interesting to hear in future letters from our classmates just how active our involvement is in the various WP Societies. With the exception of the participation mentioned in these letters, I was surprised to look through the listing in the ASSEMBLY and find very few classmates, with the exception of NY and Chicago. If this is incorrect, please let me know.
Well, that's it for now. As usual, I'm hoping to get this in just under the wire. These columns continue to be fun and exciting to write, as long as everyone continues to keep me informed. Please don't wait for my letter to get to you. If you can tell us a little about yourself and some of our classmates who have not been mentioned recently, we want to hear.
Another "final" item: Through some business associations of mine, I have become peripherally involved in the new fund-raising effort for the Jewish Chapel at West Point. As some of you may know, this is an effort that has been attempted for quite some time but it is now receiving a considerable amount of support, both from the active duty people as well as from the business community. A committee has been formed to raise the $5.5 million (about 75% of which has already been committed). The committee is headed by Edgar Bronfman, of Seagrams fame. If any of you are interested, please contact me or write Suite 200, 132 W. 31st St., NY, NY 10001.