We are finally starting to see some results to our letter mailing campaign. The letter from Nancy Hecker was typical. They had not written for over five years but Nancy, we really enjoyed receiving your letter. Bill was with the Field Command. Defense Nuclear Agency at Kirtland AFB, involved in nuclear weapons effects testing. Following that he was a project manager for the satellite x-ray test facility. Unfortunately, DOD decided not to build it. They are now headed for Ft Belvoir right after Christmas for the Defense Systems Management Course. In June '82, they are going to Huntsville where Bill will be the Deputy of LOAD project. Their two boys (13 and 9) are very active in local Albuquerque sports. Nancy reports that they did see Bob & Pauline DeLarr at the Field Command in Albuquerque but they apparently have moved to Picatinny. Emory Pylant just moved to Albuquerque and took over as the District Engineer. Dotty & Jack Keith were TDY to Washington for awhile. They have now moved to Sacramento CA, where Jack took an ROTC assignment. Betsy & Howie Reed were at Leavenworth until last summer and have now moved to Kwajabin Island in the South Pacific. Nancy & Bill are going back to St. Louis for Christmas and hopefully will be able to look up Jack & Maria Cooley here in Chicago. Nancy wanted to know if anyone has seen Bill & Kathy Bradburn.
Other news gleened during my visit back to West Point for the Trustees meeting. Jack Jannarone is flying the F-18 (the Navy version of the F-16) for the Navy just south of Annapolis. Old "Quick Jack" just remarried and now has four daughters. It's always a pleasure to see Jack's parents at these meetings. Jim Conley reported that rather than moving from New York, he has now been promoted within Revlon. The highlight of our visit to West Point was the time I spent with George Patton. George is now on the Trustees and he and I spent a few hours at the bar rehashing Vietnam, the Black Horse Troop and the Class of '65. The story that George has told me on several previous occasions about John Hayes had the same impact now as then. Many of us remember John from the Black Horse and the tragedy of his death. GEN. Patton told me the story as I was driving to the Thayer Hotel and as he left the car in the parking lot, there were tears in his eyes. I think that says a lot about the man.
Received a nice call from Ken Slutsky who is now the operations chief of a Pittsburgh based security firm (Allied Security). Ken has moved to Roswell, outside of Atlanta. He saw Chuck Backlin in the Philadelphia area. Chuck was a turnback to '66. Nick Principe has apparently moved to New York, contrary to our last newsletter.
We spent time with Jim & Julie McEliece during our visit to West Point. Here's the latest scoop from Jim. George Gehringer came from DCSPER and is now the S1, USCC. He is joined by Sue and their four children. Bob Doughty, who was the Executive Assistant to SACEUR, is now Permanent Associate Professor, European Div., History Dept. He and Diane have two boys. Tom Genoni (USAF) came from Albuquerque with Sheila and their two children and is now an Assistant Professor in the Physics Dept. Tom Johnson, the "Air Force Retread" who the Army agreed to take back when the AF failed to appreciate his talents, is now the Dir of the Dean's Sci Rsch Lab at the Academy and a mover and shaker in scientific circles. Tom apparently was instrumental in getting Dr. Keywort appointed as the President's Science and Technology advisor and Tom has now gone to Washington to straighten out the MX/B1 programs. Tom, if you straighten those out, let me know and I will be the first to nominate you to replace RR. Jim didn't mention it in his letter but he and Julie are looking forward to a one year sabbatical while he gets his PhD. Others at West Point are: Lee Atchley (Math Dept), Lou Csoka, John Wattendorf, Don Rowe, Jim Golden (on Sabbatical to West Germany), John Howell, Marty Andresen, Frank Koleszar, Larry Koonerman (The Veterinarian), John Shuford (Dir of Institutional Rsch) and Al Clark.
Received a great letter from Ed Armstrong. Ed is currently in the Directorate of R&D for Space and the Pentagon. Tony Pyrz is in Washington also, in the Air Force civil engineering area. He is doing environmental empact statements for nuclear holocaust or something like that. Bo DeSantis is also still in the AF. Between Pyrz, DeSantis and Coll, we had three of the five best passing QB's in high school football. Unfortunately, none of us could run the 100 in under three hours or at least Paul Dietzel thought so. Jim Webb is seen at the athletic center every so often. You will remember Jim. He started out in the Air Force with Ed but then, rather than have his uniforms cleaned, transferred back to Army. Ed also saw Bob Wolfe, who is out of the AF but working in the Corps of Engineers in Washington. Ed reports that he and wife Karen have a son, Andy, 13. He suggested that someone in Washington take the lead to get all of you turkeys together and have a big blow-out. Only let me know who will do it and we'll put it in the next news-letter as well as gin up some support.
John Knowles wrote to let us know that he's holding down the southern flank of NATO. He's the map honcho for AFSOUTH HQ in Naples. Preston Hughes is their Liasion Officer in Turkey and Steve Bliss is also in Turkey with COMLANDSOUTHEAST. Steve is coming back to Ft Lee to take command of a petroleum bn (whatever that is).
Other news from the civilian front. Jack Cooley is no longer our first and only Federal magistrate but has now decided to seek fame and fortune by joining a civilian law firm involved in litigation. I understand that Bill Zadel is no longer working for Abbot Labs but has apparently gone into the real estate business. Bill, if you read this, let us know what's going on down there.
And yes, friends, there really is a Charles F. Shaw Vineyard and Winery in the Napa Valley. After one previous attempt to locate Chuck via the mail, I had auusmed that the reports were all rumor. I was delighted to hear from Chuck & Lucy and to receive the fascinating brochure on their operation. How does "an international banker specializing in petroleum financing" end up in the Napa Valley "determined to produce truly distinctive . . . Gamay beaujolais wine by the maceration carbonique" process? Write the Shaws at 1010 Big Tree Rd., St. Helena, CA 94574 for a fascinating explanation. My only question, Chuck: can we get a few cases to WP for the 25th?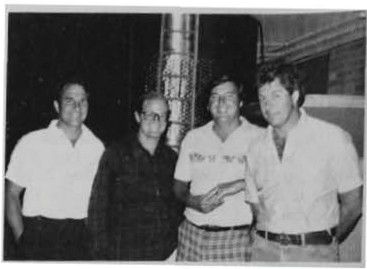 The picture which accompanied the letter speaks for itself. Dave Kuhn and John Seymour are in Irvine, CA and, I believe, are both in real estate. Dave La Rochelle, as the picture attests, is Chuck's "chief wine taster" when he is not in private practice as an orthopedic surgeon in Napa, CA.
The Shaws visited Karen & Denny Sellers in London in November. Funny-we still list the Sellers as being here in Chicago! Denny, let us hear from you. Denny is apparently heading up BA's energy lending function there. Chuck also keeps in contact with Jim & Jan Stephenson in Minneapolis, where Jim is a partner in a prestigious law firm.
I received a nice letter from Steve Harman just before the cutoff. Steve & Anne moved to Heidelberg in July, where he was S3 of a Sig Bde. He is now the Spl Asst to the USAREUR DCS-Communications and Electronics. He expects to leave this job and take command of the 43rd Sig Bn in July of '82. Anne mentioned something about a "diaper burning ceremony". Anne, you only need one more to make it on "Eight is Enough". John & Maureen DeVitto live upstairs and have five children. Both John & Steve are actively involved in the youth soccer program.
Steve mentioned that Gene & Bev Farmelo are in Berlin where he is the Bde C-E officer. Gene will be taking command of the 7th Inf Div Sig Bn in June '82. Steve also saw Denny Brewer on the bus the other day. He is an ammo expert at HQUSAREUR , DCSLOG. Bob Guy is still in Heidelberg in the CS office. His wife, Jody, is busy doing volunteer work around the community. Loco Locurcio is the DEH in Karlsruhe, about 50km south of Heidelberg. Walter Kulbacki & Kathy live in Manheim where Walt is commanding the 44th Sig Bn at Coleman Barracks. Steve, this is a great letter and I want to congratulate you on assuming the job of Deputy Scribe-USAREUR.
More last-minute letters received from interesting people. Our friendly Roto Rooter man, Bill Griffin, is apparently moving the company from Des Moines to Cincinnati. Received a note from Jean that they have now bought a small farm house outside of Cincinnati. Somehow I can't see the CEO of Roto Rooter and his lovely lady out there shoveling like Farmer Sam. If you read this, Bill, please let us know what you're doing.
Joe Barkley writes from Newton, PA where he and Diane live with Chris & Patrick. He has about a 1-1/2 hour commute to his job at Amexo (American Express) where he is the Dir of Fin and Pl for corporate real estate. He reports that Ray Paske used to be down the hall but since Mar has been the regional VP of Ops in Singapore. He also saw Timmerman who had a tk bn at Ft Carson. Timmy reported that Jim Ferguson is there, also. The three of them were together in Heidelburg in '78.
Ron Layer called from Hammond, IN where he is practicing law. Ron reports that Mike Huston is with a large law firm in Indianapolis and that Klink is also self-employed in Indianapolis . If you guys read this, how about letting us know what's going on in Indy?
Received a nice letter from that "British bloke", Pat Kenney. He and Alice are just completing a 14-month tour in England where he was an exchange student at the British Army Staff College at Camberley. This is the same installation as Sandhurst, about an hour from London. Pat reports that the studies were so intense that they were only able to take several weeks of vacation here and there, namely a week in Paris, a week in Switzerland, two weeks in Germany and two weeks in Austria. As part of his "homework" he had to go to Brussels and Berlin. I wonder how the British tax payers feel about such a boondoggle?
While in Germany, they visited Bud & Judy Fish in Nuremburg, where Bud is the DEH. Also reported in Germany are Barry Levine and Bob Baldinger. Pat tells us that Barry has a hardship tour down in Garmisch. Marty Johnson was also in England as an instructor at the British Army Engineer School until August. He has since moved on to Ft Ord where he has taken over a bn. I'm sure that Ledzinski has contacted him there. Wes & Linda Taylor are leaving very soon for Panama from Washington, where he will also take over a bn. According to Pat, Wes was in the third sub-basement of the Pentagon doing all sorts of marvelous things to protect our freedom. Bob & Julie Radcliffe recently moved to Ft Monroe where he is the OE Officer for TRADOC. The Kenneys are off to Ft Stewart, GA (near their beach house in NC) where he will eventually take over the 3rd Engineer Bn. The current bn commander reports that Egypt was enjoyable during Bright Star '82. Pat thinks that by next Thanksgiving, he may be over in the desert, also. Pat, if you come back to Milwaukee for another board meeting and don't call, it will be another five years before your name or any news of your whereabouts appear in print.
Also received news from my old bunker buddy, Joe Defrancisco. The DeFranciscos are now out in Ft Lewis, WA where Joe has a bn. Joe, do you now understand what I meant by the "aroma from Tacoma"? Joe reports that Zig Roebuck has the Division ADA Bn and he and his wife seem to be enjoying the paradise out there. Don Parrish is the FSC Chief in DIVARTY. Don is leaving in Jan and moving to Ft Leavenworth where he will be working at CAC (not in the school). Dave Jones has departed Ft Lewis where he was on TDY from DC on several occasions. Joe understands that he is on his way to Panama. Joe was down at Ft Sill recently where he saw Dick Tragemann. Dick has a bn down there.
Judy and I were saddened to hear of the loss of Lynne's father after a long illness. Those of us who had the pleasure of knowing him while Joe & Lynne were dating know that the world has lost a truly fine man.
I have been approached by Ed Timperlake ('66), who heads up the Vietnam Veterans Leadership Program in Washington, to get involved in this program on a local basis here in Chicago. From what I can observe, this is a non-partisan, a-political program approved by the President which has as its main purpose improving the image with which the Vietnam veteran has been saddled here in the U.S. The program also strives to help the public to recognize that Vietnam veterans are a leadership resource and not a group to be pitied or treated as victims. They hope to affect national defense in a direct way by affirming the integrity of military service and restoring a national perception that military service is an honorable calling. From the initial discussions I've had with Ed it looks like a great program that can and should be successful. If any of you know anything about the program or might be interested in getting involved, please drop me a line. I think it is primarily aimed at civilian-type veterans and is targeted for local community activity. If any of you are involved in the program in other areas or have any knowledge of how it is working, I'd appreciate hearing that, also. If this program pans out here in Chicago, it might be something that the civilian members of '65 could get involved in in a big way.
Well, folks, that is positively all for now--five revisions as new last-minute info came in is enough. If I've forgotten anyone kind enough to write, I'll get it together next time! Wishing you all a "Grand and Glorious" New Year!