Greetings once again. We are slowly receiving responses from our initial mailing. As I indicated to you in the previous newsletter, we will be sending out letters to several classmates each month in an attempt to locate and ascertain what they are doing. Of the letters that we have sent out, we did not hear from Abraham, Applin, Arkangel, Armstrong and Axley. If anybody knows their whereabouts, please drop us a line.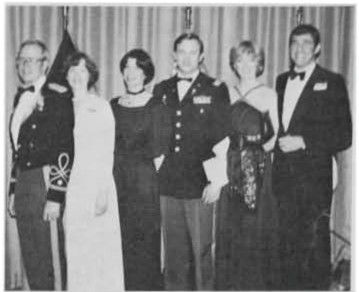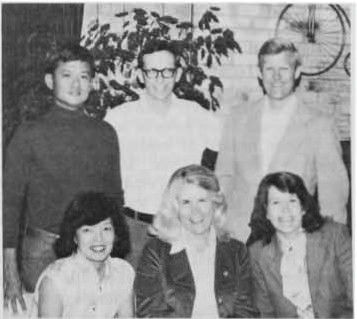 I heard from CA that Gene Fannelo has arrived at Ft Ord and will take over the Div Sig Bn. From Norfolk we sec that Dick Williams graduated from the NavWarC on 8/19. Howard & Betsy Reed, along with Andy (13) and Debbie (10) are now residing on Kwajalein in the Marshall Is. Howard is the Ch, Log Spt O. The golf course has only 2 hazards-the ocean and the runway. The Reeds invite anyone in the area (?I) to drop by.
"Boris" Borkowski writes from Birmingham, where he is VP and GM of a Ford dealership. He has been in the car business for 10 years and reports that this is the best year in the past 24 for his dealership. He and wife Robin have 2 children, ages 4 and 2. His "work car" is a red Ferrari 308 CTSI. Who will ever forget Boris, his "Vet" and his elephant ear racing gloves. Boris reports that Monty Kennedy was last seen working for DuPont in Augusta, GA.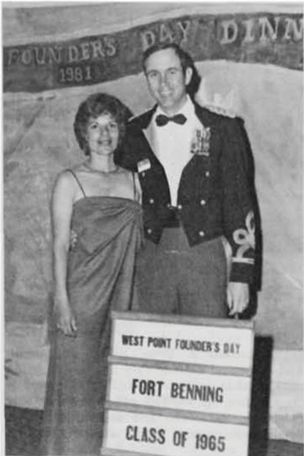 Tom Ferguson reports from Germany, where he was Regt S-2 for the 3ACR and is now G2 of the 3rd Div. Beverly and little Robin (7) joined him in Jul. The enclosed picture was taken at the Shinsckis' in El Paso in Mar. Ric and Patty were also in Germany where he was the XO of the 1/3 ACR. Ric is now assigned to ODCSOPS in DC. Jack & Annette Lowe are at Ft Bliss, where he is the FinO. The Fergussons visited John & Karen Pickler in Idar Oberstein, where John is CO, 2/81 FA (8th Inf.). Tom is looking for Jim Golden. Where are you, Jim?
Speaking of misplaced comrades, I received a note from Ed Abesamis just as this was being typed. He sent a $10 bill (to cover the roster sent to him aeons ago, plus interest!) all the way from Saudia Arabia, where he is now with a company doing stevedoring work. He says that if we have a ship we want unloaded fast, to call him. His Jeddah number is 642-7668-temporarily. Unfortunately he did not mention his ADDRESS. How about it, Ed?
I tried (unsuccessfully) to corral Joe & Lynn DeFrancisco on their trip out West. Joe is going to Ft Lewis to take over 9th Div Arty. While in Germany, they saw Mark & Linda Walsh. Mark was at SHAPE, but has since moved to Berlin, where he is G2. Mark, let us hear from you.
Lots of classmates in Germany. George Ruggles, civ, is product mgr for OMARK Europe in Belgium and sent the picture. Jack Lyons has also arrived at SHAPE. The Ruggles have an open door for visitors. George Brock reports from DC, where he is the briefing officer for the CJCS and SECDEF. He was promoted in Feb. His wife Johnnie and their 2 children like the DC area. George reports that quite a few classmates are in the area, including Step Tyner at NDU, Arpad De Kovacsy is a lawyer near Mt Vernon (civ?), Henry Dermody (ODCSOPS), B.J. Morgan (just departed for a command in Germany), Rick Kuzman (NFI, Pentagon), Hank Sterbenz (DNA), Fred Eichorn (Springfield, VA), Tim Vogel (USN, J3 or J5 staff of JCS), J. B. Harrington (Pentagon), and several others. George expects to go to Germany next Jun.
Ron Floto is now Corp VP, Planning, for Jewel Foods here in Chicago. Let's keep the letters coming!