Since this is the first article for your new Class scribe, I want to first of all thank John Higley and his ghost-writing wife, Todd, as well as Don Rowe, for all of their efforts as Class scribe in the past. As many of you have observed over the last several years, our Class notes have been all too brief and, to a certain extent, this has been a result of the fact that our scribes have been rotating in and out of West Point and have not had the chance to become firmly entrenched. The purpose of centralizing this job with me is that I will hopefully be here in Chicago for quite some time and based on the research I did to develop the 15th Reunion Roster, I should also be able to develop a more in depth survey of our Class movements and activities . It is my intent to periodically contact a group of our classmates from whom we have heard little or nothing in an attempt to find out what everybody is doing. Each of you can help in this endeavor by sending along whatever bits of information you may hear. We will keep a master roster at my office that will be updated each time new information is obtained.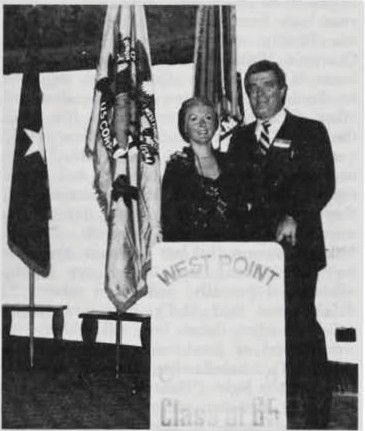 First of all, for those of you who did not receive a copy of our 15th Reunion Roster, we still have a few left. If you will send $6.75 to me at the above address, made payable to Murdoch & Coll, Inc., we will be happy to send a copy to you. This 76 page document includes the latest obtainable update on our Class and gives a breakdown by geographical location, industry or military affiliation, etc. During my last visit to CA, I was told by Jerry Ledzinski that he had heard that Gene Farmelo is due to arrive at Ft Ord in Jun 82 and assume command of the Div Sig Bn there. Ledzinski is still doing his same old thing, making a lot of money and living a life of leisure outside of Carmel.
Here in Chicago we have quite a few of our classmates who are involved in civilian endeavorrs. Steve Ellenbogen has been involved in local real estate development and has recently become the head of development for CMD, a large construction firm located in the Chicago Loop. Nick Principe is also in the real estate business as a local broker, specializing primarily in commercial office buildings. I haven't seen Nick for quite a few years but understand he is doing quite well. Denny Sellers has been here for 2 years and works with Bank of America but has kept a very low profile. Ken Yoshitani lives in one of the western suburbs of Chicago and just recently started his own business with several other people. They are primarily involved in the design and implementation of fossil fuel plants and, at last report, they were doing very well also. Your new Class scribe just stepped down as Pres. of the WPS of Chicago and is now the Secy. Our real estate investment business continues to be strong, having just acquired our 5th building in the Chicago Loop for renovation and management.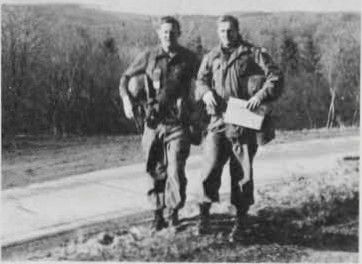 Received a letter from John Swensson with an update from USAREUR: on the list for Bn Cmdr: Clarke, Defrancisco, Genetti, Griffin, Justin Hughes, Marty Johnson, Kempf, Leo Kennedy, Pat Kenney, Oleh Koropey, B.J. Mogen, Kim Ulmstead, Fred Scruggs, Rick Sinnreich, Frank Skidrow, Jim Smith, Jim Wood, Gene Farmelo, Jay Vaughn and Steve Bliss. According to Swensson, John Alger is the CINC USAREUR's speech writer. Les Hagie is the Deputy Cmdr of the Army Russian Inst in Garmisch. Les and Sue are there with their children, Traci and Kevin. Also in Garmisch are Barry and Chris Levine and children Jason and Jennifer. Barry is the DEH. Both the Hagies and the Levines invite all passers-by to stop in.
I also received a picture of Bob Guy and John Alger on WINTEX 81 in Germany. Bob is the XO to the CS. All these 2 guys need are pearl handled pistols and a white horse and you'd think that they could be the next CINC USAREUR. Jim Ford paid a tribute to the Class saying in large measure that we were responsible for his selection as USMA Chaplain in 65. Apparently, several members of our Class signed a letter to the Supe suggesting Jim. Seems to me that it was a great choice. Also at the Founders Day in Germany (attended by over 800) was Art Mark, who is currently the Cdr Rec Svc Spt Ctr in Aschaflenburg. He was there with Steve and Ann Harman and between them, they have 14 children. Sounds like 2 good Catholic families to me. Karen & John Pickler were also in attendance, as were John Vann, his wife, and Ralph Locurcio. Swensson reports that he will be leaving Germany in Jul for assignment as Dir Pers&Admin USAWRRC at Ft Baker, CA. which is apparently near San Fran.
From HI, I understand that Wayne & Suzy Scholl are enjoying the beach and the sun. BG Al Ono (no relation to Tad) who just returned to Chicago from HI said that Wayne is doing very well. They while away their afternoons learning to surf and snorkle.
In the next issue, we will hopefully have some input from: Ed Abesamis, Tommy Abraham, Mike Applin, Sonny Arkangel, Ed Armstrong, Bob Axley, Tom Borkowski and George Brock.