The mailbag was mighty light this time. Is it that you're all on leave, battling with the movers and the transportation office, or just saving up the big news to share at the Reunion? We didn't even hear from John Swensson with all the poop on who's doing what, where and to whom in Europe. Even if some of it isn't printable in such an esteemed publication, send along the scuttlebutt. Wives, let's hear from you. If your husband is too shy to tout his exploits both military and otherwise, we'd be glad to hear it from you.
Climbing the corporate ladder . . . in Apr Chris Kinard was named director of employee relations at Natomas Co. in San Fran. He, Carol, and their 3 children live across the bay in Mill Valley. Fred Smith has been named Supt of Spun Heads, Welded Products and Lectrefine at Lukens Steel Co. He and Mary Ellen have 3 children and reside in Dowingtown, PA.
Don Phillpotts, the first member of '65 to ret from active duty, enjoys being self-employed in Fayetteville, NC 28303 (705 Dandridge Drive) and plans to be back for the reunion.
Via Founders Day publicity we find the following classmates in Colo Spgs: Bob & Betty Selkiss, Steve & Bonnie Bliss, Jim & Claudia Hume, and Jim & Karen Ferguson. In Jacksonville, FL, are LCDR Tim Vogel and Cynthia.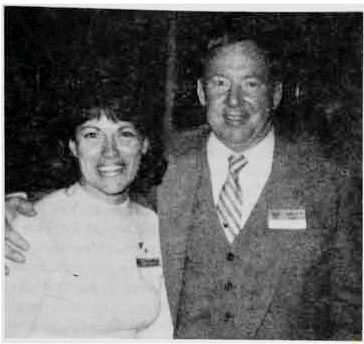 Dave Bangert wrote from Saudi Arabia where he's been for the last 3 years working on the construction of a new city on the Red Sea near Yanbu. Dave is responsible for the infrastructure to support the construction. The U.S. provided a $800 million construction support program which includes housing for 2,000 management level staff and 26,000 supervisors/laborers, a 2-berth port, an airport, a desalination plant, a power plant, and the road and utility networks to serve the above. Dave keeps fit on the squash court and won the regional tournament last winter. (P.O. Box 3694, Jeddah, Saudi Arabia.)
Always on top of the news . . . we just received a letter dated 2 Dec. 78 from Joe Koz (AKA Joe Kosciusko) who was, and perhaps still is, at Torrejun AFB, Spain (P.O. Box 2058, APO 09283), following a 4-year tour at the Pentagon in the AF Plans Directorate working on Europe/NATO affairs. In Spain he's OPSO of 612 TFSq. the "Screaming Eagles," flying the F-4. Joe explains that he and Ann decided on the name change due to the constant mispronunciation and misspelling of the original. He saw Rick Kuzman and his wife while they were on R&R in Germany. Joe has completed all PhD requirements in Social Psychology from American U except his dissertation on Reducing Air Combat Losses.
Noted in Army Times as slated for Bn Cmd jobs are: Emery Chase, Sandy Hallenbeck, Frank Hennessee, B.J. Mogan, Don Nowland, Emory Pylant, Jim Smith, John Thompson, and Rocco McGurk. Congratulations, and let us know where you are.
The first member of '65 to make it big at WP is Jim Golden, recently appointed Permanent Professor and Deputy Head of the Dept of Soc Sci. With the job comes one of the brick "Old English" mansions along Thayer Road. Quite a step up from New Brick! Elaine and the 3 kids are anxiously anticipating the move and will enjoy quarters that are not "wall-to-wall furniture."
Here at WP things are gearing up to host many of you at our 15th Reunion over Homecoming Weekend, 31 Oct-2 Nov. If you didn't receive the info packet from AOG and you plan to attend, contact Barrie Zais at AVN 688-3221 or home (914) 446-3908; Marty Andreson at AVN 688-3221 or home (914) 446-3752; or for housing info John Shuford at AVN 688-4324 or home (914) 446-4640.
July 80 meant "The List" for many of us, but as of this writing we don't know who the new LTC's are. If you're on, please write to insure that your name is included in the next column. Otherwise, we'll assume you're not. That's the sneaky way of guaranteeing lots of news for the next issue. Hope to be hearing from all of you.