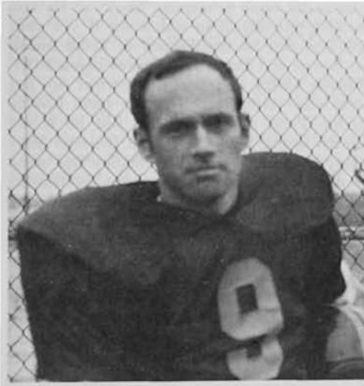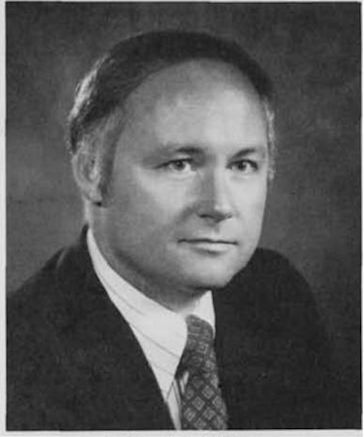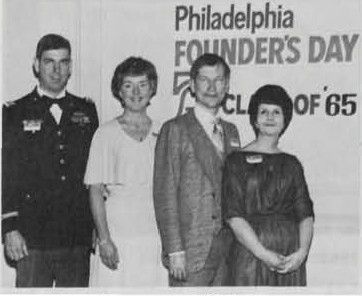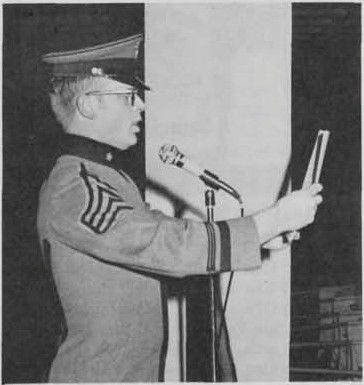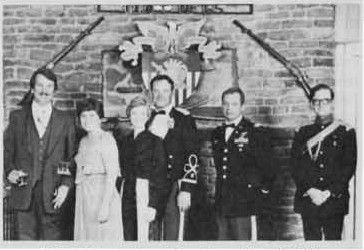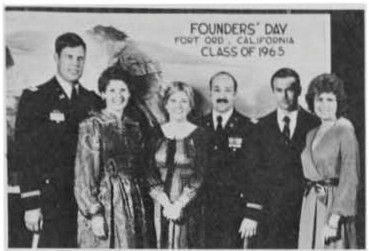 From down DC way, Dick Williams, Ch, Proj Mgmt, DARCOM (AVN: 284-8372) called with a rundown on classmates at the Ft Belvoir Founders Day dinner. . . . Stan Genega is Ft Polk-bound to take command of the 7th Engr Bn. Dick & Joan Williams are headed for the Nav WC this summer. Pete Linn is a civ atty for the Selective Service. Terry Ryan is with DCSPER. Also at the dinner were Tad Ono and his wife, and Jerry & Lee Kelly. Jerry is moving this summer from the DARCOM legal office across town to U.S. Army Legal Svs Agcy at Bailey's Crossroads.
Addition al news from Dick . . . Steve Harmon is with MILPERCEN . John Bell is a prosperous civ dentist in San Jose. CA. Bill Bradburn, in the USAF, is a sqdn cmdr at March AFB (near L.A.). Dick says he last saw John Malpass as an Inf type who was XO of an Engr Bn at Ft Ord in 75. Where are you now, John? Steve Spoerry is still falling out of airplanes as OIC, Mil Freefall Cmte, Special Warfare School at Ft Bragg.
On the local front. . . . John Howell is coaching the Men's Volleyball Team. As of this writing (mid-season), they were 3d in the East with a 10-3 record. A few departures are expected this summer. Departees for the DC area are Wes & Linda Taylor to ODCSOPS; Mike & Chris Deems to CAA; Mike Watson will leave for the Def Sys Mgmt Coll at Ft Belvoir, then on to the Operational Test Evaluation Agcy. It will be a reunion of roommates in DC as Wes Taylor, Mike Deems, and B.J. Mogan (at DCSPER) join forces once again. Tom & Janie Cindric will be off to Hanau, Germany (3d AD Arty). The Cindrics had a novel way of selecting an asgmt-Germany offers the best soccer experience for their 2 young players. Bill Sherrell will be joining the 2d Inf Div in Korea, while Sue and the kids stay in Seattle. We also hear that Ron Bailey will be at CAA following his return from Korea. The only projected arrivals at WP that we know about are Lee & Nancy Atchley in the Math Dept.
Founders Day at WP found only the Concannons, Wattendorfs, Cindries and Higleys willing to brave it through the worst snowstorm of this mild winter to hear GEN Maxwell Taylor, whose speech combined both serious remarks and witty anecdotal reminiscences. He stressed the need to use grads and "old grads" to spread the word about WP and the Army. Are you interested in recruiting? Football prospects continue to be a hot item of discussion at WP.
Barrie Zais and members of the local contingent are busy with plans for Homecoming, the details of which will be in the mail soon. The dates: 31 Oct - 2 Nov; the game: Army vs Rutgers. Plan now to arrive on Fri for the evening class social. The traditional Alumni Parade will be Sat morning. There will be a pre-game tailgate party, followed by the game at l:30. The Alumni Dinner-Dance will be Sat evening in Washington Hall. The class memorial service at the new Southeast Asia Memorial will be Sun morning, followed by brunch at the O Club. Eighteen members of the Class at WP are determined to make this reunion weekend a never-to-be-forgotten event. Make your plans now.
AOG will be taking care of the H'coming mailing, but we need your help. They've lost track of many of our classmates over the years and need current addresses to insure that everyone is invited. If you know the address of any classmates listed below, please forward them to me and AOG as soon as possible.
Remove our classmates from the "Whereabouts Unknown" category. Missing are: Adams, Airy, Albright, Ammon, Appler, Arkangel, Asplund, Barwis, Belanger, Bennett, Bergmann, Blau, Bohannon, Boohar, Borkowski, Bradley, Briggs, Brock, Brown , Brush; Carll, Coleman, Connor, Cook, Concannon, Croak, Darrah, De Jonckheere, De Kovacsy, Donaghy, Donovan, Dornier, Doughty, Dryzga, Dufour, Fields, Fligg, Foehl, Fricke, Frey; Gates, Gailey, Guenther; Hall, Hallenbeck, Horst, Howard, Hudson, Johnson, Kantrowich, Keith, Kramer, Lapolla, Larson, Leverett, Lipsit, Livic, Ludwig, Maness, Mastran, Matkov, Matteson, McCullough, McMillan, Metzner, Olson, Olivo, O'Niell, Parcells, Peters, Peterson, Pfeifer, Pylant, Pyrz, Raybeck, Resick, Ridenour, Riley, Ritch, Roth, Sammarco, Scully, Seaworth, Selkis, Sellers, Shapiro, Sikorski, Smith, Starling, Sterba, Stevison, Stowell, Sullivan, Teethers, Thomasson, Thompson, M.H., Thompson, T.D., Throckmorton, Tillman, Timbrook, Turner, Van Dyk, Vogel, Watteodorf, Whitten, Wirth, Wolf.
Keep those letters coming in. It's time again for the Army's annual version of musical chairs, so keep us posted as to your whereabouts. If you have pictures to share, clear, black & white prints are more likely to be published.