Anyone having a solution to the gasoline crisis-one step forward, march. By the time this column is published in the autumn, perhaps the problem will have disappeared, and everyone will be enjoying a colorful fall drive to Michie Stadium for an exciting Sat.
Some people never have to worry about ground transportation, though. Tim Vogel, debonair man in Navy blue, requested support in anchoring the Army spirit among fellow pilots. Glad to oblige with the plaques. Tim had been flying off the Enterprise but now is land based in Orange Park, FL, where he instructs on the A-7. He noted that Bobby Jones is a pilot as well, in a different uniform. He flies for American Airlines out of San Diego. Jim Hall surfs, serves them up, and teaches on Long Beach Island in Beach Haven, NJ . Ray Paske is employed by Citi Bank of NY while Chuck Pfeiffer works in production and advertising, in NYC.
The news from the Midwest is exciting; Jerry & Sharon Carlson are attempting to replace Woody Hayes as the Buckeye coach - Jerry intends to use psychology on the team rather than brute force. Jerry earned his PhD in Counseling Psychology and is now a staff psychologist with the Veterans' Administration in Columbus, OH. Sharon and the three children, meanwhile, are getting the home in Worthington in order, thinking about teaching nursing at a local college, and car-pooling little baseball players from home to diamond. From them we learned that John Roseburg is a successful lawyer in Rockford, IL.
Timing is always critical...ask Mike Deems. He has confirmed the prevailing rumor-he is married. As of May, he and Chris, a Highland Falls resident whom he met on a blind date, became husband and wife. The story behind the story, however, reminds one of an episode from "The Loveboat." While engaged to Chris, Mike inquired at housing about his chances on the Jun drawing for quarters. When the prospects looked relatively grim, he was momentarily dismayed until he learned a set of quarters was available before the drawing, if only he were marrid. That was on a Monday. For an engr Mike moved swiftly. They were married the following day and moved into Lee Area shortly afterwards. Congratulations to the Deems!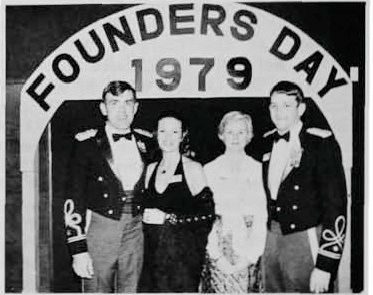 Mike is not the only one with fortunate timing. While literally walking out the door to go on leave, I received a letter from Greg Letterman, who had been living in the Dominican Republic for over a year, working for a law firm there. In Oct 77 he married Heather, nee Stewart. They now reside in London where Greg has opened offices as a lawyer and commercial representative with activities in Asia and Europe. He is trying to locate Buddy Bucha, last reported in Paris. Anyone having his address please forward to me and I'll pass it on to Greg.
Competition remains healthy here but needs an injection now and then. This fall Army has been invited to send a rugby team to the Royal Military Academy, Sandhurst, England. In the spring of 78 Army defeated them 11-0, with the players paying their own way. Later that fall, Sandhurst came to WP and returned the favor, 13-6. The club would like to perpetuate the series and is unofficially asking all ruggers and friends of rugby to send a contribution to the WP Fund specifically earmarked for the Army Rugby Club. The funds will be used to help defray the cost of air transportation. Scrum.
From Wes Taylor, our representative to the SEA Memorial Cmte, the following report:
During Academic Yr 1977-78 members of the 60-year group classes met to discuss a proposed memorial to be dedicated in memory of all members of the United States Armed Force who lost their lives in the Vietnam conflict. Information on the project appeared in the June 78 ASSEMBLY with an update in the Bulletin Board section of this ASSEMBLY.
"The proposed concept has been approved by the Installation Planning Board. The memorial will be erected with funds donated by the 60 year group classes and friends and then presented to the Academy as a gift in time for the 20th and 15th year reunions/homecoming of 1960, 1965 classes, respectively, in 1980. Estimated total cost with a buffer for inflation is $40,000.
"Descriptions and sketches will be mailed to each graduate, 1960-1969, in the annual solicitation for donations to the Association of Graduates in the fall-winter of 1979. The proposal to present an award to a worthy junior officer as part of the "living" component of the memorial has been disapproved. Alternate proposals for a living memorial are under review by the USMA SEA Memorial Cmte, and other proposals are solicited. The $40.000 goal is for the fixed memorial only, as the current living memorial proposed would require very little, if any, Class funding."
Please begin considering this most worthwhile project; the Strength and Drive of '65 should lead the way in meeting its fair share. Checks should be made payable to West Point Fund - Southeast Asia Memorial and sent to Association of Graduates, West Point NY 10996. Write Wes Taylor, S3, USCC, or call him at 914-446-7155 or 938 (AV 688) -2354/2886 if you have any questions.
Hope everyone had a safe, fun-filled summer. Let's hear from you on your Xmas plans. Peace.