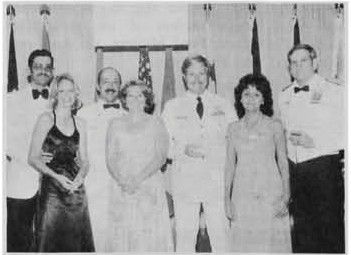 On behalf of classmates everywhere, I take up the pen and humbly implore you to support your new scribe. Bud Fish passed the baton as he jogged his way out the gate and into the sunset. Some of us remain, however, and we need to hear about your colorful lives. WP is still gray, but the start of another academic year portends exciting football, soccer, and the newest sport-dodging Firsties as they drive around post.
New arrivals or returnees to WP include Jim & Julie McEliece, Louis & Judy Csoka, Jack & Elizabeth Lowe, Hal & Laverne Jenkins, Barrie & Linda Zais, Joe & Kay Hindsley, and Jack & JoAnn Lyons.
The first luncheon to elect new officers occurred on 29 Sept. Mike Watson was chosen Pres in a landslide victory (next meeting you'll be there on time Mike). Bill Sherrell still hasn't learned, and volunteered to be VP and Social Chmn. A complicated discussion on tail-gating ensued. Steve Hannon from MILPERCEN happened to be visiting that day; he assured us our careers were in good hands. John Thompson and George Gehringer can help you get in or out of WP tours. Others reported to be in the DC area: Gene Farmelo (en route to Europe), Mike Viani, Dick Tragemann, Walt Kulbacki, John Pickler, Colin Halvorson. There must be dozens of others-let us hear from you.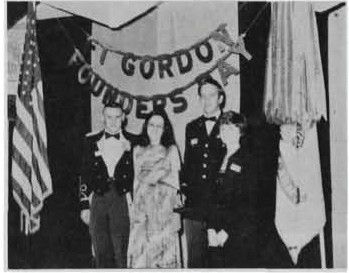 Congratulations to the following who have been selected below the zone to 0-5: Alger, Anderson, Benton, L. Brown, D. Brown Christman, Connor, Coughlin, Genega, Gill, Gilchrist, Golden, Hallenbeck, Kelley, Kulbacki, Ono, Pickler, Roebuck, Scholl, Timmerman, Tragemann.
Rocko McGurk is with the 2d Inf Div in Korea, keeping their jeeps running. We were neighbors at Hood and enjoyed a unique community experience there. Mary Alice is indulging in the 4 children and awaiting his Xmas leave at their estate in MA. Leo & Doris Kennedy are still part of that TX community; they are Germany-bound in Feb 79. Leo has already served a 6-month TDY on Bde 75. Bill Beinlich is with the 1st Cav Div at Hood, evaluating the proposed div restructuring as a Bn XO. He replaced Rick Wetherill, who is now having the best year of his life in KS. Bob Frank is also at Leavenworth, trying to teach Rick and Marty Andresen. Marty and Della are scheduled to return to the Dept of Hist after C&GSC.
Known to be in Germany-Bob & Jo Higgins-in Stuttgart. Bob was last heard trying to become polite while working on a Corps staff.
Please let us hear from you. The next deadline will be sometime near the end of Dec.
BEAT NAVY!