Help! I need much more mail to lengthen our Class notes. All I received for this issue was two letters plus one chain prayer letter.
A new addition to the Class is Jenifer Lynne Skidmore 9 May 77, 8 lbs, 20.5 inches. Dorrie, Frank, Skip and Greg are doing well in Germany.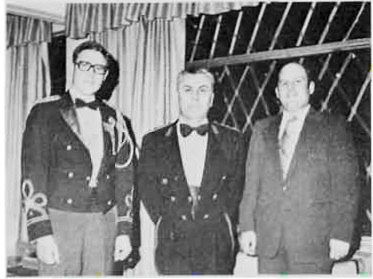 From Ankara , Turkey, Preston Hughes sends the photo with himself, LTG Gokce and Tom Cindric. Tom commands TUSLOG Det 98 in Erzurum. Preston is the Asst Army Att and he has been in Turkey six years.
Bob & Jo Higgins had a 10-pound son Christopher (3 yrs old now). Bob left USMA in 74 and went to C&GSC and then Ft Hood. Bob is presently the Div G3 OPNS (2AD). Bob says Leo Kennedy is Dpty G1 going to an Arty Bn in Jun. John Thompson a Bn XO is going on Bde 75 in Aug to Graf. Jack Lyons is a Sqdn S3, Jim McElice is a Bn S3 going to C&GSC. Tanker McChristain is a Bn-3 for a newly assigned Intel Bn and Dick Knudson is a Bn S3. Toby Halverson also visited Bob on a staff visit from OPD.
New arrivals at WP are Bill Sherrel, Wes Taylor, and Mike Deems in the TAC Dept and Mike Watson in the E.E. Dept.
There will be a Class tailgate at the 1 Oct 77, UCO game. For more information write John Alger 3080-B Stony Lonesome or me.
Well thank you Bob and Preston for the letters. All you other guys please write. If your arm is broken have your wife write. Wives always write longer letters. Write.