With Founders Day still ringing in our minds it's time to look for summer leave and new assignments. Please write so we can update your "whereabouts."
Bob Guy writes that he is stationed at Ft Stewart; CA in the 24 Inf. As of Apr Bob will be the SGS of the 24th. He and Jodie and their 2 children, Bobby and Kathryn, feel right at home in the South and would love to see any classmates passing by on their way to FL or wherever. Bob has seen John Pickler who is the S3, l/13 FA, Jamie Bryan who is the XO, 2/21 Inf and Wesley Taylor who is the S3, 1st Bn (Ranger), 75th.
Tad Ono finally sent the promised photo which is enclosed. Thanks Tad. Anyone else having a photo please send it and I will put it in our notes.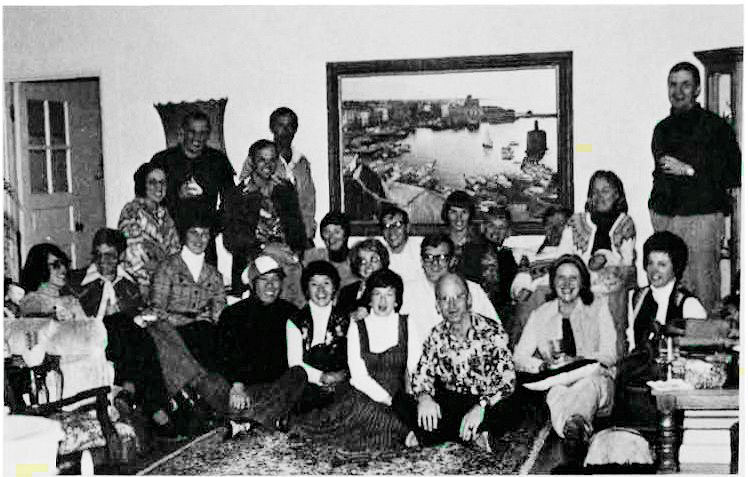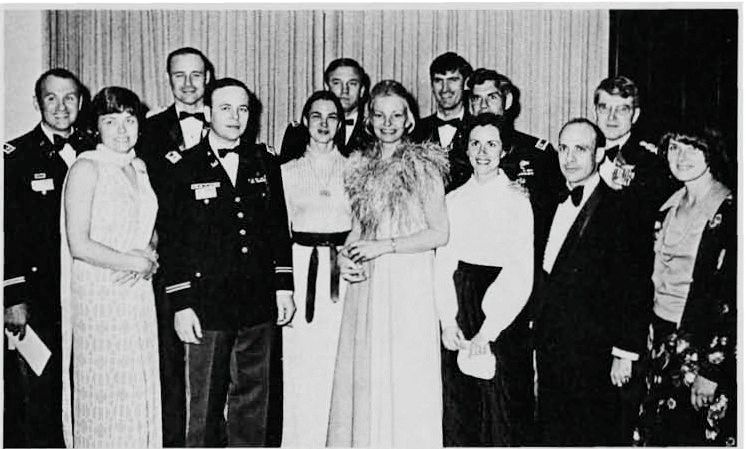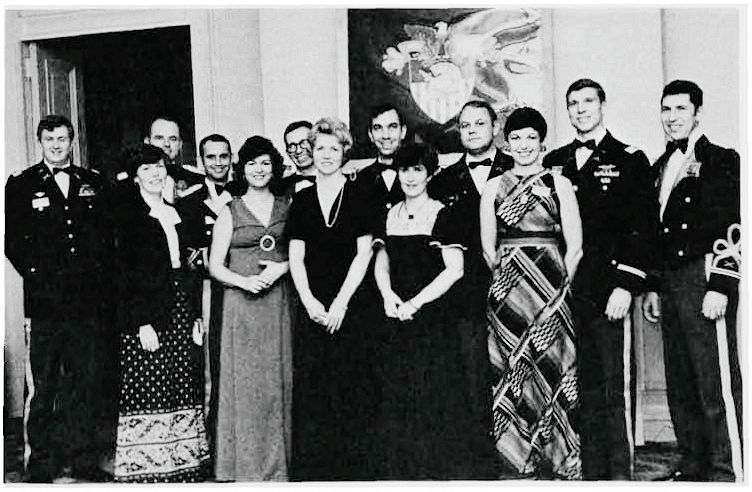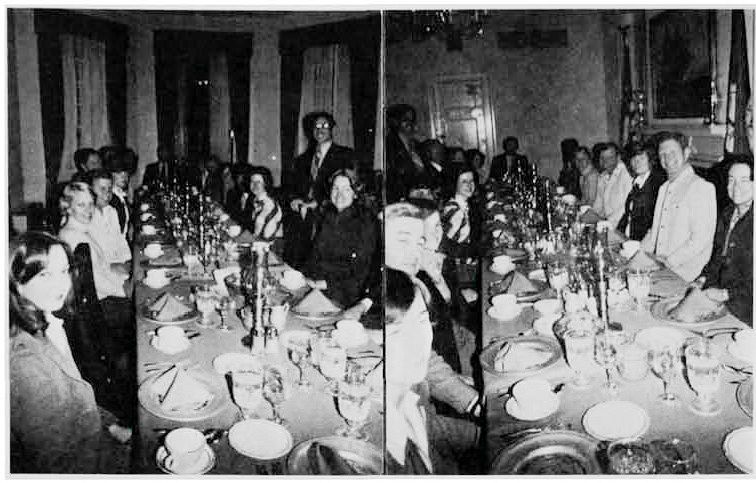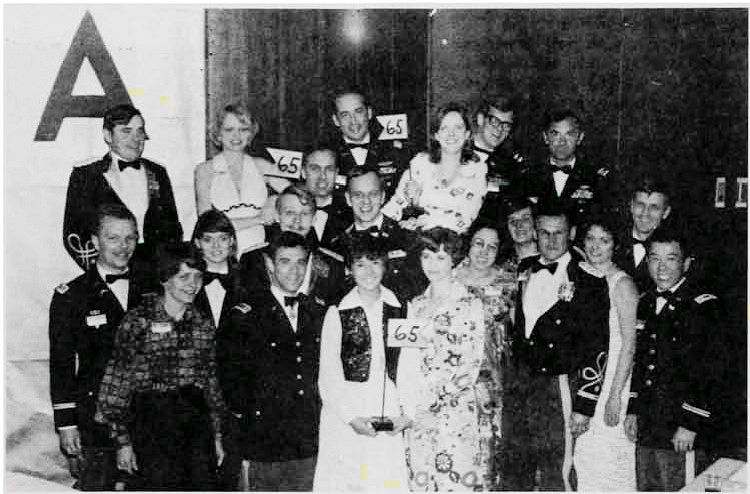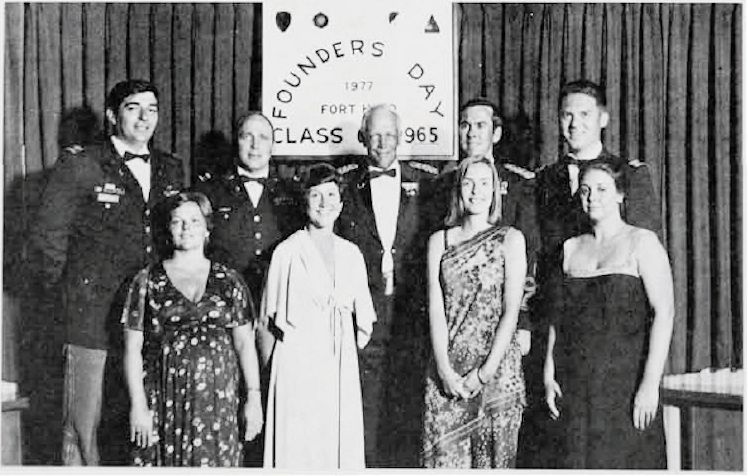 Chuck Heindrichs writes from 444 Collindale, Grand Rapids, MI that he is looking for Mike Hudson and Harry Joiner. Chuck got out this last Dec and is looking for a new career.
Mac Gill writes from the U. of S. MS in an ROTC asgmt that he, Dianne and their 3 children soon to be 4 will arrive in Germany about 19 Jul 77.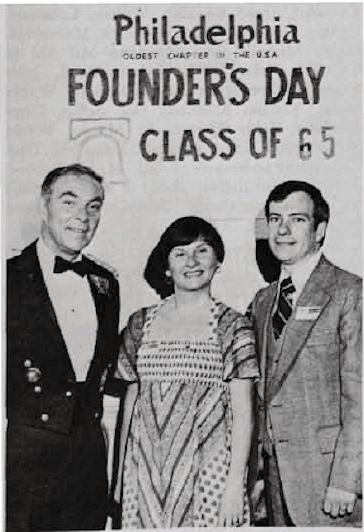 Steve & Anne Harman, 9307 Harness House Ct, Springfield, VA 22153 is currently working as a Comm Elect Engr with the DCA. After Steve left the Math Dept in 74 he went to CGSC and then a short tour in Korea as the S3 of a Tac Sig Bn. Anne and the children spent that year in NYC. Bob Rood and Hank Meckles are also assigned to the DCA and Gene Farmelo is on the DA staff. Also 4 of the Harman children are playing soccer and Steve is coaching in the local kids program.
Tony Gamboa wrote and Ralph Locurcia took photos of the "65" dinner at USNA 26 Feb 77. The following may be verified by writing Tony at 1023 Turney Ave, Laurel, MD 20810. The following were at Tony's party: Dan & Susan Christman: Dan is assigned to Hqs DA (DCSOPS). His wife Susan continues in the real estate business and they moved into a new house in Alexandria, VA in Feb. Bill & Kathy Bradburn: Bill is in the AF and also is at the Pentagon. He is moving from OSD to the AF staff. They are moving to a new house in Great Falls, VA this month. Ralph & Ingrid Locurcio: Ralph is completing his 3d consecutive asgmt in the area (OCE; Baltimore Dist Engr and Ft Belvoir Post Hq S3). Engr Br has finally found him and he is going to have to move. They are headed for C&GS at Leavenworth in Jul. Steve & Anne Harman already mentioned. Frank & Cam Hennessee: Frank lives in Woodbridge, VA and is assigned to the DA Staff. He works in DCSOPS. Peter Linn and Susan Osborn are married and live in Annandale, VA. Pete works for the Office of Mgmt and Budget. Dan & Nancy Benton: Dan is also at the Pentagon. He is with the OACS (PA&ED) at HQDA (Program Anal & Eval). John & Linda Concannon: John is at Georgetown U. in DC where he is in the FAST Program. The Concannons will be headed for USMA this summer where John will be an instr in Russian. Phyllis & Bob Wolff: Bob and Phyllis are old-timers in the DC area. Bob is still with the OCE. He is in the civil works program. Phyllis is doing interior design. Fred Laughlin was at the game but could not stay for dinner (no data).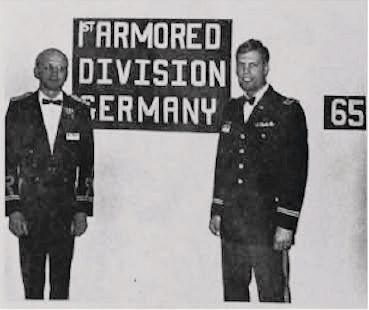 Other classmates in the area: Tom Abraham, Michell Bonnett, Emery Chase, James Dyer, Gene Fannelo, Mike Fligg, Jerry Kelly-Office of STA, Ft Meade; Joseph Kosiusko, Arpad Kovacsy, William Lehman-OJAG; David Mastram, Kenneth Moorefield, Henry Mickells, Don Nowland-Mil Aid to SA, DA; John Ritch, Robert Rood, John Salomore-Dentists at Fort Meade; Walter Saxon, Thomas Sheckell, Bob Selkis, Larry Strassner, John Thames-Ft Meade; Bernie Ziegler, and Bruce Marshall. Irene and Tony have the addresses of all of the above. They are also slightly ahead of the Locurcio's for residence in the DC area. They have been there since Apr 69. Three years at law sch till Jun 72 then a year as a law clerk for a Fed Dist Judge in Baltimore till Aug 73. Thereafter they were at Ft Meade in the JAG office for 2 yrs till Aug 75. Finally they took a short tour out of the area while he attended the JAG Adv Cse in Charlottesville, VA. Now Tony is back with the Office of the Gen Counsel, DA in the Secretariat. Presently he is acting as the Armed Svs Proc Reg Cmte legal member for the Army. Stan Genega will return to the DC area after C&GS. Also the Kulbackis will he moving into the area.
Thanks to people like Tony Gamboa and Denny Coll, our Class Notes are more informative. Please write today. We want to know where and how you are!!!! Strength and Drive-BUD.